Nigerian Dwarf goats are a great choice for any size homestead, especially those that are short on space. Nigerian goats are the perfect small scale dairy animal.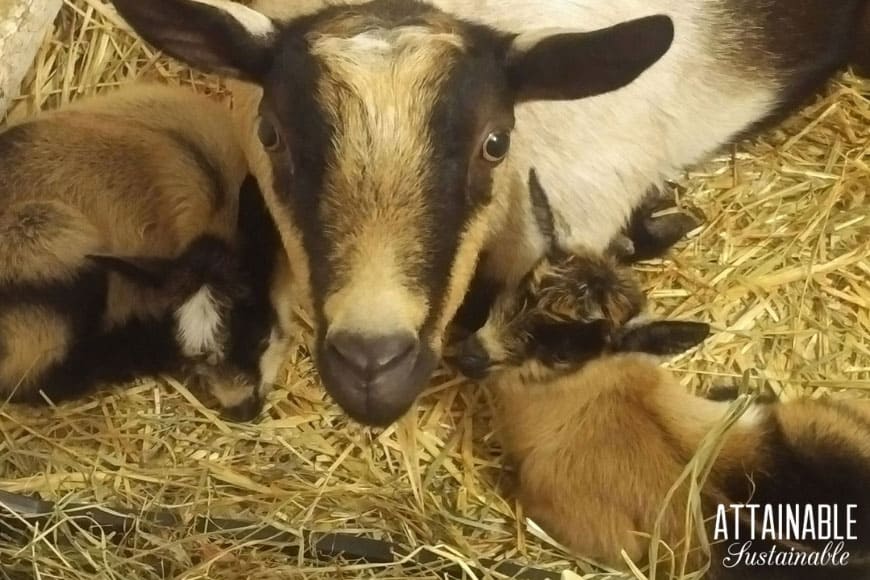 Guest post from Leona at Cedar Green Farm.
Choosing Nigerian goats
We have been homesteading for about five years now, and have learned a number of lessons through every day experience.
One of them is that Nigerian Dwarf goats are the right choice of dairy animal for us. We live on just under two acres, part of which is forested and boggy. Our rainy climate and small property could not support a cow, but goats are a good option. They are light on their feet, they are great browsers, and they require much less space than a cow. We also don't need the amount of milk a cow would produce.
Nigerian goats seemed like a good option, and their small size made the introduction of animals larger than chickens a less intimidating experience for the city girl in me. Eventually we did try the Alpine breed, but we decided to stick with Nigerians for a number of reasons, one of them being that our children didn't like the Alpine milk.
Here, I have outlined five good reasons a small-scale homesteader should choose a Nigerian Dwarf goat as a dairy animal.
Take a Peek Inside My Book!
Get a free excerpt from my book, Attainable Sustainable: The Lost Art of Self-Reliant Living! You'll also get my free weekly newsletter, complete with recipes, gardening tips, and a little peek at what's going on around here — both the zany and the mundane.
Related: 10 Tips for Buying a Homestead on a Budget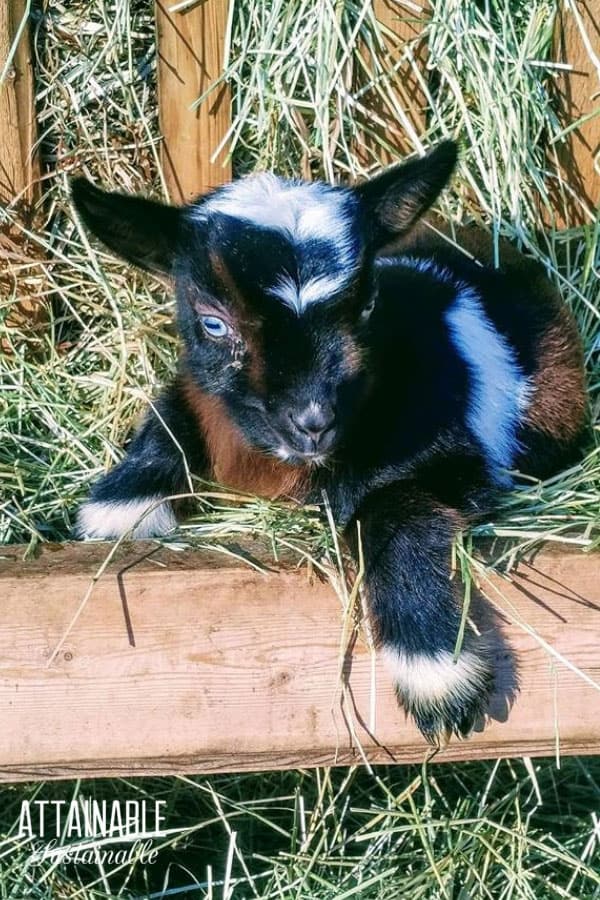 1. Nigerian Dwarf goats – size small
Because these goats are small, they tread lightly. They're also more efficient eaters than other breeds of goats, producing more milk in relation to what they eat. A Nigerian buck weighs about 80 pounds, where the larger breeds which can weigh 200 pounds. Fencing doesn't have to be quite as high or quite as strong in order to keep them in. Good fencing is still important though, since it not only keeps the goats in, but the predators out.
2. They pay for themselves quickly
These dwarf goats regularly kid twins, triplets, and quads more often than other goat breeds. They rarely have difficulty kidding and they make excellent mothers. Our purebred, registered Nigerian Dwarf babies sell for about $400 each.
Related: Goat Farming Basics: 5 Things to Consider Before Getting Goats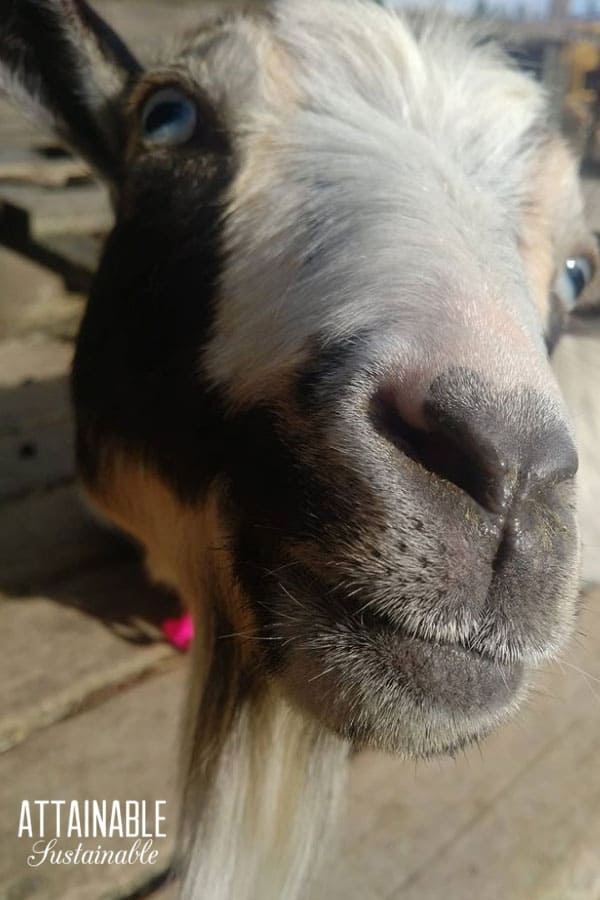 3. Nigerian goats can be bred throughout the year
This allows for a continuous milk supply. Other types of goats only breed in the fall for spring births, which means a break in milk production for a few months. Nigerian Dwarf goats cycle year-round and have the capability of kidding year-round.
We choose to have each goat kid once a year, in the spring and the fall to avoid cold winter kiddings.
4. Nigerian Dwarf goats are trendy right now
Trendy means that you won't have trouble selling the babies, and at a decent price.
5. A Nigerian Dwarf goat can produce a lot of milk
A good Nigerian dwarf goat, after maxing out at about two quarts a day several weeks post-kidding, will produce on average one quart a day. Their milk is the sweetest (with no goaty flavor) and the richest, averaging about 8% milk fat. This allows us to make amazing yogurt, cheese, and ice cream!
And in case five reasons aren't enough, I've got a few more for you:
These small goats generally have a great disposition, the babies—about two to three pounds at birth—are absolutely the most adorable creatures you have ever seen, and you can carry the adults around if you have to. Need I say more?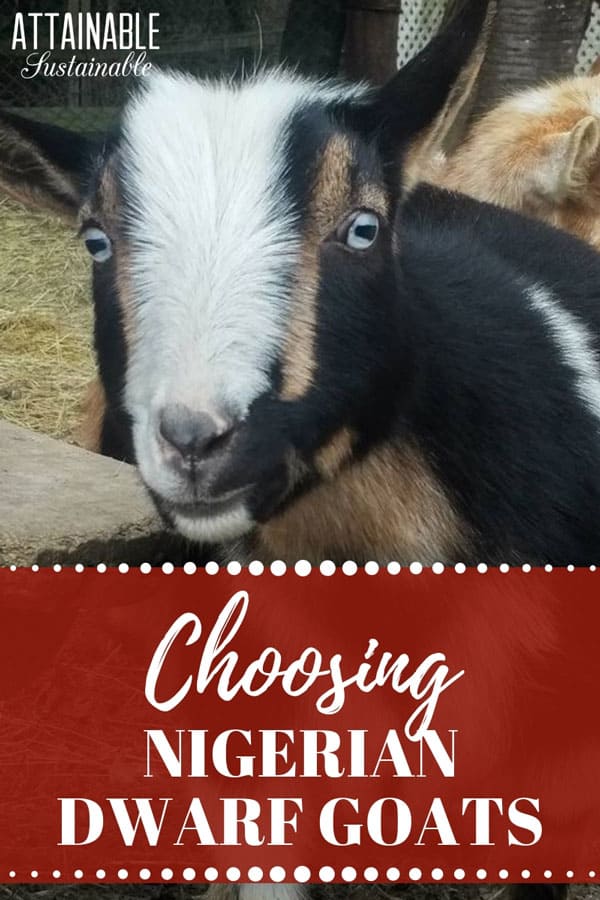 Originally published April, 2015; this post has been updated.
Leona blogs about homesteading, natural living, healthy recipes and DIY projects on her blog My Healthy Green Family. She lives on a small acreage with her husband and 3 young children on the coast of BC Canada.  Homestead life is busy, with a large organic vegetable garden, fruit trees, chickens, goats, pigs, ducks, honey bees and a dog.  You can see more of Leona and her goats at Cedar Green Farm. All photos courtesy of Leona.