A concrete block rocket stove is easy to make. Consider this method when you're ready to learn build a rocket stove for outdoor cooking.
The cookstove is almost as old as the campfire, and not much newer than the invention of fire itself. Needless to say, it's been around for a long time, with very little change. Even in today's world, many people on this earth still cook food over an open fire, just as our ancestors once did.
Recent innovations have harnessed gas and electricity to cook our food, but what about the original fuel source: wood? The wood cookstove has largely gone out of fashion in most developed nations in favor of gas or electric ranges, but is there a more renewable resource than wood? Some would argue not. So why not try to imagine a truly efficient cookstove that utilizes a renewable fuel source like wood? Enter the rocket stove design.
What is a Rocket Stove?
It was originally developed in the 1980's by Ianto Evans and Larry Winiarski of Aprovecho Research Center, an organization that works on designs for cookstoves that are to be used in developing countries.
The rocket stove uses small diameter wood which is burned in a simple combustion chamber leading to an insulated vertical chimney, atop which the food is heated and cooked. This design burns so efficiently that it ensures almost complete combustion prior to the flames reaching the cooking surface, so there is virtually no smoke.
Why Build a Rocket Stove?
A home-built concrete block rocket stove effectively satisfies all of the practical criteria required, and at the same time saves money and fuel. Because they are so fuel efficient, very little wood is used. This means that the fuel can be sticks and twigs from prunings or dead fall, rather than large, older growth trees.
Take a Peek Inside My Book!
Get a free excerpt from my book, Attainable Sustainable: The Lost Art of Self-Reliant Living! You'll also get my free weekly newsletter, complete with recipes, gardening tips, and a little peek at what's going on around here — both the zany and the mundane.
This versatility and ability to burn almost any size wood greatly increases the sustainability of fuel use and availability, while also minimizing the environmental impact. To put it simply, it's an easy to build, easy to use, clean burning cooking device that uses minimal fuel.
Sound too good to be true?
Well, you do have to learn to light a fire and keep it tended, so there is some additional work involved as opposed to just turning a knob. That said, once you get it going, it's pretty easy to keep the fire lit.
How to Build a Concrete Block Rocket Stove
The design is simple, but the real breakthrough idea is that these rocket stoves can be made from almost anything. Imagine on one hand a very small stove made from a few tin cans fitted together, simple and portable. (In this case, we'll use concrete blocks.)
Then, on the other hand, think of a large, permanent cob stove capable of boiling water in enormous stock pots and heating your house at the same time (via a rocket mass heater). Rocket stove design lets you, the builder, construct a stove that fits your needs, space, and budget.
Here I will show you how to build a simple concrete block rocket stove with materials that are easy to find and inexpensive.
This is what you will need:
3 concrete blocks
1 H shaped block, OR two 8″ x 16″ pavers and one brick
8″ X 16″ pavers, optional as needed (for a base)
A grill or old burner of some sort
Step 1: If you do not have a flat cement surface to build a rocket stove on, you may need a couple of pavers to serve as a base for the concrete blocks. That is what is shown above.
Step 2: Place one concrete block horizontally and another one vertically in front of it. I've seen other guides that put the horizontal block rotated the other direction, with the holes going from side to side. You'll get a deeper fire box by doing it this way. Try both ways to see what works best for you.
Step 3: If you have an H block, place it on top of the horizontal concrete block. We had trouble finding an H block, but 2 pavers and a brick worked just fine.
Step 4: Place the last concrete block on top of the H block (or pavers and brick). Once you have the rocket stove lit, put a grill, grate or old burner on top of the stove as needed for a cooking surface.
How to light a concrete block rocket stove
It's important to get the fire chamber lit and going well before adding more fuel. Fill the first hole in the top with newspaper, cardboard, very small (dry) kindling, and any fire starting material you may have. Light it, and keep adding small kindling until the fire is going really well.
Then feed small split logs into the hole on the front of the stove. These can be about the size that is usually regarded as kindling for a regular fire. Add two or so at a time. Every so often, push them in a bit so that they continue to burn.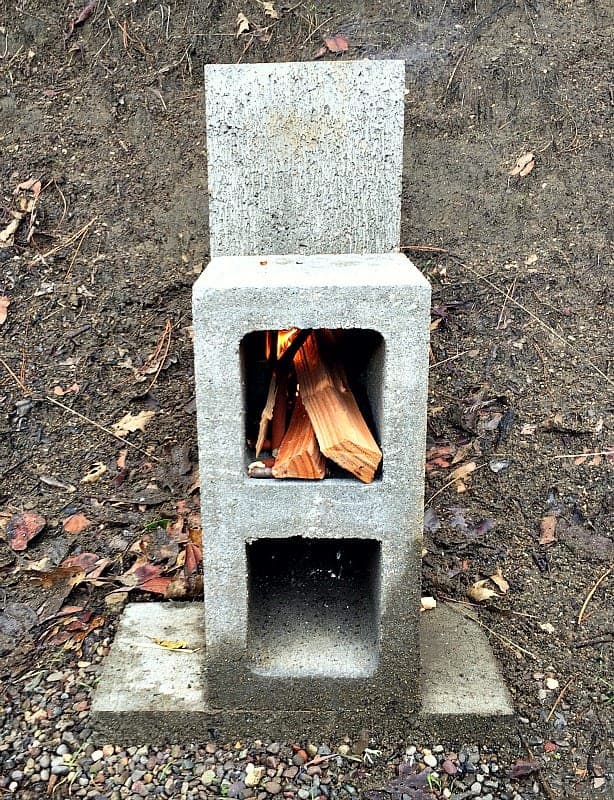 It really is as simple as that! What I love so much about this method of building a rocket stove is that it's extremely simple to build with materials that are readily available. It can also be broken down and moved on a moments notice if need be.
Rocket stove technology also allows you to have some independence from the electrical grid in the event of a power outage. Need to boil some water or heat up a can of soup? No problem!
A concrete block rocket stove is definitely something we should all consider building on our path to self sufficiency and emergency preparedness.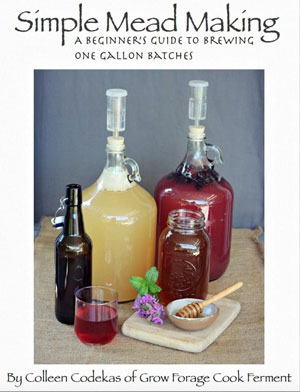 Mead making made simple!
Interested in learning to make mead from honey and your favorite locally-grown fruits? Be sure to check out Colleen's book, Simple Mead Making: A Beginner's Guide to Brewing One Gallon Batches.
With concise and easy to follow instructions, it's a great way for beginners to learn about the mead-making process.
Learn how to make mead at home with this simple guide.
Cheers!