Homemade bath salts are a snap to make. The muscle soothing magnesium in the mix makes them a perfect way to end a hard day of gardening.
Originally published August 2020; this post has been updated.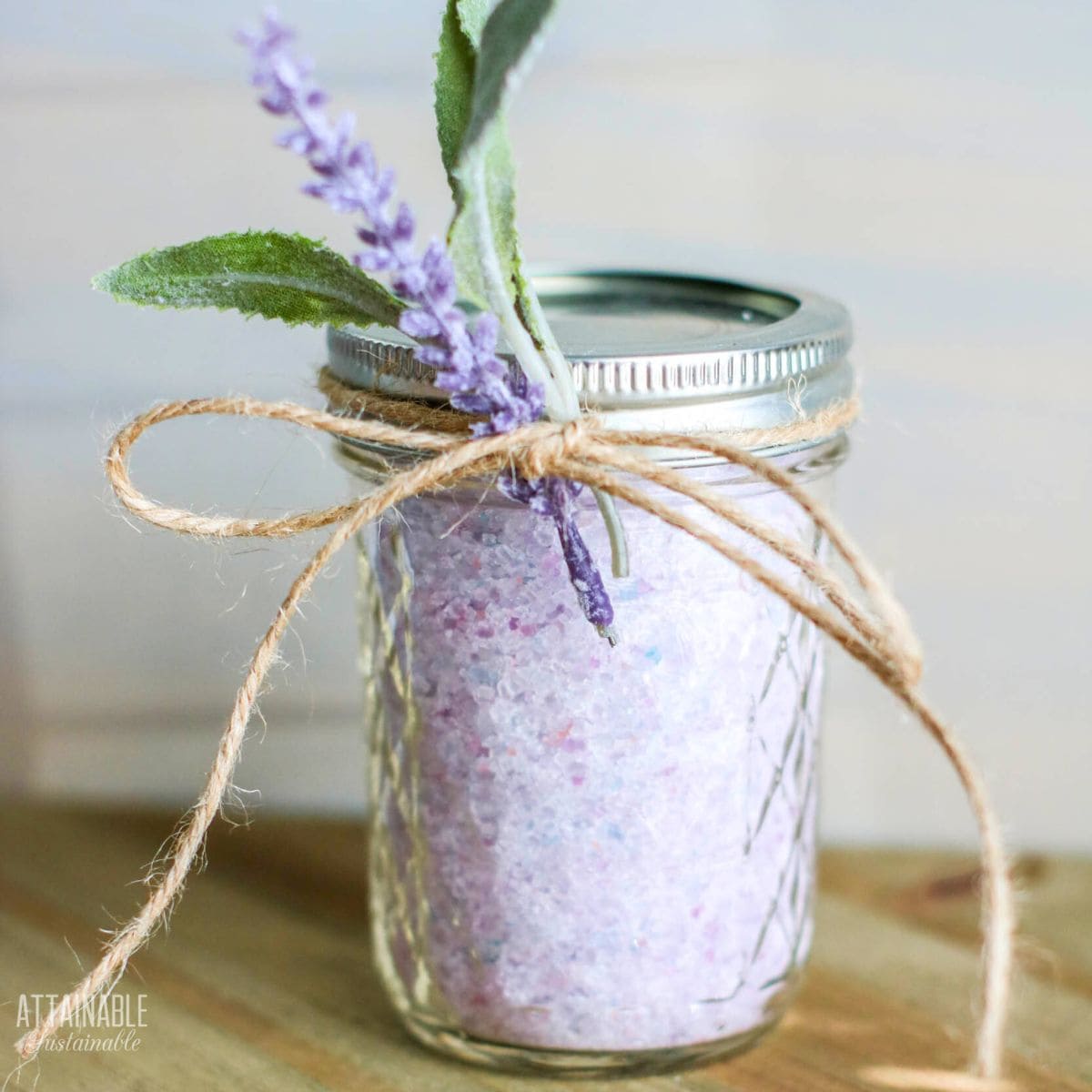 How to Make Homemade Bath Salts
It's EASY. These DIY bath salts are just that — salt. What makes them special is the addition of fragrances that can give you that spa-at-home experience!
A combination of Epsom salt and sea salt, coupled with your choice of essential oil will make your next soak epic!
Use these in your next bath or as a foot soak to soothe your tired feet.
Why Epsom Salt?
Epsom salt is one a naturally occurring mineral salt, high in both magnesium and sulfate.
Take a Peek Inside My Book!
Get a free excerpt from my book, Attainable Sustainable: The Lost Art of Self-Reliant Living! You'll also get my free weekly newsletter, complete with recipes, gardening tips, and a little peek at what's going on around here — both the zany and the mundane.
Hard day in the garden? Long day at work? The magnesium in an Epsom salt bath can help relax muscles, making it a perfect addition to a soothing soak.
And according to Cleveland Clinic:
Integrative medical experts commonly recommend Epsom salt to patients with chronic fatigue syndrome and cold intolerance.

Ingredients
Epsom Salts — The key ingredient in this bath salts recipe, you'll find Epsom salts at most drug stores or pharmacies.
Sea Salt — Yep, the same salt you cook with is used in bath salt recipes! Pink Himalayan salt is another option.
Essential Oils — These highly fragrant oils will add a lovely aroma to your bath water!
Fragrances for Homemade Bath Salts
Combining different essential oils allows you to create a signature scent. Here are some to try:
Patchouli + vetiver + cedarwood = earthy

Jasmine + rose + bergamot = floral

Ginger + orange + cinnamon = spicy

Cypress + white fir + sandalwood = woodsy

Lemon + orange + rosemary = citrusy

Peppermint + eucalyptus = decongestant

Tea tree + orange = brisk

Clary sage + lavender + lemon = calming
Optional Ingredients
Adding dried flowers and herbs is optional, but can make your bath salts look extra special, as well as intensify the aromatics. Try adding dried:
Rose petals
Lavender buds
Mint
Citrus peel
Calendula
The addition of color does nothing to improve the experience, but can make for a lovely gift aesthetic.
Ideas for Gift Giving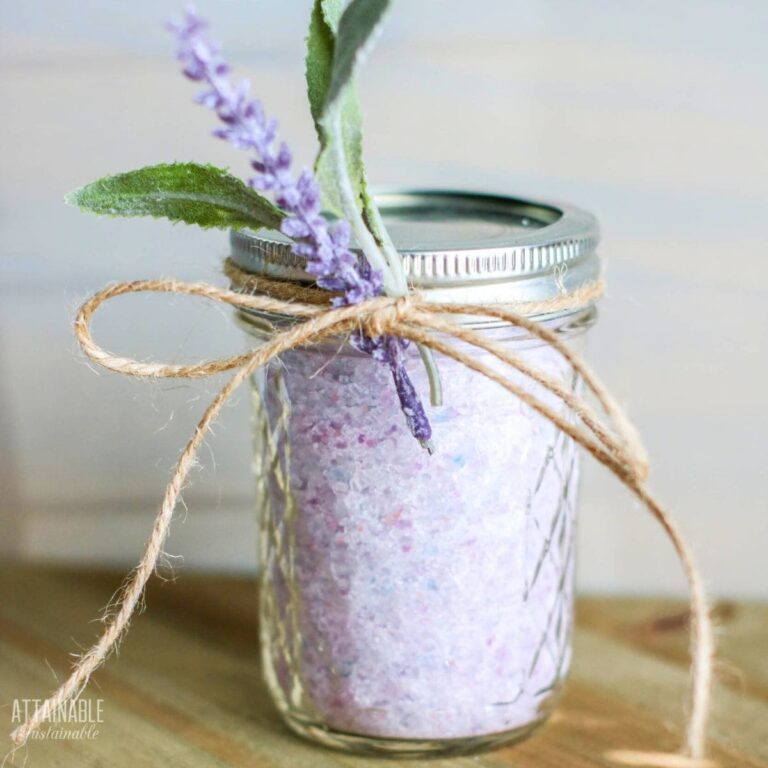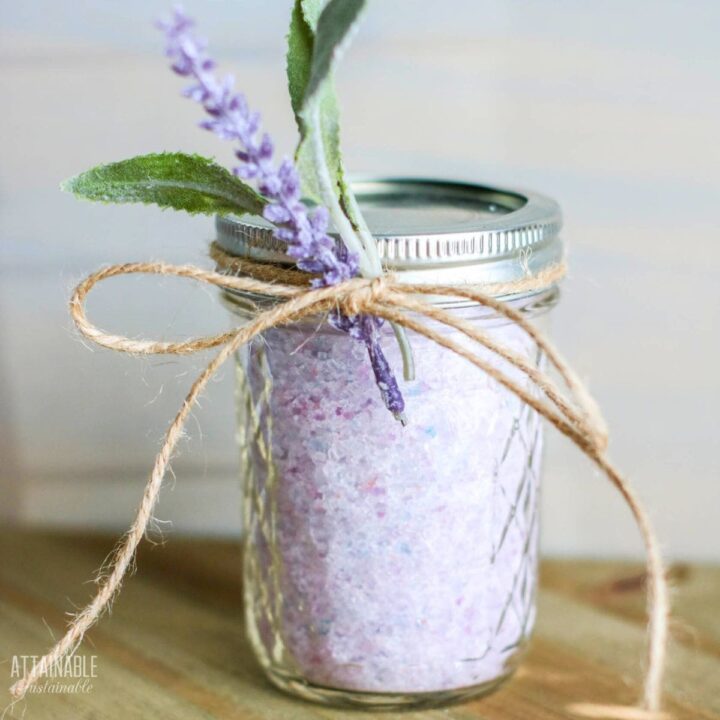 Soothing Bath Salt Recipe
Homemade bath salts are easy to make -- make up a batch for you and one for a friend!
Materials
1 cup Epsom salt
½ cup sea salt
10 to 25 drops essential oil (see notes)
Food coloring (optional)
Instructions
Measure the salts into a small mixing bowl.
Add essential oil and stir well.
If desired, add 3 to 6 drops of food coloring. Stir until the color is evenly distributed. (Be aware that too much food coloring can cause the salts to harden over time.)
Optional: Add dried flower petals.
Transfer salts to decorative jars and seal.
Notes
Combining different essential oils allows you to create a signature scent. Here are some to try:
Patchouli + vetiver + cedarwood = earthy
Jasmine + rose + bergamot = floral
Ginger + orange + cinnamon = spicy
Cypress + white fir + sandalwood = woodsy
Lemon + orange + rosemary = citrusy
Peppermint + eucalyptus = decongestant
Tea tree + orange = antimicrobial
Clary sage + lavender + lemon = stress relief