If you've been tempted by the bath fizzies currently popular in specialty stores, you might be wondering how budget-savvy folks can replicate them. Let's talk about how to make them at home for less with this easy homemade bath fizzy recipe — for yourself or for gift giving.
Try your hand at making homemade soap, too!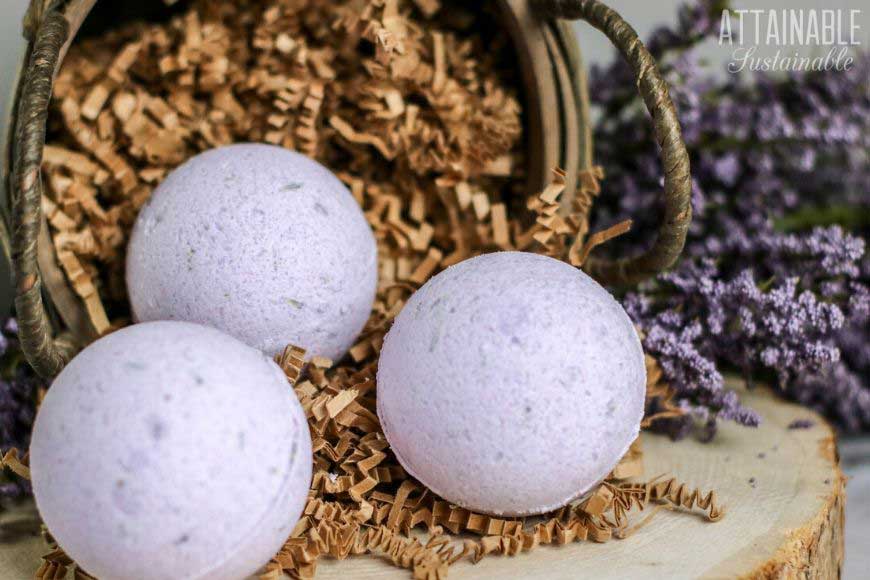 Store bought bath products are pricey. Also? It's hard to know what is in them. Personal care products don't always come with an ingredient label. If you love baths, but don't necessarily love soaking in unknown ingredients, try making these DIY bath fizzies.
These lavender scented fizzy orbs are great for adding to your own relaxation routine, but they're also great gift ideas. Package them up with a bar of homemade soap and a good book, tuck them into a basket lined with crinkled paper shreds, and tie on a tag.
Making homemade bath fizzies
This recipe start with a combination of dry ingredients, including baking soda — that's what gives them the fizz.
Mix the dry ingredients with the liquid ingredients slowly, adding just enough water — a tiny bit! — to create a mixture that holds together when pressed. You don't want them to fizz now; you want them to fizz later, when you drop them in the bath water.
Take a Peek Inside My Book!
Get a free excerpt from my book, Attainable Sustainable: The Lost Art of Self-Reliant Living! You'll also get my free weekly newsletter, complete with recipes, gardening tips, and a little peek at what's going on around here — both the zany and the mundane.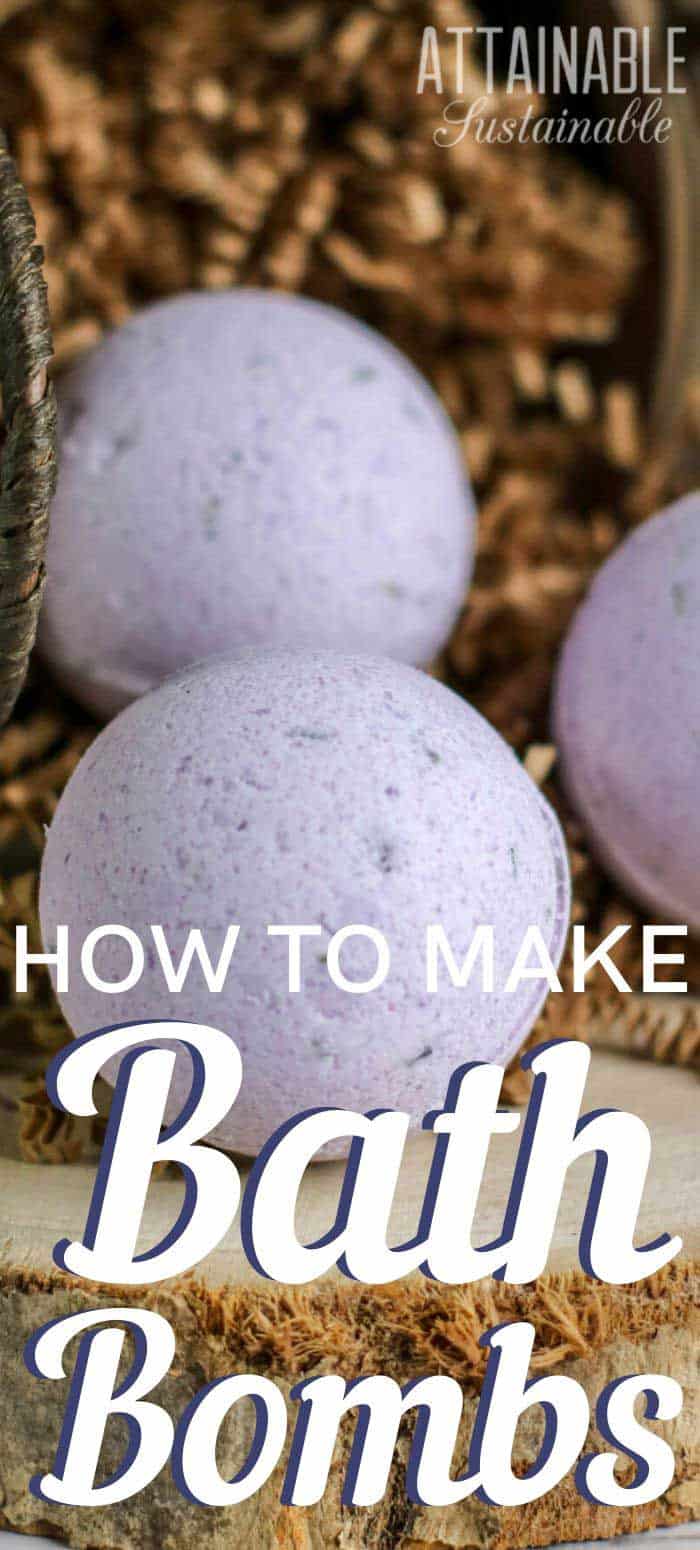 Forming the bath fizzies
For gift giving or if you plan to make a lot of these, you may want to invest in some specialized round molds.
You can also use a couple of items that you probably already have in your kitchen: an ice cube tray or muffin tin. Just press the mixture into these forms as tightly as you can and allow them to dry.
Keeping them fresh
To protect them from humidity, store them in an airtight container. Adding a moisture absorber isn't necessary, but it can help extend the life of your handmade bath products.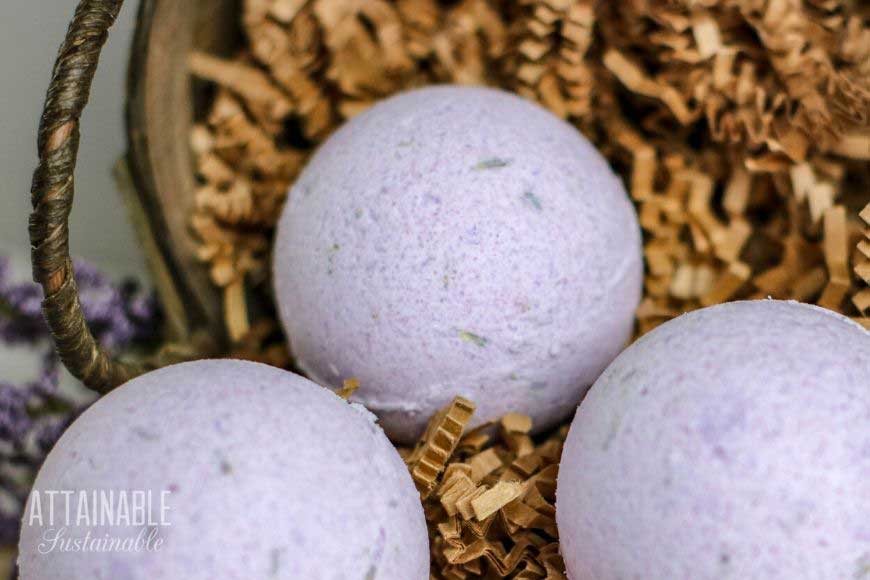 ★ Did you make this recipe? Don't forget to give them a star rating below! ★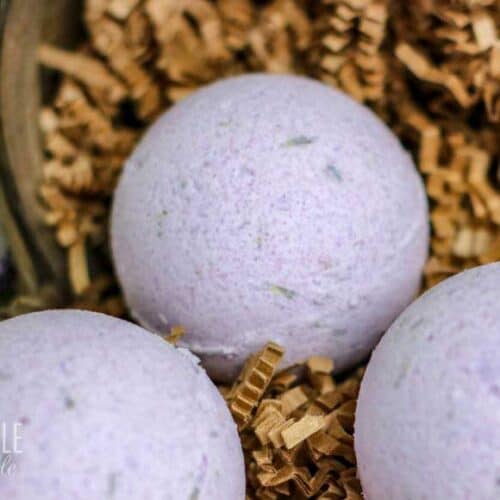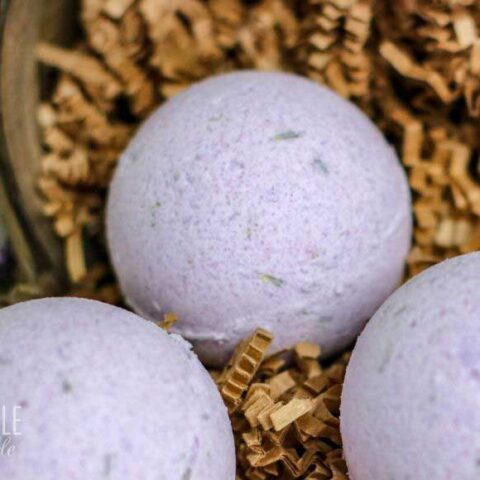 Easy Lavender Bath Fizzy Recipe
Total Time:
1 day
20 minutes
These relaxing lavender bath fizzies are a great DIY gift for the people you love. Even for YOU!
Materials
2 ½ tablespoons coconut oil, melted
1 tablespoon water
Tools
Instructions
In a large bowl, whisk together cornstarch, citric acid, salt, baking soda, mica powder, and dried lavender petals.In a small measuring cup, whisk together essential oil, coconut oil, and water.
Very slowly (to avoid as much fizzing as possible) add the wet ingredients to the dry ingredients.
Stir and mash together until it resembles sand.
Immediately transfer bath fizzy mixture into molds, pressing mixture tightly into each side and adding a little to overflow each side of the mold.
Press the mold together and twist until closed.
Allow bath fizzies to rest (and dry) for at least 24 hours.
To remove the bath fizzies from the molds, tap the outside of the mold gently. Then, twist each side of the mold and pull to remove the hardened orb.
To give as a gift, place in an airtight jar.
Originally published November 2019; this post has been updated.