When you want to do a little something sweet for someone, why not make them a gift that is delicious AND fun? These white chocolate chip cookies are layered in a jar with cranberries and walnuts for a delicious ready to bake treat!
Try these white chocolate macadamia cookies in a jar, too!
Gather up some yummy baking ingredients and pull together this sweet gift in a hurry!
Making cookies in a jar
The only mixing you'll need to do for this recipe? Combining the dry ingredients. After that, it's just a matter of layering in the oats and sugar, along with the walnuts, cranberries, and white chocolate chips.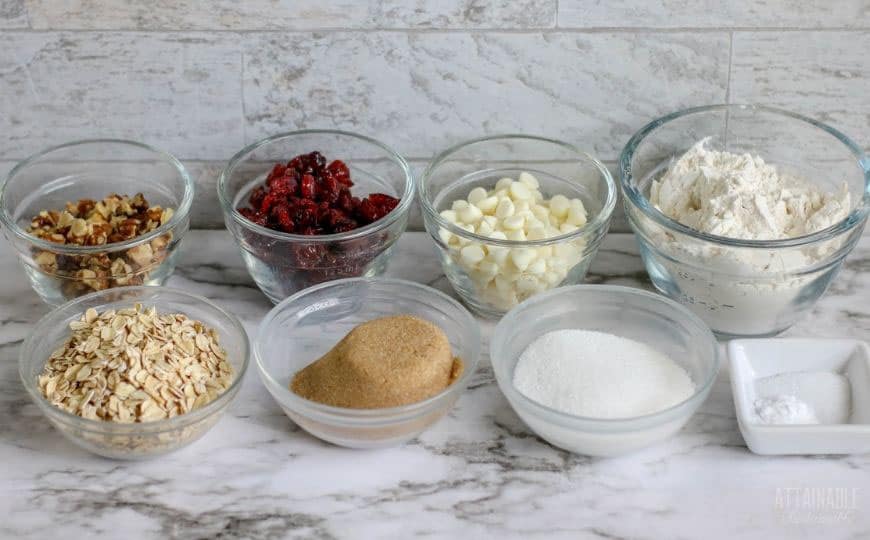 I have some tricks for making this easy gift even easier. Making many at one time means in just a hot minute you'll have half a dozen (or a dozen) gifts ready for giving. This is a fabulous gift to have kids make!
5 Easy Steps to Transform Your Pantry!
Ready to switch from store bought to homemade? Let me help you make some changes! Grab my FREE five-part guide to getting started.
Filling the jar
Once you've got your jar ready, line them up on the counter. A canning funnel makes filling the jars a snap if you have one. Alternatively, you can make a quick paper funnel. Place your funnel in the jar and measure dry ingredients in. Shake the jars a bit to level the ingredients. Now add the remaining ingredients, layer by layer, pressing each down as you go.
When the jar is fully assembled, twist on a lid. Print out labels and tie one on each jar. Tada! Cookie mix in a jar ready for giving. To make the cookies, just add butter, egg, and vanilla.
Once you have the ingredients out, assembling a number of these cookies in a jar gifts at once won't take much longer than doing a single one! Might as well do several. (I like to keep a couple of these on hand for unexpected holiday drop ins, too!)
Tucked into a pretty jar, this makes a lovely teacher gift or a little something for the neighbor who watched your cat for you that one time.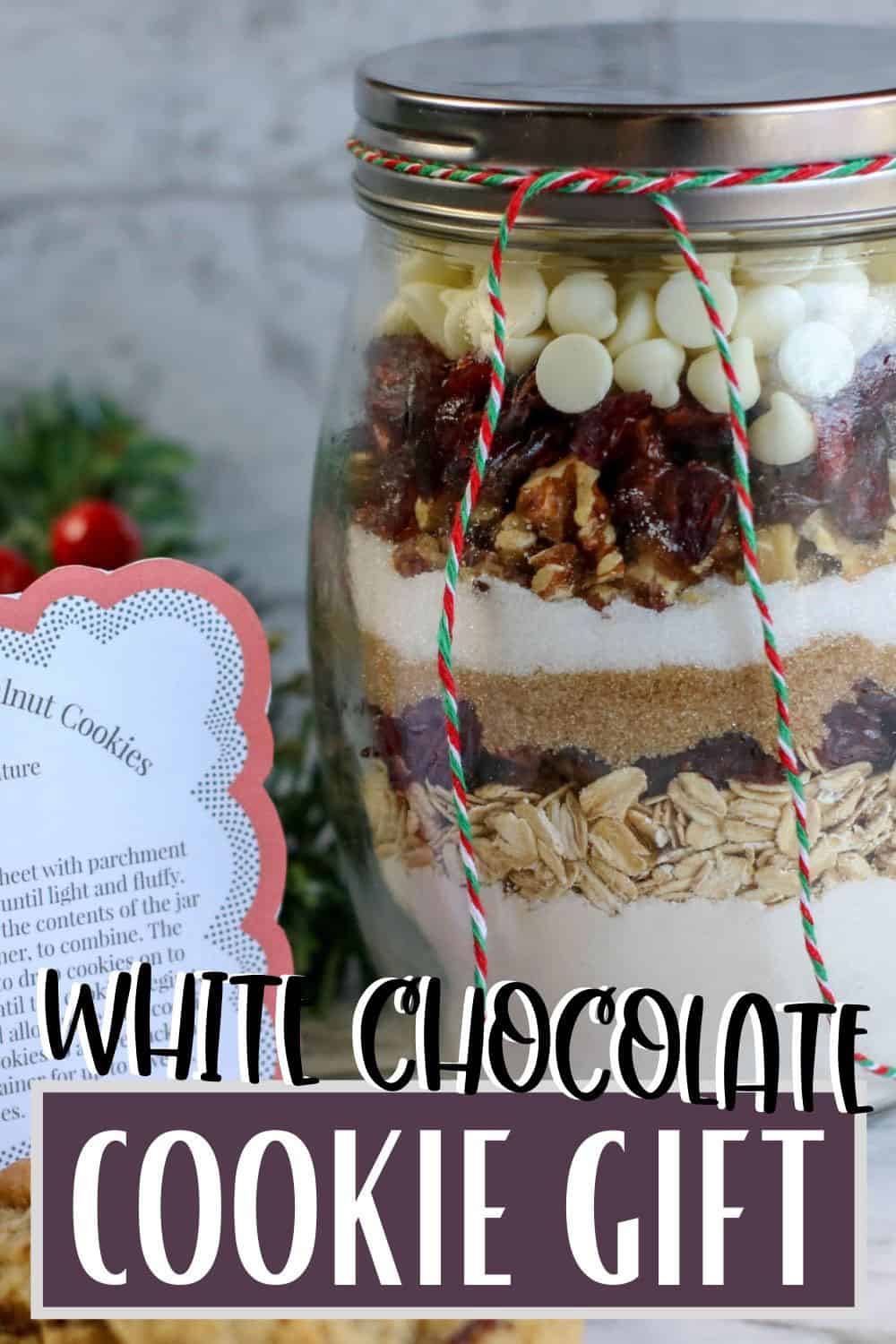 ★ Did you love this recipe? Be sure to give it a star rating below! ★
White Chocolate Cranberry Cookies Gift in a Jar
Assembly Time:
10 minutes
Give a gift of delicious white chocolate cranberry cookies! This pretty jar is great for gifts and can be transformed into warm cookies fresh out of the oven in no time!
Ingredients
1 ¼ cup flour
½ teaspoon baking soda
½ teaspoon salt
½ cup old fashioned oats
⅓ cup granulated sugar
⅓ cup brown sugar
½ cup white chocolate chips
1 cup dried cranberries
½ cup roughly chopped walnuts
Instructions
In a bowl, whisk together flour, baking soda, baking powder, and salt.
In the jar, layer ingredients in this order, pressing each down between additions:
flour mixture, oats, half the dried cranberries, brown sugar, white sugar, walnuts, remaining cranberries, and white chocolate chips. TIP: A funnel is very helpful when adding the flour.
Seal and attach gift tag.





Notes
You'll need a 1 quart (32 ounce) jar with lid to assemble this recipe.
Get a printable label/gift tag here.