These homemade cheese crackers are SO delicious. Plus? They're easy to make. Crackers might not be the first thing you think of when you hear the word homemade, but the ingredient list for this recipe is short and it doesn't take long to make at all. You might want to double this recipe, though. They're that good.
If you love the idea of making crackers at home, try these pizza flavored snack crackers, too!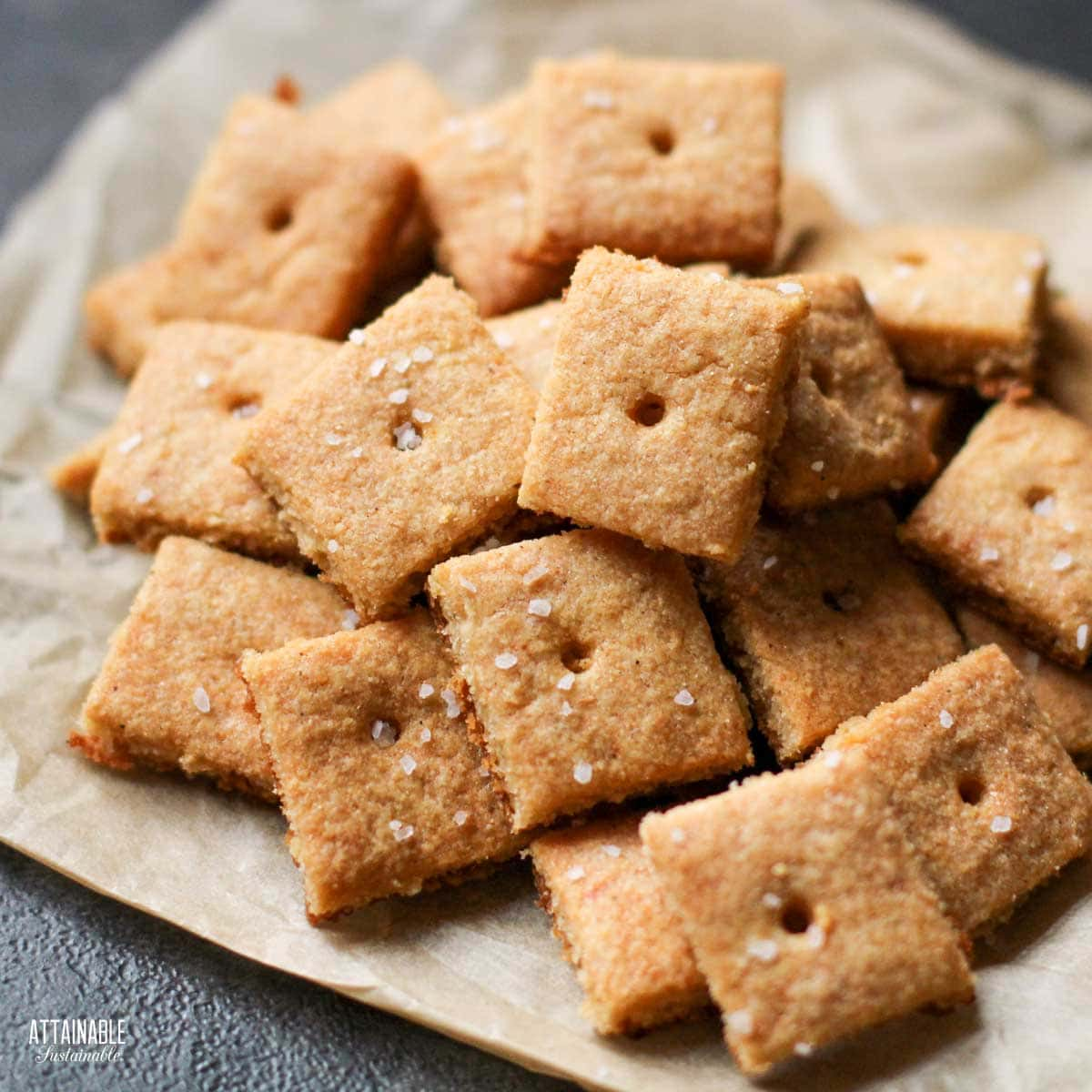 Fact: Cheez-It crackers are crap food.
Fact: Cheez-It crackers aren't even a food really. They're more like a food product.
Fact: In spite of the fact that I haven't eaten Cheez-It crackers in years, if I were stranded on a deserted island with only one kind of food, Cheez-Its would be right up there at the top of my wish list.
Good thing I've mastered this recipe for cheesy crackers.
The Handcrafted Pantry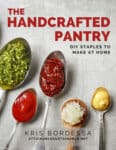 Ready to DIY your pantry with healthier ingredients? Check out my ebook, The Handcrafted Pantry! Filled with delicious recipes for some of your favorite condiments, snacks, and toppings, it's the guide you need to start skipping packaged products and embrace homemade.
Gluten-Free Cheese Crackers?
Awhile back (inspired by a recipe sent by Amanda from High Prairie Homestead) my then sixteen-year-old son took it upon himself to try his hand at making homemade cheese crackers. He deemed them "awesome," not to mention really easy to make.
Trouble is, I follow a gluten-free diet. And let me tell you: just smelling those homemade cheese crackers just wasn't cutting it. So I decided to attempt a gluten-free version. The results? I would totally take these with me to a deserted island.
5 Easy Steps to Transform Your Pantry!
Ready to switch from store bought to homemade? Let me help you make some changes! Grab my FREE five-part guide to getting started.
These crackers are gluten free and also suitable for folks who are sticking to a low carb diet. But don't let that send you off in search of a "real" recipe for homemade cheese crackers. These are tasty enough to serve to your wheat-eating friends. Really. (Not convinced? See my notes in the recipe card below for making them with all-purpose flour.)
Ingredients
Flour — This cheese cracker recipe calls for two alternative flours: Coconut and almond flour. You can also use sorghum (see notes) though they will no longer pass muster as keto cheese crackers. Usually found in the health food section at the grocery store, these flours are gluten free. Bob's Red Mill is one familiar source for these and a variety of gluten-free flour.
Hot tip: Don't freak out when you see the price of the coconut flour like I did the first time I used it. It's not used at a 1:1 ratio, so a cup of coconut flour goes a LOT further than a cup of all-purpose flour. A small bag will last you through numerous batches of these homemade gluten free crackers!
Butter — I use salted butter; if you prefer unsalted, that will work fine. Use butter straight out of the fridge and cut it into pieces to incorporate it easily.
Cheddar cheese — This is the ingredient that gives these crunchy crackers their cheesy flavor. You can use sharp or mild. Want to use white cheddar? Totally fine.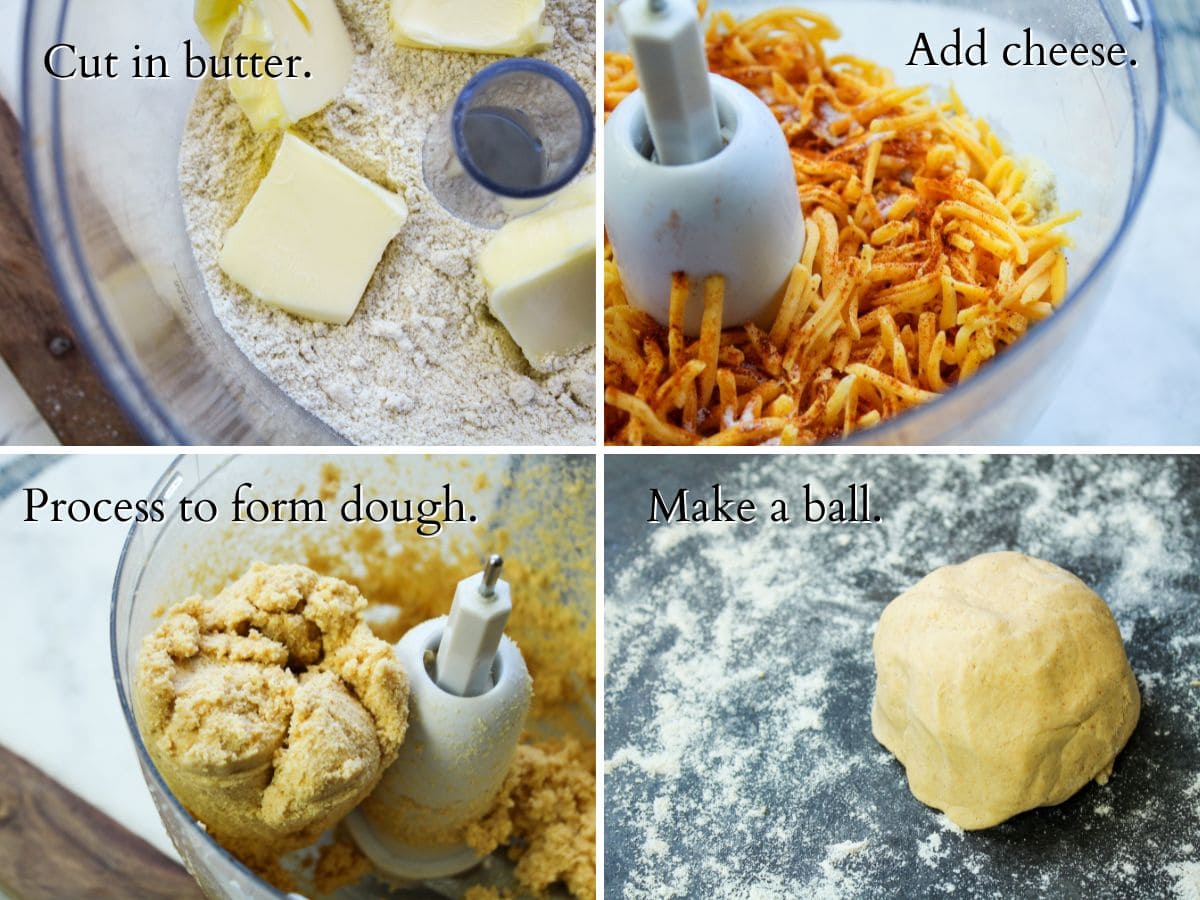 Making these Crackers
A food processor makes this extra easy, though you could also use a stand mixer, or even mix it by hand using a pastry blender. The video you see above is my husband making the recipe. (You might spot a few places in there where he doesn't follow the instructions to a T, but the crackers turned out great.)
Start by combining the flours and the butter, pulsing to cut the butter in. Add the cheese and seasonings, pulsing or mixing until the flour mixture is crumbly. Add 3-4 tablespoons of the water, processing just until the dough comes together. Add more water as necessary to achieve the right consistency.
Transfer the dough to a sheet of parchment paper and use a rolling pin to roll the dough into a thin sheet. You may need to sprinkle the dough with more flour to prevent sticking.
Forming the Crackers
I like easy. For me, that means using a pizza wheel or pastry wheel to cut the crackers into squares. Use a chopstick to poke a hole in the center of each cracker so it looks like that famous brand name version.
If you've got kiddos, you might like to find some fun cookie cutters to make fun cracker shapes.
Lift the parchment onto a baking sheet and sprinkle with coarse salt, if desired, then bake.
Storing the Crackers
Any leftover crackers should be stored in an airtight container at room temperature. Odds are good, though, that these delicious cheese crackers will be gobbled up quickly!
Making them with Wheat Flour
Not worried about fitting into a gluten free diet? Using regular flour is totally possible. Simply use all purpose flour to replace the gluten free flours.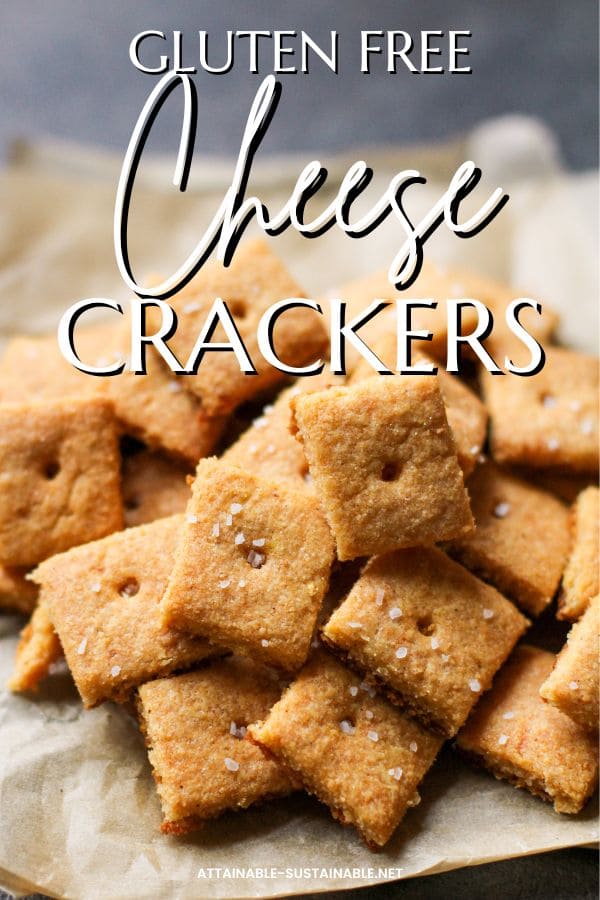 ★ Did you make these homemade cheese crackers? Don't forget to give them a star rating below!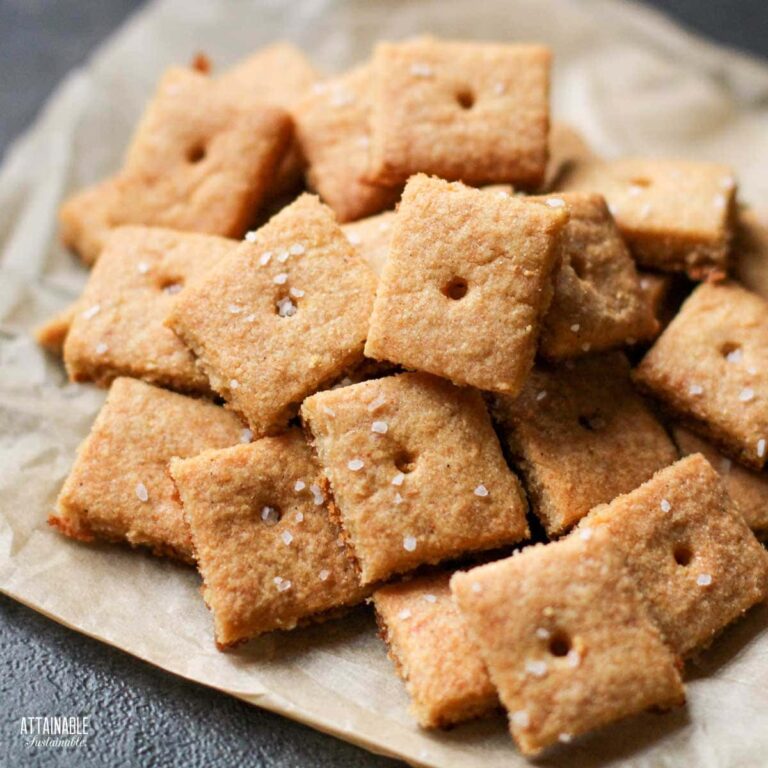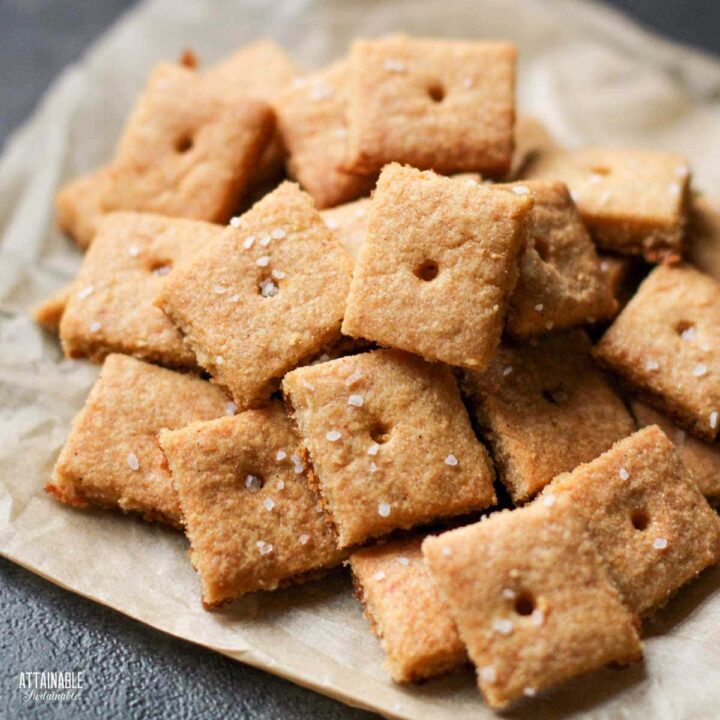 Homemade Cheese Crackers
Makes roughly the equivalent of a small box of Cheez-It crackers, perfect for snacking or adding to the lunchbox.
Ingredients
½ cup almond flour or sorghum flour (plus more for rolling out dough)
¼ cup coconut flour
4 tablespoons cold unsalted butter, cut into small pieces
1-1/2 cups cheddar cheese, sharp or mild
5 tablespoons cold water
1/2 to 1 teaspoon sea salt flakes, optional
Instructions
Combine flours and butter in the bowl of a food processor. Pulse several times, then add cheese, salt, and cayenne pepper. Pulse until crumbly. Add almost all of the water and process just until the ingredients come together, adding remaining water as necessary.
Preheat oven to 350ºF.
Transfer dough to a piece of parchment paper or a floured countertop. Use your hands to form dough into a ball, sprinkle liberally with flour, and then gently roll dough out into a thin sheet (Use more flour to prevent sticking if needed). Aim for no more than 1/8-inch thick; too thin is preferable to too thick.
Use a pizza cutter to cut into one-inch squares. For a more authentic looking cracker, poke a hole in the center of each with a chopstick. Sprinkle with coarsely ground salt, if desired.
Bake for 25 to 30 minutes, until crackers are lightly browned and crisp. Break the crackers apart and cool. Any that don't feel crisp enough should be popped back in the oven for another five minutes or so.
Crackers not eaten immediately (ha!) can be stored in an airtight container.
Notes
To make this recipe with regular all-purpose flour, substitute one cup of all-purpose flour for the almond and coconut flours.
Coconut flour is not used at a 1:1 ratio, so a cup of coconut flour goes a LOT further than a cup of all-purpose flour. A small bag will last you through numerous batches of these homemade cheese crackers! 
Nutrition Information:
Yield:

12
Serving Size:

1/2 cup
Amount Per Serving:
Calories:

193
Total Fat:

14g
Saturated Fat:

7g
Trans Fat:

0g
Unsaturated Fat:

6g
Cholesterol:

30mg
Sodium:

400mg
Carbohydrates:

11g
Fiber:

2g
Sugar:

1g
Protein:

7g
Originally published in March 2012; this post has been updated.