These gluten free crackers are easy to make and they'll fulfill your need to snack. Bonus points because they taste like pizza!
For all of you people thinking "Crackers?? Is she crazy? Who has time for that?" let me tell you that my sixteen-year-old has taken to making homemade crackers. By himself. With no help from me.
This post may contain affiliate links; I'll earn a small commission if you choose to make a purchase.
And the last time he did, he insisted that his older brother come watch, just so he could show him how easy they were to make.
Reader Favorites from Attainable Sustainable
(Note that older brother was much more interested in how they tasted than how easy they were to make.)
Related: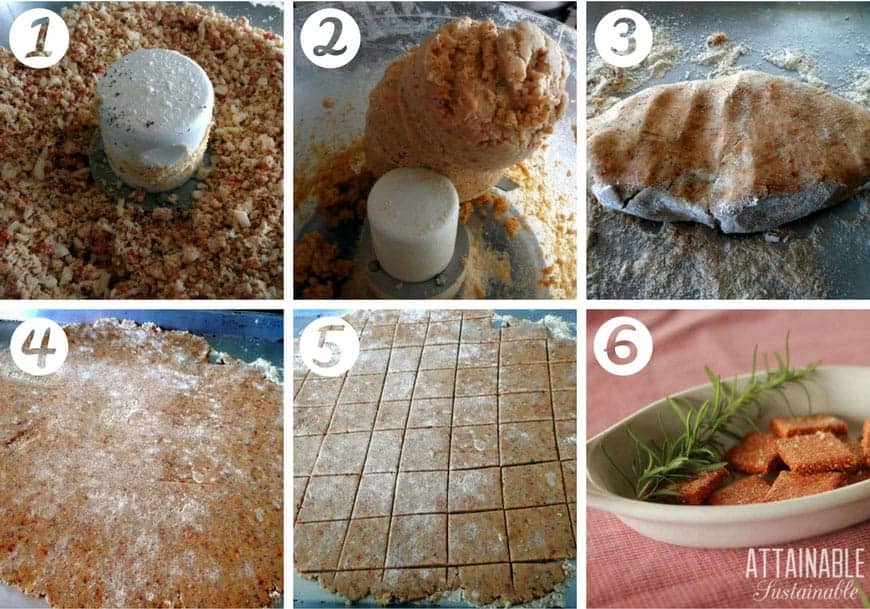 Easy gluten free crackers
It took me about 15 minutes to get these ready to go into the oven.
To make them with regular flour, just replace the sorghum and coconut flours with 1-cup all purpose flour (unbleached, of course).
  ★ Did you make this recipe? Don't forget to give it a star rating below!
Pizza Gluten Free Crackers
These are the best gluten-free crackers, and they're easy to make.
Instructions
Combine flours and butter in the bowl of a

food processor

. Pulse several times, then add cheese, salt, Italian seasoning, and pepperoni. Pulse until crumbly. Add almost all of the water and process just until the ingredients come together, adding remaining water as necessary.

Preheat oven to 350º.

Sprinkle a baking sheet with sorghum flour. Use your hands to form dough into a ball, sprinkle liberally with flour, and then gently roll dough out into a thin sheet (use more flour to prevent sticking if needed). Aim for no more than 1/8-inch thick; too thin is preferable to too thick. Use a pizza cutter to cut into one-inch squares. Sprinkle with coarsely ground salt, if desired.

Bake for 25 to 30 minutes, until crackers are lightly browned and crisp. Break the crackers apart and cool. Any that don't feel crisp enough should be popped back in the oven for another five minutes or so. Crackers not eaten immediately (ha!) can be stored in an airtight container.
Nutrition
Calories:
148
kcal
|
Carbohydrates:
8
g
|
Protein:
4
g
|
Fat:
10
g
|
Saturated Fat:
6
g
|
Cholesterol:
28
mg
|
Sodium:
310
mg
|
Potassium:
40
mg
|
Fiber:
1
g
|
Vitamin A:
5.4
%
|
Calcium:
7.7
%
|
Iron:
3
%