Gardeners who are looking for organic, heirloom, or non-GMO seeds have plenty of options for ordering! The links below will direct you to websites where you can buy vegetable seeds online.
Want to know more about heirloom seeds and why you should consider some for your garden? Read this!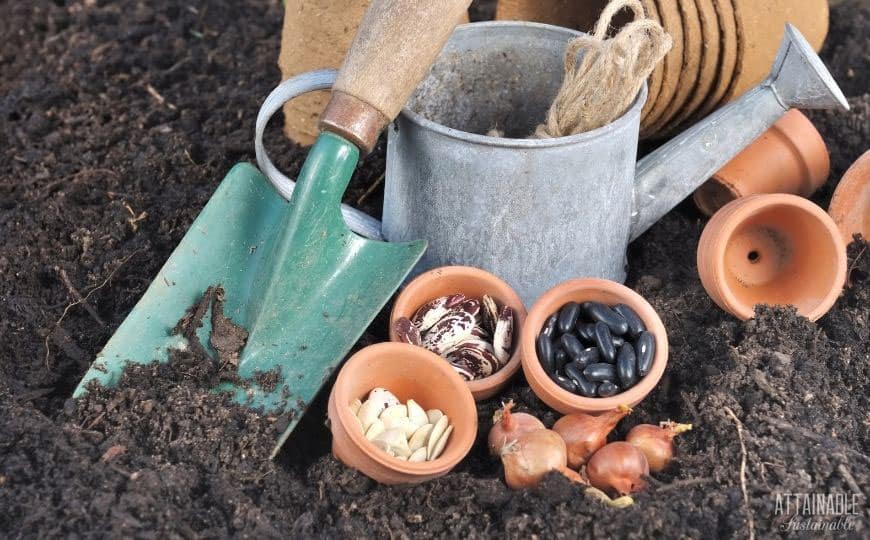 Sometimes it's hard to know what we're buying, when it comes to seeds, but an awful lot of gardeners are working to avoid genetically modified seeds. Now, to be sure, there are not many GMO seeds on the market for consumers. But I like to know that the seed companies I order from are mindful in how they grow their seeds.
Created in 1999, the Safe Seed Pledge helps to connect non-GM seed sellers to the growing market of concerned gardeners and agricultural consumers. The Pledge allows businesses to declare that they "do not knowingly buy or sell genetically engineered seeds," thus assuring consumers of their commitment.
So what exactly is a GMO seed?
Genetically engineered seeds (also called 'GMO' – genetically modified organisms – and 'transgenic') are often confused with hybrid seeds. In fact, some people claim that hybridization is just another form of genetic modification. Not exactly. In a nutshell, here's the difference:
Non-hybrid seeds (think: heirloom or open pollinated varieties) can be saved and replanted from year to year. The resulting fruit remains "true to seed." In other words, that funny little tomato you remember from grandma's garden? If you planted seeds saved from that tomato, you'd get the same fruit today.
Hybrid seeds are the product of cross-breeding two varieties of one type of fruit or vegetable in order to improve it with desired characteristics. Yields, pest and disease resistance, flavor, or shelf are enhanced in hybrid varieties. It's kind of like breeding a Labrador retriever with a poodle to get a Labradoodle. Hybrid seeds generally do not grow true to seed.
Transgenic seeds are altered by inserting DNA from outside of the species into a plant seed. Kind of like trying to breed a cat and a dog. Mother Nature doesn't allow such a thing to happen, but the miracle of modern technology lets scientists cross that barrier. GMO seeds are patented and it's actually illegal to save and replant some of these seeds.

Where to Buy Organic, Heirloom, and Non-GMO Seeds
Adaptive Seeds has a wide range of vegetable seeds to choose from. They sell only public domain, non-GMO, open pollinated (OP) seed. All of their seed is grown without chemical fertilizers, herbicides or pesticides, and none of it is treated.
Grow Some Greens!
Ready to grow fresh greens, no matter WHERE you live? Sign up for my
FREE quick-start guide and start growing some of your own food!
Botanical Interests has been selling vegetable and flower seeds for a quarter of a century. Their seeds — both hybrid and heirloom — have been verified by the non-GMO Project.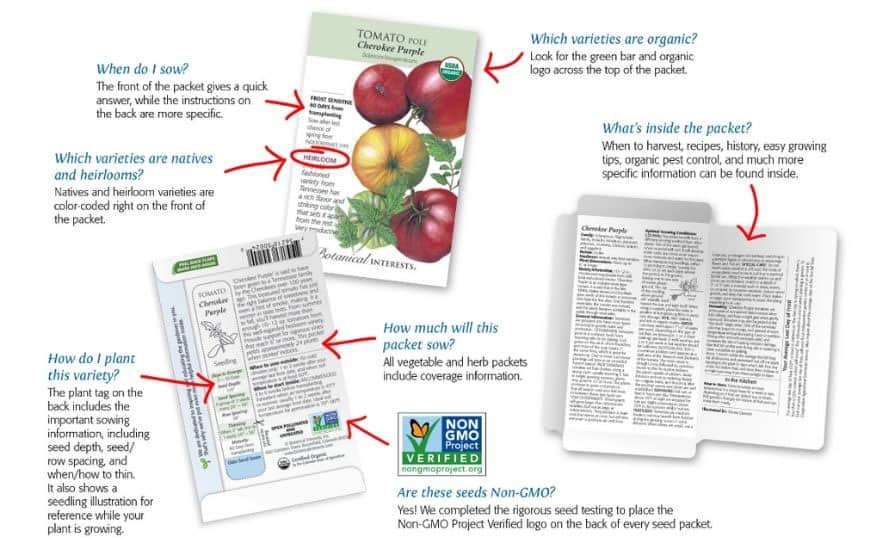 Burpee Seeds has been providing seed to gardeners for over 100 years. They carry both hybrid and heirloom seeds, as well as some that have been grown organically. Their non-GMO policy is here.
Eden Brothers cleverly calls themselves "the seediest place on earth." Their online seed catalog offers both heirloom and hybrid vegetable seeds, all non-GMO. Many are organically grown.
Fedco Seeds does not sell any genetically engineered seeds. They do sell a lot of other things. They carry both heirloom and hybrid vegetable seeds as well as flower seeds, bulbs, and fruit trees.
High Mowing Seeds sells 100% certified organic seed, bred to perform best in organic conditions with robust, vigorous genetics and modern disease resistances. They carry both hybrid and heirloom seeds, all grown organically.
Johnny's Selected Seeds, an employee-owned company, has been selling seeds since 1973. They provide heirloom, organic, and hybrid seeds non-GMO seeds.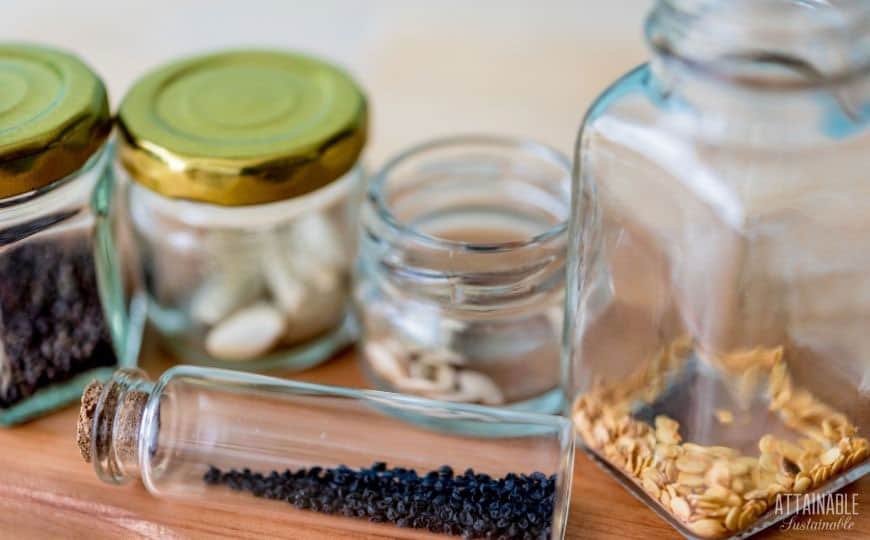 Jung seeds has been around since 1906, but I've just discovered them recently. Their non-GMO seeds are mostly hybrid options, though they do carry a few heirloom seeds as well as some that are organically grown.
Kitazawa Seed Company is the oldest seed company in America specializing in Asian vegetable seeds. They've been doing this since 1917 and do not sell genetically modified seeds. You'll find both hybrid and heirloom seeds in their online catalog.
Mary's Heirloom Seeds offers organic, open-pollinated, non-GMO, and non-hybrid seeds.
Native Seeds/SEARCH seeks to find, protect and preserve the seeds of the people of the Greater Southwest so that these arid adapted crops may benefit all peoples and nourish a changing world.
Peaceful Valley offers certified organic non-GMO seeds. They provide both open-pollinated heirloom varieties and hybrid options.
Renee's Garden is a small seed company that does not sell chemically treated or genetically engineered seeds. You'll find both hybrid and heirloom seeds in their online store. They carry both organically and conventionally grown seeds.
Seed Savers Exchange is a non-profit organization dedicated to saving heirloom seeds since 1975. Their seed bank houses a collection of 20,000+ rare, open-pollinated varieties.
Siskiyou Seeds provides certified organic, open pollinated seeds for vegetables, flowers, and herb seeds. Based in the Pacific Northwest, they produce over 70% of the seeds they sell on their family farm.
Southern Exposure Seed Exchange offers about 800 varieties of non-GMO seeds, emphasizing varieties that perform well in the Mid-Atlantic and Southeast. Their seeds are primarily open-pollinated varieties, grown organically.
Territorial Seed Company offers a wide range of organic, non-GMO seeds for vegetables, flowers, fruits, and herbs. None of their seeds are chemically treated.
Trueleaf Market provides USDA Organic, non-GMO seeds for vegetables, flowers, and herbs. They've taken the Safe Seed Pledge and carry both hybrid and heirloom seeds.
Victory Seed Company is a small, family owned organization that works to preserve plant varieties by locating, growing, documenting and offering heirloom and rare open-pollinated garden seeds to home gardeners. You'll find both hybrid and heirloom seeds in their online store, all of which are non-GMO.
Do you have a favorite seed seller that I've missed? Leave a comment below and tell me why you like them!