A pear crisp might be the perfect fall dessert! Topped with a crispy cinnamon and oat topping, it's delicious by itself, but nobody will be mad if you serve it with ice cream.
Originally published November 2021; this post has been updated.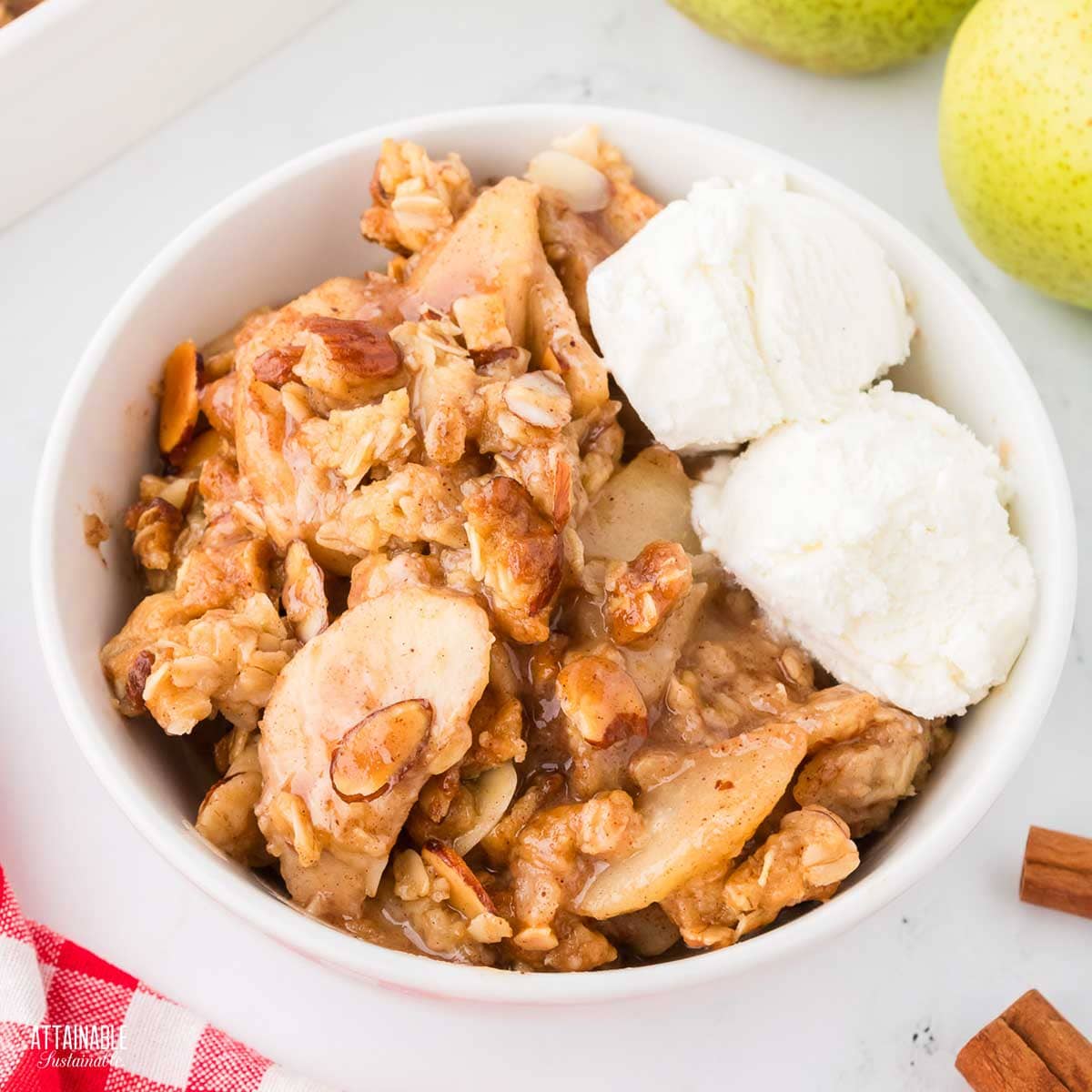 Enjoy a Pear Crisp!
Fruit crisps are a delicious way to enjoy the seasonal abundance, no matter what season you're enjoying! Fresh fruit beneath a layer of crumb topping bakes up to make a dessert that's full of fruit and delicious and faster to make than pie.
Apple crisp usually gets all the attention, but when fresh pears are abundant in the fall, this easy pear crisp is a winner! Serve it warm, right out of the oven. Scoop of ice cream optional.
Ingredients
Fresh pears — Choose your favorite variety or what's available locally. Bartlett pears are generally a good choice for baking. Anjou and Bosc are commonly available and will work well, too. Use firm, ripe pears. Using canned pears is not recommended. They are too soft and will turn to mush when baking.
5 Easy Steps to Transform Your Pantry!
Ready to switch from store bought to homemade? Let me help you make some changes! Grab my FREE five-part guide to getting started.
Rolled Oats — They're not just for breakfast! Old fashioned rolled oats give this pear crisp a delicious flavor with a crumb topping. Optionally, you can pulse half the oats in a blender to make them a bit more fine. Don't use steel cut oats. I like to use oats for the flavor, but also because it makes a perfect a gluten free pear crisp. These can be replaced with all purpose flour, but the texture will be a bit different.
Brown sugar — The rich molasses flavor of brown sugar is delicious in this dessert. Use light brown sugar or dark, as you like. You can substitute granulated sugar if you don't have brown sugar.
Butter — Allow the butter to come to room temperature for easy mixing. I used salted butter; if you prefer unsalted, that will work fine.
Cinnamon — This familiar and warming spice brings out the sweetness of the pears.
Nuts — If you are nut-averse, you can consider these optional, but adding nuts to the crisp gives it that delicious toasty, nutty flavor we all love in baked goods. You can use sliced or chopped almonds, walnuts, or pecans, as you like.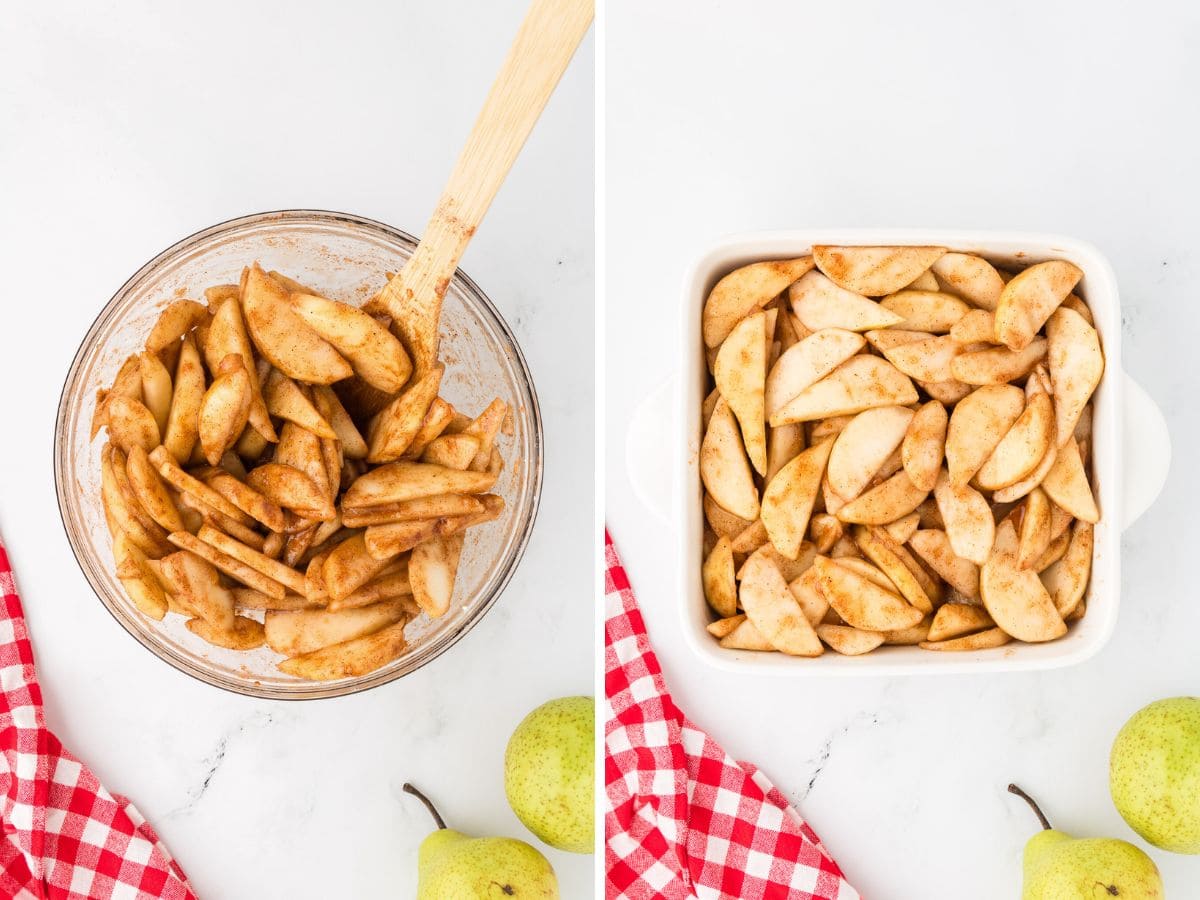 Making this Easy Pear Dessert
Start by peeling and slicing the pears. Cut away brown spots and minor blemishes; these are cosmetic issues and the rest of the pear is just fine to use.
Combine the sliced pears with one teaspoon of the cinnamon then pour into the prepared baking dish. Set aside while you make the topping.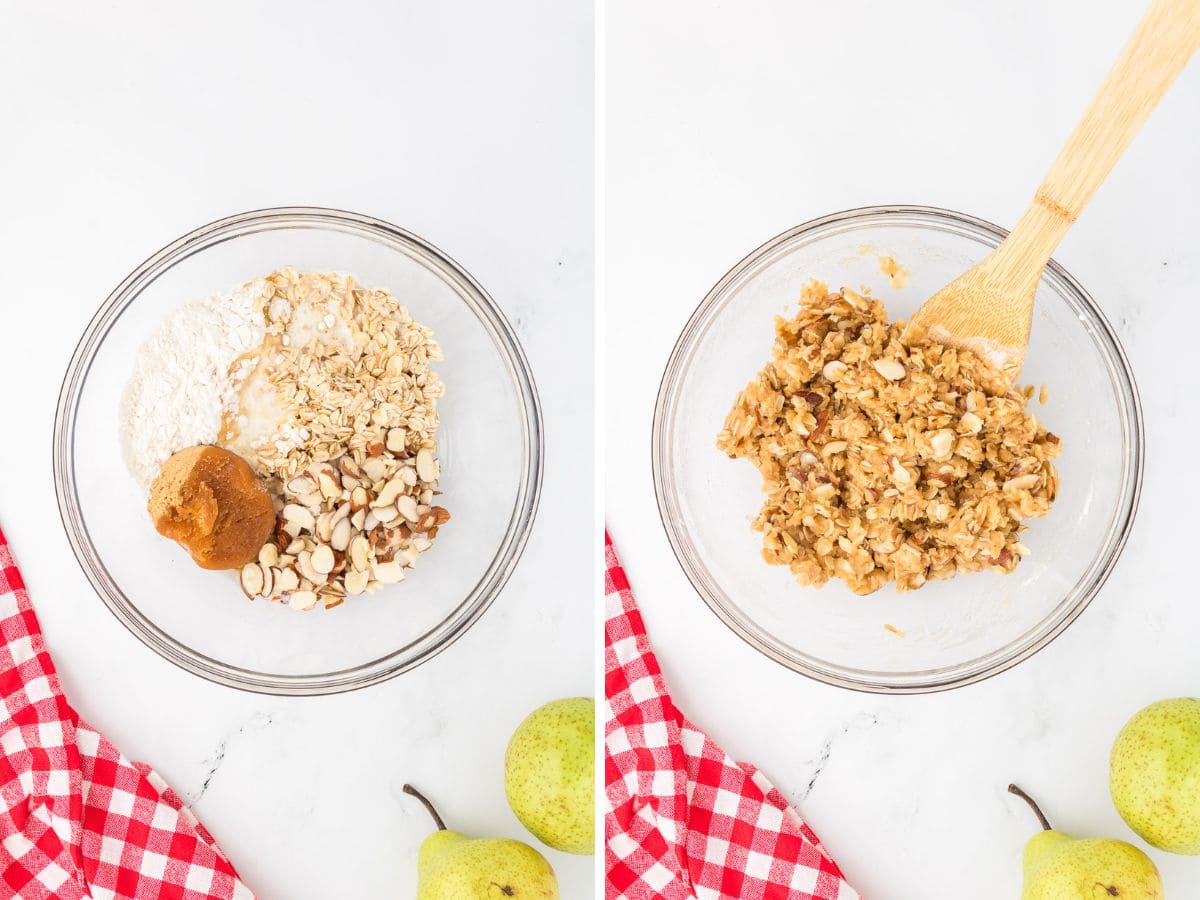 Combine the oats (and oat flour, if you opt to use it), brown sugar, butter, nuts of choice, and remaining cinnamon in a mixing bowl.
Use a pastry blender or sturdy fork to cut the butter into the dry ingredients until well blended.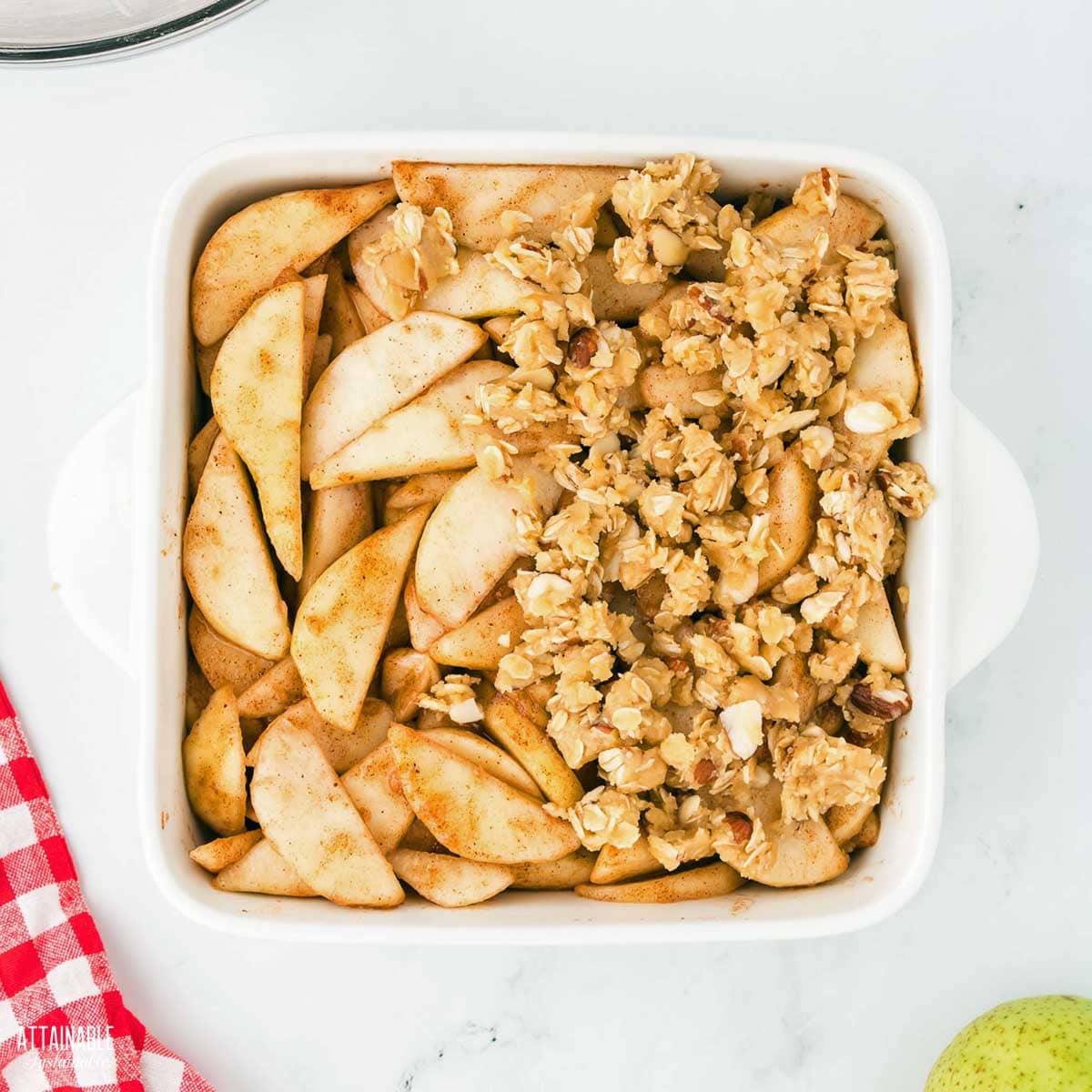 Sprinkle the mixture over the prepared pears and bake until the fruit bubbles, the pears are soft, and the topping is golden brown.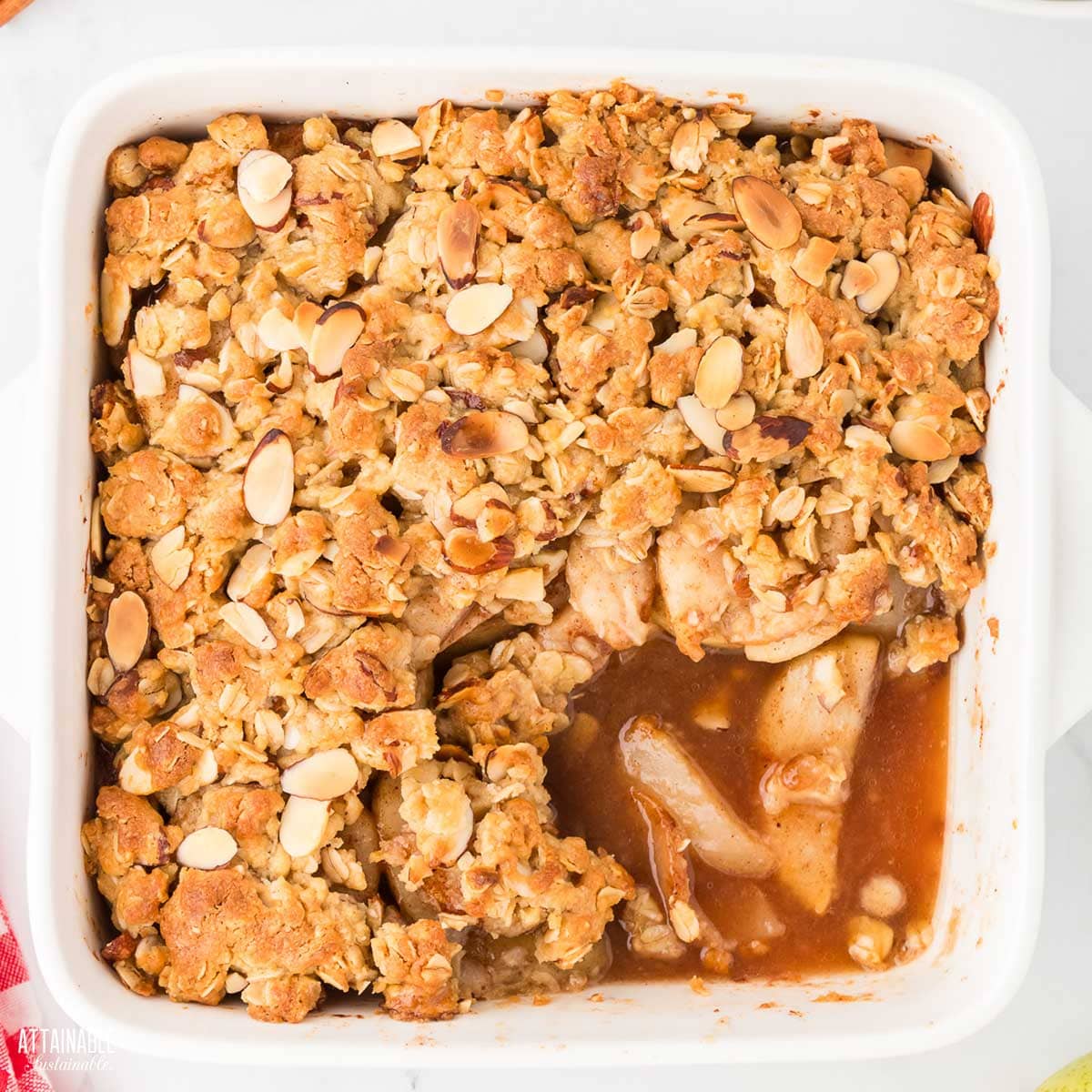 Serving Pear Crisp
Serve warm or at room temperature, but there's just something so cozy about a warm dessert. If you want to really get bonus points for your dessert delivery, top each dish with a scoop of vanilla ice cream and drizzle on some of the juices from the bottom of the pan.
Store leftover pear crisp in the refrigerator for 2-3 days.
How to Freeze Pear Crisp
This pear crisp can be frozen to serve later, either before or after baking. Wrap it tightly and freeze for up to three months. Thaw overnight in the refrigerator and reheat or bake in the oven.
If you have lots of pears, consider making a batch of these pear preserves for the pantry.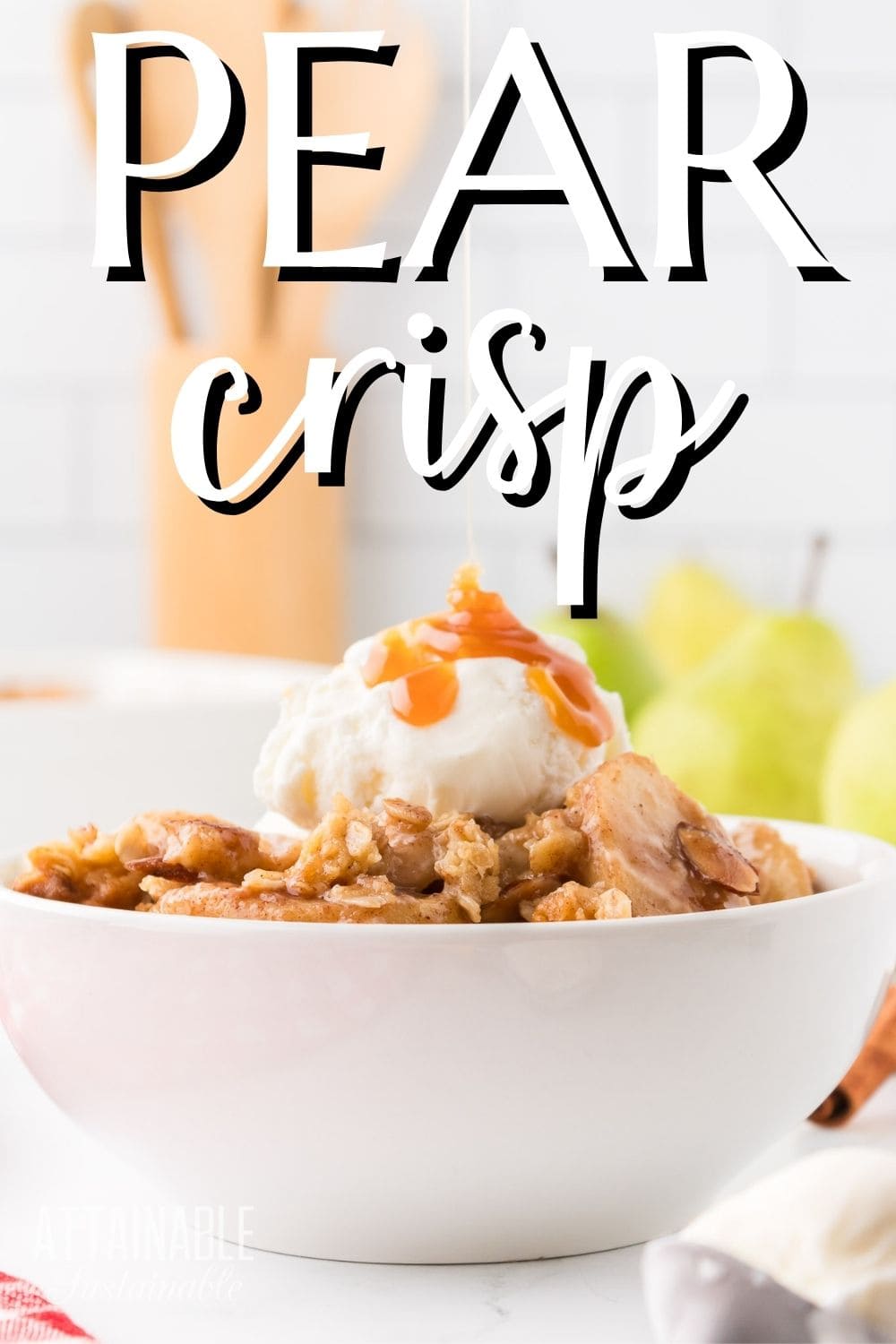 ★ Did you love this recipe? Be sure to give it a star rating below! ★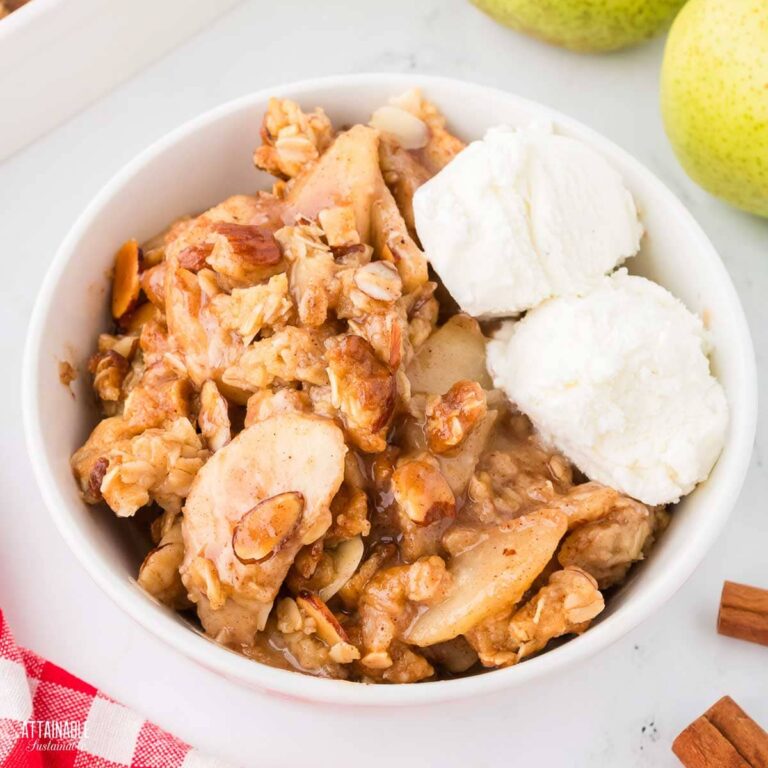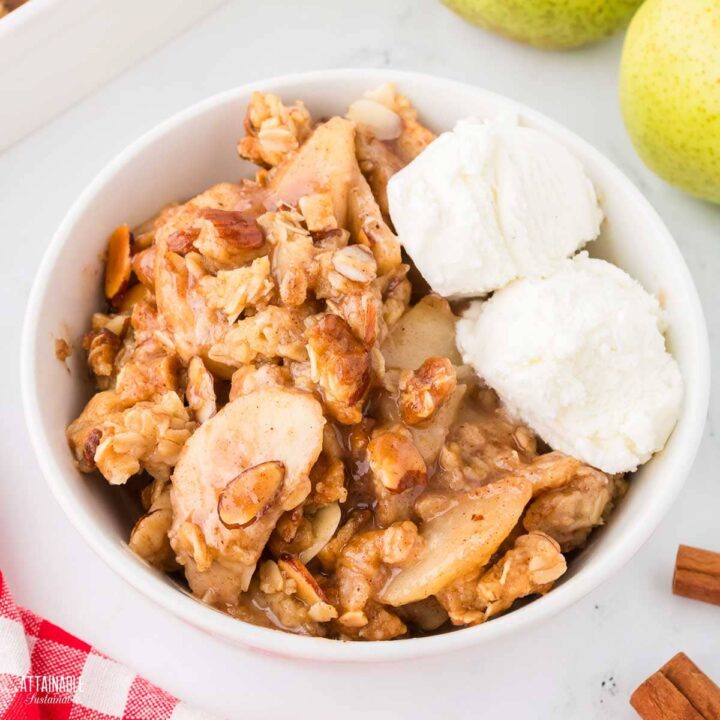 Easy & Delicious Pear Crisp
This easy pear crisp recipe is a delicious way to enjoy an abundant fall crop. Serve it warm with vanilla ice cream!
Ingredients
4-5 cups pears, peeled and sliced (about 2 pounds)
1 cup rolled oats
1 cup packed brown sugar
1/2 cup butter (1 cube) 
1/2 cup nuts (almond, walnut, pecan)
2 teaspoons cinnamon, divided
Instructions
Peel and slice pears into a mixing bowl.
Sprinkle 1 teaspoon ground cinnamon on the pears and toss to coat.
Transfer pears to an 8 or 9 inch square baking dish. Optionally, use a 10" cast iron skillet.
Combine the oats, brown sugar, butter, nuts, and remaining cinnamon in a mixing bowl. Use a pastry blender or sturdy fork to cut the butter into the dry ingredients until well blended.
Sprinkle the topping evenly over the prepared pear filling.
Bake at 375ºF for 35-40 minutes until edges are bubbly and topping is lightly browned.
Notes
If you'd like, you can process half the oats in a blender to create a coarse oat flour. This makes the crisp topping a little less chunky.
The pears will release juices as they cook. You can add a tablespoon of instant tapioca to the uncooked pears before adding the topping to help thicken the juice, but it's entirely optional.
Nutrition Information:
Yield:

10
Serving Size:

1
Amount Per Serving:
Calories:

388
Total Fat:

14g
Saturated Fat:

6g
Trans Fat:

0g
Unsaturated Fat:

7g
Cholesterol:

24mg
Sodium:

82mg
Carbohydrates:

70g
Fiber:

11g
Sugar:

47g
Protein:

3g