Everyone knows about honey bees, but it's time we got to know some of their native counterparts, specifically, mason bees. Demarus Sandlin from Crown Bees offered to share some common misconceptions in an attempt to encourage gardeners to expand their idea of pollinators to include more than the familiar honey bee. She also talks about how to attract mason bees to your garden.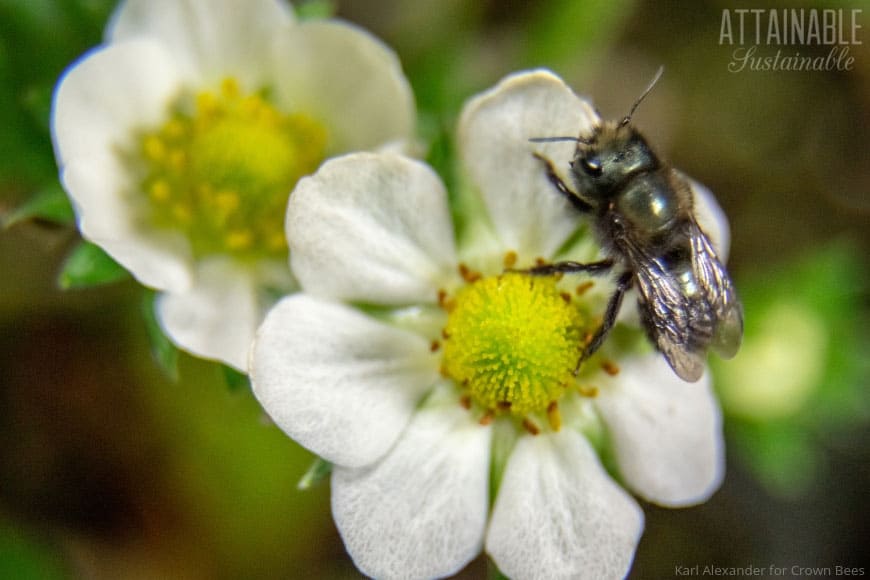 Mason bees are a bee species you might not recognize, but they are great pollinators. Here's a look at how native bees differ from our misconceptions. In this case, Demarus introduces us to blue orchard mason bees, Osmia lignaria.
---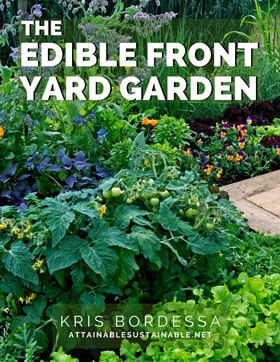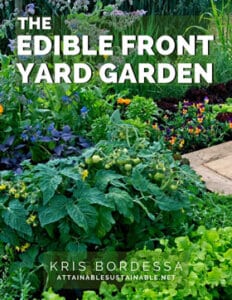 The Edible Front Yard Garden
Does your homeowners association prevent you from growing food in the front yard? What if they never even KNEW? My ebook, The Edible Front Yard Garden will show you how!
---
Six common myths about bees
Myth: Honey bees are great pollinators
Honey bees are actually not the greatest pollinators. When this bee species gathers pollen, they wet it and form packages on their hind legs. Not much pollen falls off these wet pollen packs.
Mason bees carry pollen in dry form all over their hairy bodies – these messy little flyers pollinate essentially every flower they visit. They are an efficient pollinator and just one is equal to about 100 honey bees as far as pollination goes.
Over the last 60 years, honey bees have been used as agricultural pollinators but a more sustainable practice is to support our native pollinators.
Grow Some Greens!
Ready to grow fresh greens, no matter WHERE you live? Sign up for my
FREE quick-start guide and start growing some of your own food!
How to attract mason bees: Provide pollen. If you want mason bees to help pollinate your vegetables, one of the best things you can do is to provide flowering plants that will attract them to your garden.
Myth: All bee species are aggressive and they all sting
Most solitary bees are not aggressive. Male mason bees do not even have stingers. Females do have stingers, but are usually busy gathering pollen and nectar for their own eggs. If a female mason bee does sting, it will feel similar to a mosquito bite.
Myth: They all make honey
Of the 20,000 species of bee in the world, only seven are honey-producing. Bumblebees make small nectar stores but they are small pots for use during brooding season.
Masons do not make honey; instead they gather pollen and nectar to feed their young. The pollen is gathered into a pea-sized ball and mixed with nectar to form a pollen loaf. An egg is laid on this loaf and the hatched larvae feed on the mixture.
Related: 13 Reasons to Grow Food in Your Yard

Myth: They all live in hives
Only 10% of the world bee population builds hives and supports one queen bee. Ninety percent of the native bee population are solitary, meaning that each female is a fertile queen and works hard to lay eggs AND build nests.
About 70% of native bees are ground-dwellers and around 20% live in cavities or holes. The Mason bee variety lives in holes like hollow reeds. Although they are not social, they are gregarious, which means they do not mind living near other bees.
How to attract mason bees:
A stack of nesting holes acts much like an apartment building, and each female "owns" the hole she nests within. You can attract mason bees and encourage them to move in by providing suitable nesting space.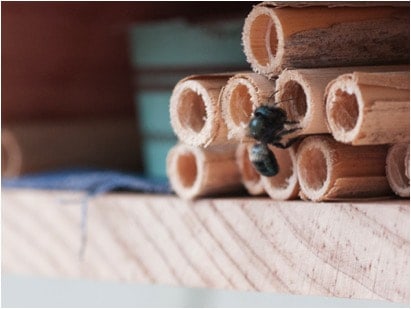 Myth: All bees have yellow & black stripes
Some native bee pollinators are bright green, others are full black, and some in Asia are a bright turquoise blue! Mason bees are small and metallic blue, and look a little bit like a hairy housefly. Common features among them all are eyes shaped like a pointy oval (similar to an ant), two sets of wings for a total of four wings, and thick, hairy legs. (Now you know the features to look for next time you are looking for them in your garden.)
Mason bees vs. Carpenter bees
Mason bees are not the same as Carpenter bees. Mason bees nest in ready-made holes. Carpenter bees, on the other hand, drill holes in wood. Trees, two-by-fours, decks, house siding, you name it. They prefer untreated wood, but in a pinch, they'll even carve holes in finished wood. Carpenter bees make these holes for laying eggs, but their work can do damage. Mason bees are not the ones to blame for damaged wood.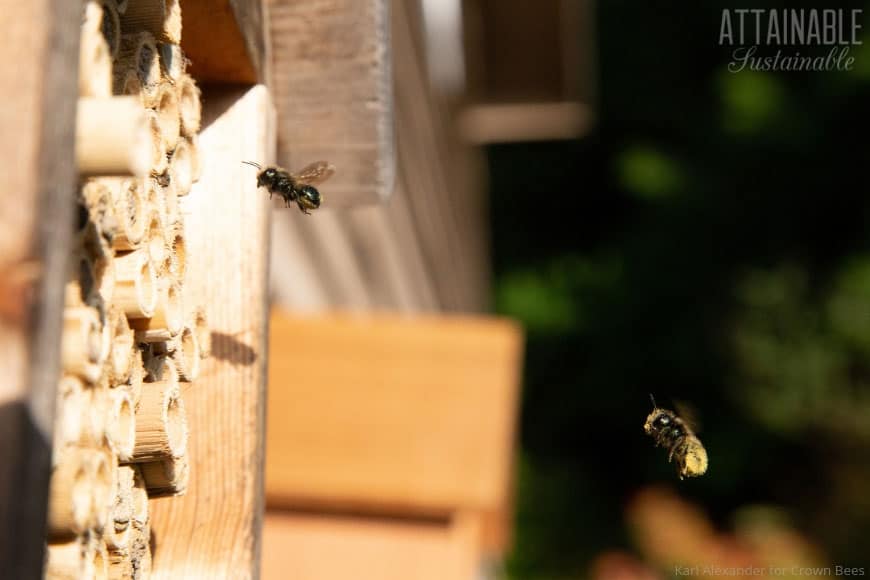 Myth: All bees fly great distances to gather nectar
While this may be true for honey bees that will fly up to four miles in search of nectar and pollen, most natives stay very close to their nesting sites. Masons will only travel up to 300 feet, or 100 meters, away from their nesting holes. Mason bees love early-blooming spring trees like apples and cherries.
The name mason bee comes from the bee's nest-building behavior. The female mason bee carries clay-like mud in her jaws and uses it to build chamber walls.
How to attract mason bees:
Provide a water source. And don't be too tidy with it. (Ducks can help with this!) Mason bees will appreciate the ready source of building materials.
To learn more about this gentle, safe, and easy-to-raise bee species, please visit Crown Bees here.