If you are looking for a gourmet fudge recipe that's perfect for giving, look no further. This creamy, soft old-fashioned fudge outdoes the other recipes you've tried — even the famous state fair version! I'm sure of it; I've been convincing people for years that this is the best fudge recipe out there, one batch at a time.
Can't get enough chocolate? Check out my homemade hot fudge sauce recipe, too!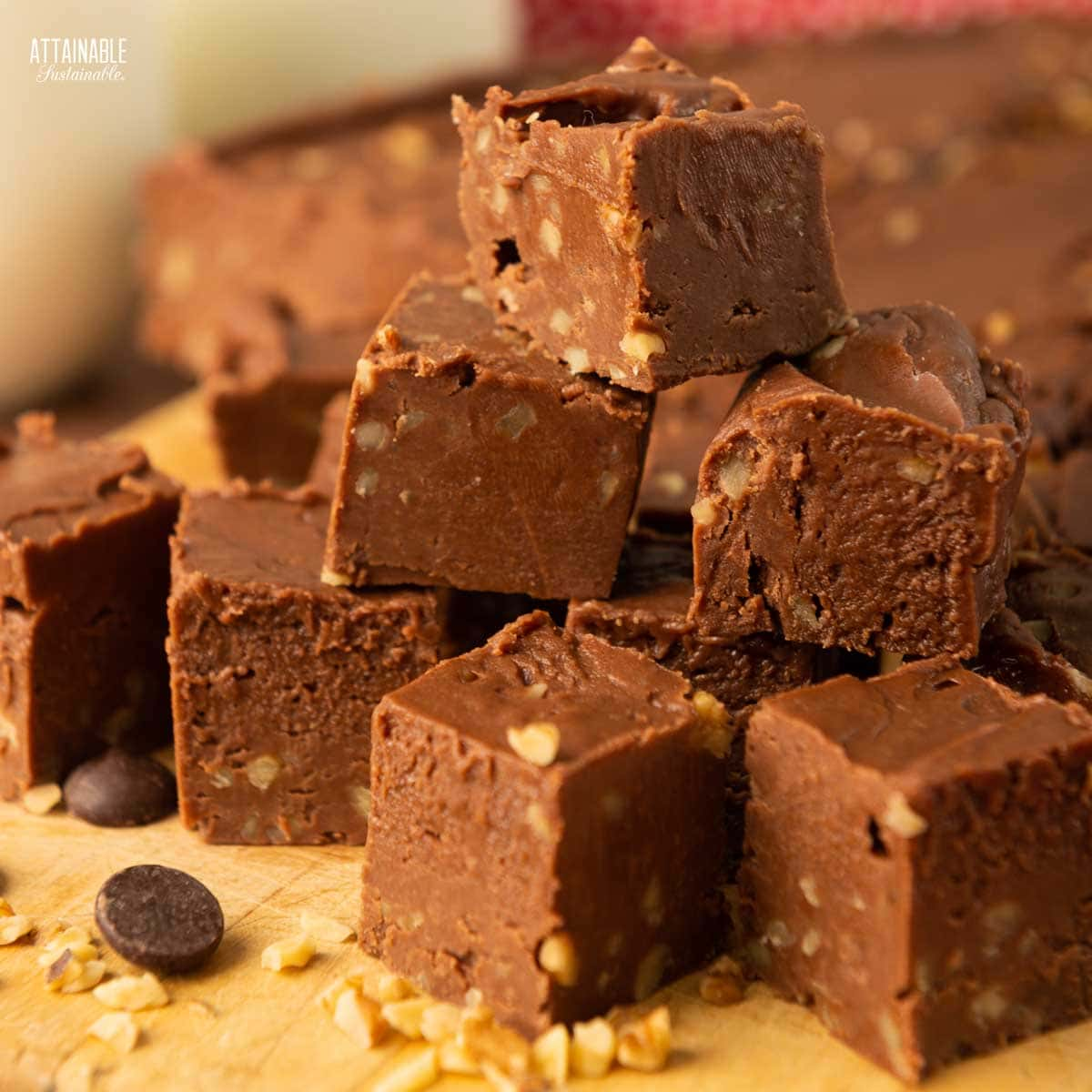 A long-ago friend of mine was well-known for her fabulous desserts. Notably, she had the best melt-in-your-mouth old-fashioned fudge recipe ever. Seriously. She was kind enough to share it with me years ago, and I've been using this recipe ever since.
The Handcrafted Pantry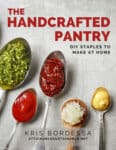 Ready to DIY your pantry with healthier ingredients? Check out my ebook, The Handcrafted Pantry! Filled with delicious recipes for some of your favorite condiments, snacks, and toppings, it's the guide you need to start skipping packaged products and embrace homemade.
The BEST Fudge Recipe
You know those gourmet fudge booths at the county fair where they charge one million dollars for a half pound? Hubby insists on breaking our bank every time he has the opportunity, then proceeds to say, "yours is better." My kids concur that this is the best fudge recipe they've tried.
Another friend, after listening me wax poetic about my favorite holiday indulgence scoffed, saying this was no different than the recipe on the back of the marshmallow fluff jar. (Hi, Chris!)
Oh, but it is, I told him. Try it, I told him. He did, and for the past half-dozen or so years, he whips up a batch and considers it the kickoff of his holiday season.
5 Easy Steps to Transform Your Pantry!
Ready to switch from store bought to homemade? Let me help you make some changes! Grab my FREE five-part guide to getting started.
You need to make this. I have no qualms whatsoever saying that this is the best fudge recipe you'll make, hands down. All credit to Andrea for that!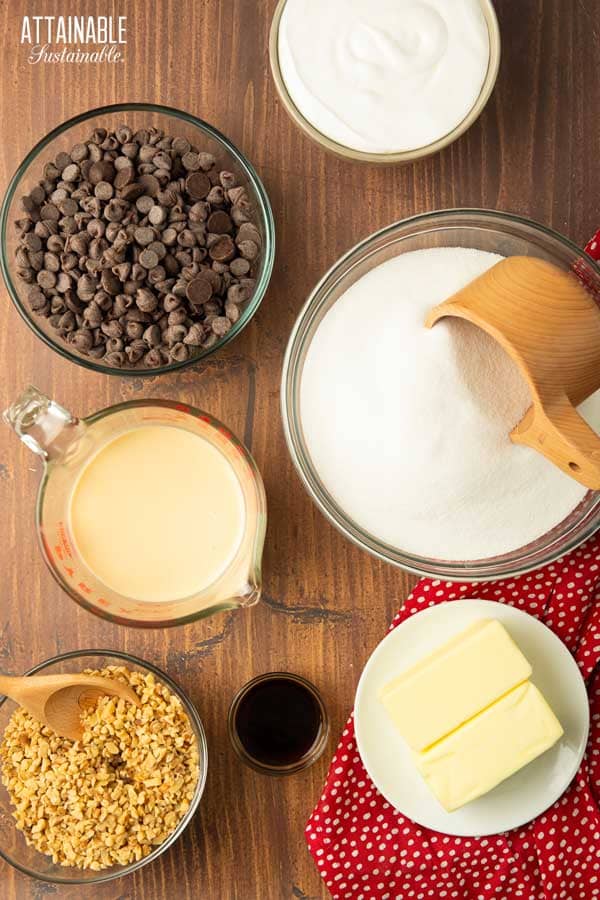 Ingredients
Chocolate chips — The original recipe calls for semi sweet chocolate chips, but if you prefer dark chocolate, by all means give it a go!
Butter — I use salted butter for this recipe, but if you prefer, unsalted is fine.
Marshmallow fluff — When I make this fudge, I start by making homemade marshmallow fluff. If you want to skip that step, jarred marshmallow fluff is fine.
Sugar — Use your favorite brand of granulated cane sugar. I prefer organic.
Evaporated milk — The full fat canned stuff is what you want here. This is not the same as sweetened condensed milk; don't use that.
Vanilla — Real vanilla extract gives the best flavor, but whatever's in your cupboard will work. Try making vanilla at home!
Nuts — This fudge is melt-in-your-mouth creamy and lovely to savor without the optional nuts. But if you're a yes on nuts, stir in some walnuts. Amp up the flavor by toasting the walnuts!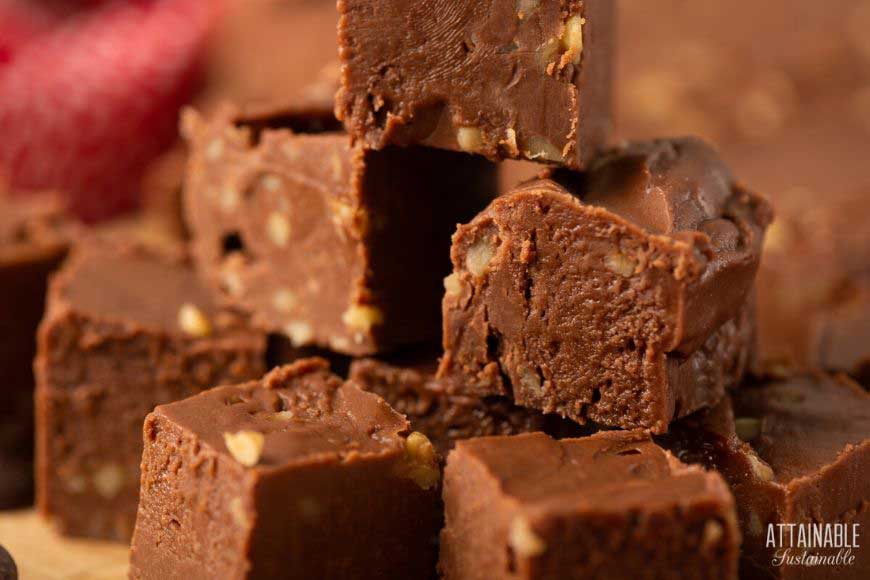 How to Make Fudge the Old-Fashioned Way
It's not hard to make, but this recipe requires a bit of effort. Start by putting the chocolate chips, marshmallow fluff, and butter in a large mixing bowl.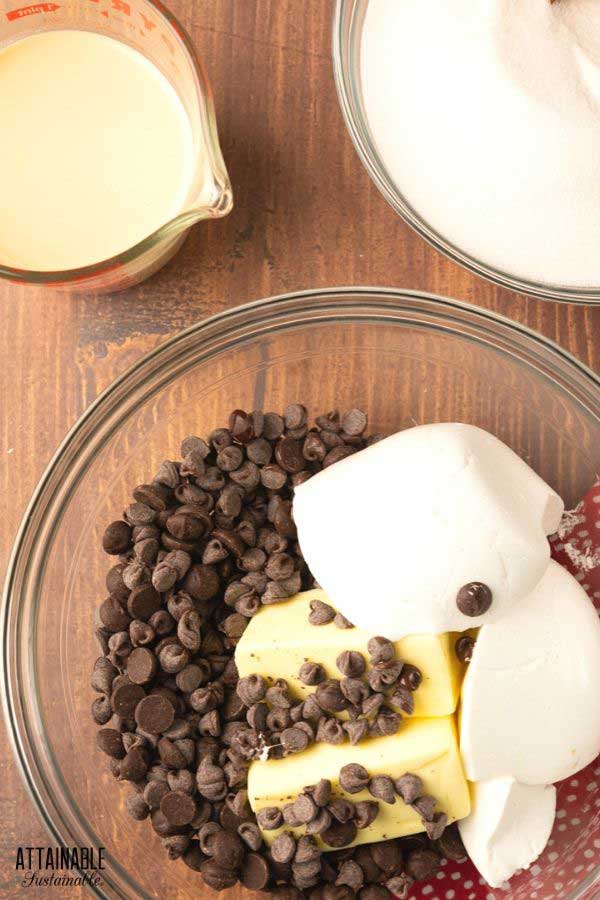 Heat the milk and sugar on the stove top over medium heat, then pour the hot liquid over the ingredients in the bowl. The heat of the cooked milk and sugar mixture will melt the ingredients in the bowl as you mix.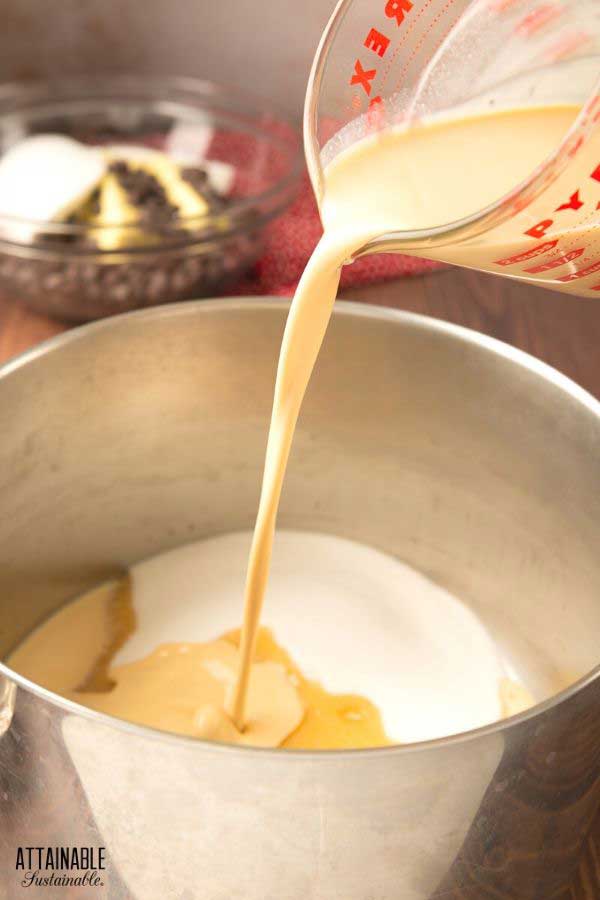 You can use a stand mixer or a hand mixer for this recipe. In either case, you'll want to mix it until the fudge begins to hold its shape.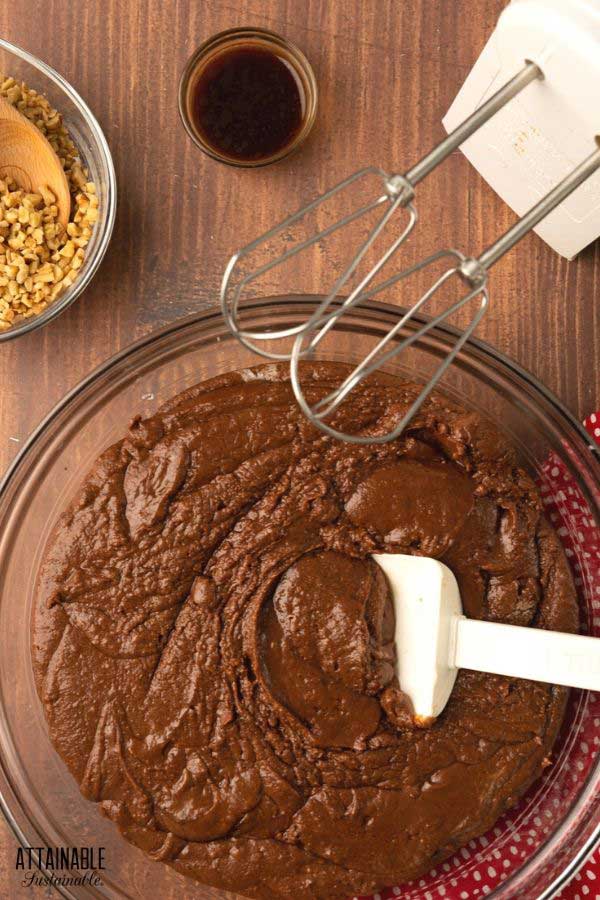 Nuts or no nuts? That's your call! You could also divide the recipe and add nuts to just half. One cup chopped walnuts would be perfect for half a batch.
Spread the chocolate fudge into pans and cool in the refrigerator before cutting into squares. When left at room temperature, this fudge recipe can be a little soft. I store cut fudge in the fridge until I'm ready to serve it or give it to its lucky gift recipient.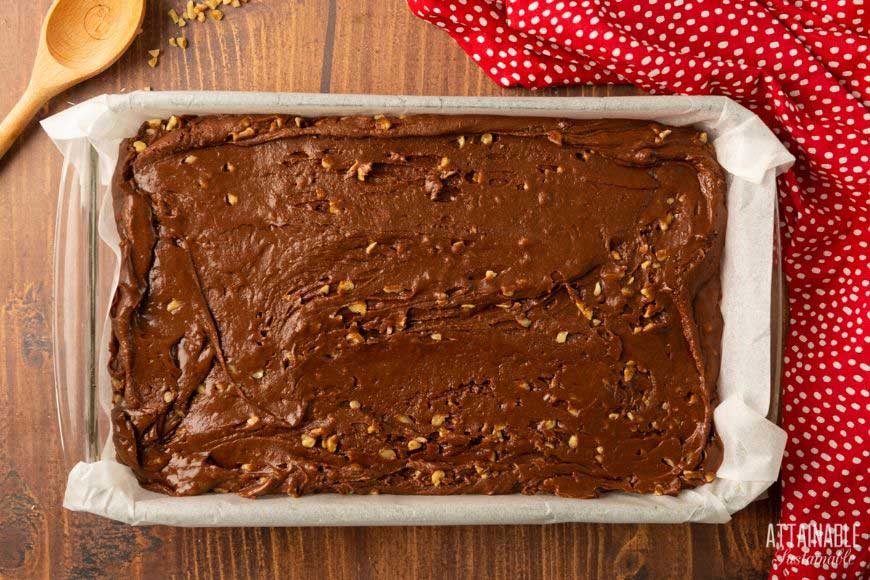 Big Batch for Giving
This recipe makes about five pounds of fudge, so you'll have plenty to share and still have some left for yourself. Store fudge in an airtight container in the refrigerator. If you're giving this fudge recipe as a gift, I like to package it up into pretty tins and keep them in the fridge until I'm ready to give them away.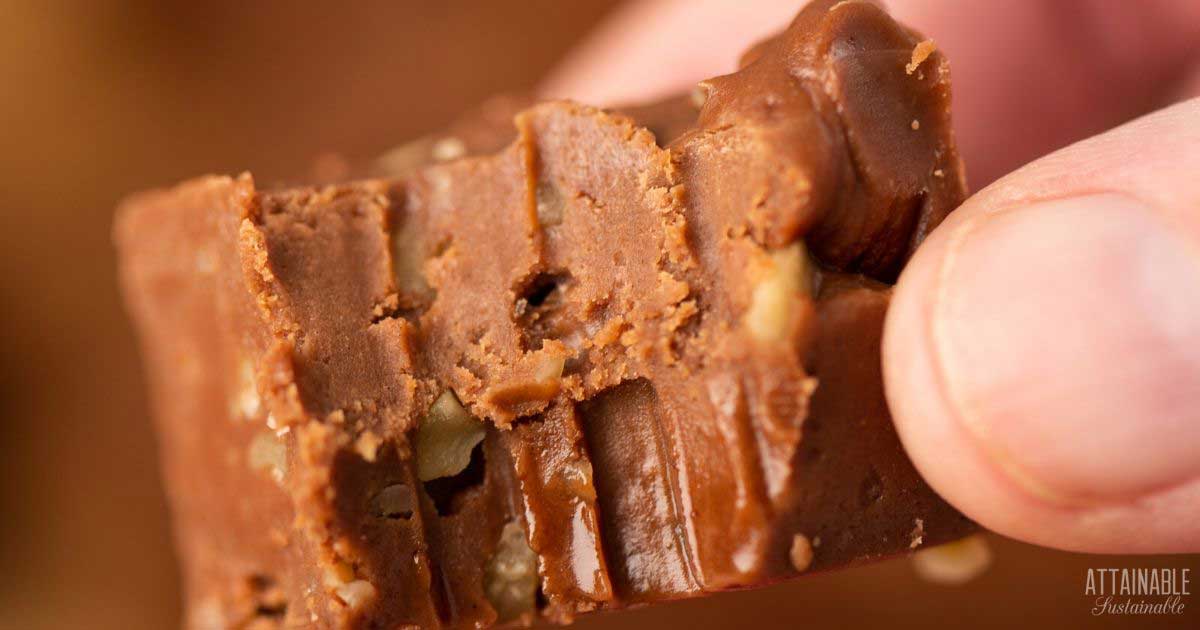 Can I Use Marshmallows Instead of Fluff?
Unfortunately, they are too different. Fluff contains eggs, which marshmallows do not, so the texture of the fudge will not turn out.
What Sugar Options Can I Use in this Fudge Recipe?
Stick with granulated sugar, including organic. This will dissolve correctly when heated. Any coarser options may make the fudge grainy.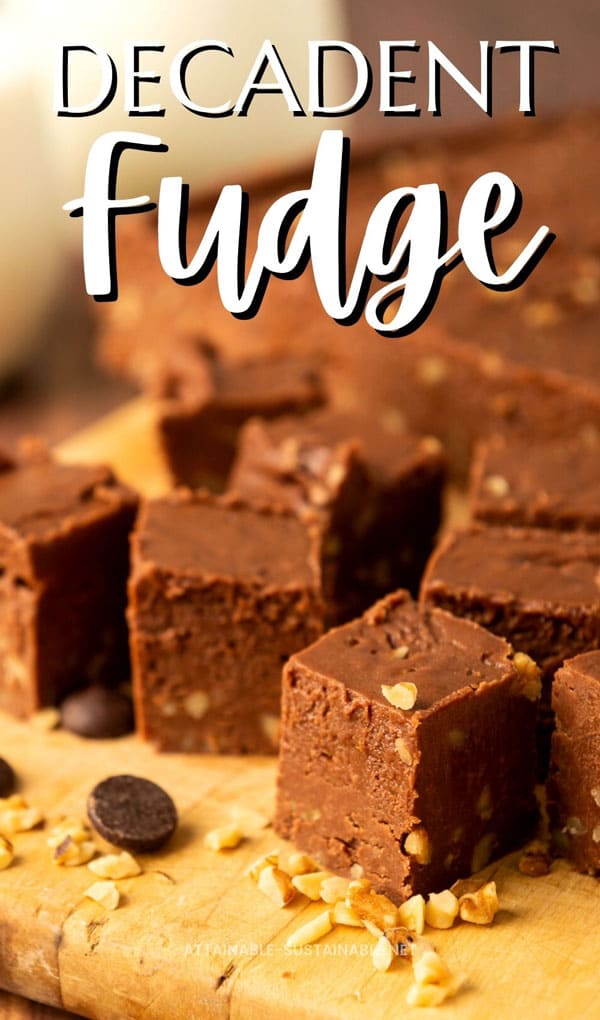 ★ Did you make this fudge recipe? Don't forget to give it a star rating below! ★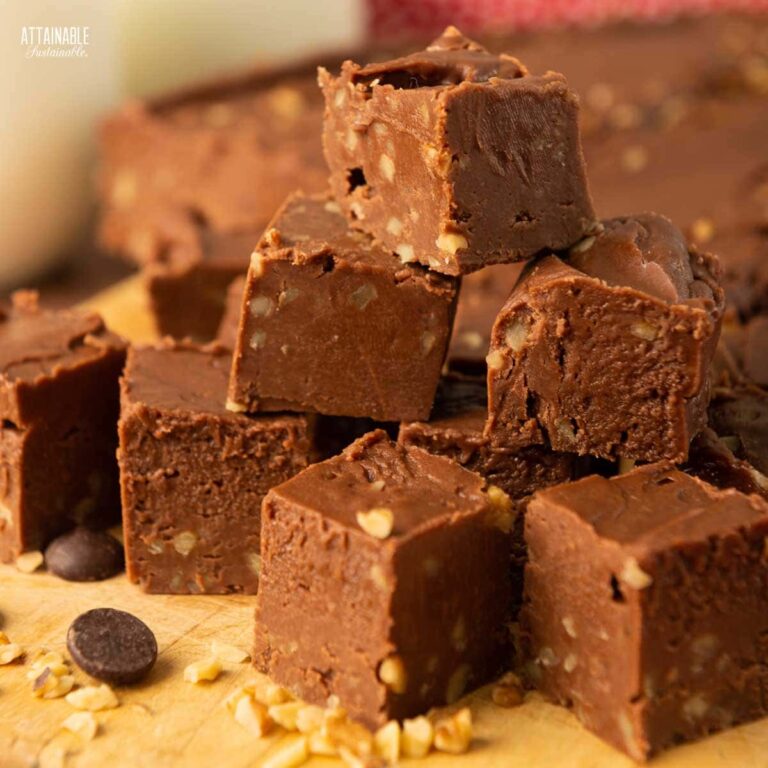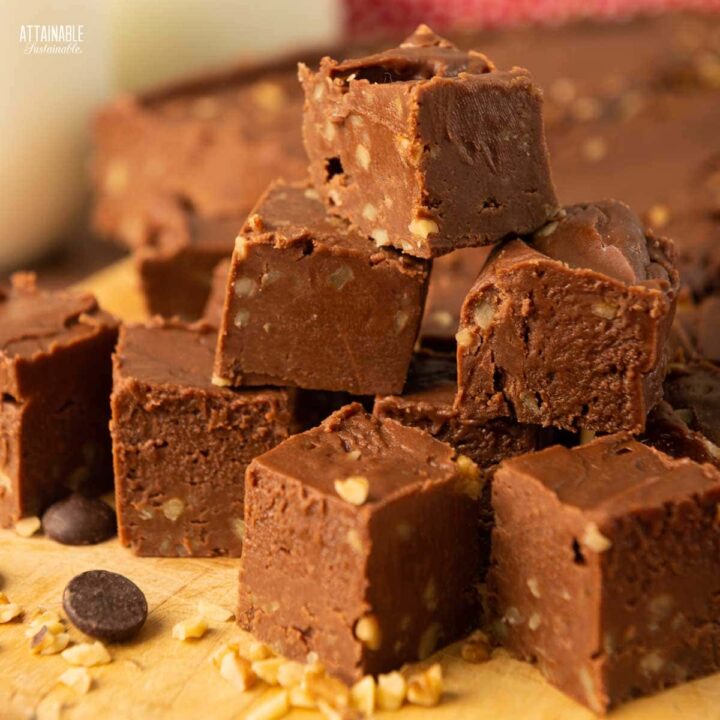 The BEST Decadent Gourmet Fudge Recipe
Total Time:
1 hour
10 minutes
This recipe makes about five pounds of fudge, so you'll have plenty to share and still have some left for yourself. The melt in your mouth fudge goodness will knock their socks off.
Ingredients
3 cups semisweet chocolate chips
1 cup butter
2 cups homemade marshmallow fluff, (or 1- 7 oz. jar marshmallow creme)
4 ½ cups granulated sugar (I prefer organic)
12 oz. evaporated milk (1 can)
[1-2 cups walnuts (optional)]
Instructions
Butter a 13" x 9" pan and line it with parchment paper. (See notes about pan sizes.)
Put chocolate chips, butter, and marshmallow cream in a large bowl. Set aside.
In large (7-8 quart) stock pot, bring milk and sugar to a boil over medium-high heat, stirring constantly until mixture comes to a full rolling boil. Continue stirring frequently for exactly eight minutes. (Mixture will reach about 210ºF.) Pour hot mixture over ingredients in bowl.
Stir until well mixed and the butter and marshmallow fluff is well-melted, then beat with an electric mixer until fudge begins to hold its shape. Beat in vanilla. Stir in nuts if you like them.
Pour fudge into a buttered 13″ x 9″ pan and refrigerate until solid.
When the fudge is ready to cut, use the parchment paper to help lift the slab out of the pan and turn it out onto a cutting board for easy cutting.
Notes
I use a 13″ x 9″ plus an 8″ x 8″ pan – using only the one makes a really deep fudge; too deep for me.
The fudge "holds its shape" when ridges and bumps remain on the surface of the chocolate when you lift the mixer away. 
Using coarse sugar may result in undissolved sugar bits in the fudge.
Nutrition Information:
Yield:

48
Serving Size:

1.5 inch square
Amount Per Serving:
Calories:

176
Total Fat:

8g
Saturated Fat:

5g
Trans Fat:

0g
Unsaturated Fat:

3g
Cholesterol:

12mg
Sodium:

42mg
Carbohydrates:

28g
Fiber:

1g
Sugar:

27g
Protein:

1g
Originally published in 2011; this post has been updated.