Summer is here, and the nectarines are in season. Most people think of preserving these beauties in the freezer, but home canning nectarines works well too.
Be sure to check out this recipe for chai spiced peaches, too!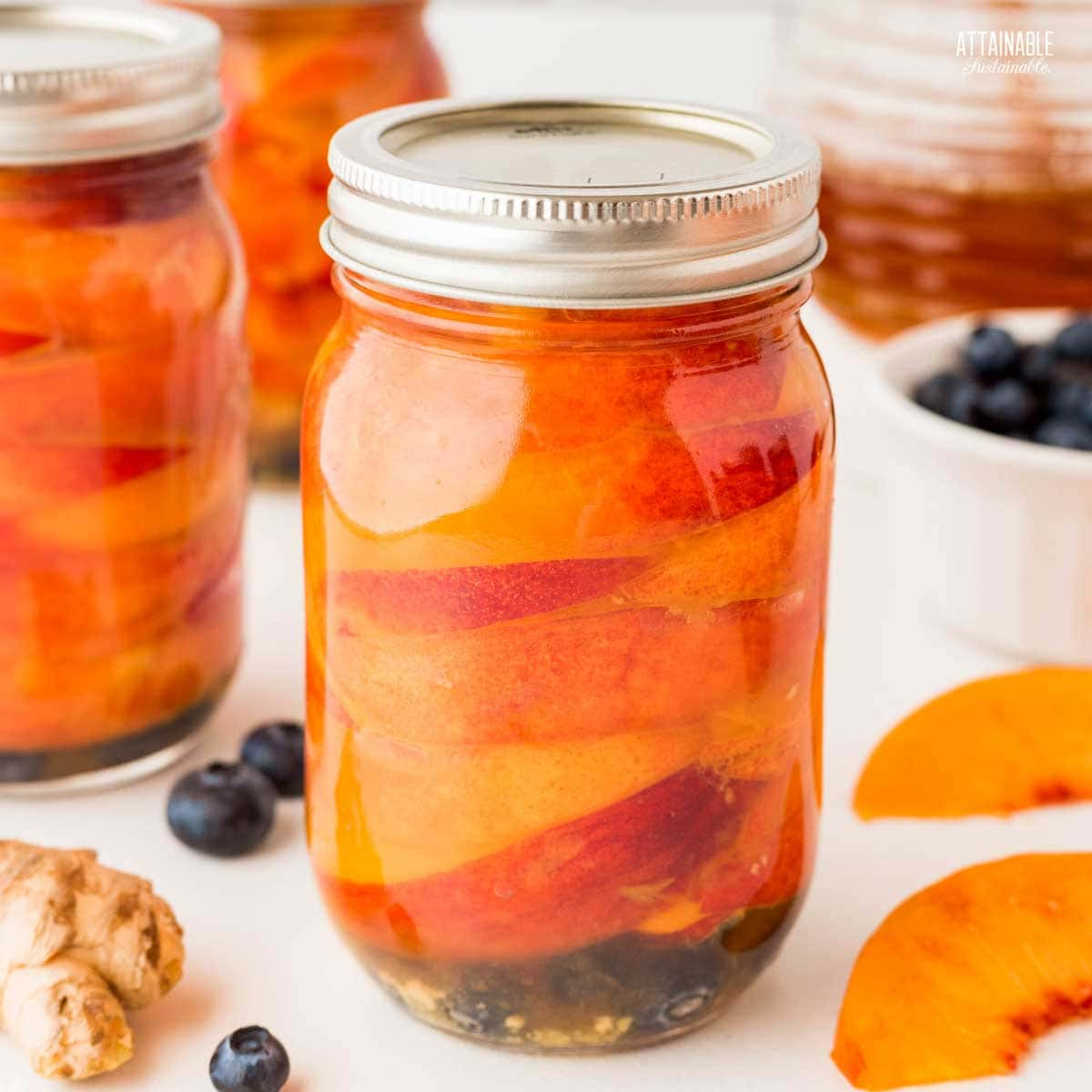 ---
The Handcrafted Pantry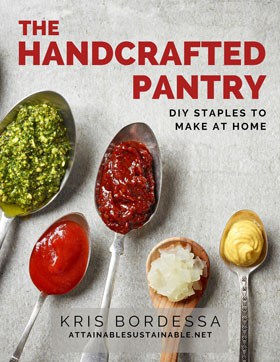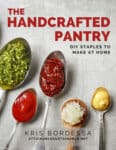 Ready to DIY your pantry with healthier ingredients? Check out my ebook, The Handcrafted Pantry! Filled with delicious recipes for some of your favorite condiments, snacks, and toppings, it's the guide you need to start skipping packaged products and embrace homemade.
---
Canning Nectarines
Because they can be processed in a boiling water canner, preserving nectarines for the pantry is a good recipe for those just starting with home food preservation. Nectarines do not need to be processed in a pressure canner.
The process for home canned nectarines isn't difficult, but you will need to have some special canning equipment and a basic understanding of the canning process. I cover the equipment in depth here, but here's a quick overview of what you'll need:
Canner or large stock pot with a rack
Jar lifter
Canning jars (quarts or pints, wide mouth)
Lids and rings
Canning funnel
Non-metal knife for removing bubbles
Clean washcloth for wiping jar rims
Kitchen towel to line counter for processed jars
Canning nectarines at home allows you to adjust the sweetness of the end product. This recipe uses a light syrup made with honey.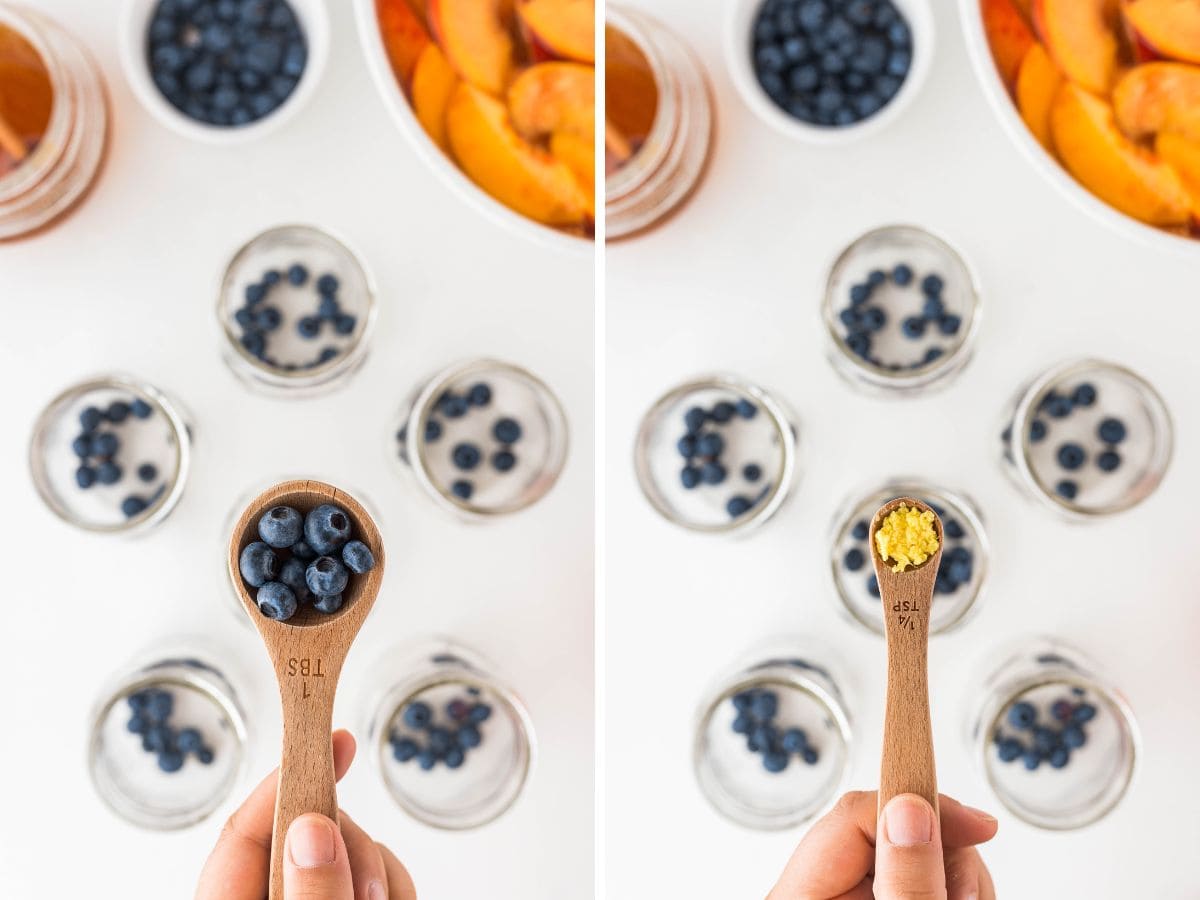 5 Easy Steps to Transform Your Pantry!
Ready to switch from store bought to homemade? Let me help you make some changes! Grab my FREE five-part guide to getting started.
Ingredients
Fresh nectarines — Choose firm, ripe nectarines for the best flavor. Either yellow or white nectarines will work. Here's where you'll want to visit a farm or farmers market if you don't have your own tree. Grocery store nectarines just won't have as much flavor.
There are two main types of nectarines: cling and freestone. The names refer to how easy it is to remove the pit from the fruit. The pits of a cling nectarines will "cling" to the fruit and are more difficult to remove.
The pits of freestone nectarines will often fall straight out of the fruit when cut in half, or they can be removed with just a gentle twist. This makes for a prettier slice when canning nectarines.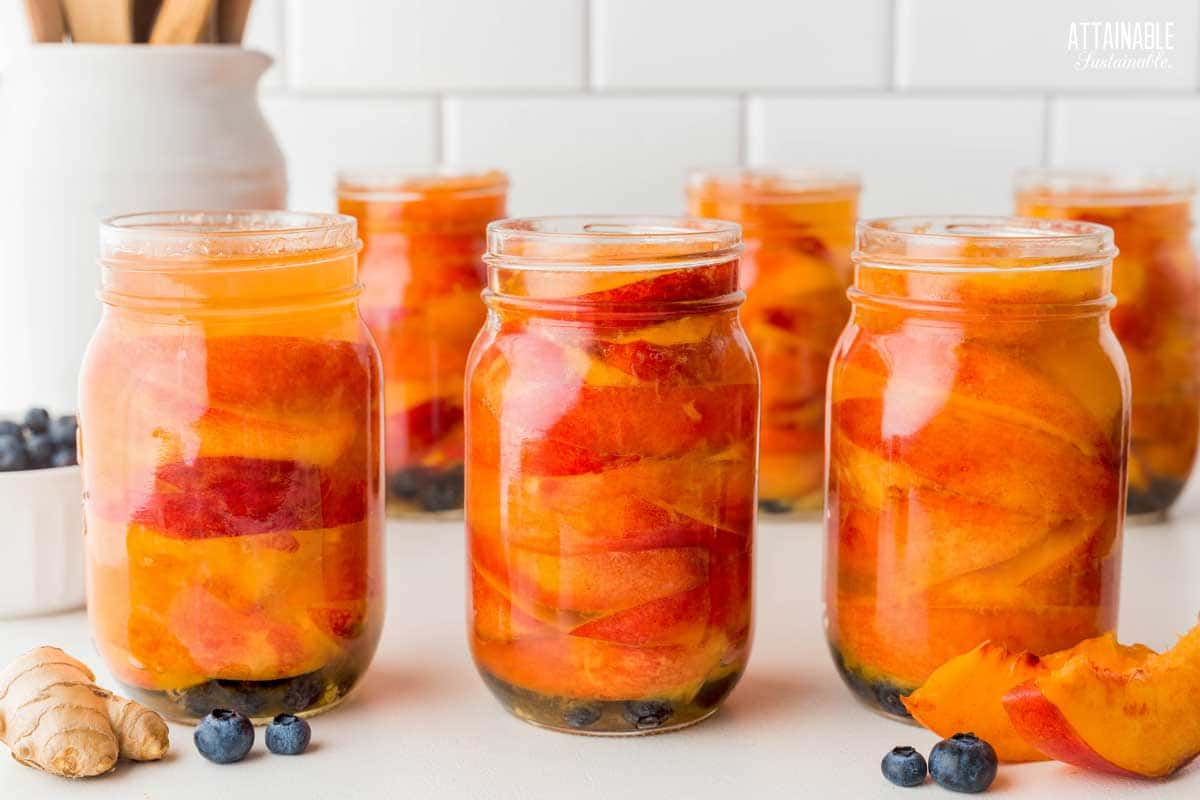 Honey — Honey will give your canned nectarines an earthy flavor that most people enjoy. The best honey for canning nectarines is mildly flavored and light in color. Using honey gives you the benefit of a natural sweetener without having it overpower the taste of the nectarines. Using honey will also darken the fruit a little more than if you used sugar to make a syrup.NOTE: Honey is not suitable for children under 18 months old.
Sugar (as an alternative to the honey) — Honey is sweeter than sugar. If you'd prefer to use sugar, you'll increase the measurement (see below).
Blueberries — Choose either fresh or frozen berries for this recipe. If using fresh berries, wash them and take a minute to 'pop' them before adding to the bottom of the jars.
Ginger — Fresh ginger root gives the nectarines a warm, spicy flavor.
Make the Syrup
Using a sweetened syrup in canning can help the fruit retain its shape, color, and flavor, but if you're really restricting sugar, canning nectarines in water is perfectly safe. I like to use a light syrup.
Combine the honey and water in a saucepan and heat until the honey is dissolved; stir occasionally. Keep the syrup hot until you're ready to use it.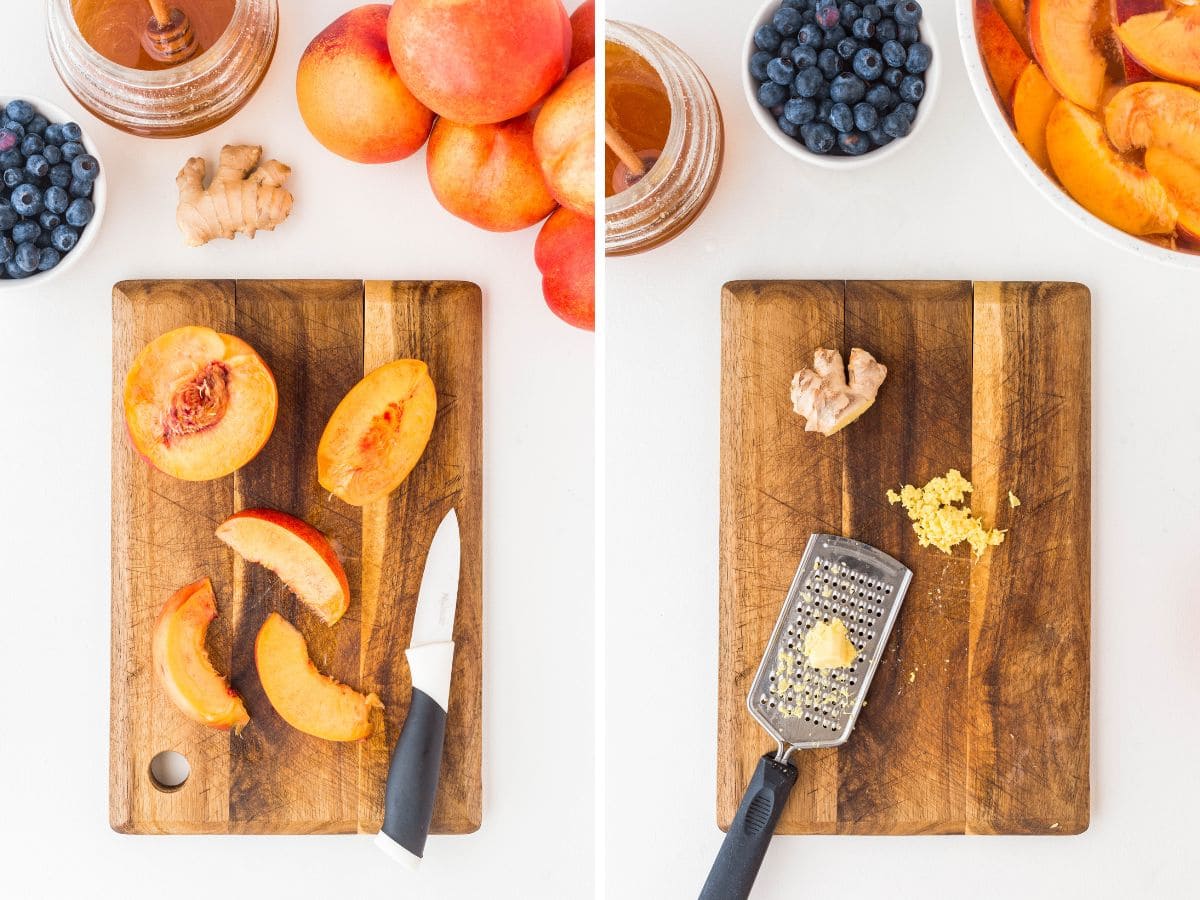 Prepping the Nectarines
Nectarines do not need to be peeled for canning.
You'll then need to decide if you want to can nectarine halves or slices. I tend to cut mine into slices, as it allows me to fit more into a jar.
Prepare the Canning Pot
Fill a large canner with water. Just how much water to use depends on the size of jar you'll be processing. You'll want the water level to sit at least an inch above the full jars during processing.
Do this before you begin filling the jars, since it can take awhile for the water to boil. Turn the heat to high and set the lid on the pot; this helps heat the water faster.
Hot tip: Boil some extra water in a saucepan or electric kettle as you're working. If you need to top off the water in the canner, you won't cool down the water too much.
Prepare the Jars
Wash the canning jars and check the rims for nicks that could interfere with sealing. Wide mouth jars are recommended here, simply because it's easier to pack the nectarines.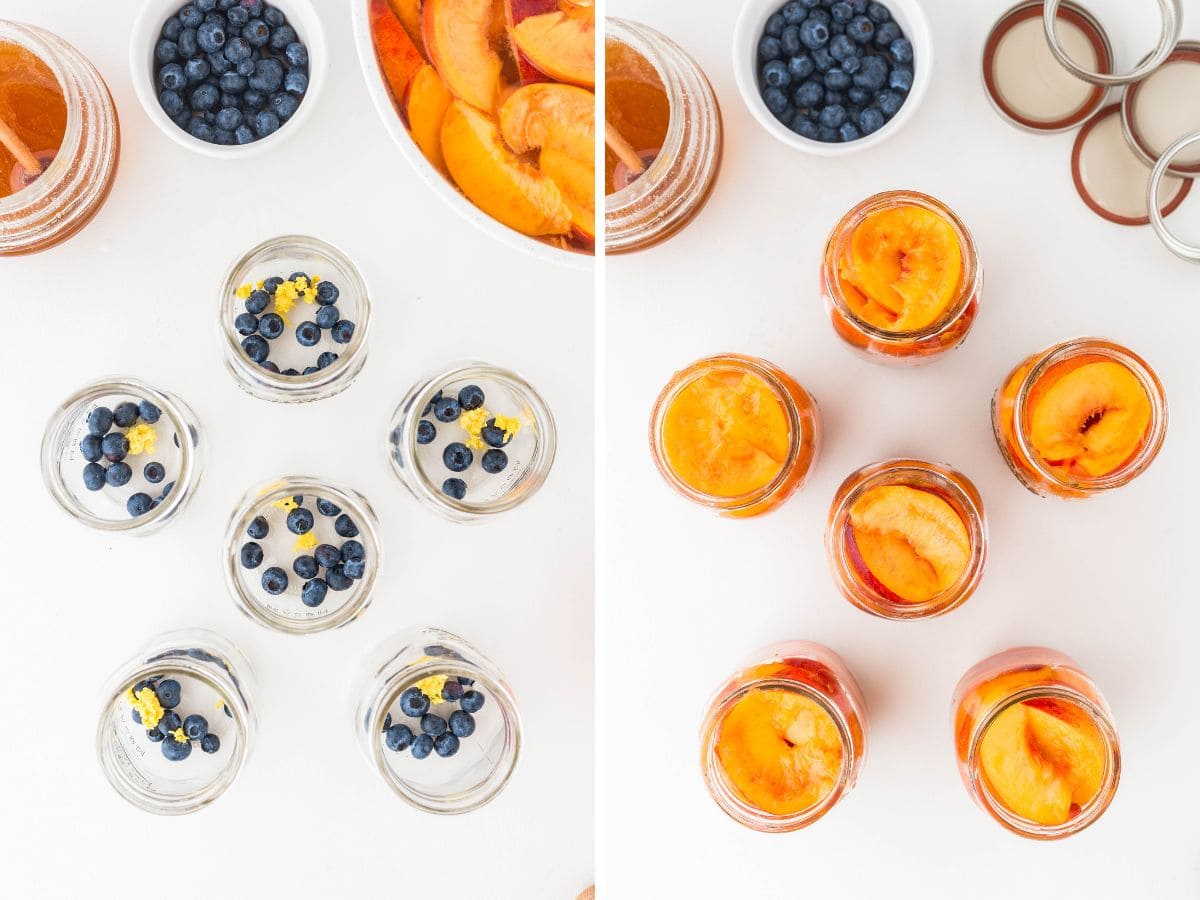 Raw Pack for Canning Nectarines
Start by filling the jars with the blueberries and ginger. Pack peeled and sliced nectarines into the jar, filling gaps as good as you can without smashing the fruit.
This canned nectarine recipe calls for what is considered a raw pack method, as the nectarines are put into the jar raw. (It's sometimes referred to as a cold pack.)
Leave a 1/2″ headspace.
Once packed, pour the hot canning liquid over the fruit. Slide a non-metal tool down inside the jar edge to release any bubbles. Double check the level of liquid and top each jar off, filling to a 1/2″ headspace.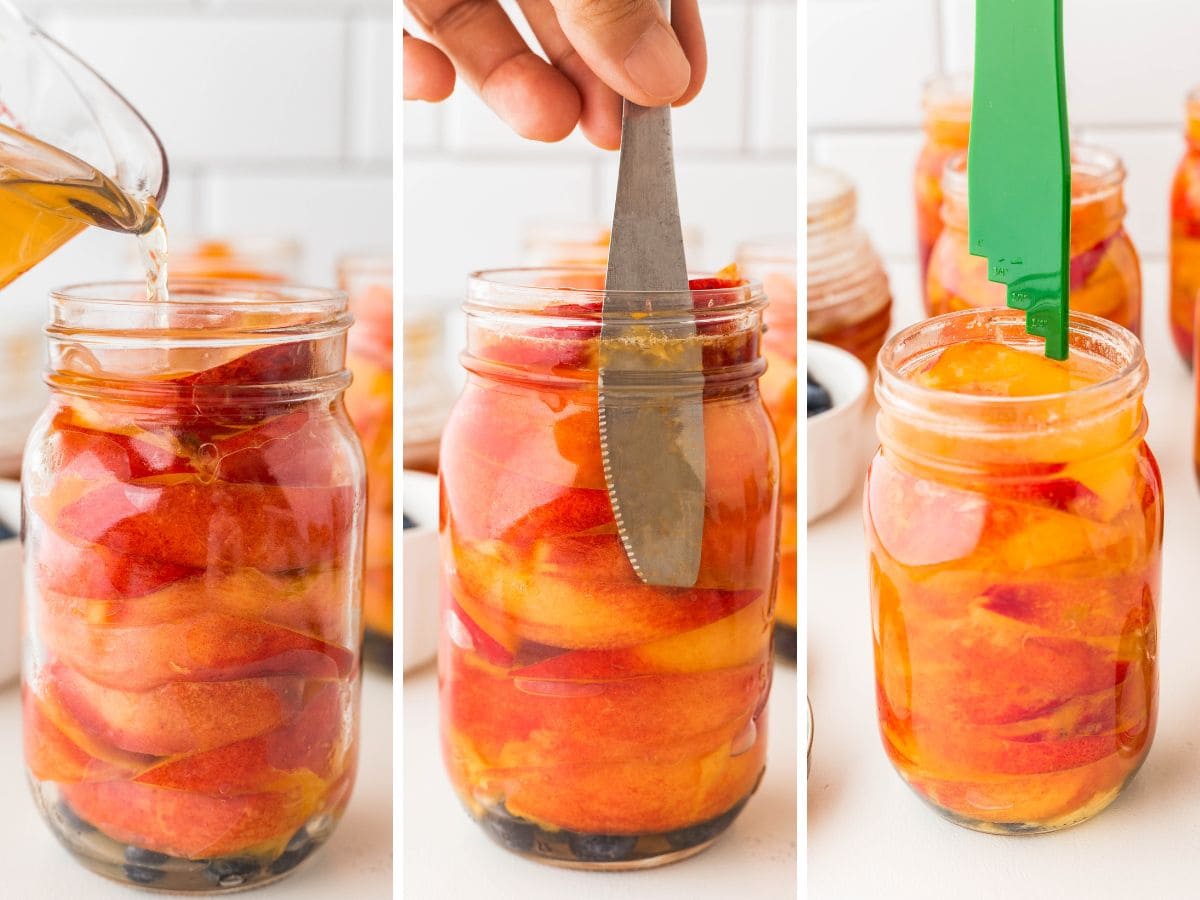 Use a damp cloth to wipe the rim of each jar; a little bit of food on the jar rim can prevent the lids from sealing properly. Set the lids in place and screw the bands on firmly tight (but not too tight).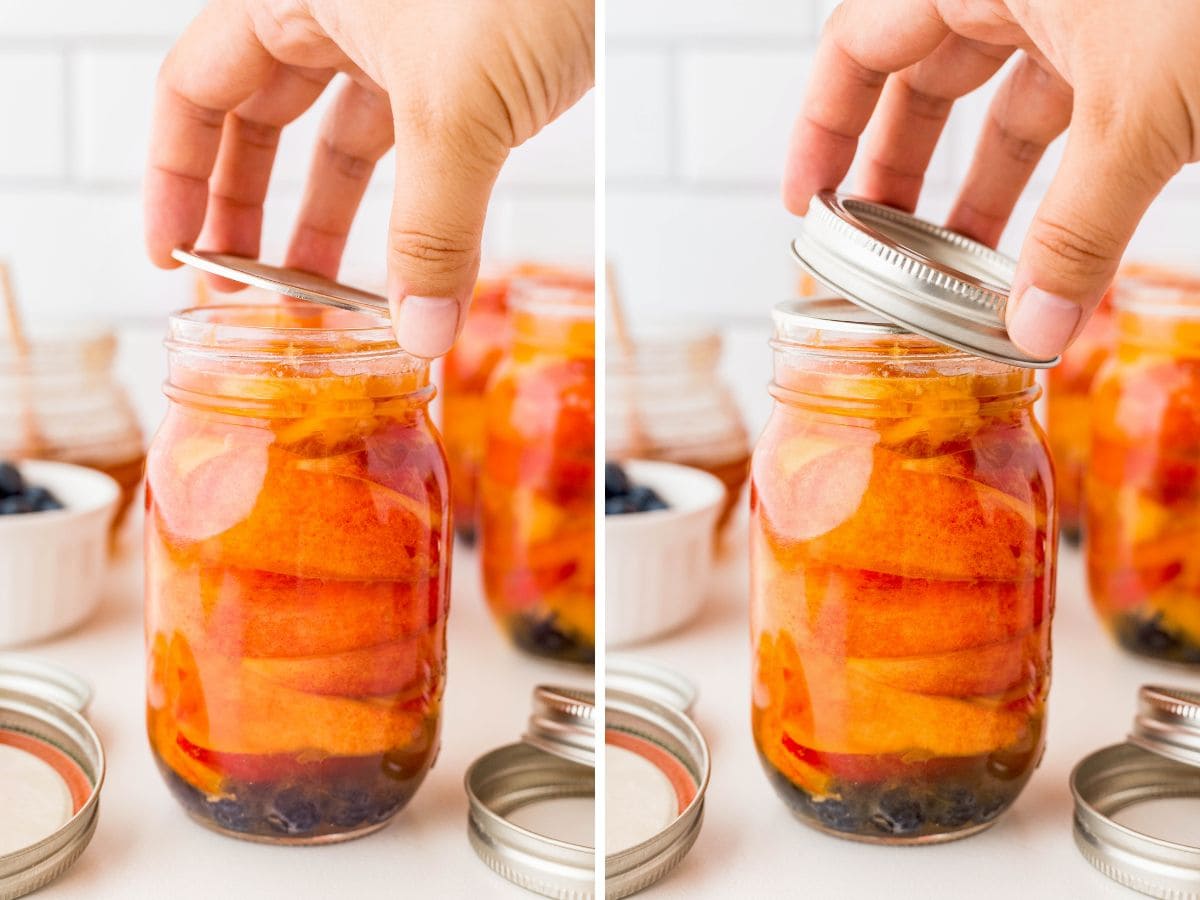 Use a jar lifter to transfer jars into the gently boiling water. As stated above, the water in the pot should cover the jars by at least an inch. If necessary add more water to the canner.
🍅 Safety First!
Canning is an excellent way to preserve food for the pantry, but there are some important safety considerations to keep in mind. The recipes on this site have been made following safe canning procedures by a certified Master Food Preserver.
Know the difference between water bath canning and pressure canning. Low acid items must be pressure canned for safety.
Altering ingredients may change the recipe's pH, posing a safety issue. I highly recommend investing in pH paper to test your products for acidity level when canning. Note: For safe water bath canning, the Hawaii Master Food Preservers suggest a pH of 4.2 or lower in the tropics. In other regions, the recommended pH is 4.6 or lower.
Use the proper jars and lids. Never reuse lids, with the exception of the Tattler or Harvest Right hard plastic lids that are intended for such a purpose.
For more on canning equipment, please go here.
Processing
Process jars for the recommended time in a water bath canner. (See below.) When time is up, use the jar lifter to transfer the jars to a flat surface that's padded with a kitchen towel. Allow jars to cool completely. As they cool, you'll begin to hear a canner's favorite sound: That lovely little tink! that indicates a successful seal.
Once jars are thoroughly cooled, check the seal on all of the jars. The lid should be concave and feel solid. If it flexes at all, it's not sealed. (Place any jars that didn't seal in the refrigerator and use them first. They are not shelf stable.)
Remove bands from cooled jars and rinse the jars. Store jars without the bands.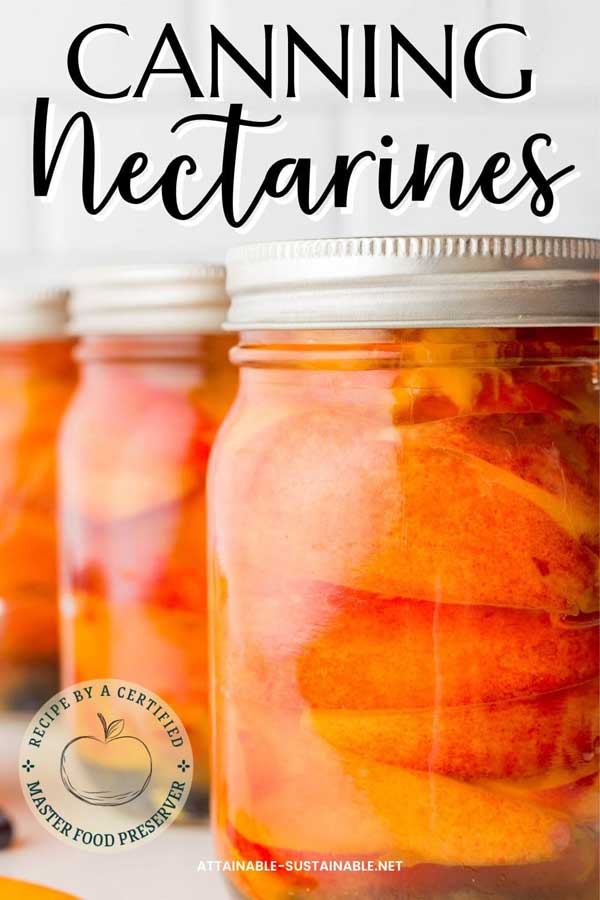 Why are my Nectarines Floating?
This is an issue more common with raw packed fruits than those that are hot packed. The air inside the uncooked fruit takes up space in the jar; when the fruit is processed and cooked, it shrinks, creating more space in the jar.
There are a couple of things that can contribute to floating fruit:
Loosely packed fruit allows more room for fruit to float. To eliminate this problem, get those pieces of nectarine packed in the jar as snugly as you can without smashing them.
Air bubbles. You'll want to make sure you release any trapped air in the jars using a non-metallic knife or chopsticks.
Floating nectarines may become dark and slightly discolored, especially if exposed to air, but the fruit is perfectly safe to eat.
★ Did you make this canned nectarine recipe? Don't forget to give it a star rating below!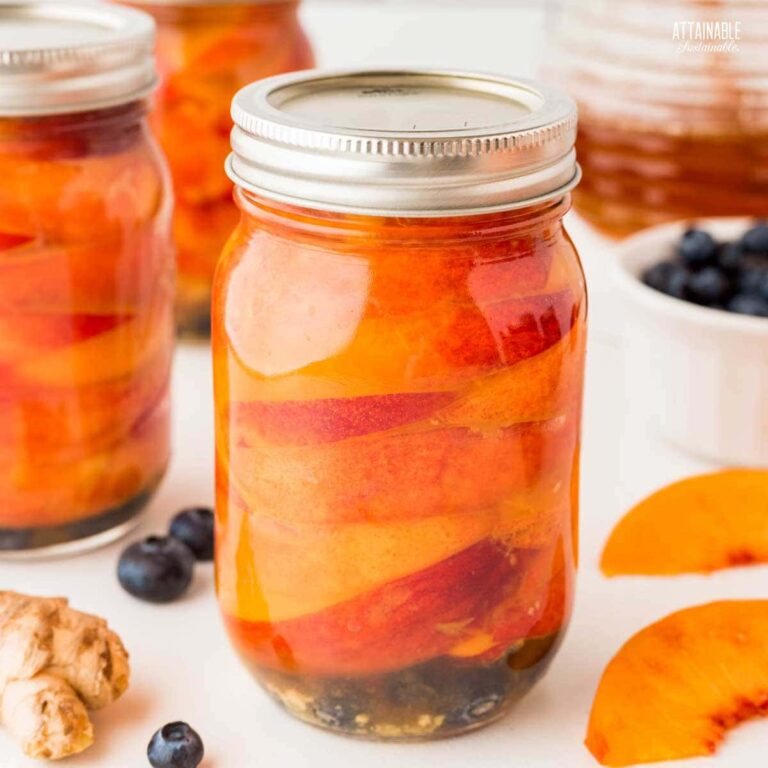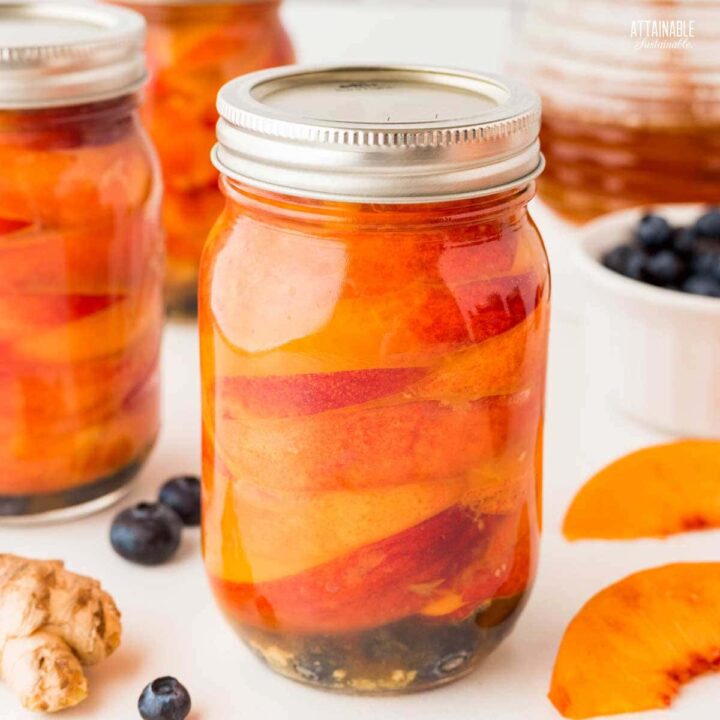 Canning Nectarines in Light Syrup
Canning nectarines with fresh ginger and blueberries gives them a flavorful pop!
Ingredients
8-10 nectarines
4 cups water
¼ cup honey (or 1/3 cup sugar)
1 ½ teaspoons finely grated fresh ginger root, ¼ teaspoon per jar
6 Tablespoons blueberries, (1 Tablespoon per jar)
Instructions
Cut each nectarine in half, remove pit, and then cut each quarter into three pieces.
To keep the fruit from darkening, place the slices in water containing lemon juice, ascorbic acid (3 grams ascorbic acid to 1 gallon of cold water), or vinegar. Drain.
Add ¼ teaspoon fresh grated ginger, plus 1 tablespoon blueberries to the bottom of each jar.
Pack nectarine slices into pint jars, leaving ½ an inch of headspace from the top of the jar.
Boil 4 cups of water and add ¾ cup honey to make light honey syrup.
Cover the nectarines and spices with boiling light honey syrup, keeping the ½ inch headspace.
Swipe a butter knife or spatula around the outside of the jars to release air bubbles. Cap the jars.
Store in the refrigerator for up to two weeks, or process as directed below.
Canning nectarines
Be sure to leave at least ¼" headspace. Wipe rims clean and place lids and rings onto jars finger-tight.
Process jars in a water bath canner: 25 minutes for pint jars or 30 minutes for quarts.
After processing, remove jars from canner and allow to cool on a towel for 24 hours. Before storing, check for seal. Store sealed jars in the pantry. Opened or unsealed jars of canned nectarines should be kept in the refrigerator.
Notes
This recipes tests at 3.0 pH.
Safe recipe alterations:
If you'd prefer to leave out the blueberries and ginger, you can.
For a sweeter syrup, you can double the amount of honey or sugar you use.
Be sure to save the nectarine pits so you can try to grow your own nectarine tree from seed!
Nutrition Information:
Yield:

24
Serving Size:

1/2 cup
Amount Per Serving:
Calories:

41
Total Fat:

0g
Saturated Fat:

0g
Trans Fat:

0g
Unsaturated Fat:

0g
Cholesterol:

0mg
Sodium:

2mg
Carbohydrates:

10g
Fiber:

1g
Sugar:

8g
Protein:

1g
Nectarines vs. Peaches
Nectarines and peaches look similar, but there are some marked differences between the two stone fruits. The most obvious is the skin. Nectarines have smooth skin, while peaches have fuzzy skin. The skin of both nectarines and peaches is edible, but the fuzziness and thickness of peach skin can be off-putting for some people.
Commonalities, nectarines vs peaches:
Both come in freestone and clingstone varieties.
Nectarines and peaches both come in yellow and white fleshed varieties.
Both can be grown from seed, as described here.
This post and recipe was originally written in July 2018 by Shelle Wells; it has been completely updated to reflect current safe canning methods.