Canning peaches at home allows you to preserve the flavors of summer. This recipe uses a very light syrup and less sugar, but check the recipe notes for alterations, whether you prefer to use honey or a sweeter syrup.
Have an abundance of peaches? Be sure to try this delicious fresh peach salsa recipe!
Canning peaches with less sugar
Fresh peaches are one of the delights of summer and canning peaches is one way to preserve that flavor for use in the off-season. Use them in cobbler, to top ice cream, and turn a jar or two into peach butter to enjoy when the season has passed.
Canning peaches at home allows you to adjust the sweetness of the end product. And you can change the flavor up and make spiced peaches by adding flavors like cinnamon, clove, or even a chai tea blend.
This recipe uses a raw pack method, which is just what you'd imagine: The peaches are packed into the canning jars raw. (A hot pack pack method calls for heating the peaches before transferring them to jars; that's not what we're doing here.)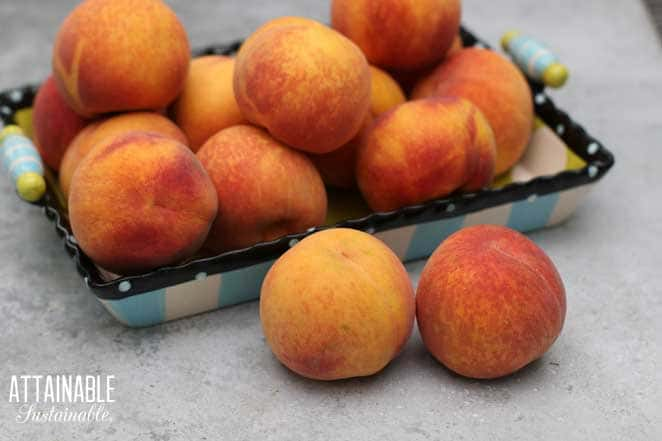 5 Easy Steps to Transform Your Pantry!
Ready to switch from store bought to homemade? Let me help you make some changes! Grab my FREE five-part guide to getting started.
Ingredients
Fresh peaches — Choose firm, ripe peaches for the best flavor. Either yellow or white peaches will work. Here's where you'll want to visit a farm or farmers market if you don't have your own tree. Grocery store peaches just won't have as much flavor. You'll need about four pounds – 6-8 medium sized peaches – for this recipe.
There are two main types of peaches: cling and freestone. The names refer to how easy it is to remove the pit from the fruit. The pits of a cling peach will "cling" to the fruit and are more difficult to remove.
The pits of freestone peaches will often fall straight out of the fruit when cut in half, or they can be removed with just a gentle twist. This makes for a prettier slice when canning peaches.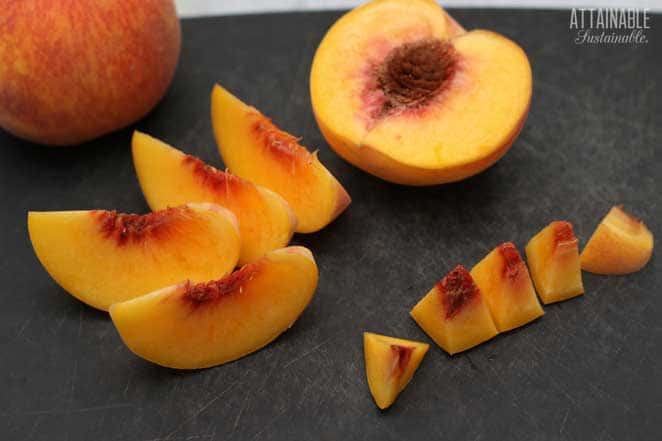 Sweetener — Granulated sugar (I prefer organic) helps tone down the acidity. If you'd prefer, you can use honey.
Spices — Adding spices like a cinnamon stick, cloves, cardamom, or even a mixed chai blend makes these delicious spiced peaches.
Canning Safety
Canning is an excellent way to preserve food for the pantry, but there are some important safety considerations to keep in mind.
Know the difference between water bath canning and pressure canning. Low acid items must be pressure canned for safety.
Altering ingredients may change the recipe's pH, posing a safety issue. I highly recommend investing in pH paper to test your products for acidity level when canning. Note: The Hawaii Master Food Preservers suggest a pH of 4.2 or lower in the tropics. In other regions, the recommended pH is 4.6 or lower.
Use the proper jars and lids. Never reuse lids, with the exception of the Tattler lids that are intended for such a purpose.
For more on canning equipment, please go here.
The recipes on this site have been made following safe canning procedures by a certified Master Food Preserver.
Make the syrup
The liquid used in this recipe is a simple combination of sugar and water. I tend to try to use as little sweetener as possible, so I've used a very light syrup. If you prefer a heavier syrup, or one made with honey, see the notes in the recipe below. A heavier syrup is often used when you're dealing with less ripe fruit that can benefit from a flavor boost.
Using a sugar syrup can help the fruit retain its shape, color, and flavor, but if you're really restricting sugar, you can use just plain water.
Combine the sugar and water in a saucepan and heat until the sugar is dissolved; stir occasionally. Keep the syrup hot until you're ready to use it.
Prepping the peaches
Start by peeling the peaches using the blanching method spelled out in detail here to remove the skin from the peach flesh.
You'll then need to decide if you want to can peach halves or slices. I tend to cut mine into slices, as it allows me to fit more into a jar. Go here to read more about cutting peaches.
If you're concerned about the peaches retaining their color, you can hold the cut peaches in a mixture of one gallon of water and 3000mg of vitamin C (ascorbic acid). Note that I did not use this method for the peaches pictured here.
Prepare the canning pot
Fill a large canner with water. Just how much water to use depends on the size of jar you'll be processing. You'll want the water level to sit about an inch above the full jars during processing.
Hot tip: Boil some extra water in a saucepan or electric kettle as you're working. If you need to top off the water in the canner, you won't cool down the water too much.
Prepare the jars
Wash the canning jars and check the rims for nicks that could interfere with sealing. Wide mouth jars are recommended here, simply because it's easier to pack the peaches.
Water bath canning peaches
For spiced peaches, add the optional dry spices to the jars.
With the peaches peeled and sliced, fill the jars. This is your chance to utilize your puzzling skills. Pack the peach slices firmly into the jar, filling gaps as good as you can without smashing the fruit. Leave a 1/2″ headspace.
Once packed, pour the hot canning liquid over the fruit. Slide a non-metal tool down inside the jar edge to release any bubbles. Double check the level of liquid and top each jar off, filling to a 1/2″ headspace.
Use a damp cloth to wipe the rim of each jar; a little bit of food on the jar rim can prevent the lids from sealing properly. Set the lids in place and screw the bands on firmly tight (but not too tight). Use a jar lifter to transfer jars into the gently boiling water. As stated above, the water in the pot should cover the jars by about an inch. If necessary add more water to the canner.
Processing
Process jars for the recommended time in a water bath canner. (See below.) When time is up, use the jar lifter to transfer the jars to a flat surface that's padded with a kitchen towel. Allow jars to cool completely. As they cool, you'll begin to hear a canner's favorite sound: That lovely little tink! that indicates a successful seal.
Once jars are thoroughly cooled, check the seal on all of the jars. The lid should be concave and feel solid. If it flexes at all, it's not sealed. (Place any jars that didn't seal in the refrigerator and use them first. They are not shelf stable.)
Remove bands from cooled jars and rinse the jars. Store jars without the bands.
---
The Handcrafted Pantry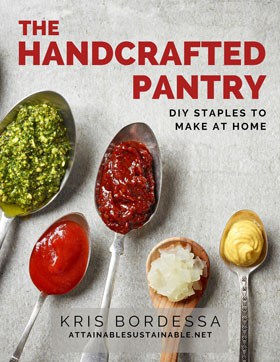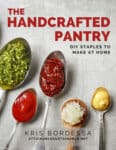 Ready to DIY your pantry with healthier ingredients? Check out my ebook, The Handcrafted Pantry! Filled with delicious recipes for some of your favorite condiments, snacks, and toppings, it's the guide you need to start skipping packaged products and embrace homemade.
---
Note that if you live at an altitude above 1,000′ elevation, you may need to adjust the processing times. Check with your local cooperative extension office or visit the National Center for Home Food Preservation for more information.
★ Did you love this recipe? Be sure to give it a star rating below! ★
Canned Peaches in a Very Light Syrup
Preserve the flavors of summer with this recipe for canned peaches; the addition of chai spices makes these a little extra special. You're going to be so glad to have these canned peaches in your pantry this winter!
Ingredients
6-8 fresh ripe peaches
4 cups water
1/2 cup sugar 
Optional spices: cinnamon sticks, cardamom, cloves, chai tea blend
Instructions
PREP FOR CANNING
Fill a canning pot with water, set the lid in place, and heat on high heat until boiling. It can take awhile for the water to come to a boil, so get it started before you begin making the peach butter.
Gather the jars you'll use, making sure each is clean and free of nicks in the rim, which could impede sealing.
Bring a small pot of water to a simmer and turn off the heat. Drop the rings and lids into the water and leave them there until you're ready to screw them onto the filled jars.

PREPPING THE PEACHES
Fill a large pot with water and bring to a rolling boil. Use a knife to cut an X on the bottom of each peach.
Ease peaches into the boiling water and heat for 60 seconds.
Use a slotted spoon to transfer the peaches into a bowl of ice water for 60 seconds, then remove to an empty bowl. Repeat with remaining peaches.
Slip the skins from the peaches. Read more detailed instructions on blanching and peeling peaches here.
Cut each peach in half, remove pit, and cut halves into 4 slices.
To keep from darkening, place the slices in one gallon of water mixed with 3/4 cup lemon juice or 3,000mg of vitamin C (ascorbic acid).
Boil 4 cups of water and sugar to make a very light syrup.
If using spices, add those to the empty jars.
Pack peach slices into pint jars, leaving ½" of headspace from the top of the jar.
Cover the peaches with boiling syrup, maintaining the ½ inch headspace.
Use a non-metallic tool around the inside of the jars to remove air bubbles. Add more syrup if necessary to maintain the ½" headspace.
Wipe jar rims to remove any residue that may have spilled. A clean rim is essential to a good seal.
Set jar lids in place. Screw bands on finger tight.

CANNING
Use a jar lifter to gently submerge jars into hot water in the canning pot. Water should cover the top of the jars by an inch. The water will cool somewhat in reaction to the addition of the jars. Return the water to a simmer and then set the timer.
Process pints for 20 minutes, quarts for 25 minutes at 0-1,000' feet altitude; 30/35 minutes (pints/quarts) for elevations between 1,001-3,000'; 35/40 minutes (pints/quarts) for elevations between 3,001-6,000'; or 40/45 minutes (pints/quarts) over 6,000'.
Remove jars from water using the jar lifter and transfer to a solid, towel-covered surface. Allow to cool for 24 hours.
Check seals. Lids should be solid and pulled down tight. (if they flex and pop, the jar didn't seal; put unsealed jars in the refrigerator and use those first).
Remove rings and wash outsides of jars. Store in a cool, dry place.
Notes
These canned peaches have a shelf life of up to one year.
To make a sweeter syrup, use these measurements:
Light syrup: 1 cup sugar in 4 cups water
Medium syrup: 1-3/4 cups sugar in 4 cups water
Heavy syrup: 2-3/4 cups sugar in 4 cups water

To use honey, replace the sugar called for in this recipe with 1/3 cup honey.
Nutrition Information:
Yield:

20
Serving Size:

1/4 pint
Amount Per Serving:
Calories:

48
Total Fat:

0g
Saturated Fat:

0g
Trans Fat:

0g
Unsaturated Fat:

0g
Cholesterol:

0mg
Sodium:

2mg
Carbohydrates:

12g
Fiber:

1g
Sugar:

11g
Protein:

1g
This post and recipe was originally written in July 2018; it has been completely updated to reflect current safe canning methods.