Preserve the flavors of summer with this recipe for canned peaches; the addition of chai spices makes these a little extra special. You're going to be so glad to have these canned peaches in your pantry this winter!
Have an abundance of peaches? Be sure to try this delicious fresh peach salsa recipe!
Chai spiced peaches in light honey syrup
Fresh peaches are one of the delights of summer. When the bounty is in full swing, we preserve as many as possible and use them in cobbler, to top ice cream, and turn a jar or two into peach butter to enjoy when the season has passed. Canning peaches is easy using a water bath canner; peaches are a high-acid food; pressure canning is not required!
Related: Peach Pie with Crumb Topping
Choose the right peach (if you can)
Peaches come in two stone types – freestone peaches and clingstone. When you cut into a clingstone peach, the flesh 'clings' to the pit, and you must do a bit of extra work to cut it away.
5 Easy Steps to Transform Your Pantry!
Ready to switch from store bought to homemade? Let me help you make some changes! Grab my FREE five-part guide to getting started.
Freestone pits are easier to remove. In fact, when you cut freestone peach in half, the pit will fall freely from the fruit as you open it; just give it a little twist. Choosing a freestone peach makes your preserving job easier, especially if you hope to can peach halves!
Canning Safety
Canning is an excellent way to preserve food for the pantry, but there are some important safety considerations to keep in mind.
Know the difference between water bath canning and pressure canning. Low acid items must be pressure canned for safety.
Altering ingredients may change the recipe's pH, posing a safety issue. I highly recommend investing in pH paper to test your products for acidity level when canning. Note: The Hawaii Master Food Preservers suggest a pH of 4.2 or lower in the tropics. In other regions, the recommended pH is 4.6 or lower.
Use the proper jars and lids. Never reuse lids, with the exception of the Tattler lids that are intended for such a purpose.
For more on canning equipment, please go here.
The recipes on this site have been made following safe canning procedures by a certified Master Food Preserver.
The top variety of freestone peach is Elberta. Other varieties include the El Dorado, Empress, Flavorcrest, Indian Free, O'Henry, Redgold, Reliance, and Snow Beauty. Get the rundown on all peach varieties from the PickYourOwn website.
Only have clingstone peaches available? If the price is right, go for it! You'll still have the same great taste, but the finished slices may not be as pretty.
---
The Handcrafted Pantry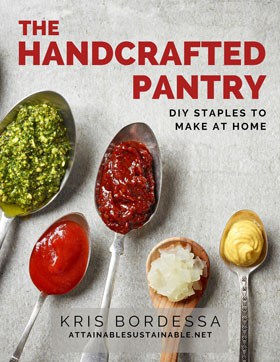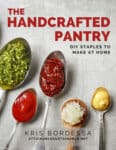 Ready to DIY your pantry with healthier ingredients? Check out my ebook, The Handcrafted Pantry! Filled with delicious recipes for some of your favorite condiments, snacks, and toppings, it's the guide you need to start skipping packaged products and embrace homemade.
---
Choose ripe fruit for canning peaches
For best quality peaches should be ripened one or more days between harvest and canning. You can delay processing the fresh peaches by keeping them in the refrigerator. Choose ripe, mature fruit for canning peaches, but you don't want it so ripe that it's mushy.
Using Honey in this recipe for canned peaches
Honey will give your canned peaches (and other fruit!) an earthy flavor that most people enjoy. The best honey for canning is mildly flavored and light in color. Using honey gives you the benefit of a natural sweetener to make a light syrup that won't overpower the flavor of the finished canned peaches.
Honey is a stronger sweetener than sugar. You only need to use ¾ a cup of honey to replace 1 cup of sugar. Using honey will darken the fruit a little more than if you use sugar to make syrup.
Honey is adult food, not suitable for children under 18 months old. Take that into consideration when you are doing your canning. Be sure that you properly mark the jars after processing so you will not share this batch with little ones.
If you'd prefer not to use honey in this recipe, you can substitute organic sugar. (See recipe notes.)
Canning peaches with chai spices
Adding spices to this recipe for canned peaches gives the fruit a bit of depth. If you don't have chai spice on hand, or prefer to keep it simple, just skip adding the spices.
Easy peeling and slicing
The easiest way to peel peaches for home canning is to give them a quick dip in boiling water. Follow that with a plunge in ice cold water. This process will allow you to easily slip the skins from the peaches. Once skinned, decide if you prefer peach halves or slices. Halves are pretty, but you'll get more peaches in each jar if you opt to slice them into smaller pieces.
Filling the jars & processing times
You'll pack peach halves or slices into wide mouth canning jars to within about 1/2″ of the jar rim and then add the syrup, maintaining that half-inch space at the top.
25 minutes for pint size jars
30 minutes for quart jars
Note that if you live at an altitude above 1,000′ elevation, you may need to adjust the processing times. Check with your local cooperative extension office or visit the National Center for Home Food Preservation for more information.
★ Did you make this chai-spiced recipe for canned peaches? Don't forget to give it a star rating below!
Chai Spiced Peaches in Light Honey Syrup
Preserve the flavors of summer with this recipe for canned peaches; the addition of chai spices makes these a little extra special. You're going to be so glad to have these canned peaches in your pantry this winter!
Ingredients
6-8 fresh ripe peaches
4 cups water
¼ cup honey
Chai spice to taste
Instructions
Set up your work area: One bowl with ice water, one empty bowl, a timer, and a slotted spoon. Fill a large pot with water and bring to a rolling boil.
Use a knife to cut an X at the stem end of each peach. Place one or two peaches in the boiling water for 30 seconds, transfer to ice water for 60 seconds, then place in an empty bowl. Repeat with all of your peaches. Now peel each peach---the peels should slip off pretty quickly. (Discard into your compost bin.)
Cut each peach in half, remove pit, then cut each quarter into three pieces.
To keep from darkening, place the slices in water containing lemon juice, ascorbic acid (3 grams ascorbic acid to 1 gallon of cold water), or vinegar. Drain.
Add ¼ teaspoon chai spices to each jar.
Pack peach slices into pint jars, leaving ½ an inch of headspace from the top of the jar.
Add another pinch of spices to the top of each jar.
Boil 4 cups of water and add ¾ cup honey to make a light honey syrup.
Cover the peaches with boiling light honey syrup, keeping the ½ inch headspace.
Swipe a butter knife around the outside of the jars to remove air bubbles. Cap the jars.
Process in a water bath canner for 25 minutes per pint or 30 minutes per quart (raw pack method.)
Notes
Prefer not to use honey? This recipe for canned peaches can be adapted by substituting 1 cup of organic sugar in place of the ¾ cup honey.
Nutrition Information:
Yield:

18
Serving Size:

1 grams
Amount Per Serving:
Calories:

33
Unsaturated Fat:

0g
Sodium:

2mg
Carbohydrates:

8g
Sugar:

8g