If you're lucky enough to have an abundance of fresh peaches, set some aside to make this homemade peach butter recipe. You can opt to preserve this for the pantry, or simply store in the fridge for topping your breakfast toast, ice cream, or even just a spoon.
Try this recipe for making this no sugar added apple butter, too!
Related: Pineapple Jalapeno Jam Recipe
---
The Handcrafted Pantry
Ready to DIY your pantry with healthier ingredients? Check out my ebook, The Handcrafted Pantry! Filled with delicious recipes for some of your favorite condiments, snacks, and toppings, it's the guide you need to start skipping packaged products and embrace homemade.
---
Orchard dreams
I dream of having my own food forest on my own land where I harvest mass amounts of food one day. For right now, though, the only abundant thing we have coming out of our yard is eggs. (I'm definitely not complaining!)
Because of the lack of food coming out of our yard, I turn to a local co-op where we get great deals on fresh, local, organic food in bulk. I love being a part of my co-op because I am too busy to figure out where the best farms are, what the going prices are, and all the other good stuff that comes along with hunting for the perfect farm to buy your produce.
5 Easy Steps to Transform Your Pantry!
Ready to switch from store bought to homemade? Let me help you make some changes! Grab my FREE five-part guide to getting started.
Related: Peach Pie with Crumb Topping
I tend to buy a bunch of one particular food item thinking I'll spend all day making all kinds of recipes. The reality is, I get home with way too much of one produce item that I have to figure what to do with before they go bad, and then feel completely overwhelmed.
This recently happened to me when I bought 40 organic peaches and 12 pounds of organic blueberries. As I watched the peaches go from hard to soft faster than I could blink my eye, I had to come up with a recipe ASAP that used a lot of peaches.
Enter peach butter
This peach butter recipe is so easy, so delicious, and such a great way to use the majority of all those summer sweet peaches. You can opt to can this peach butter recipe or you can put it in your refrigerator and use it within two weeks. You can even put it in freezer-safe jars and freeze small portions.
Canning Safety
Canning is an excellent way to preserve food for the pantry, but there are some important safety considerations to keep in mind.
Know the difference between water bath canning and pressure canning. Low acid items must be pressure canned for safety.
Altering ingredients may change the recipe's pH, posing a safety issue. I highly recommend investing in pH paper to test your products for acidity level when canning.
Use the proper jars and lids. Never reuse lids, with the exception of the Tattler lids that are intended for such a purpose.
For more on canning equipment, please go here.
The recipes on this site have been made following safe canning procedures by a certified Master Food Preserver.
Related: Tangerine Jam with Ginger and Vanilla
Homemade peach butter recipe
This peach butter recipe has significantly less sugar than normal fruit butters because of how sweet, juicy, and ripe the peaches are. When you first taste it, you're hit with cinnamon and then your taste buds are greeted with the sweet, fresh peach flavor.
Ways to use peach butter:
Topping buttered toast

Making this vanilla dutch baby and using it as the syrup with homemade whipped cream

Eating it straight off the spoon
Related: Chai Spiced – Recipe for Canned Peaches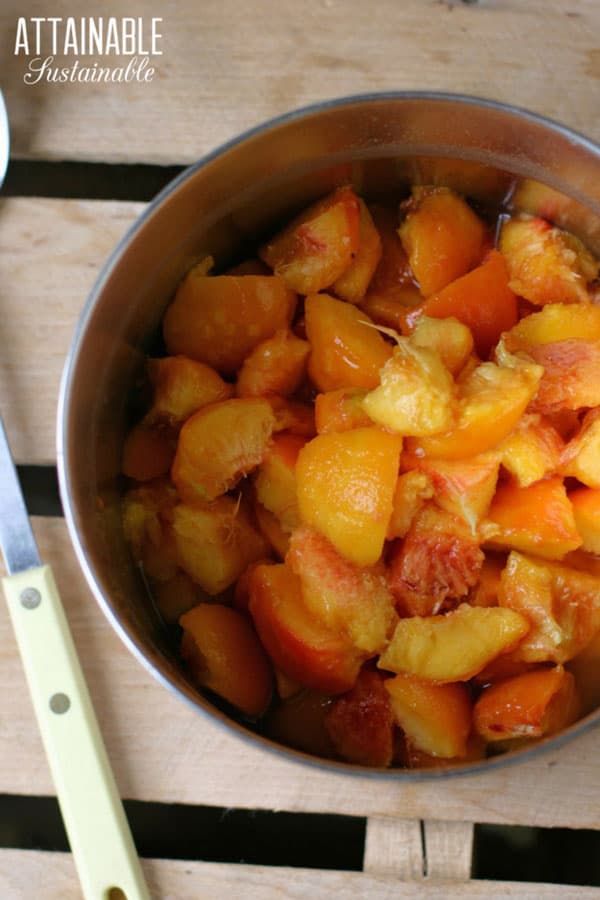 ★ Did you make this peach butter recipe? Don't forget to give it a star rating below! ★
Easy Homemade Peach Butter Recipe
Cook Time:
1 hour
15 minutes
Total Time:
1 hour
30 minutes
If you're lucky enough to have an abundance of fresh peaches, set some aside to make a batch of peach butter. You can opt to preserve this for the pantry, or simply store in the fridge for topping your breakfast toast, ice cream, or even just a spoon.
Ingredients
2 pounds fresh ripe peaches
1/2 cup water
1-1/2 cups granulated organic cane sugar
Juice of 1/2 lemon
Instructions
Use a knife to cut an X at the stem end of each peach. Set up your work area: One bowl with ice water, one empty bowl, a timer (I use my phone), and a slotted spoon. Fill a large pot with water and bring to a rolling boil. Place one or two peaches in the boiling water for 30 seconds, transfer to ice water for 60 seconds, then place in empty bowl. Repeat with all of your peaches. Now peel each peach---the peels should slip off pretty easily. (Discard into your compost bin.) Dump the water from your pot and remove from heat. Cut each peach in half, remove pit, then quarter each half. Place chopped peaches back into pot. Add 1/2 cup water to the pot and bring to a boil. Simmer for 15-20 minutes or until soft.
Using an immersion blender, puree peaches until smooth. If you're using an upright blender, make sure the peaches and water cool down a bit before blending. The trapped steam could cause an explosion. Add lemon juice, sugar, and cinnamon to the peach puree in the pot, and cook on medium low. You want it to cook at a strong simmer/gentle boil for about 35-50 minutes. Stir occasionally. Towards the end, stir more often as the peach butter gets thick and can burn.
To test doneness: Tilt the pot and run a wooden spoon along the bottom. When the peach butter doesn't run, it's done. The peach butter will thicken more as it cools. Transfer into jars and store in refrigerator.
For longer storage, pour peach butter into canning jars to within 1/2" of top. Put on lid and screw band, then process in a boiling water bath for 10 minutes.
Notes
Nutrition Information:
Yield:

16
Serving Size:

1 grams
Amount Per Serving:
Calories:

46
Unsaturated Fat:

0g
Carbohydrates:

11g
Sugar:

10g