This Dutch oven peach cobbler is absolutely delicious and a nod to old fashioned farmhouse cooking. A dash of cardamom perfectly compliments ripe summer peaches while the biscuit crust gives the cobbler substance.
Love cobbler? Be sure to try this gluten free strawberry cobbler!
Contributed by Devon Young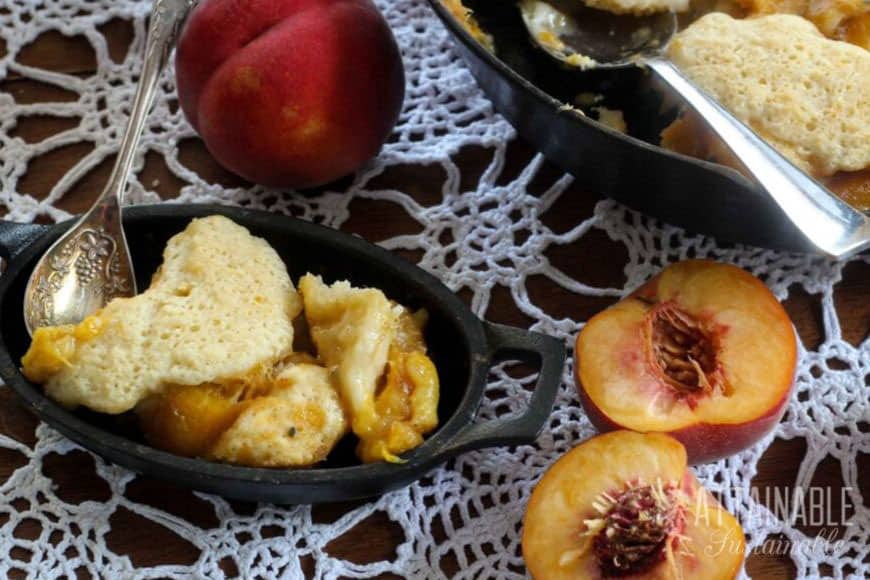 Old Fashioned Peach Cobbler? Yes, please!
I will take a pie or cobbler any day of the week. And twice on Sundays.
The truth is, I often find cake — resplendent in frosting and often quite voluminous in size — too sweet and, well, too much. Pie and cobblers let the fruit shine in the starring role. Perhaps my favorite end of summer dessert is peach cobbler. Perfectly sweet and juicy, this is a dessert that is best enjoyed on the front porch with the evening breeze. Preferably on a porch swing. Preferably with homemade vanilla ice cream. Porch swing and ice cream notwithstanding, this peach cobbler is a special treat no matter how you choose to enjoy it!
Best Peaches for Baking
Not all peaches are created equal, and any peach connoisseur is likely to have a favorite variety for all their various recipes. Personally, I prefer to use freestone peaches as opposed to clingstone so that I don't find myself wrestling with stubborn pits and tender flesh. Besides freestone characteristics, the best peaches for baking should:
5 Easy Steps to Transform Your Pantry!
Ready to switch from store bought to homemade? Let me help you make some changes! Grab my FREE five-part guide to getting started.
Be bruise resistant
Have low acidity
Be easily peeled
Have firm flesh
Have great, pleasing flavor
As such my favorite varieties of peaches for this old fashioned peach cobbler are:
Elberta & Improved Elberta
Empress
Indian Free
Red Haven
Rio Oso Gem
Sun High
Sweet Dreams
Dutch Oven Peach Cobbler Recipe
Peach cobbler is an old fashioned dessert, and as such it calls for an old fashioned cooking method. A cast iron dutch oven ensures a well baked biscuit, warm juicy peaches, and a spectacular farmhouse presentation. A 10" cast iron dutch oven — or even a deep cast iron pan — with matching lid is perfect for this recipe. Personally, I prefer a well-seasoned cast iron, but a modern enameled dutch oven will work as well.
I was brought up on cobblers that were simply sweetened fruit and thickened juices at the bottom and a biscuit topping above. Perfectly tasty, if maybe a bit soupy and messy. This dutch oven peach cobbler solves the soupy problem by placing most of the biscuit on the bottom of the pre-heated cast iron pan (with ample melted butter, of course). The result is a biscuit that browns beautifully before rising through the peaches to the surface. While some cobbler recipes place the entirety of the biscuit batter on the bottom, I reserve ⅓ of the mixture to top the fruit before placing the lid on the Dutch oven for baking.
If you chose your peaches well, they will need little doctoring for this dutch oven peach cobbler. A little sugar, a little flour, and a dash of cardamom seeds are heated until thickened before baking, making for some peachy richness that everyone will enjoy.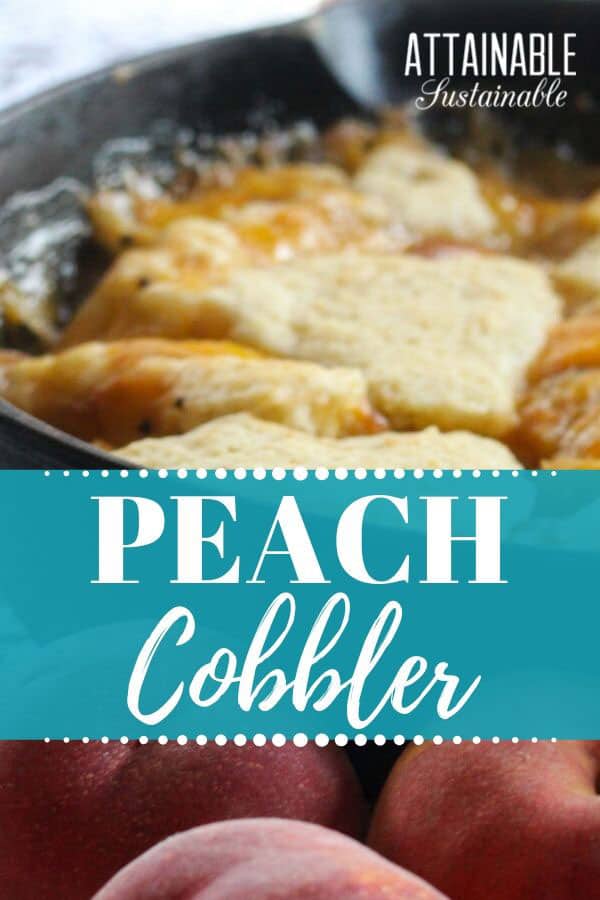 ★ Did you make this old fashioned peach cobbler recipe? Don't forget to give it a star rating below! ★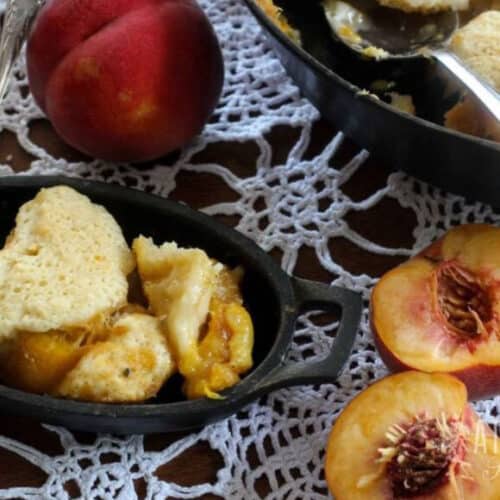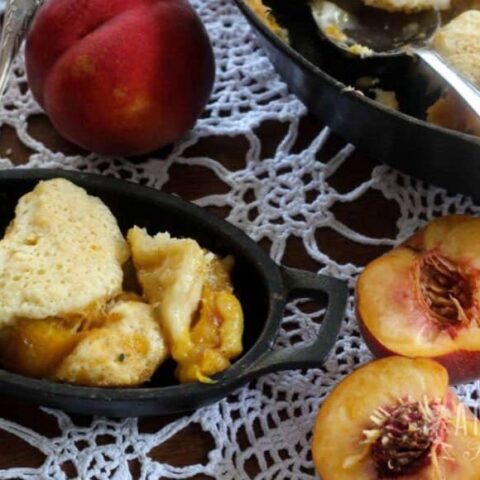 Old Fashioned Peach Cobbler in a Dutch Oven
Perhaps the perfect summertime dessert, this cobbler features biscuit dough on the top AND bottom.
Ingredients
For Peach Mixture
4 cups sliced peaches, sliced and pitted
¼-½ cup organic sugar or honey, depending on the sweetness of your fruit
¼ cup all purpose flour
1 teaspoon cardamom seeds
For the Pan
For Biscuit Topping
1 ½ cups all-purpose flour
1.5 tablespoons baking powder
½ cup organic sugar, plus 2 tablespoons for sprinkling
¼ teaspoon salt
1 ½ cup whole milk
Instructions
In a medium saucepan, add fresh peach slices, ¼ - ½ cup sugar or honey, ¼ cup flour and cardamom. Bring to simmer over medium heat, and cook for 5 minutes or until slightly thickened, stirring occasionally. Set aside.
Preheat oven to 375 degrees.
Place butter in a 10" or similarly sized Dutch oven and place in preheating oven.
Meanwhile, combine the remaining flour, ½ cup sugar, baking powder, salt. Stir in whole milk to form a thick batter, but do not over mix.
Carefully remove the preheated Dutch oven from the oven and spoon approximately 2/3 of the batter into the bottom of the pan. Don't worry about spreading as it will self level during baking.
Spoon the peach mixture over batter, then top with remaining biscuit batter. Place lid on the Dutch oven (using mitts of course).
Return to oven and cook covered for 25 minutes. After 25 minutes, remove the cover and cook for an additional 15 minutes or until the top is golden brown.
Remove from oven and cool slightly before serving. Serve warm cobbler with a scoop of vanilla ice cream for optimum enjoyment.
Notes
If you don't have a cast iron pan or Dutch oven, use an oven-safe baking dish.
Nutrition Information:
Yield:

8
Serving Size:

1 grams
Amount Per Serving:
Calories:

308
Total Fat:

10g
Saturated Fat:

6g
Unsaturated Fat:

0g
Cholesterol:

27mg
Sodium:

170mg
Carbohydrates:

50g
Fiber:

2g
Sugar:

28g
Protein:

5g
Looking for more peach recipes? Try these!