Looking for a fail-proof method to keep cats out of the garden? Check out my system for keeping stray cats — and my own felines — away from growing vegetables!
If you're plagued by smaller pests, check out these natural methods to control bugs!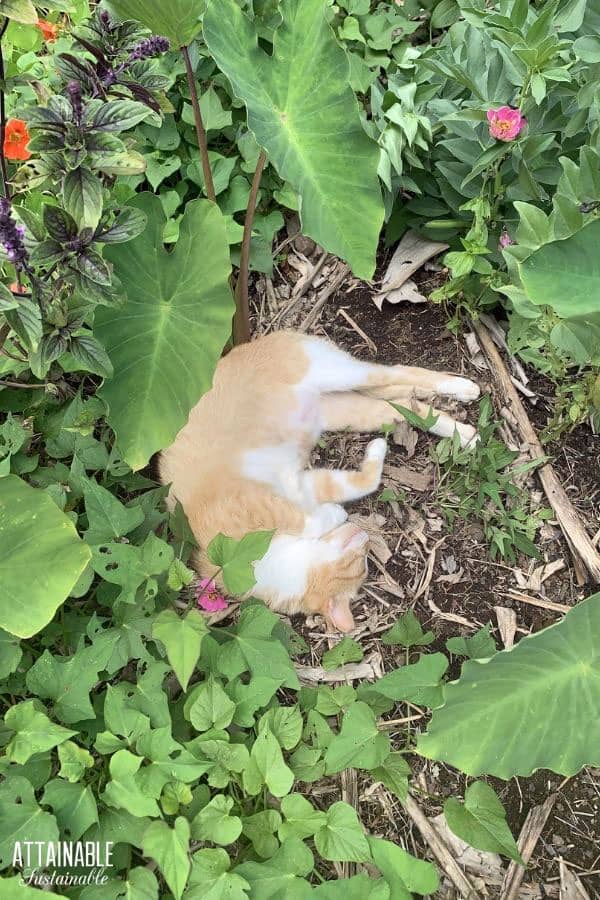 I love my cats (that's Howard, up there). They keep the rat population down and they're delightful pets. But I definitely don't want them pooping in the garden!
Outdoor cats will use any loose soil as a litter box given half a chance. And once they've marked an area with their scent, they tend to keep returning.
There are two reasons to keep cats out of the garden:
Cat poop is bad news. It can contaminate the soil with toxoplasmosis and parasites such as roundworm and hookworm. Bacteria such as E. coli or Salmonella is also a problem.*
Cats preparing a perfect potty spot will dig up plants and seeds you've so carefully planted.
Ideas for keeping cats out of the garden
I've seen so many suggestions for ways to keep cats away from plants in the veggie garden or in flower beds. Plastic forks in the ground, growing plants with scents that cats dislike (such as thyme), or using a spray bottle. (Who's got time for that??)
Take a Peek Inside My Book!
Get a free excerpt from my book, Attainable Sustainable: The Lost Art of Self-Reliant Living! You'll also get my free weekly newsletter, complete with recipes, gardening tips, and a little peek at what's going on around here — both the zany and the mundane.
One of those motion activated sprinklers that produce a burst of water probably work, but they can be a bit expensive and they need to be hooked up to a water source.
I'm also giving a big pass on cat repellents or coffee grounds. I've seen my cats waltz right over coffee grounds to do their business and cat repellents need to be reapplied regularly.
Using bulky items like pine cones or coarsely shredded mulch can deter cats from pooping in an area — they much prefer soft, loose soil. This method is probably best used in a flower bed or perennial vegetable garden. In a garden bed that is worked two or three times a year, that material will just be a pain for you to deal with.
I've tried covering the garden with chicken wire so that cats can't dig. Again, it worked, but was a pain for me to deal with as the plants grew through the wire and the wire got all bent out of shape.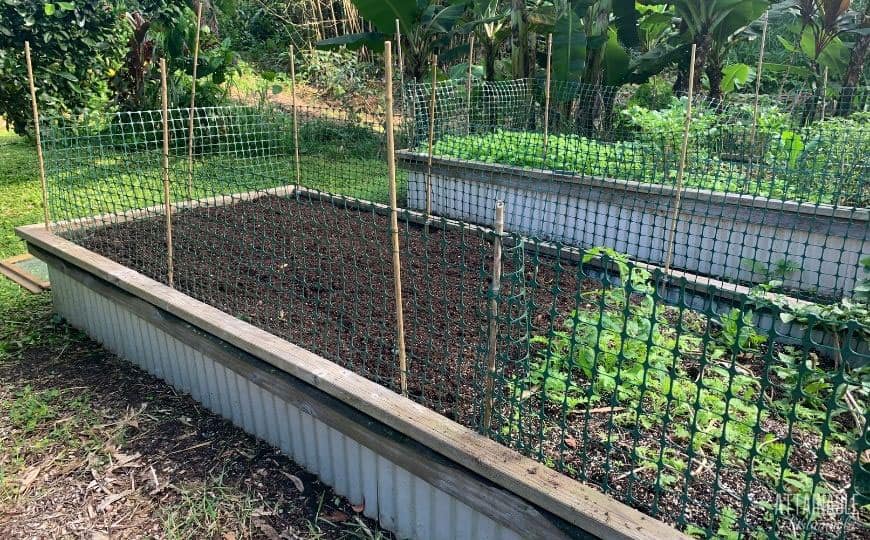 Cat deterrent fencing is the best method!
While I'm all for experimenting, this is my fail-proof method for keeping cats away. If they can't get into the space, they can't do any damage.
We invested in enough two foot high plastic fencing to go around the circumference of my raised beds. (I do not love that it's plastic, but wire fence rots here easily.)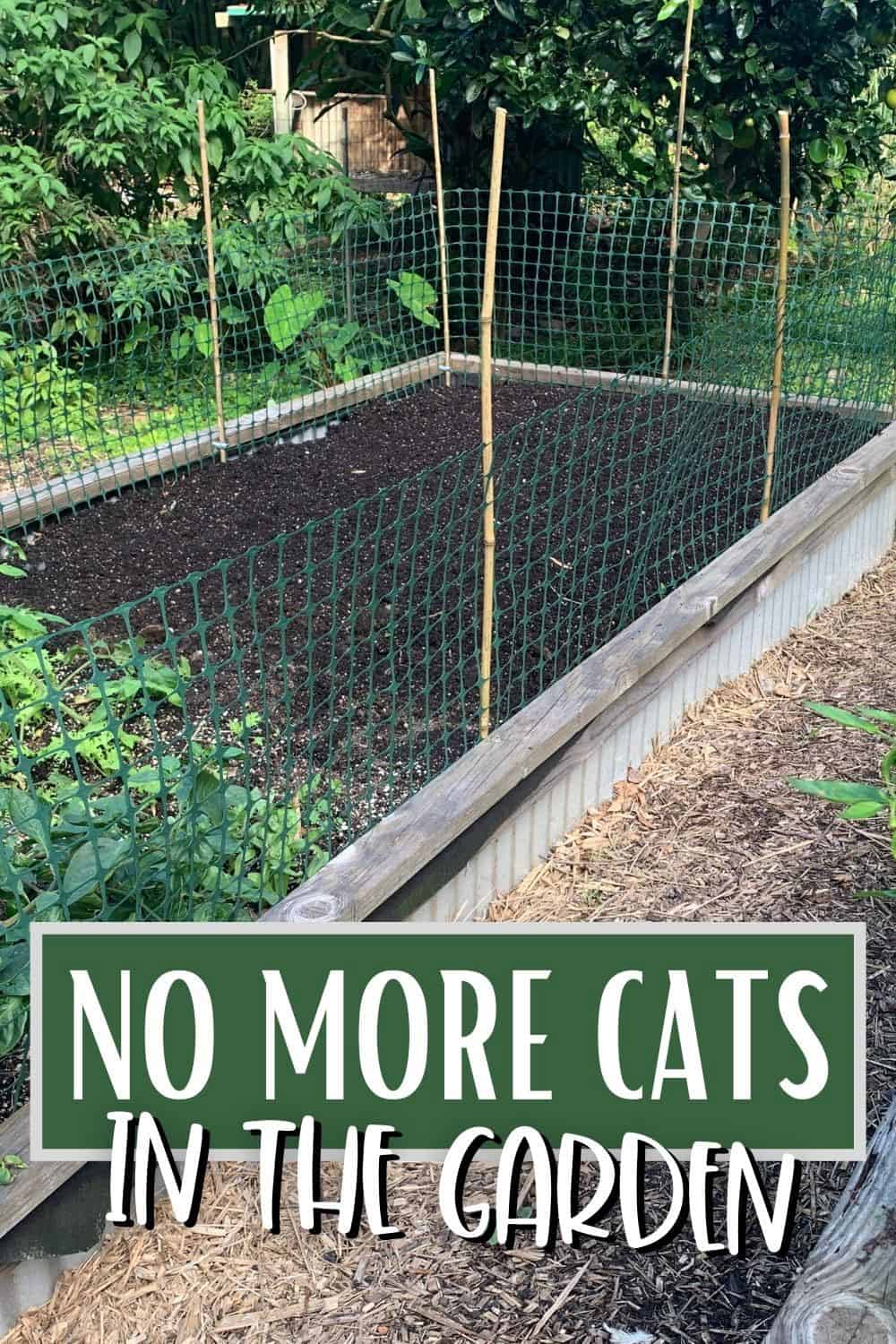 The trick is that the top of the fencing needs to remain a bit loose. We talked about building wooden panels, but nimble cats would be able to jump onto the fence and then into the garden.
We've been using this easy fence system for several garden seasons now and the cats have never — not once — gotten in!
How to set up this easy cat fence
This is a super easy project, but the installation may vary a bit depending on your particular garden area. For our raised beds, we started by installing pipe hangers on the inside edge of the planter, no more than 5′ apart.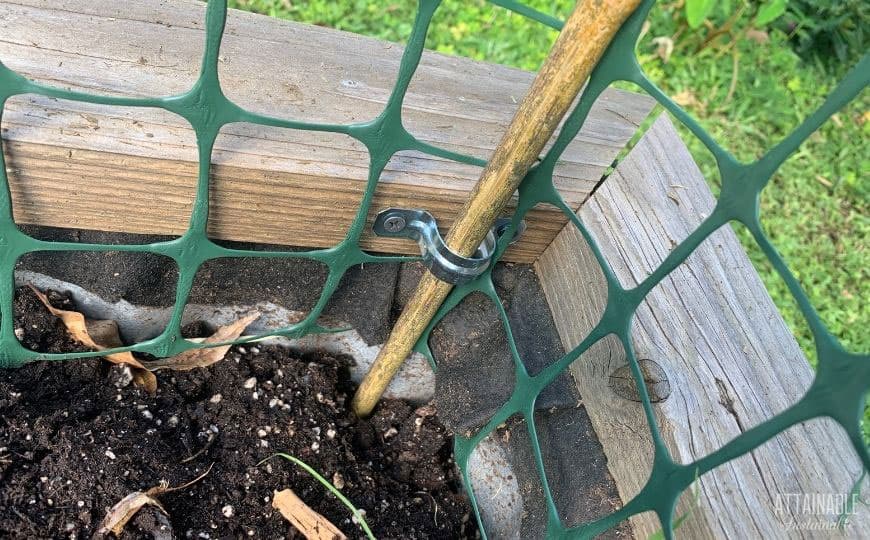 We then pulled the fence along one side of the raised bed, weaving lengths of bamboo in and out of the holes in the fence at intervals to match where the pipe hangers were installed. Push the ends of bamboo through the pipe hangers and into the soil for stability. (We grew the bamboo here; it's about 1/2″ to 3/4″ in diameter.)
When the raised bed was completely encircled, we overlapped the fencing material and used another piece of bamboo to weave them together.
Over time, the fence may start to sag a bit. This can be remedied by taking the fence down and re-installing it. The image below is what mine looks like after several seasons.
Now, is this the prettiest solution? No it's not. But I find that when the garden is full and growing, the green fence kind of just blends right in.
Harvesting or maintaining the garden is done by leaning over the fence (for short jobs) or removing it temporarily. Easy, peasy.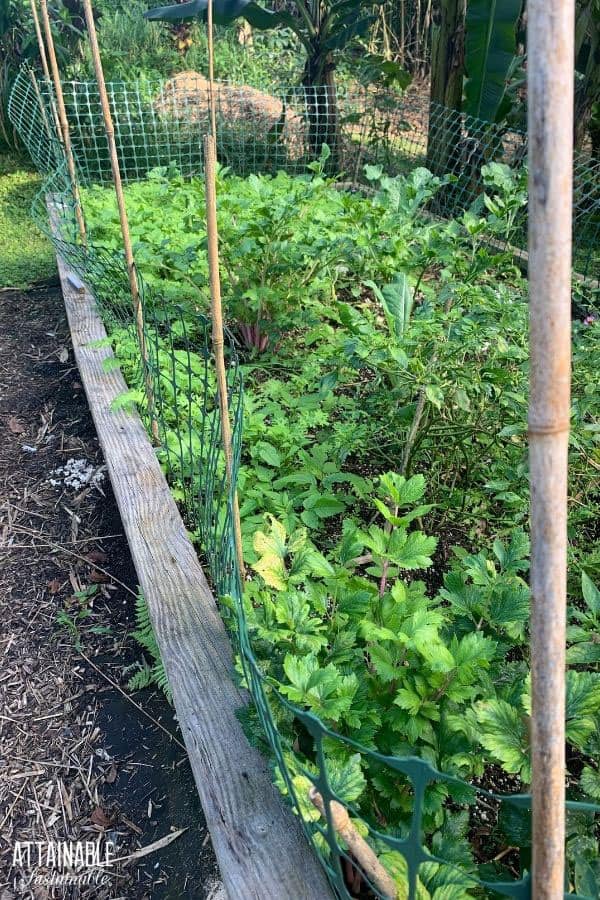 You could also use this method to keep cats out of your yard — or at least certain parts of your yard.
If you're trying to keep cats out of a yard or flower bed that's at ground level, you can do essentially the same thing, minus the pipe straps. You'll just need to be sure that cats can't push under the fencing.
*UCCE Master Gardener Program – http://acmg.ucanr.edu/files/214548.pdf