Add some (or all!) of these perennial vegetables and fruits to your garden and harvest for years. Plants that come back every year are called perennial plants. They live for at least two seasons, and sometimes much, much longer. Perennials tend to be soft-wooded, different from a shrub or tree.
Here are some perennial flowers to add to your garden, too. The bees love them!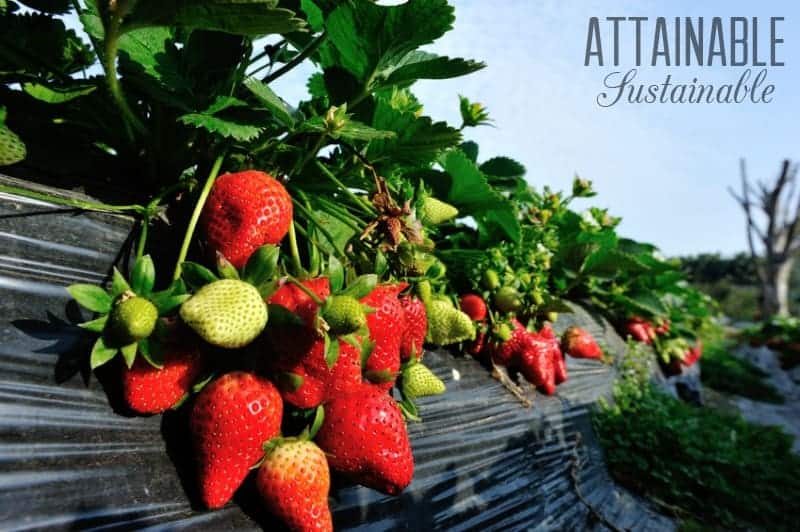 Perennial plants come back every year. And there are fruit and vegetable crops that are perennial. Think about that for a minute. Perennial vegetables and fruits will continue to produce food for you year after year.
Opting for plants that come back every year instead of annuals can save you plenty of time in the garden. Plant them once and bam! You'll be harvesting these crops every year with very little work. How can you not love that?

---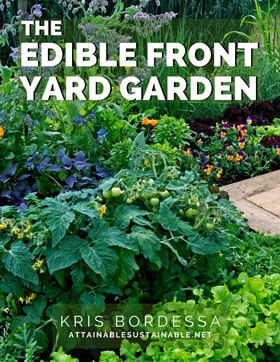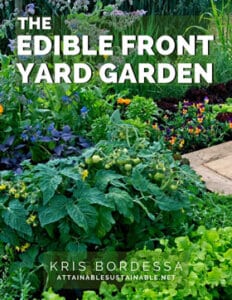 The Edible Front Yard Garden
Does your homeowners association prevent you from growing food in the front yard? What if they never even KNEW? My ebook, The Edible Front Yard Garden will show you how!
---
Things to consider when planting perennial vegetables and fruits
Since you won't be amending the soil annually as you might with your vegetable garden, you'll want to do a good job of preparing the soil when you plant by adding lots of lovely compost. If your soil is short on nutrients, consider a soil test to find out what you can add to improve it.
Once your perennial vegetables and fruits are in place, mulch, mulch, mulch! It will help keep the weeds down, retain moisture, and add nutrients to the soil. Of course, what grows well for you will depend entirely on your climate zone, so be sure to do a little research on which of these perennial vegetables and fruits will thrive in your garden.
Grow Some Greens!
Ready to grow fresh greens, no matter WHERE you live? Sign up for my
FREE quick-start guide and start growing some of your own food!
There are lots and LOTS of perennial vegetables that thrive in temperate climates, but can only be grown as an annual in cooler regions. For instance, we grow taro here, and it can be grown in some southern regions of the continental USA, but I've heard of people growing it in pots and moving it inside for the winter, too.
If you're looking for more ideas and willing to stretch the limits of your climate, I highly recommend Perennial Vegetables: From Artichokes to Zuiki Taro, A Gardener's Guide to Over 100 Delicious and Easy to Grow Edibles by Eric Toensmeier.
One of the drawbacks to perennial vegetable and fruit crops is that they can take a year or two to become established. Patience, friend. They're worth it.
Where to plant your perennial crops
You can plant perennials in a garden bed, just as you plant annual crops like tomatoes, beans, and corn. But it's not necessary. Consider using perennial vegetables or fruits to edge your garden beds. Some will even help keep the weeds down.
If you're really tight on space, add these plants to your (gasp!) front yard landscape. Edible landscapes can be absolutely gorgeous. Nobody will be the wiser! [More on vegetables pretty enough to fool your homeowners association here.]

Perennial fruit
Strawberries [Fragaria]
There are a number of varieties of strawberries to choose from, but your biggest decision is between ever-bearing (they'll produce for several months during the spring/summer) or June bearing (a large crop coming in one big batch around June).
Most people who grow strawberries do it in a large patch and use lots of straw mulch to help keep the berries themselves from rotting against wet soil. Of course the berries are fabulous, but strawberry plants make a beautiful ground cover, too. Get the most out of your bed by growing strawberries with asparagus!
If you struggle with slugs on your strawberries, you might try making one of these pallet planters. I made one that's on legs; each of the legs is sitting in a container of water. Yes, the legs will rot fairly quickly, but a season or two of slug-free strawberries is worth the effort of repairing the planter as necessary.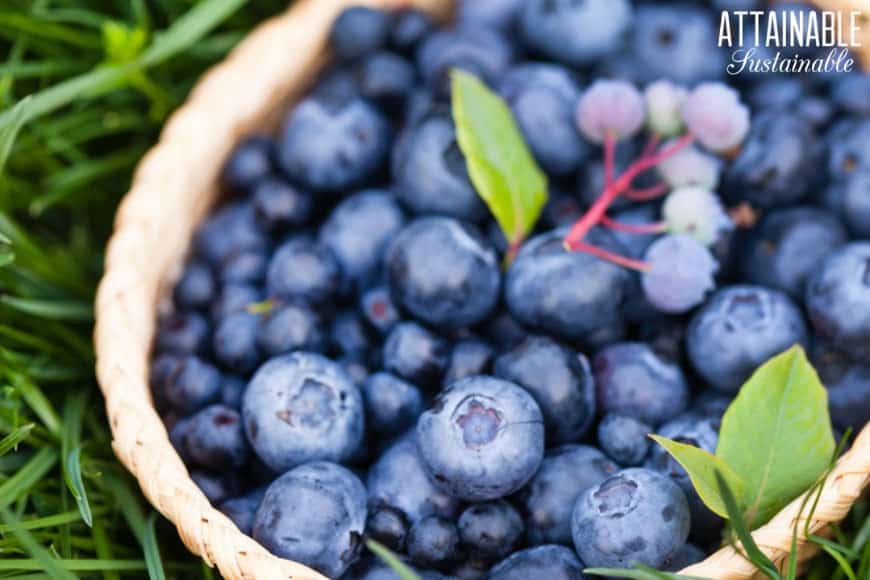 Blueberries [Vaccinium corymbosum]
Blueberry plants are attractive, making them an option for front yard gardeners. They'll provide fresh berries for you during the early summer months and continue bearing for years. More on growing blueberries here. If you live in a cold region with short summers, consider haskaps.
Raspberries and Blackberries [Rosaceae]
The most important thing to know when planting raspberries or blackberries is that they can become invasive – especially blackberries. (Those giant patches of wild blackberries you forage from every summer should be a clue.)
Opt for thornless varieties to make harvesting easier, and there are dwarf varieties that are less invasive to allow gardeners with small spaces to grow this favorite summertime fruit.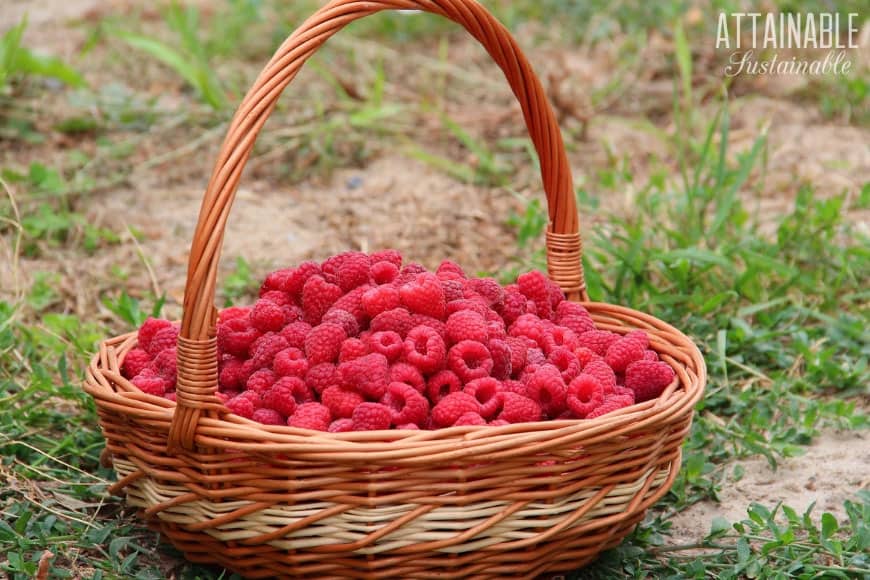 Grapes [Vitis vinifera]
Is there anything better than an arbor covered with ripe, fragrant grapes? I remember harvesting Concord grapes as a kid; my mom juiced them for grape jelly and her own grape juice. Divine! Choose red, purple, or white grapes, seeded or seedless. Given a good fence or arbor on which to climb, grapes will provide year after year.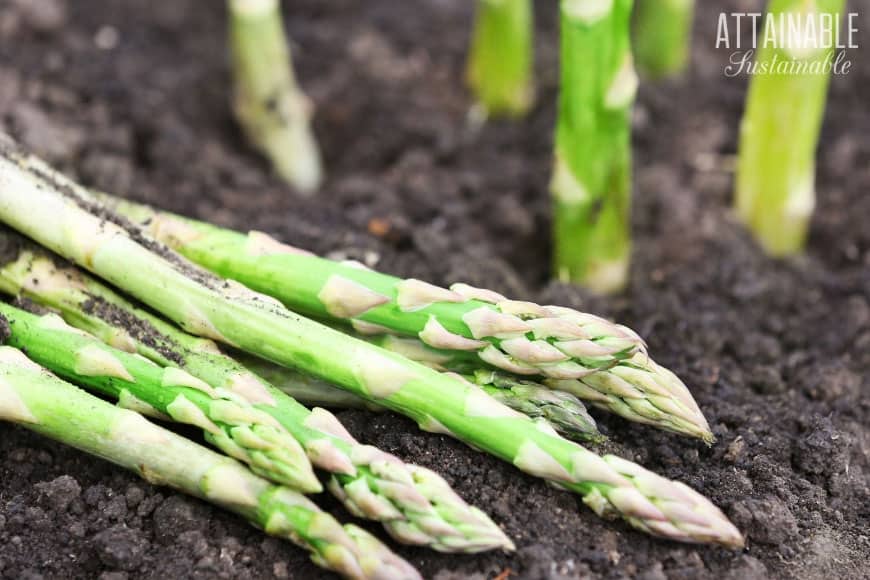 Perennial vegetables
Asparagus [Asparagus officinalis]
A productive asparagus bed is a beautiful thing, but you'll need patience. Grown from seed, asparagus will take three years to start producing. Shorten that time by opting for one-year-old crowns (often sold during bare root season).
Artichokes [Cynara scolymus]
An artichoke is, simply, a thistle. Globe artichoke is probably the most common variety, and the vegetable that we love to eat leaf by leaf is actually a big flower bud. Left alone, it would bloom into a large, purple thistle flower. Artichoke plants grow to about three feet high and wide, so give them a fair amount of space when setting them in the ground. [More on growing artichokes here.]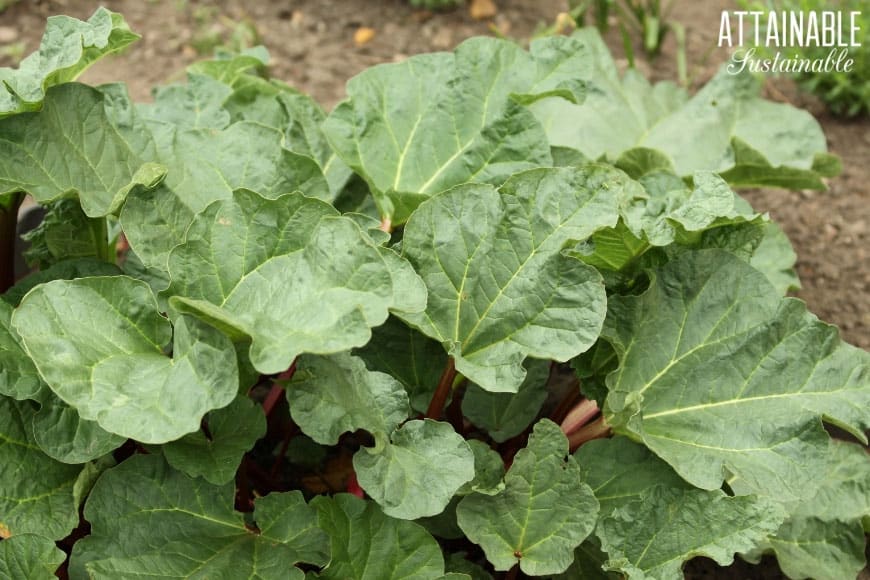 Rhubarb [Rheum]
Plant it once and you'll have rhubarb forever. Seriously. My folks had a rhubarb plant on the old home place that my grandma planted. It must be fifty years old! The leaves of rhubarb are poisonous (but can be useful); it's the red stems you want. They're great for pie and jam and making this rhubarb coffee cake. [More about growing rhubarb here.]
Malabar spinach [Basella alba]
Malabar spinach is definitely easier to grow than it is to identify. "It's malabar spinach!" people say to me, identifying at least four different plants that are slightly similar.
Okinawan spinach [Crassocephalum crepidioides]
These perennial greens are another vegetable that is not actually spinach, but is called such. This vining green is good for adding to stir fry dishes and has a slightly fishy taste. More about growing Okinawan spinach here.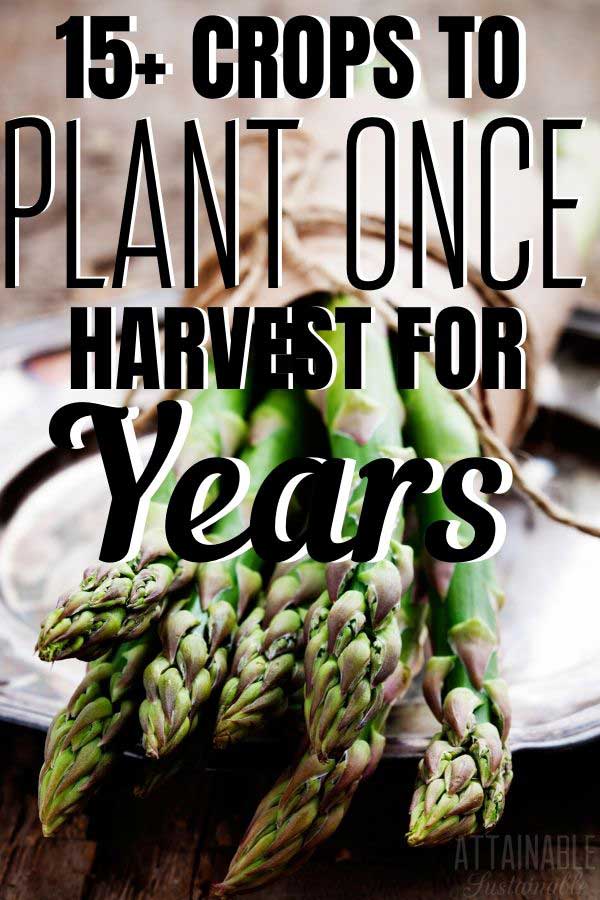 Herbs
This is a huge subgroup and herbs are definitely not going to fill your belly when you're hungry. But an herb garden with varied flavors will spice up whatever you're cooking. Common perennial herbs that are easy to add to your landscape include rosemary, thyme, oregano, chives, and mint.
Less commonly used but great to include in your garden are herbs like lemongrass, horseradish, and saffron. Turmeric will continue to grow in the ground year after year, but you do pull the plant to harvest tubers.
Fern
Ferns are a beautiful addition to a shade garden, but did you know that some are edible? Warabi and ho'io are commonly grown in warmer climates, while cooler regions will count on ostrich fern. The tender fiddleheads are great as an addition to stir fry dishes or blanched for a salad.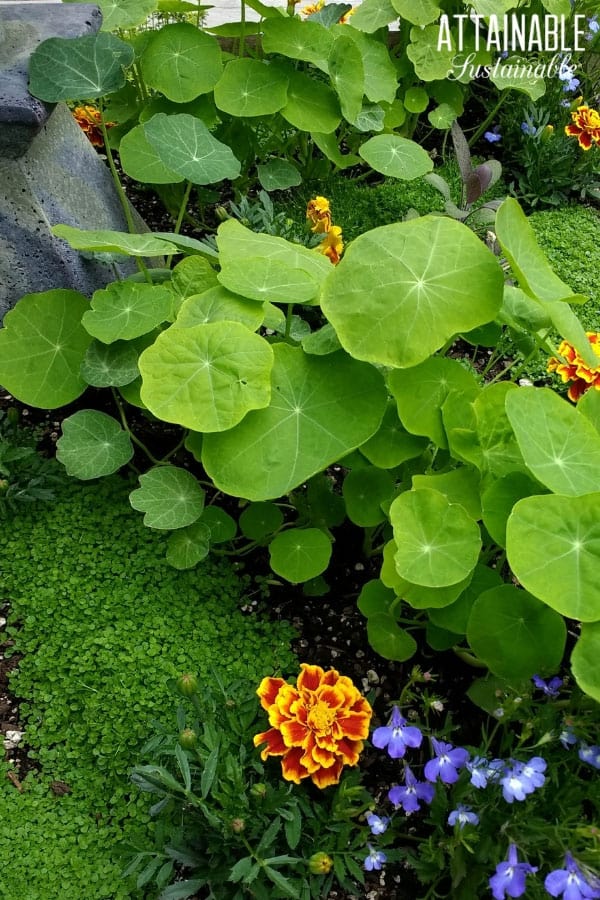 Edible flowers
Daylily (Hemerocallis fulva)
The new shoots, tubers, buds and flowers of the daylily are all edible. If you want to eat the roots, you'll pull up the plant, harvest the potato-like tubers, but set some aside for replanting. The young leaves, buds, and blossoms can be eaten raw, a perfect addition to salad. Some people batter and fry the flowers, too. Cook the tubers like potatoes, or eat them raw.
Nasturtium
These flowers are a bright addition to your yard and garden, and they're edible. The flower petals add a bit of color to green salads, the leaves are a great substitute for grape leaves (try these stuffed nasturtium leaves), and the seeds can be pickled or fermented to make a crunchy condiment reminiscent of capers.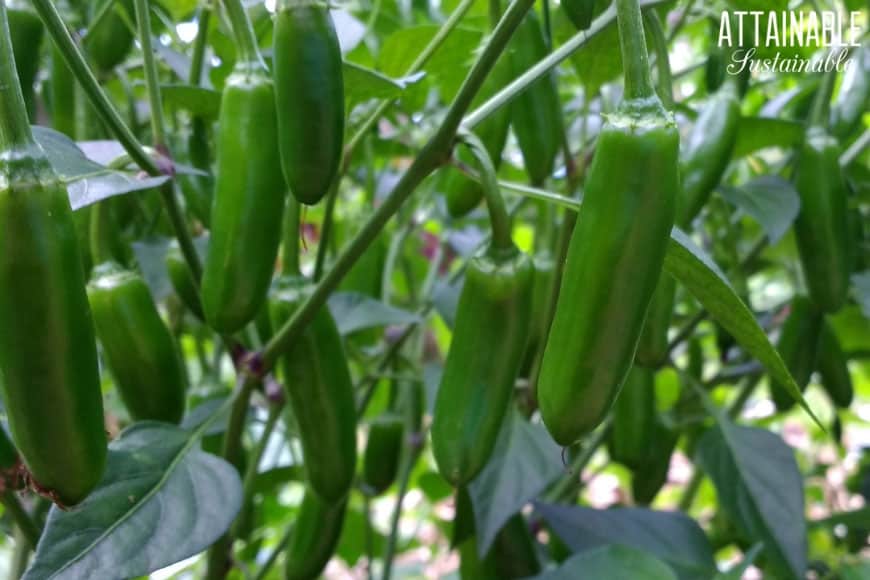 Common frost tender perennial vegetables
Peppers [Capsicum]
Most gardeners grow peppers as an annual, but if you treat them right, they'll give an encore performance. If you're in a temperate climate, as I am, prune them back by about half at the end of their productive season. They'll send out fresh new growth, and be ready to flower come springtime.
To grow them as a perennial in colder climates, plant one or two plants in a pot, or try transplanting peppers from the garden into a container. Keep them inside where they'll be protected from frost. More on growing peppers here.
Scarlet Runner Bean [Phaseolus coccineus]
I've heard stories about people harvesting from the same scarlet runner bean vine for 20 years! Set up a permanent arbor and grow these beauties as a showy landscape vine if you live in a warm region that doesn't see frost.
More perennials!
This is by no means an exhaustive list of perennial vegetables and fruits. As I mentioned above, options will vary by region. Your local cooperative extension office might be able to give you some good ideas for your area.
Originally published in September 2016; this post has been updated.