Pickled nasturtium seeds are a bit unusual, but they offer a nice little pop of flavor. These lactofermented seeds have been called "poor man's capers" but whatever you call them, they can be a good substitute for capers.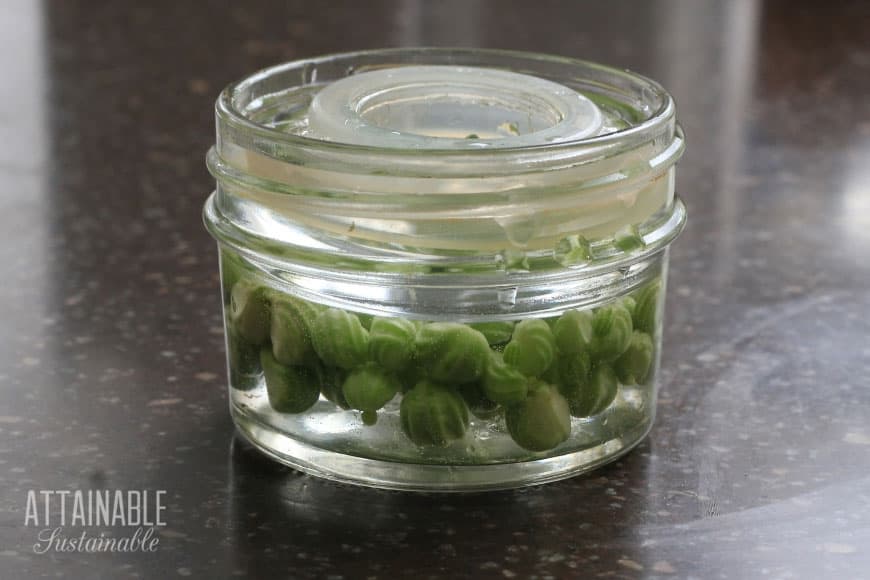 Fermentools sent me a kit to experiment with. I've found them to be an excellent and easy way for me to start fermenting successfully. This is a sponsored post.
What ARE capers?
Capers are the little dark green orbs often served with lox. They're a nice little pop of flavor when stirred into salad dressings or sprinkled on pasta. Before they become the food we call capers, they were a flower bud on a plant called Finders Rose or the Caper Bush. (Creative, no?) Those little blossoms are harvested before they open and turned into a tasty little condiment.
Caper berries — which I just discovered last year — are delicious, too, but much less common than capers. They're about the size of a gherkin pickle and great added to cheese boards.
These shrubs grow in zones 9-11. For most of us in the USA, growing them to make our own capers is sheer folly.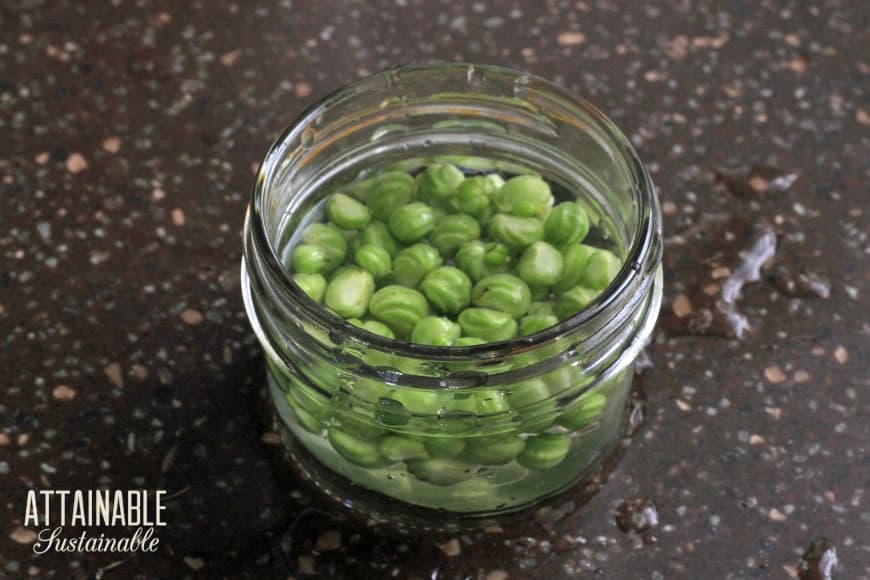 5 Easy Steps to Transform Your Pantry!
Ready to switch from store bought to homemade? Let me help you make some changes! Grab my FREE five-part guide to getting started.
Related: Spicy Pickled Snap Peas
So what can we substitute for capers?
When I heard about the possibility of making my own "pickled capers" from—of all things—nasturtium seeds, you know I had to try it. Nasturtium seeds are plentiful and hey, free food!
Now, if you don't know this about nasturtium seeds, they have a very strong peppery flavor. That, combined with the vinegar I used in my first attempt, made for a super potent end product that nobody would eat. But I'm not one to easily give up.
Improved pickled nasturtium seeds
With the nasturtiums in full bloom and plenty of seed pods available, I started thinking about the idea of making these substitute capers again. How could I utilize these without the overpowering flavor I decided to try lacto-fermentation. No vinegar required. And you know what? It worked!
The resulting "capers" have a nice, subtle flavor.
Fermenting the nasturtium seeds seems to reduce some of the bite of the seed pods and over the course of a week, the brine develops its own vinegar-like flavor without screaming, "Oh my goodness that's a lot of vinegar!" like my last attempt. You can nibble them out of hand or use them as a substitute for capers in recipes that call for them.
Making these substitute capers
The first step is harvesting seeds. Choose plants that you're certain haven't been sprayed with poisons. And be sure not to harvest all the seeds. This will assure that the plants reseed.
Related: Stuffed Nasturtium Leaves: Foraging for Your Dinner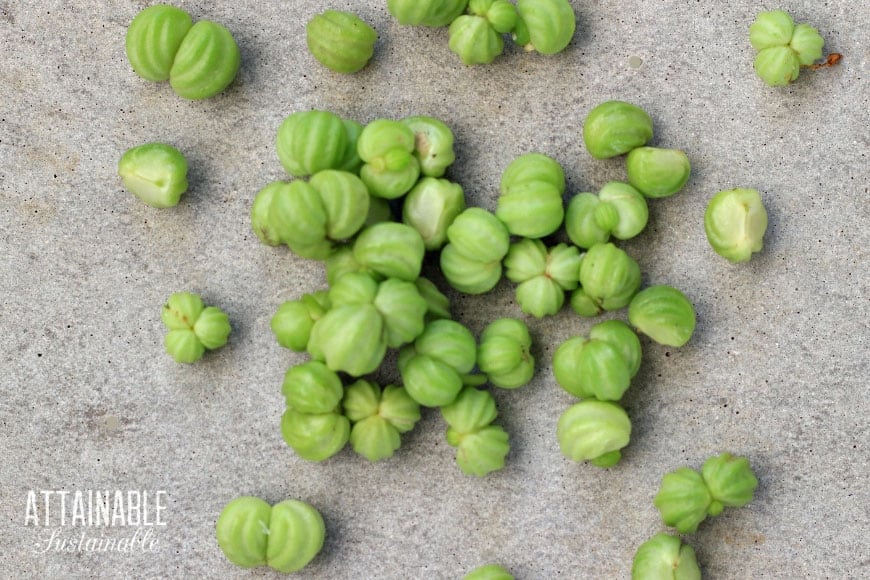 Clean the seeds and break them up. (They often come in twos or threes.) Put them in a jar and pour a salt brine over the seeds. While most ferments only require one round of fermentation, I found that a second ferment was necessary for these. After several days, they begin to emit a sulfuric odor. Simply drain the brine, cover with fresh brine, and allow them to ferment for several more days.
It's important to make sure that the seeds are completely submerged in the brine. If you don't have glass weights, get creative. I used a lid from a glass spice jar that fit perfectly inside the jar.
Related: Lacto-Fermented Radish and Turnip Roots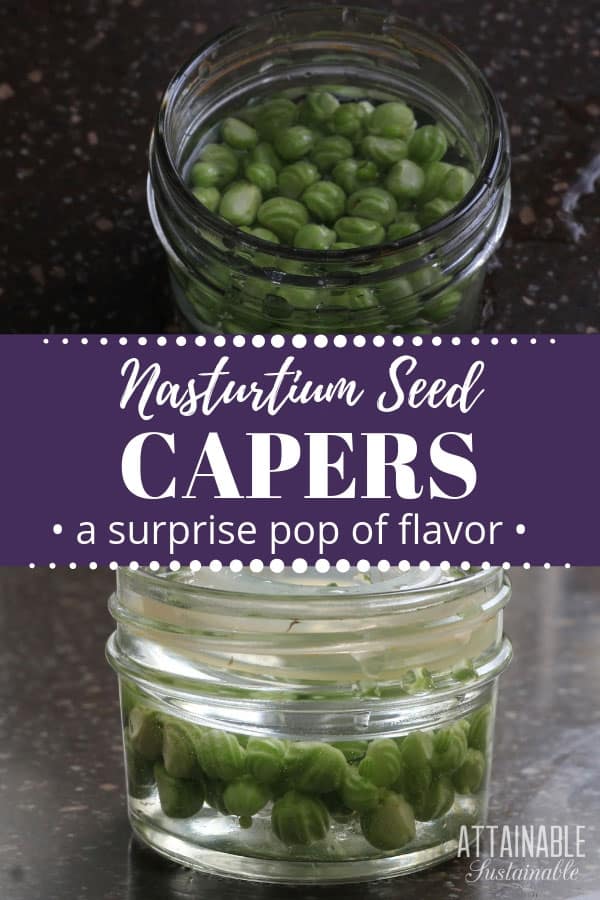 ★ Did you make these substitute capers? Don't forget to give it a star rating below!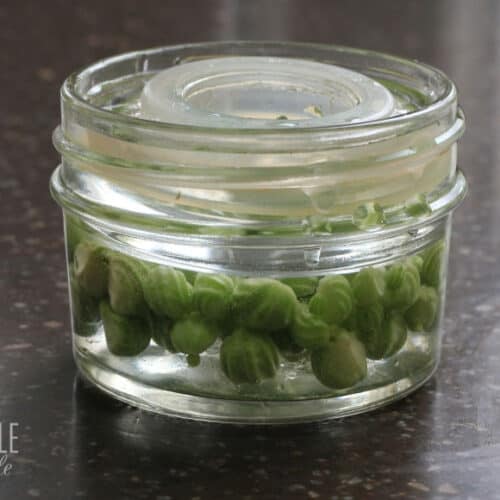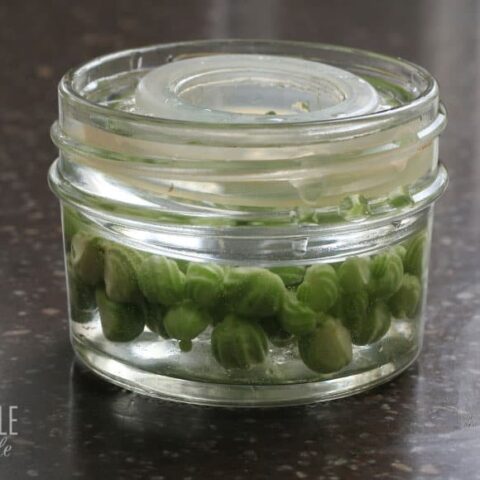 Poor Man's Pickled Capers
Pickled nasturtium seeds are a bit unusual, but they offer a nice little pop of flavor and are a good substitute for capers.
Ingredients
1/2 cup freshly harvested young green nasturtium seed pods
1 cup distilled water
Instructions
Wash nasturtium seeds thoroughly, remove any remaining stems, and break the seed pods apart. Place seeds in a wide mouth quarter-pint jar.
Dissolve salt in water to make brine; pour brine over nasturtium seeds to cover. Refrigerate remaining brine. Place a glass weight on top of seeds to prevent floating and to keep seeds submerged.
Use the Fermentools airlock system---it fits right onto any wide mouth jar---to prevent accidental overflows and to keep out the fruit flies. (I'm loving how easy fermenting is with this system!) After about three days, open the jar and you will likely smell a bit of a sulphur odor.
Drain seeds, cover with reserved brine, and put the airlock back in place. Allow to sit at room temperature for another three days or so, then give them the old taste test.
Notes
Water: Municipal tap water contains chlorine, which can inhibit fermentation. Use spring or distilled water instead.
Salt: Salt with iodine or anti-caking agents can inhibit fermentation. 
No nasturtiums handy? Check out this recipe for dandelion capers. 
Nutrition Information:
Yield:

6
Serving Size:

1 grams
Amount Per Serving:
Calories:

3
Unsaturated Fat:

0g
Sodium:

1042mg