When canning our homegrown produce, we want the best quality ingredients. Your go-to brand might not be the best vinegar for pickling and canning.
Truly, is nothing sacred? If you've been grabbing the same vinegar off the shelf for years, not giving it a second thought, it's time to do a little label reading. Surely a product with the words "apple cider" on the label would be made from…apple cider, right? Think again. Depending on your brand, that jug may contain 'apple cider flavored' vinegar. Ditto for what you thought was white wine vinegar.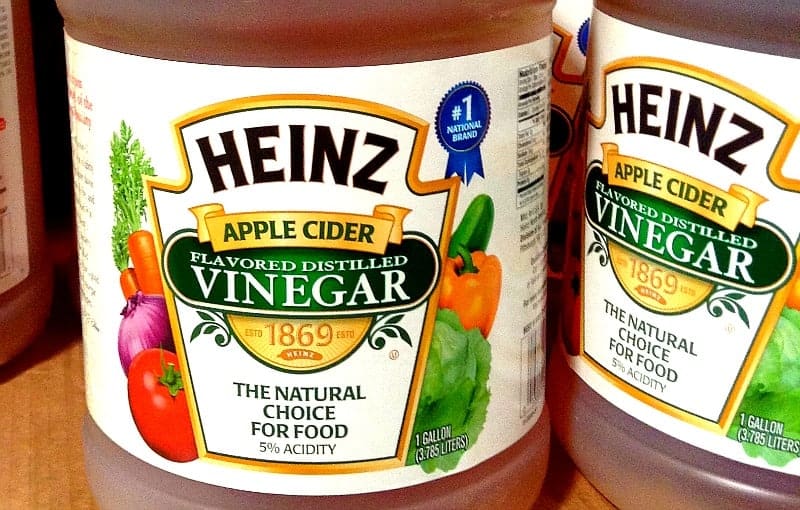 This post may contain affiliate links; I'll earn a small commission if you choose to make a purchase.
What's in your vinegar?
Heinz doesn't address the 'apple cider flavored' option on its site, but here's what they have to say about the clear stuff that used to be white wine vinegar:
Heinz® Distilled White Vinegar is made from sun-ripened grain and crystal clear water.
Sun-ripened grain. That sounds nice, doesn't it? But the picture that accompanies that statement shows an ear of corn. And you can bet that corn is transgenically modified.
Choosing the best vinegar for pickling
Now, this may not change your buying habits at all. You might not be concerned about the idea of using potentially genetically modified ingredients in your canning. And that's okay. We all make choices. But I'm of the mind that we should be aware that we're making those choices, rather than blindly grabbing something out of habit, only to find it's no longer what we thought it was.
You might also like:
UPDATE
Heinz now addresses this on their FAQ page:

So Heinz has two different apple cider vinegar products; one sourced from apples, the other sourced from corn and flavored to taste like apple cider vinegar. Ditto for what used to be processed from white wine.
From what I've seen, the smaller glass containers are the true product, while the gallon size jugs are the "flavored" versions. If you're a home canner, odds are good that you're reaching for the more economical jug without giving it a second thought.