Looking for an easy flower to add to your garden? Grow nasturtiums! They're pretty, hardy, and edible!
Check out even more edible flowers here.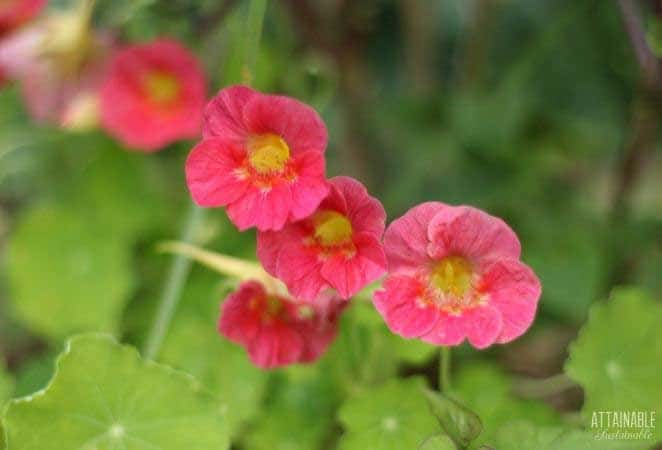 Nasturtium flowers in the garden
When it comes to a hard-working flower, nasturtiums (Tropaeolum) are right up there at the top of the list. They're pretty, incredibly easy to grow, and can be propagated from readily available seed.
You might even find a friend who can share seeds with you!
The growth habit of this pretty plant varies by variety. They can climb trellises, cascade out of pots, or remain small and bushy.
Check out these 10 reasons you might want to grow nasturtiums in your garden this year.
Grow Some Greens!
Ready to grow fresh greens, no matter WHERE you live? Sign up for my
FREE quick-start guide and start growing some of your own food!
Nasturtiums are edible
The leaves, flowers, and seeds of nasturtium plants are all edible and have a somewhat peppery flavor. Add flowers to a salad, stuff nasturtium leaves much as you would make dolmades, and try fermenting the seeds to make "poor man's capers."
The leaves can also be eaten raw in salad or rolled up in your lunchtime wrap for a little spicy flavor.
Nasturtiums are an easy-to-grow flower
These annual flowers live for a single growing season, dying back when cold weather hits. Nasturtiums, though, self-sow with a frenzy! Seeds that drop off will lay dormant during the winter months and sprout — without you doing a single thing! — come springtime.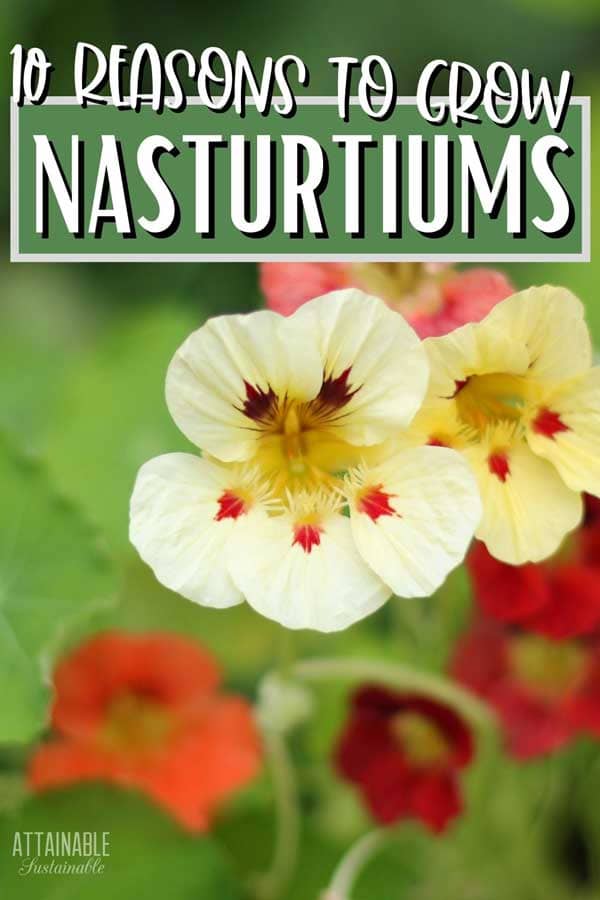 Nasturtium flowers come in a rainbow of colors
From the common orange to yellow, pink, cream, and burgundy, you can choose a single color or grow them all. They're often available sold in seed packets as a mix. Some specialty nurseries carry unusual options.
They attract pollinators
Bees love the colorful blossoms and happily buzz from blossom to blossom. Planting these beauties in or near your vegetable garden will attract bees and improve pollination for your garden crops. [More on attracting pollinators.]
They are an excellent summertime ground cover
Since they grow so quickly, nasturtiums make excellent filler between plants. Letting them spread across the ground helps shade the soil from intense heat.
A fast-growing ground cover like this helps hold weeds down, too.
Nasturtiums are carefree
Plant seeds about an inch deep in a sunny spot, keep them watered, and they'll simply thrive. They're not particular about the type of soil they grow in (probably why you may seed wild nasturtiums blooming along the roadside!). They don't need fertilizer; in fact, they'll flower better without too much fertilizer.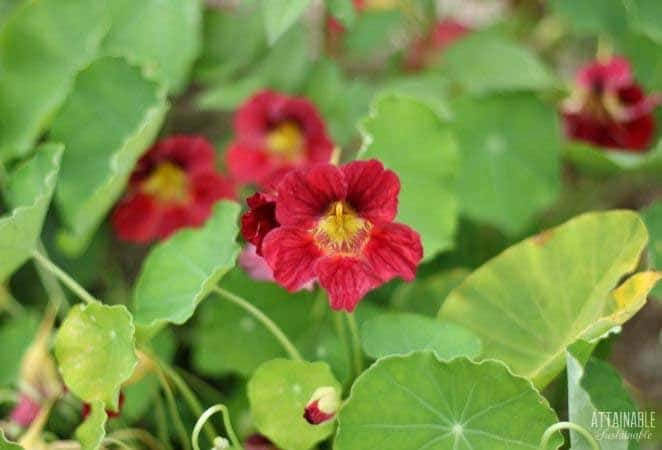 Nasturtiums can be a trap crop
Aphids love nasturtiums. Planting nasturtiums some distance from the garden can draw pests away from the crops you're hoping to harvest.
They can also act as a trap crop within your garden. Inspect the plants regularly to spot an infestation before it becomes a problem for vegetable plants.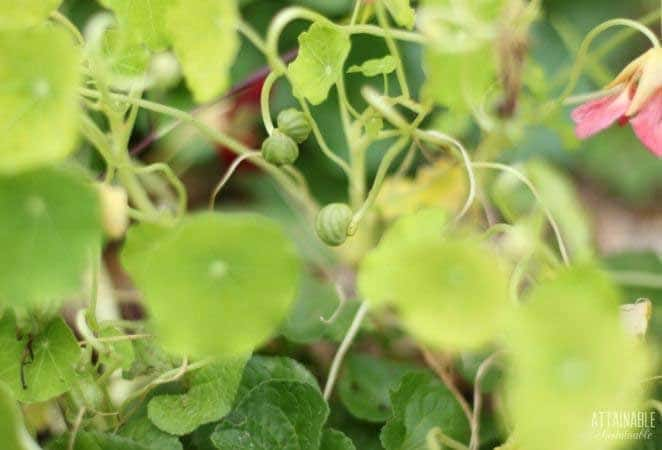 Saving seeds is easy
As the flowers wither and die, seeds will appear on the stem. These green seeds come as single, double, or triple clusters. They'll drop off on their own and often start growing right where they fall.
To save nasturtium seeds, pull the seeds from the plant and allow to dry. Store in an envelope in the fridge until next season.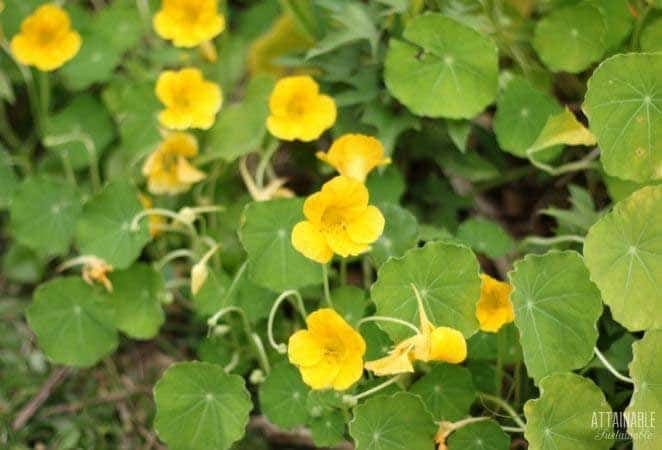 Bunnies love them
For those of us who raise rabbits, nasturtiums are a delicious — and locally grown — addition to their diet.
There's a spot in your garden that's perfect for nasturtiums
Plant a vining or climbing variety to clamber up a trellis to give a tall pop of color or opt for a small, mounding variety to plant in your container garden.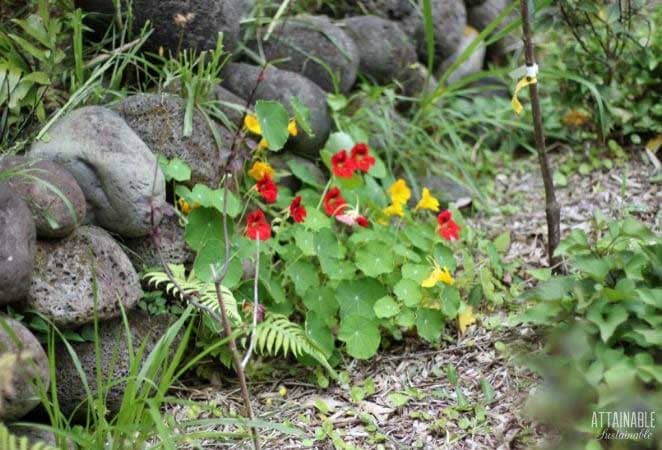 How to grow nasturtiums
They're so easy to grow! Start by choosing the variety you have a space for. Renee's Garden has an interesting collection including climbers, some that mound, and others that are good for hanging baskets.
You can soak seeds overnight to give them a jumpstart, but it's not entirely necessary. Set the seeds about an inch deep in a sunny location, pat soil over the top, and water in. Maintain moisture by sprinkling gently until seedlings emerge in about 10-14 days.