Trying to embrace an environmentally friendly lifestyle that doesn't smack of waste? It's easier said than done when we're dealing with long ingrained habits. These green living tips will get you started!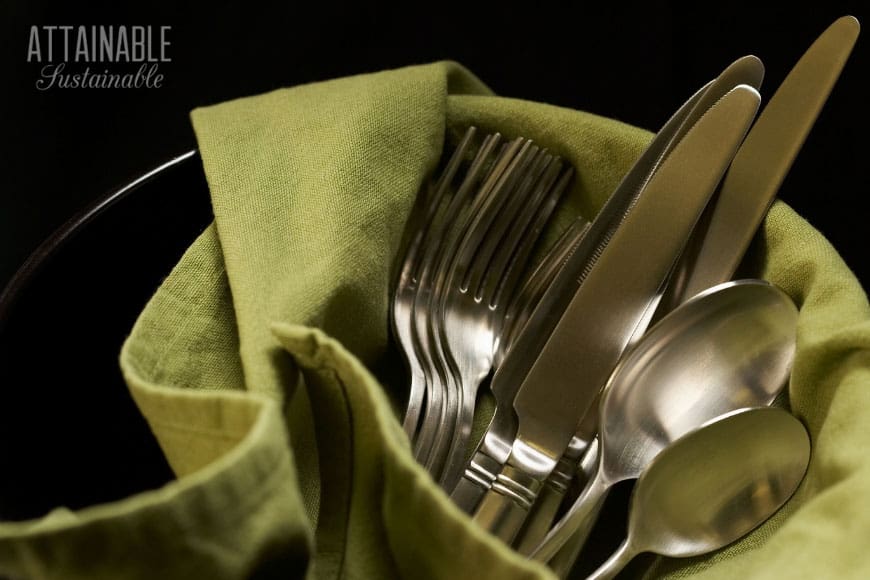 15+ Easy green living tips
The good news is, there are a lot of changes you can make on your way to a 'green' kitchen that will take zero effort on your part. All you've got to do is remember to implement these tips for green living.
1. Ditch plastic
Make a set of these beeswax wraps to replace cling wrap or tin foil. These reusable snack bags can replace your favorite zip-top bag for dry snacks. Plus, they're cute. And consider these alternatives for freezing foods without plastic containers.
2. Put a lid on it
When you're cooking on the stove top you can cut your cooking time and your energy usage by up to 75 percent just by using a tight fitting lid says Richard Ehrlich, author of The Green Kitchen. Boiling water? Warming soup? Put a lid on it! I use a lid on almost everything I cook to save energy, but it also helps to save time – and who couldn't use more of that? (These green living tips are easy and smart!)
3. Save your cooking water
Instead of pouring the water that you've used to cook hard boiled eggs, vegetables, or pasta down the drain, allow it to cool and then use it to water some of your outdoor plants. Alternatively, you can use the boiling water to kill weeds. Just pour the hot water onto driveway cracks or other weedy areas (NOT near plants you'd like to keep!) for a chemical free weed killer.
Take a Peek Inside My Book!
Get a free excerpt from my book, Attainable Sustainable: The Lost Art of Self-Reliant Living! You'll also get my free weekly newsletter, complete with recipes, gardening tips, and a little peek at what's going on around here — both the zany and the mundane.
4. Switch paper towels
Giving up the convenience of paper towels is a green living tip many people won't even consider. If you're one of those people, there is something you can do to make your paper towel use just a bit more environmentally friendly. Instead of buying bleached white paper towels, switch to those that are unbleached and made from 100% recycled material. It's not the best option, but it's definitely a better option, and we're all about small changes around here.
Ready to ditch paper towels entirely in your green kitchen? Try these.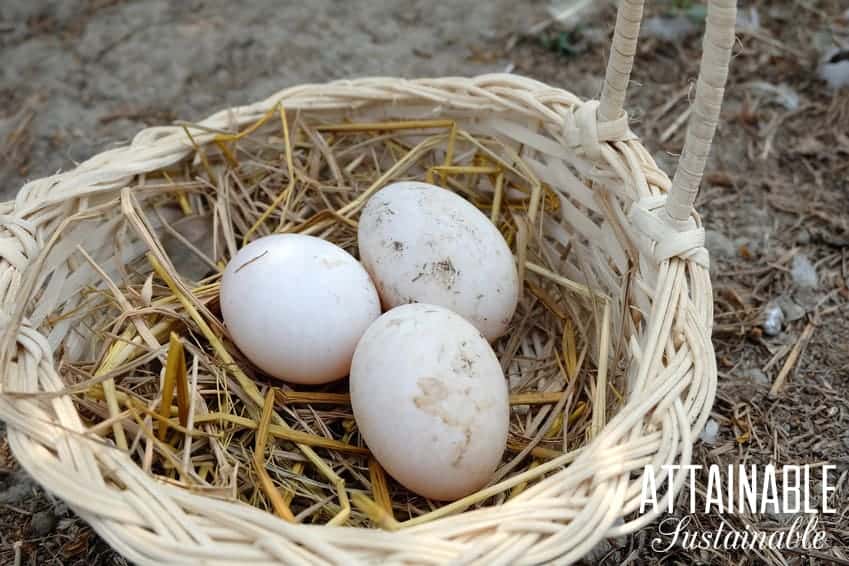 5. Choose your egg cartons wisely
If you don't raise chickens for eggs, you can make a greener, more environmentally friendly choice at the grocery store. For goodness sake, stop buying eggs in Styrofoam! You may pay slightly more for eggs in fiber cartons but those cartons can eventually be composted!
Before that, though, you'll want to pass your empty egg cartons on to your local backyard farmer. Reuse, baby. Reuse. If your neighborhood egg sellers are offering you eggs in plastic, let them know that you'd prefer yours in a basket or your own container. (And tip them off about the idea of green living!)
6. Consider a toaster oven
We don't use a microwave, so all of our baking and food warming happens in our oven. My son cooks himself a hot lunch daily, so it's not unusual for the oven to be warmed up to 350 degrees a couple of times a day. Even though I usually try to combine dinner preparation with a round of baking, it seemed like we weren't exactly being efficient.
After pondering it for six months or so, I finally forked out for a toaster oven to tip the scales toward greener living. Yes, it came packaged with a couple of slabs of Styrofoam (cringe).
My son uses the toaster oven for making lunch, I've cooked many dinners in it (casserole dishes actually fit), and even baked a loaf of bread. It's convenient and takes less time to warm up than the full sized oven, but I've been waiting to see if it would actually make any difference in my utility bill. The answer: absolutely! Household energy usage in the first month was down by about 75 kilowatt hours, netting a $30 savings.
In just two months, I recouped what I spent on the oven. After that, it's pure savings for my checkbook, plus I'm using less of the diesel-powered energy provided by my local utility company. In the long run, I think I can be forgiven for that Styrofoam, yes?
7. Use a spatula
Don't count on a butter knife or spoon to get the last little bits of food (think: peanut butter and applesauce) out of the container. When you think you've gleaned the last of the tasty goodness from the jar, grab a spatula and give it another go. Surprise! You've stretched that jar of peanut butter one sandwich further.
8. Choose unbleached flour
This is one of the easiest green tips to implement! The difference between bleached and unbleached flour in the final product (and cost) is negligible, but by purchasing the unbleached version you will eliminate chemicals and toxins from your food and our environment. Using chlorine, bromates, and peroxides in processing our food seems crazy, doesn't it?
Especially when there is a better alternative sitting right next to the bleached flour on the store shelf.
9. Make it a clean sweep
When it's time to replace your broom, reconsider the modern day plastic option and choose a straw broom with a wooden handle. If you're looking for something really different (what a cool gift!), check out these hale (house) brooms made in Hawaii using traditional methods. Or if you're super handy, you might consider making your own broom.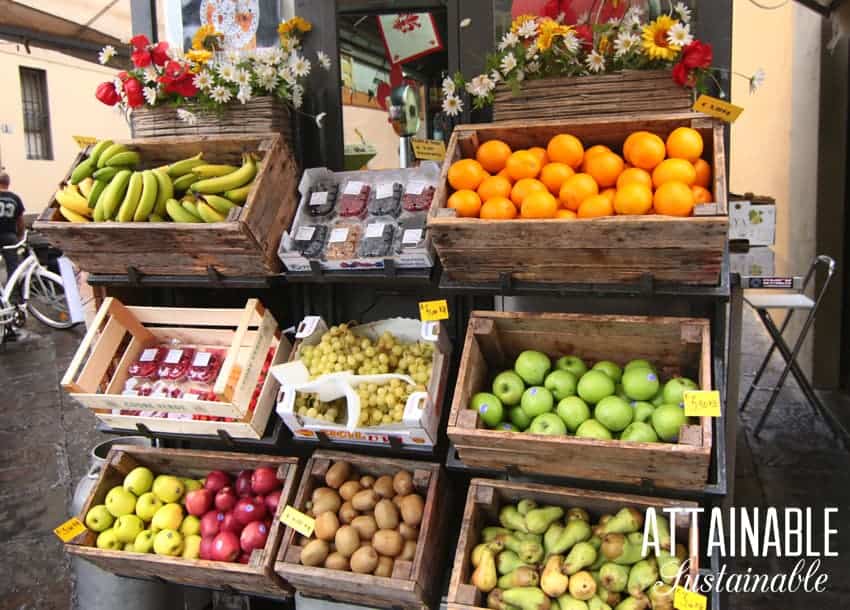 10. Choose local
Even if you use just one locally produced ingredient at least once a day, you'll be making a small impact on your local farm community and also increasing your awareness of the issue. If you already include at least one local or home grown ingredient in your diet each day (see green living tip #15) push yourself further – aim for something local at every meal. Besides locally grown fruits and veggies, your ingredients might include pasture raised meats, eggs, local dairy products, honey, herb teas, baked goods, or fresh caught fish.
11. Lose the sponge
Not only do kitchen sponges come wrapped in plastic, but the process of making a synthetic sponge requires the use of chemical softeners and bleaching agents. Dish cloths are the obvious replacement choice, since they can be washed regularly and will last for a long time. Plus, dishcloths generally come with less packaging than sponges and there are even organic cotton options available.
That said, this is hard for me. I prefer to use a sponge. I'm still working out an ideal replacement. My friend Jane sent me some crocheted "scrubbies" made of (get this) recycled tutus and they are just the right size and thickness. I may have to get back to crocheting.
12. Choose compostable picnic ware
If you're gearing up to entertain a houseful of guests, you might have disposable plates and cups on your shopping list. (Because you don't have enough dishes, we get it. Not because you're shirking dishwasher duties.) Instead of Styrofoam or plastic that will end up in the landfill for a long, long time, consider actual paper plates.
13. Start using napkin rings
Napkin rings? What, am I Martha? Actually, no. Martha would be quite horrified at the table I set each night. And yet, I do use napkin rings.
Once upon a time, it occurred to me that the cloth napkins we use daily probably don't need to be washed daily. I mean, after ribs or pizza yes, certainly – we're not gross – but some meals just don't leave much beyond a crumb on our napkins. Those, I figured, we could use another night.
Each night after dinner, decide if your napkin needs to be washed or if it can be reused. If it can be reused without drawing the ire of the health department, roll it up and tuck it into a personalized napkin ring and store in a basket for the next night.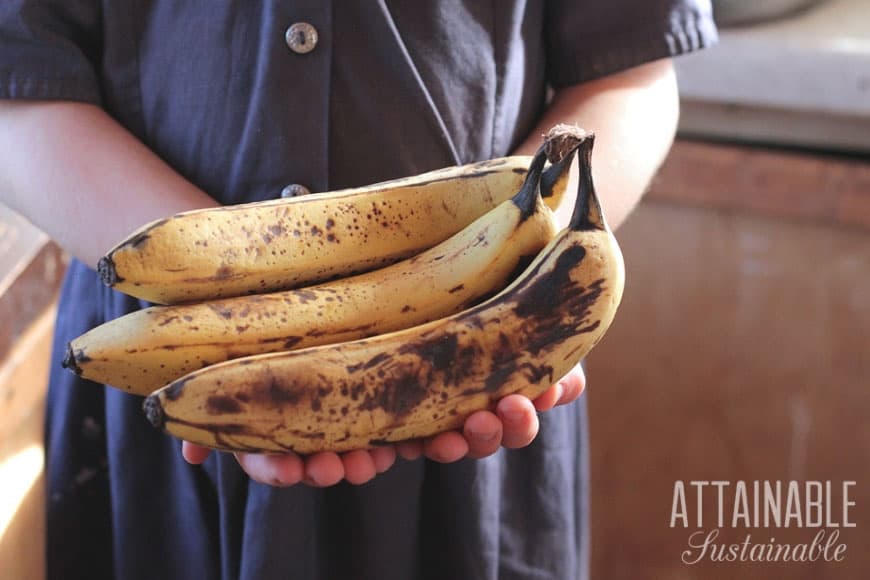 14. Love those brown bananas
If you've got overripe bananas but no time to whip up a batch of banana bread, stick them directly in the freezer. No need to peel them and put them in a plastic bag. When you're ready to bake, put the frozen bananas – which will have turned an ugly dark brown – on a plate to thaw. Once thawed, simply cut off one end of the banana and squeeze the fruit out of the skin. The texture will be a bit runny but it's perfect for blending into a batch of bread. No waste, no plastic.
15. Set goals for your meals
Even though our garden is a work in progress, I've set a goal of including at least one ingredient from our yard/garden in every dinner I prepare. If that's just not possible, I try to include something that's been grown or made locally. It's a small step, but one worth taking as we adopt tips and habits for green living.
My family has come to expect my dinnertime report:
Taco night: "The green onions and avocados came from the garden, the tomatoes are from the farmers market, and the beef is local and grass fed."
Pizza night: "The arugula, green onions, and basil came from the garden. The mushrooms are locally grown, from the farmers market."
Breakfast for dinner night: "The eggs are from our chickens and the sweet bread for the French toast is from Punalu'u Bake Shop."
It's casual, not a boardroom style report. But it's enough to make my family think regularly about where our food is coming from. In fact, when I served a vegetable stir fry last night, my eldest son beat me to the punch: "Are these snow peas from the garden?" Why, yes dear. Yes they are.