Here's how to make granola at home for a breakfast that's heartier than boxed cereal, healthier than boxed cereal, and less expensive than boxed cereal. Plus? Less packaging. This homemade granola recipe doesn't require any measuring and you can alter it to suit your preferences.
Why learn how to make granola at home?
Packaged cereal has become a breakfast staple in America, but we gave it up long ago. In fact, we stopped buying cereal regularly long before I before I began this whole sustainable quest of mine, mostly because even after two (expensive) bowls full of cereal, my boys were hungry again by mid-morning. It just didn't stick with them.
Instead, I make this honey granola recipe and I do it without a recipe. That means no measuring. Which means I can throw together a batch really quickly.

The Handcrafted Pantry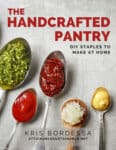 Ready to DIY your pantry with more wholesome ingredients? Check out my ebook, The Handcrafted Pantry! Filled with delicious recipes for some of your favorite condiments, snacks, and toppings, it's the guide you need to start skipping packaged products and embrace homemade.
Homemade granola recipe, no measuring required
Oil the bottom of a large roasting pan to prevent sticking.
Fill the pan to the halfway point with rolled oats.
Add "extra" ingredients like puffed rice, chopped nuts, flaked coconut, or sesame seeds (whatever you have in the cupboard) so that the pan is about 3/4 full. The great thing about learning how to make granola at home is that you can customize it to suit your family's preferences.
Pour one-half to one cup of honey (or maple syrup, if you prefer) over the dry ingredients, stirring it in as you pour.
Bake in an oven set between 300-350 (F) degrees. (The variable oven temperature allows you to cook the granola while you've got something else in the oven, making the most of your heat.)
Stir every 10-15 minutes* for about an hour or until the granola is toasty brown.
Once the granola cools down, you can stir dried fruit like cranberries or raisins into this honey granola recipe if you like.
Store granola in an airtight container.
If you don't have a large roasting pan or just want to make a smaller batch of this homemade granola recipe, these instructions will still work. Just use less sweetener than what I call for here. (Unless you like your breakfast cereal really sweet, in which case you don't need to make any changes.)
5 Easy Steps to Transform Your Pantry!
Ready to switch from store bought to homemade? Let me help you make some changes! Grab my FREE five-part guide to getting started.
A smaller batch will likely take less time to brown, too, so keep an eye on it.
How to make this homemade granola recipe without burning it
*Use a timer or I guarantee you will step outside only to find that the dog has run off with one of your shoes and while you're off looking for it you'll discover that someone left the hose on causing a minor flooding issue that you need to remedy Right Now and while you're here you might as well put a load of laundry going.
And when you smell something burning you will think, "Oh, those neighbors! Burning something again!" until you realize that the smell is actually coming from your own kitchen even though you can't quite remember if you have anything on the stove.
I know of which I speak.
Does your family eat granola? Or are they stuck on boxed cereals? Do you think they'd be willing to make a switch?
You might also like: