This homemade kahlua recipe starts with freshly brewed coffee instead of instant coffee granules. It's great for gift giving or simply indulging yourself.
For another sweet grownup drink, try making a batch of this creme de cacao.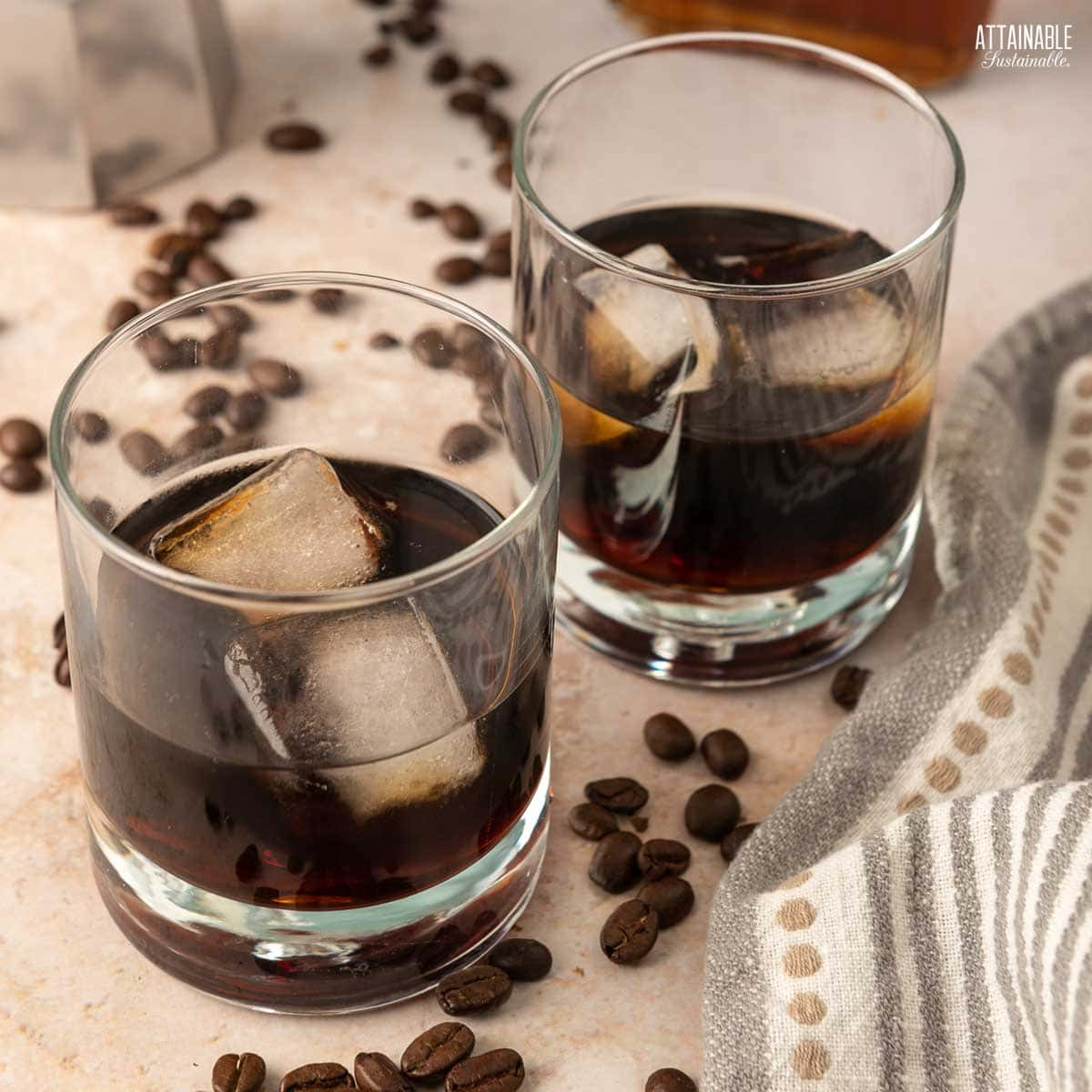 I love the flavor of coffee, so it's no surprise that I also love Kahlua. It's not something I have often, but Kahlua with a little splash of cream makes a dandy little dessert. Trust me.
Homemade Kahlua recipes abound on the internet, but most of them rely on instant coffee granules for the coffee flavor. I wanted to start with the real thing for my homemade coffee liqueur.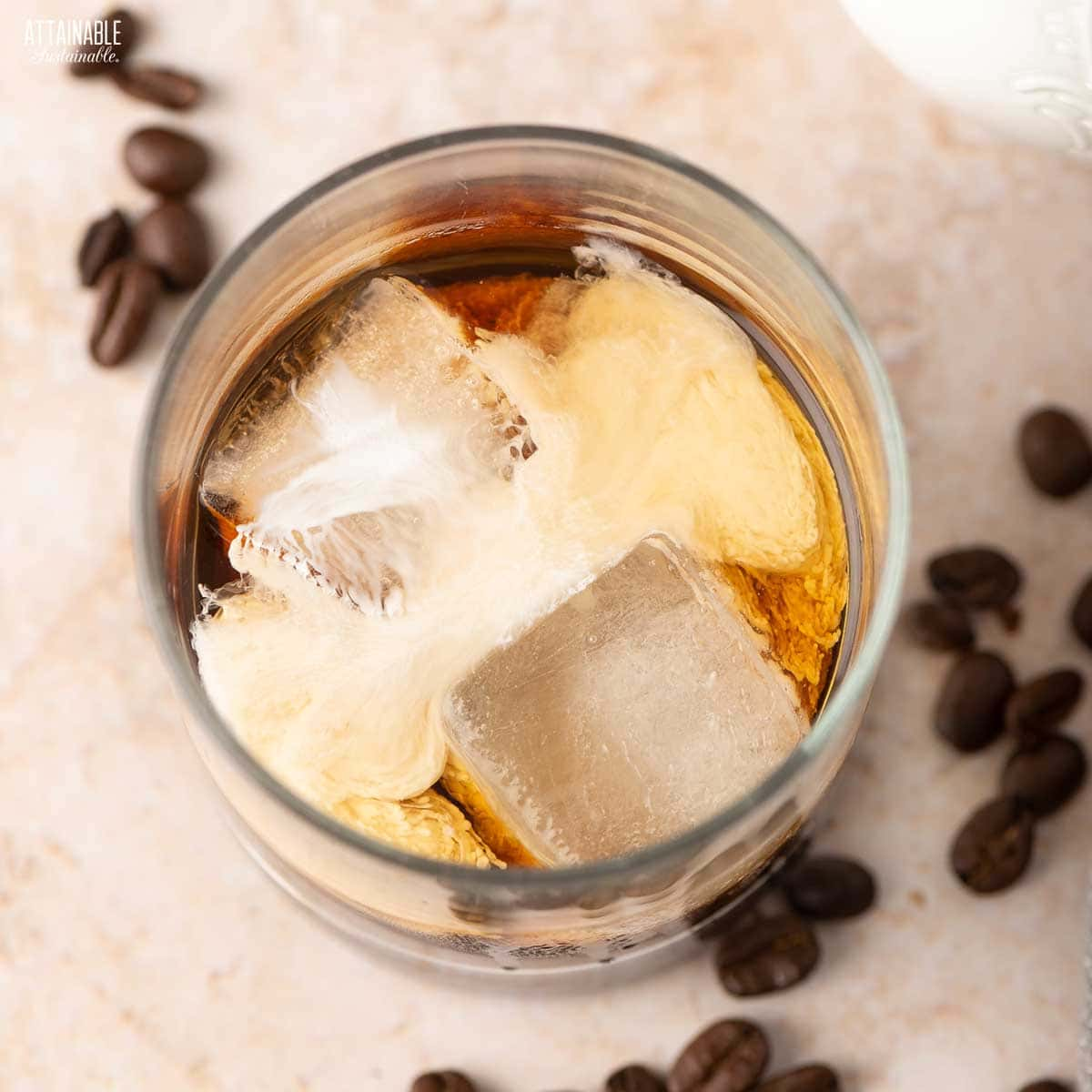 Homemade Kahlua with Espresso
Starting with freshly ground coffee beans provides the richest flavor, but any good-quality ground coffee will work. I use a stovetop espresso maker to make mine. If you don't have an easy way to make espresso at home you can swing by your local coffee shop and ask them to brew some for you. You could also just brew a really strong pot of coffee.
Here's the most important thing you need to know: Whether you're making this for yourself or as a gift for one of your favorite people, it is easy. Seriously easy.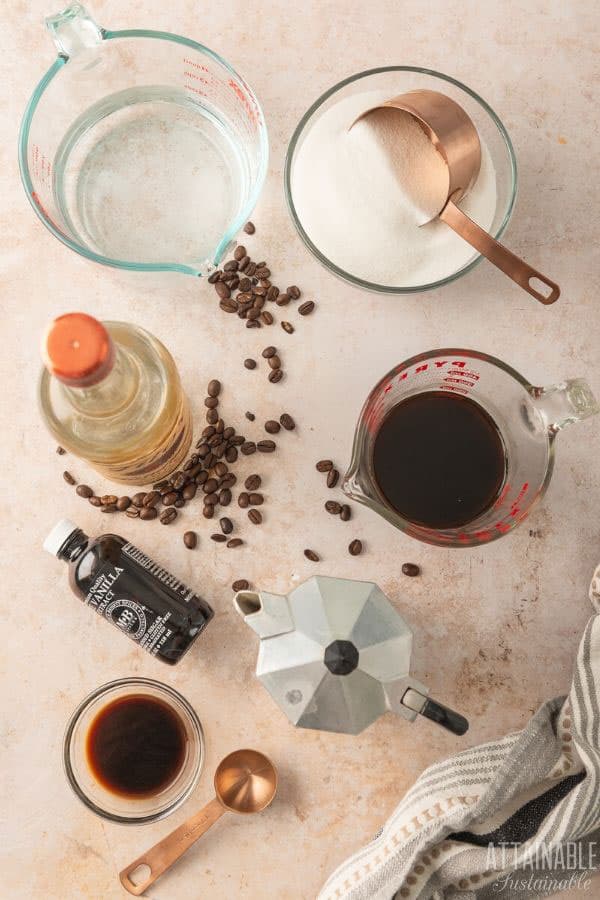 5 Easy Steps to Transform Your Pantry!
Ready to switch from store bought to homemade? Let me help you make some changes! Grab my FREE five-part guide to getting started.
Ingredients
Coffee — Many homemade kahlua recipes call for instant coffee granules. Not this one. This recipe starts with freshly brewed espresso or really strong brewed coffee. I've had readers share that they've used cold brew coffee with success, too.
Sugar — This recipe uses a bit less sugar than some so it's not so cloyingly sweet. Use your favorite brand of granulated cane sugar. I prefer organic. You could certainly use brown sugar if you like, or coconut sugar.
Rum or vodka — This gives the liqueur its kick. The bottled brand of kahlua starts with rum, but you can make this homemade kahlua recipe with rum or vodka. Do you need to start with high end liquor for this? You do not. Save yourself a little cash and grab what's on sale.
Vanilla extract — Use real or imitation vanilla extract or homemade vanilla for a subtle vanilla flavor.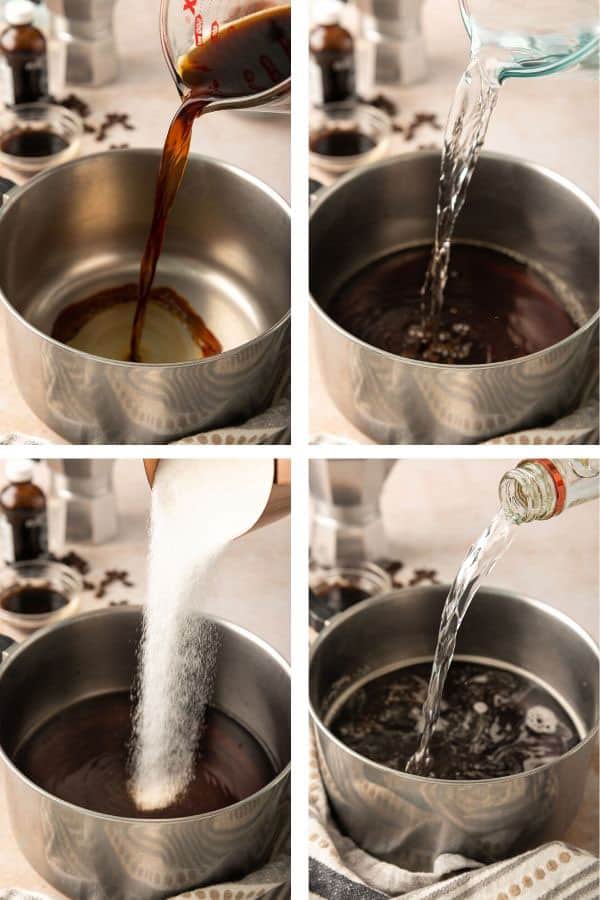 Making Kahlua
You'll start by combining the water, freshly brewed espresso or strong coffee, and sugar in a saucepan, simmering until the sugar is completely dissolved.
Remove from heat, allow to cool, then add the liquor. Seal the coffee liqueur into a large jar (or two if necessary). Ideally, you'll let it sit in a cool dark place for a month or so. This allows the flavors to meld and come together.
In order to have this homemade kahlua ready for December gift-giving, plan to make a batch or two in late October. Of course, it doesn't have to sit that long; this homemade kahlua recipe just improves with time.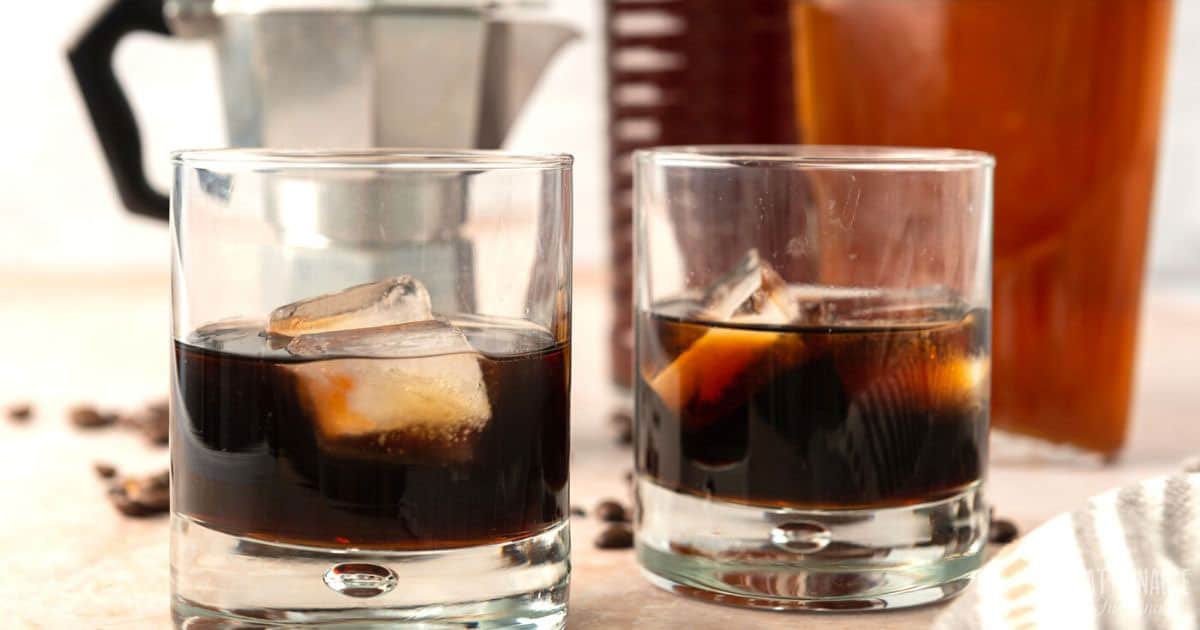 Making this Homemade Liqueur for Gifts
This homemade kahlua is less expensive than the store bought option and depending on the size bottle you decant it into, it will make a number of bottles for giving.
I like to use recycled bottles to package this homemade kahlua recipe for gifts. Add a tag with simple instructions for making a simple kahlua cocktail:
How to Make Kahlua and Cream:
1.5 ounces homemade kahlua
4 ounces half and half
Fill a highball glass with ice. Pour in homemade kahlua. Add half and half.
How to make a White Russian:
2 ounces vodka
1 ounce homemade kahlua
Splash of heavy cream
Fill a highball glass with ice. Pour in homemade kahlua and vodka. Add cream.
Storage
This delicious coffee liqueur can be kept at room temperature. Store it in a cool, dark place and it will last for several years. Theoretically speaking, of course. The odds of it not being used up by then are slim, right??
Frequently Asked Questions
Is it okay to let it sit for longer?
Absolutely! If you want to get a jump on holiday gift giving, you can make it months in advance. The finished product lasts on the shelf for several years.
Should I refrigerate it?
There's no need to refrigerate this liqueur. The vodka or rum do a nice job of preserving the flavors.
What if there is sediment at the bottom of the jar?
This may be from the brewed coffee. You can strain it through a layer of thin cloth or a coffee filter to remove the sediment.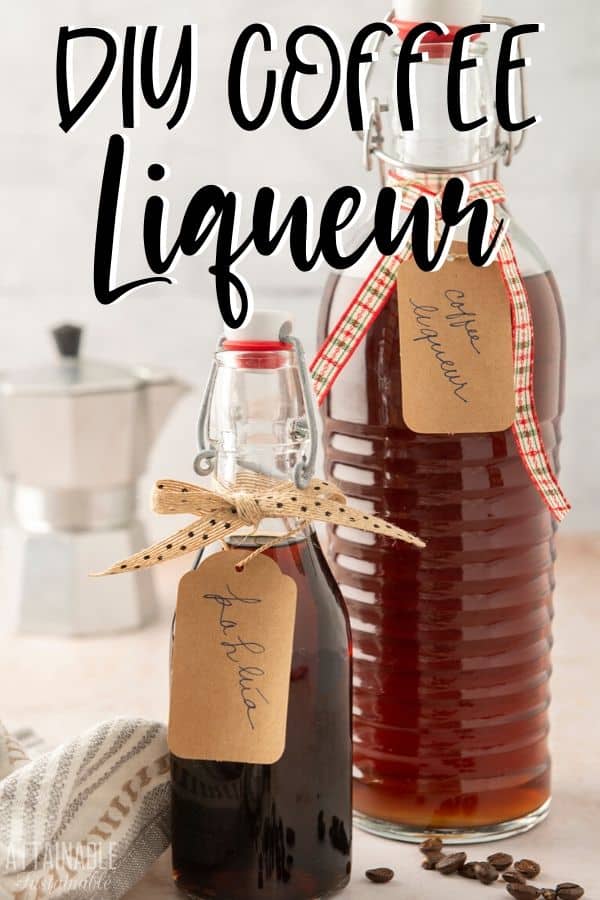 ★ Did you make this homemade kahlua recipe? Don't forget to give it a star rating below! ★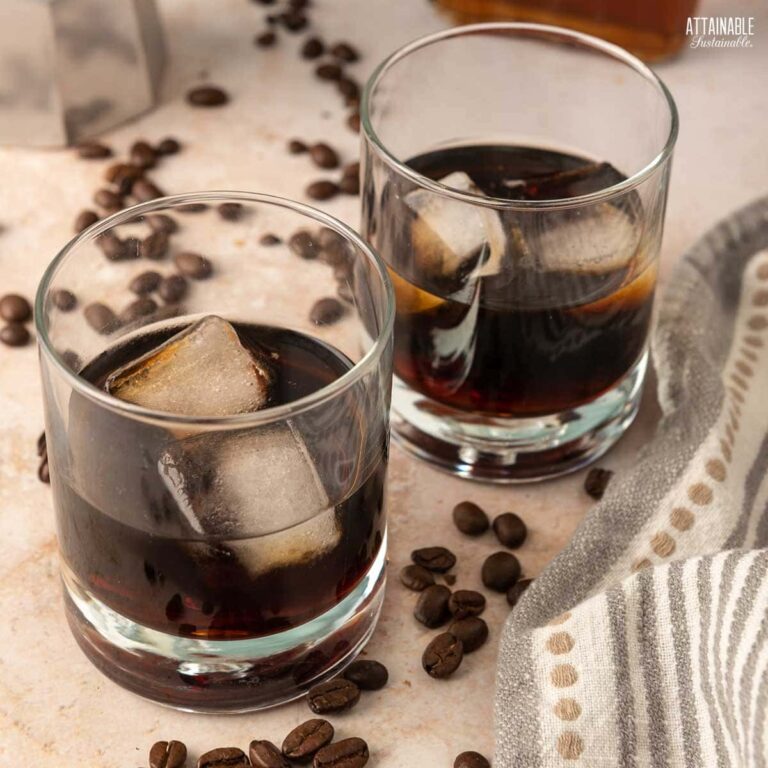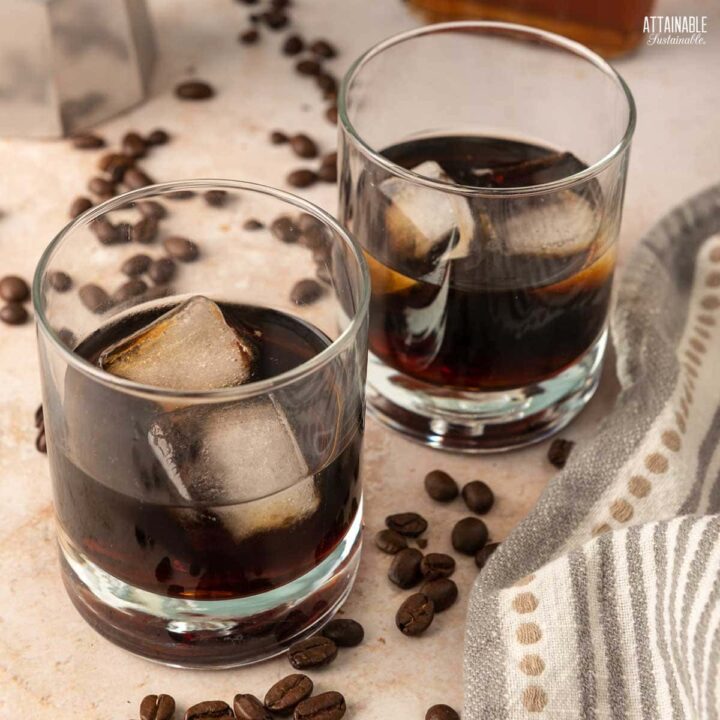 Homemade Kahlua with Espresso
Total Time:
30 days
10 minutes
Learn how to easily make this favorite liqueur at home, without using instant coffee. Use freshly brewed espresso or really strong brewed coffee to give this drink its distinctive flavor.
Ingredients
1 cup (8 ounces) brewed espresso or strong coffee
2 cups granulated sugar
2-1/2 cups water
750 mL bottle of vodka or rum
Instructions
Mix brewed espresso, sugar, and water in a saucepan over medium heat. Bring mixture to a simmer, stirring until sugar is dissolved. Remove from heat and allow to cool to room temperature.
Add vodka (or rum) and vanilla, then transfer to a large jar. Let sit for 4-6 weeks so flavors will meld.
For gift giving, transfer the coffee liqueur into pretty bottles and tie on a tag with instructions for using it.
Notes
On the coffee: If you have an espresso maker, make enough to net 8 ounces of espresso. To use a coffee maker, brew a batch of coffee that is really strong and use that. Or you could go to your local coffee shop and ask them to brew it for you.
Depending on the size of the bottles or jars you decant this into (I've used upcycled kombucha or small liquor bottles) you'll end up with a handful of containers that make great little gifts. Just add a label and a ribbon and off you go.
Sure, you can let the flavors meld. But really. The kahlua police will not come after you if you start sampling it right away.
Nutrition Information:
Yield:

24
Serving Size:

1/8 cup
Amount Per Serving:
Calories:

141
Total Fat:

0g
Saturated Fat:

0g
Trans Fat:

0g
Unsaturated Fat:

0g
Cholesterol:

0mg
Sodium:

2mg
Carbohydrates:

17g
Fiber:

0g
Sugar:

17g
Protein:

0g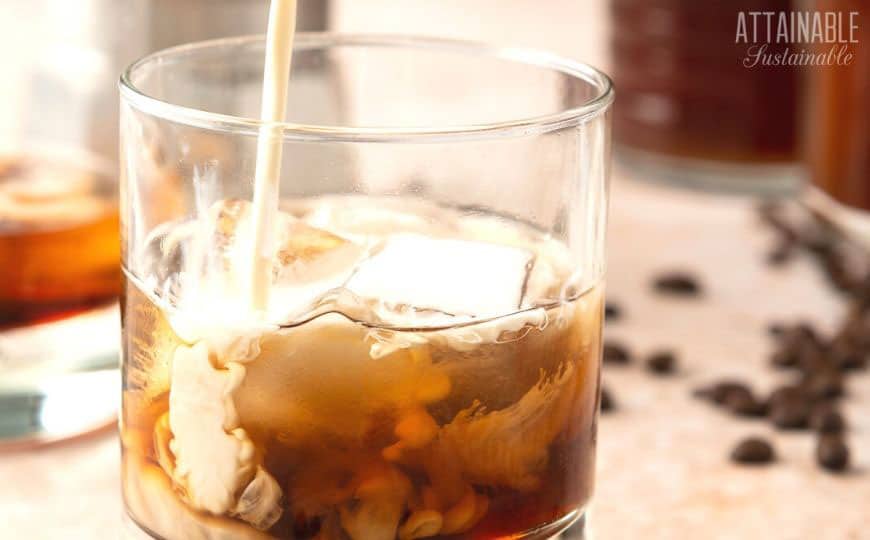 Originally published November 2015; this homemade kahlua recipe has been updated.