This homemade Creme de Cacao recipe is great for gift giving, but be sure to make an extra bottle of this chocolate liqueur for you!
For double the fun, pair it up with this homemade coffee liqueur, aka Kahlua.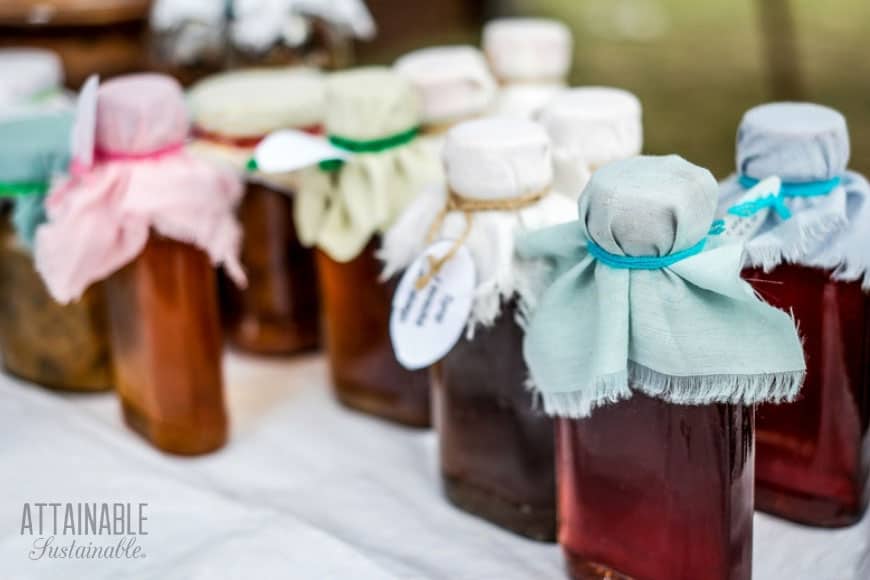 Get a head start on gift making with this homemade chocolate liqueur
Homemade liqueurs are easy to make and satisfying to give. They take only a few minutes of hands on time, but they excel in wow-factor. This homemade crème de cacao is an exceptional chocolate liqueur that is useful for cocktails, but also good for flavoring coffee drinks, frosting, trifle, truffles, and other desserts.
This DIY creme de cacao recipe makes an amazing gift; present it in a fancy upcycled bottle wrapped in a cloth gift bag.
Depending on the cost of cacao nibs and vodka where you live, it may not be cheaper than just buying a bottle of Crème de Cacao at the store. The homemade version is more flavorful and contains fewer toxins than a store bought bottle, though
If you want to have crème de cacao ready for December gifting, it will be best if you can start this chocolate liqueur in September or October so the flavors can meld. You only need four ingredients; it's very easy. Consider doubling the recipe and making two bottles; once you see how easy it is to make (and how good it tastes) you might decide to keep a bottle for yourself.
How to use homemade creme de cacao
Crème de cacao and its smooth, sweet taste is exceptional over ice or in beverages and cocktails. Consider this homemade chocolate liqueur a tasty addition to desserts, too. You can even use it in place of chocolate or vanilla extracts in baking recipes such as:
Hot chocolate
Cocktails
Trifle
Coffee cakes
Icing
Cookies
Cheese cake
Truffles
Chocolate Mousse
Pudding
Meringue
Egg nog
On second thought, maybe you'd like to make three bottles of this creme de cacao!
More DIY liqueurs
While you're making liqueurs consider these other additions to your DiY liqueur repertoire:
★ Did you make this homemade creme de cacao recipe? Don't forget to give it a star rating below! ★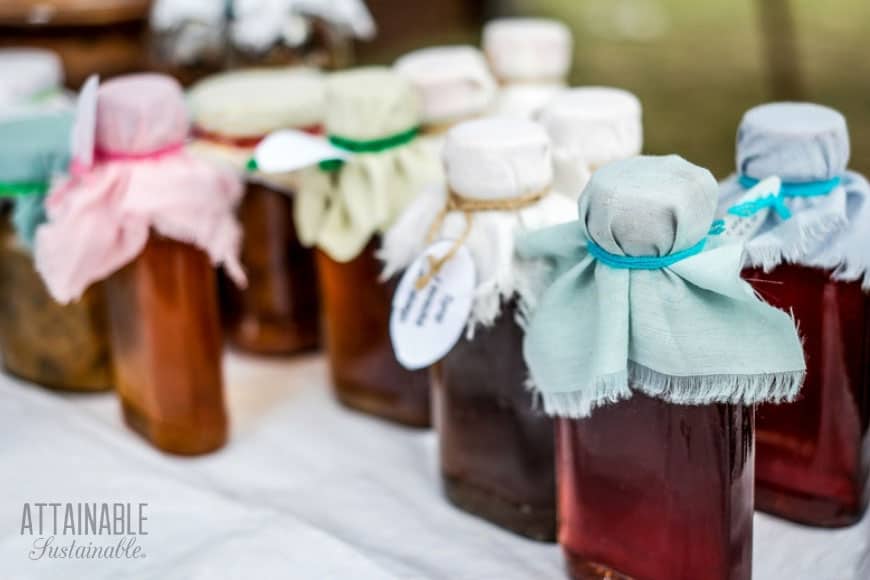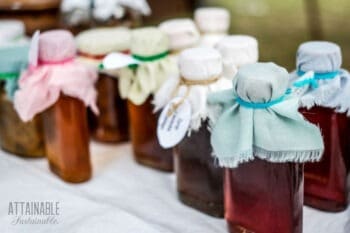 Homemade Creme de Cacao Liqueur
This makes a dark chocolate liqueur, not the clear, colorless, liqueur of the popular brand of Crème de Cacao.
Ingredients
1

cup

filtered water

2

cups

granulated organic cane sugar

¾

cups

organic cacao nibs

2

organic vanilla beans

3

cups

vodka

40% alcohol
Instructions
In a small saucepan boil the water and sugar together until the sugar fully dissolves. Remove from the heat and allow the sugar syrup to come to room temperature.

Grind the cacao nibs in a coffee grinder to make a coarse mixture. Put them in the bottom of a mason jar. Add the vanilla beans and vodka to the mason jar along with the sugar syrup. Cap tightly. Write the date on the jar.

Put the jar in a cool, dark spot. Shake the jar when you think of it.

After a month, strain the contents of the jar through a coffee filter. This takes a bit of time. Be patient.

Reserve the cacao nibs for baking with. They make an amazing addition to chocolate cookies or chocolate cake. Or try them in a chocolate zucchini cake.

Bottle the liquid in fancy bottles, but don't taste it yet. Wait at least a month before sampling. (It's even better after three months.)