This cast iron skillet apple pie recipe always brings people back for more. The rustic presentation combined with the flavors of fall are a show stopping dessert every time. If you haven't yet, it's time you learned how to make apple pie at home so you can skip the frozen alternatives from the store.
This apple cobbler recipe is another favorite!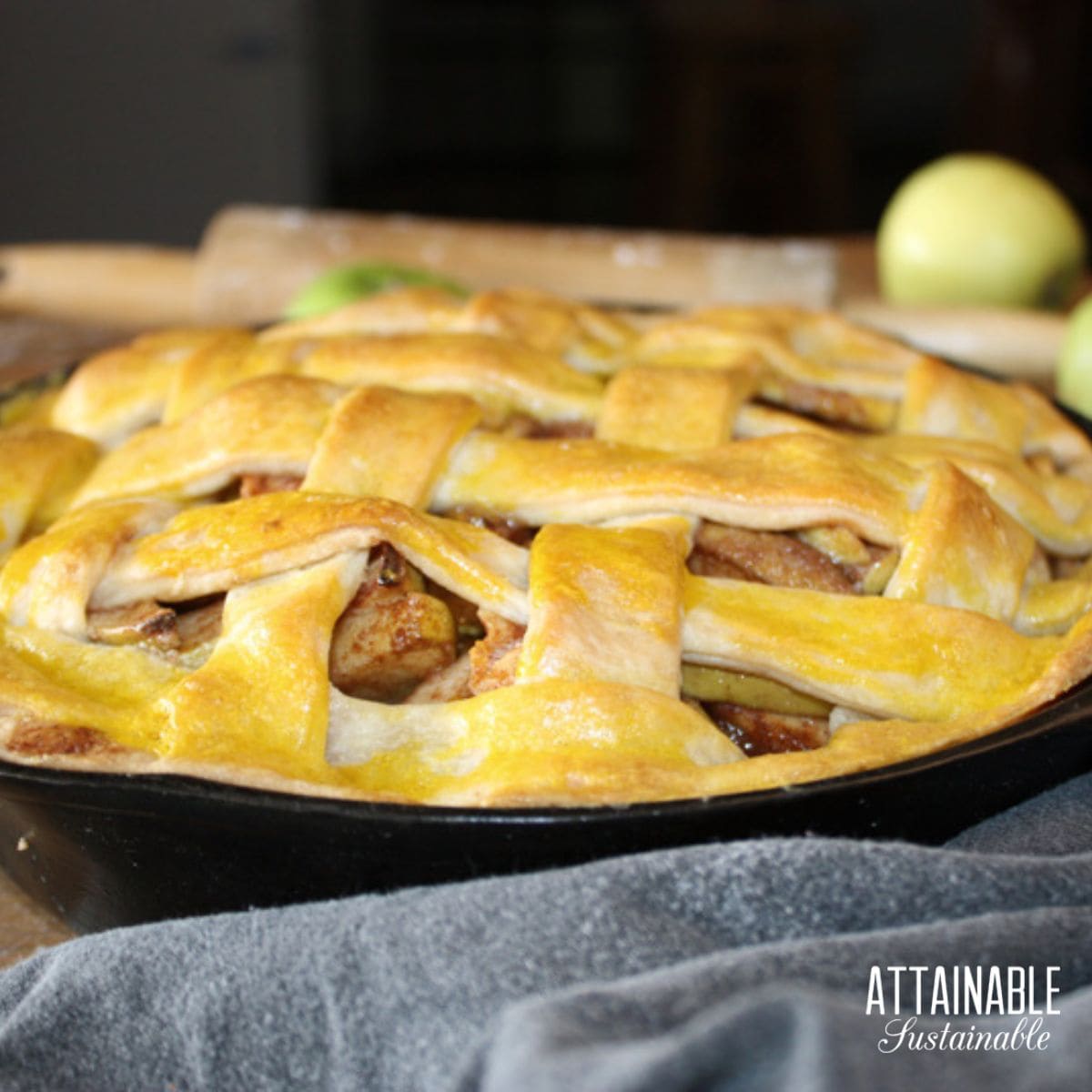 Is there anything better than pie baked in cast iron? This skillet apple pie is no exception with crisp, tart apples tossed with cinnamon and nutmeg, baked up in a flaky pastry crust. Top it off with vanilla ice cream and it's sure to be everyone's favorite!
Time for Apple Pie!
We have three apple trees that, unfortunately, have never produced fruit in the seven years we've lived on our property.
This past winter we had to cut down a standing dead tree that always blocked those apple trees from afternoon sun. We were beyond thrilled when our little trees were dripping with fruit this year! But with all that fruit we were faced with a new dilemma…what to do with all the apples? (Not a bad dilemma to have, right?)
Our go-to for a surplus of pears is always to dehydrate them or make fruit leather, so we followed suit with the majority of the apples. But I had to bake an apple pie when blessed with such a bounty.
5 Easy Steps to Transform Your Pantry!
Ready to switch from store bought to homemade? Let me help you make some changes! Grab my FREE five-part guide to getting started.
Ingredients
Apples — What kind of apples is a matter of taste, really, but my absolute favorite is the Gravenstein apple. Check out this list of top pie apples for more ideas on which varieties work well. What's available in one region might not be in another! How many apples does it take to make apple pie? You'll need about a dozen fresh apples to fill a 9″ pie dish.
Pie crust — Yep, I make this from scratch, using my Grandma's pie crust recipe. It uses basic ingredients (and one surprise one!) and is easy to make. It makes two crusts, one for the bottom, one for the top. If you don't want to make your own pie crust, you can certainly use this recipe with one of those folded, frozen crusts.
Flour — When I bake with all-purpose flour I opt for the unbleached option. Bleached flour is very white, but it's also treated with bleaching agents that I don't really need in my food.
Sugar — Use your favorite brand of granulated cane sugar. I prefer organic.
Seasonings — Cinnamon gives this recipe the flavor that we (or at least I!) associate with harvest season apple pie.
Making the Pie
Ready to scent your home with a freshly baked skillet apple pie. It's time you learned how to make apple pie!
Making an apple pie requires several steps. It's not as easy as buying a frozen pie, for sure, but the flavor is well worth the effort!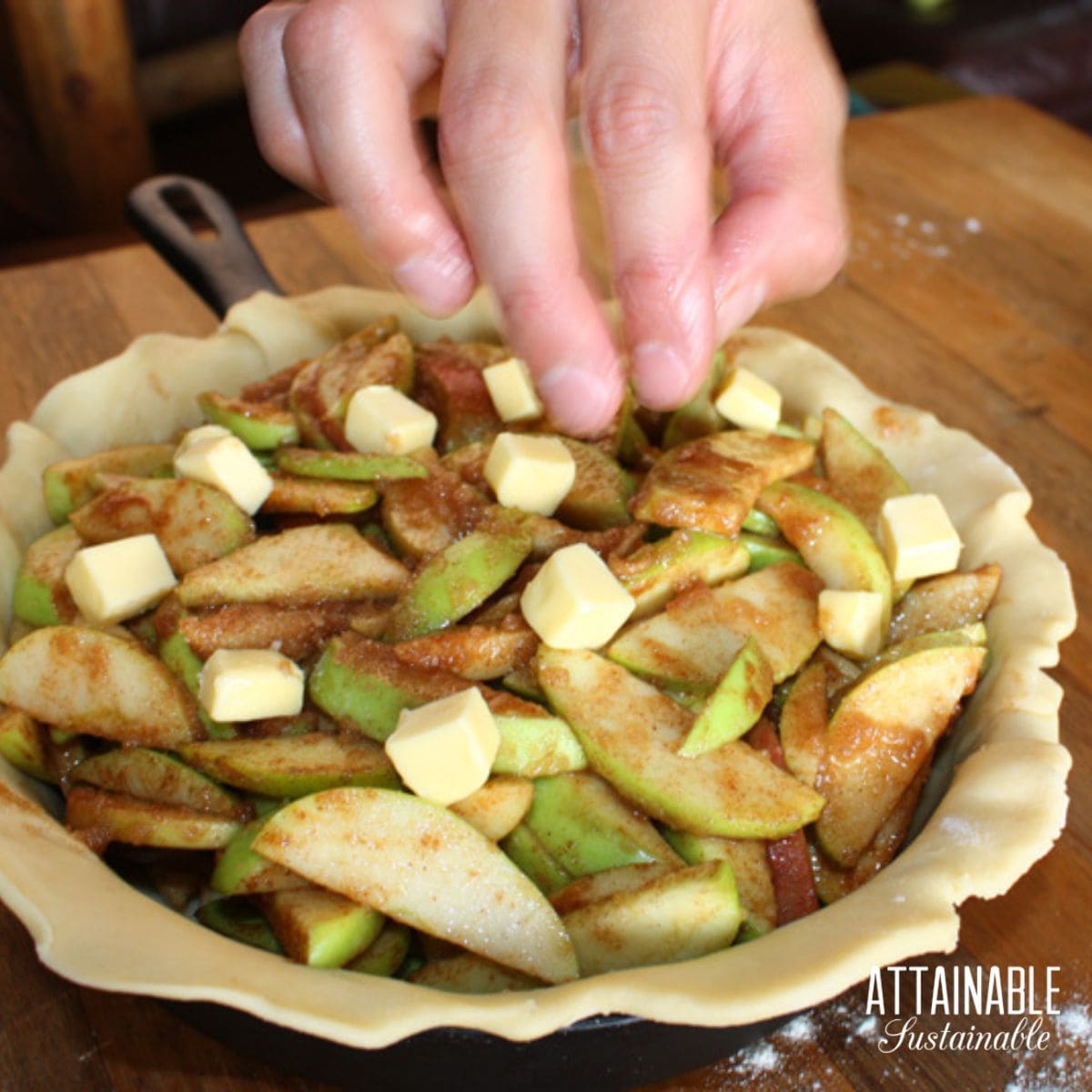 Prepare the Apples
Peel and slice the apples, then toss with the filling ingredients in a large bowl. Making this ahead allows the apples to get more juicy before putting them into the crust. Set aside and carry on with the making of the pie crust.
Make the Pie Crust
A good pie starts with a good pie crust. The recipe included below is my grandma's and it's what we've used for years.
Start by cutting the butter into the dry ingredients with a pastry cutter until it becomes a fine crumble. This evenly distributes the butter throughout the crust.
Once the butter is incorporated, add the liquids, just until the ingredients come together in a shaggy ball.
Pie crust doesn't need to be kneaded like bread dough. When making homemade pie crust with butter, avoid over-working the dough. Blend the pie dough ingredients just until they come together.
This recipe makes two pie crusts. That is, enough to make one pie with a top and bottom crust or two single-crust pies. If you only need one of these, you can freeze the other for another pie another time.
Chilling the dough for an hour or so can make it easier to roll, but it's not entirely necessary. You can also wrap the pie dough and refrigerate overnight if you're not ready to bake right away. (I wrap mine in a damp towel, as I don't keep plastic wrap on hand.) You'll need to let the pie dough sit at room temperature for a bit when you're ready to roll it out.
Rolling out the Dough
Turn one half of the pie dough out onto a lightly floured surface. Sprinkle a little more flour on top of the dough. Press the dough into a flat disc, 6-8″ across, sprinkle with flour, and flip. Sprinkle with flour again and use a rolling pin to create a thin sheet of dough. Lift the dough into a cast iron skillet or pie plate, gently working it into the corners.
Transfer prepared apples to the dough. Don't be afraid to heap them up; they will cook down substantially during the baking process.
Repeat rolling process with the second portion of dough. This time, though, you'll cut the dough into strips to create the lattice top you see here.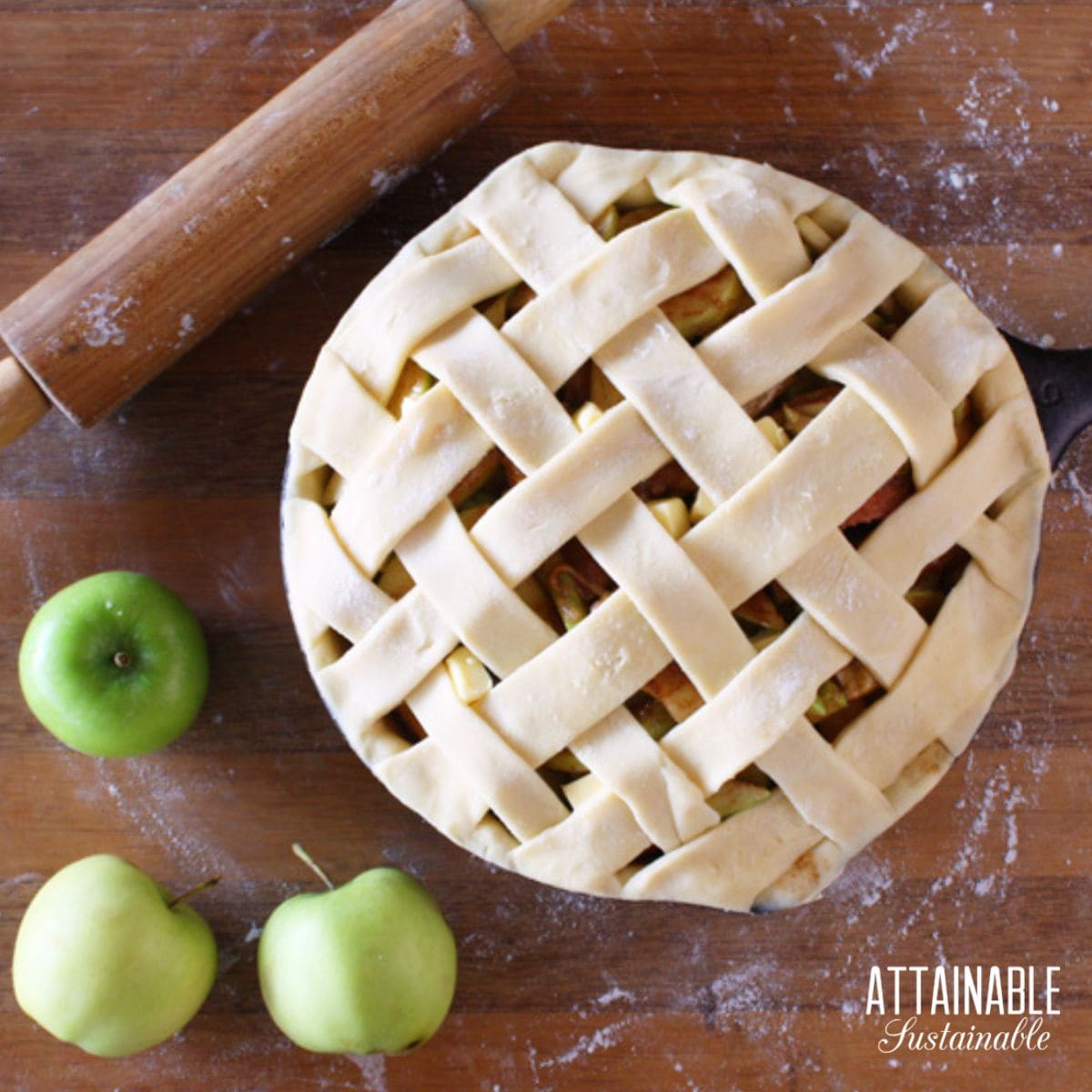 Seal the edges of the crust and bake until browned and apples are bubbly.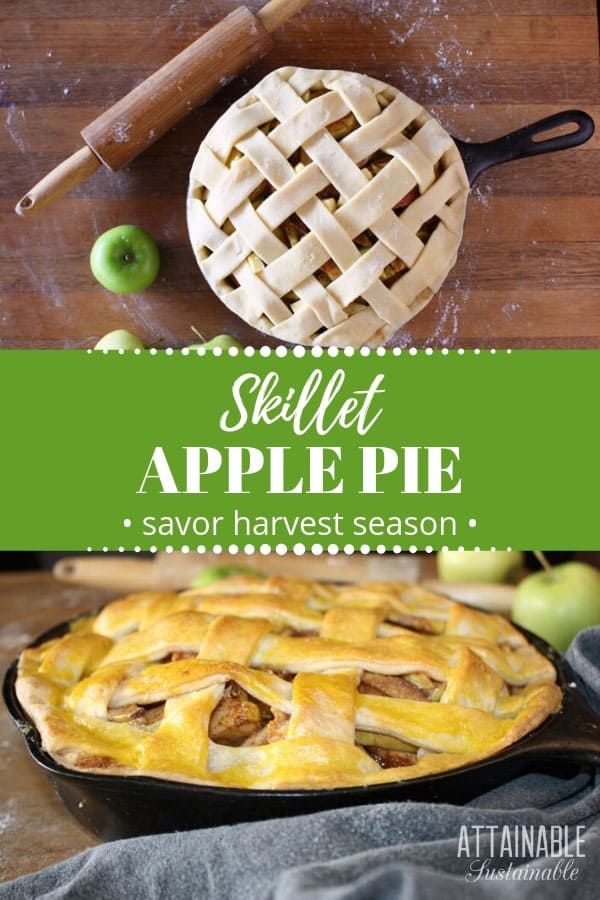 ★ Did you make this skillet apple pie recipe? Don't forget to give it a star rating below! ★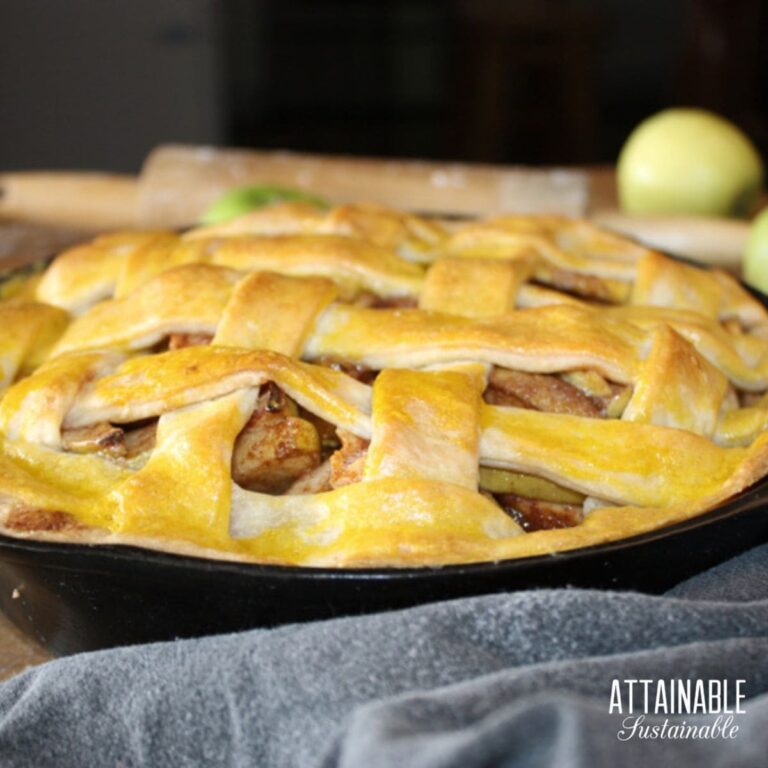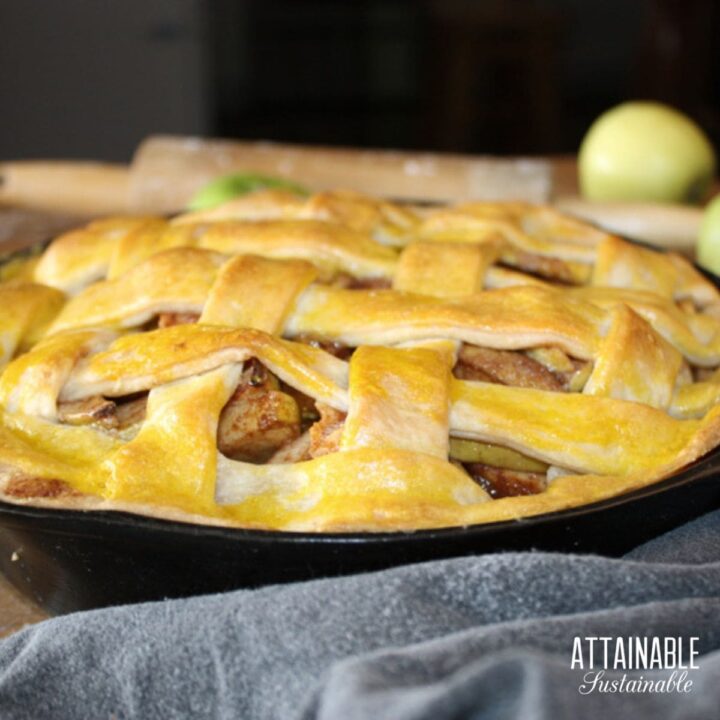 Skillet Apple Pie Recipe
Total Time:
1 hour
10 minutes
This skillet apple pie recipe always brings people back for more. The rustic presentation combined with the flavors of fall are a show stopping dessert every time. Isn't it time you learned how to make apple pie??
Ingredients
Filling
6-8 tart apples, cored and sliced (peeling is optional)
½-¾ cup granulated sugar
2 tablespoons unbleached organic all-purpose flour
1 teaspoon cinnamon
sea salt, just a dash
2 tablespoons butter, cubed
Pie Crust
3 cups unbleached organic all-purpose flour, (plus extra for rolling)
1 teaspoon sea salt
1 1/4 cups butter, chilled
1 large egg
2 teaspoons apple cider vinegar
Water
Instructions
Make the filling
In a small bowl, combine sugar, flour, cinnamon, nutmeg and salt.
Core and slice apples and toss with sugar mixture, coating evenly.
Set aside.
Make the dough
Measure flour and salt into large bowl. Using a pastry blender, cut butter into dry ingredients until you have a fine crumble.
Crack egg into measuring cup; add vinegar and then enough water to make 7/8 of a cup, more or less. Use fork to whisk egg mixture together. Pour egg mixture into dry ingredients almost all at once. (I usually hold out about a quarter of a cup.) Mix with the fork, gently gathering the dough from the outside of the bowl. Add the rest of the liquid if necessary. Do not over mix. Alternatively, you can use a stand mixer or food processor - just be sure not to over mix.
As soon as the dough comes together, turn it out onto a floured surface. Use your hands to carefully press the dough together---you're not kneading here, just binding the ingredients together in a solid ball.
Refrigerate dough for 1 hour. I wrap mine in a damp kitchen towel.
Roll the dough
Divide dough evenly into two, then roll out on a liberally floured surface. The rolled pie crust should be big enough to extend past the edges of the pie plate by an inch or two.
Fold the dough in half for easy lifting, then move into a pie pan. Carefully press the dough into the bottom of the pan.
Roll second portion of dough and cut slits to allow steam to escape or cut into strips to make a lattice top.
Assemble the pie
Preheat oven to 400 degrees F.
Roll out one disc of pastry dough to fit your skillet (I used a nine inch skillet).
Carefully line a well-seasoned cast iron pan with dough and fill with apple mixture.
Dot sliced apples with cubes of butter.
Place upper crust over apples or weave a lattice top. Seal and flute edges and cut away excess dough hanging over the edge of the pan.
Bake for 50 minutes, or until cooked through and the crust is golden brown.
Notes
If you do not have a cast iron pan, you can use your favorite glass pie pan.
Nutrition Information:
Yield:

8
Serving Size:

1 grams
Amount Per Serving:
Calories:

229
Total Fat:

2g
Unsaturated Fat:

0g
Sodium:

174mg
Carbohydrates:

50g
Fiber:

4g
Sugar:

26g
Protein:

2g
Originally published September 2017; this post has been completely updated.