Making homemade pie crust from scratch is a labor of love, but it's not particularly difficult. My Grandma's homemade pie crust recipe is flaky and flavorful, made with butter rather than Crisco. Here's how to make pie crust using the recipe I grew up with.
Yesterday, Ancestors in Aprons posted a homemade pie crust recipe. The perfect pie crust recipe, she calls it. No way, I thought. I have the best pie crust recipe, straight from my Grandma's recipe card file. When I clicked over, though, I was surprised to see that her recipe—one passed down through the generations—is very similar to my recipe, which came from my grandma.
Homemade pie crust recipe with butter (and a secret)
Both of the "best pie crust recipe" contenders call for an unexpected ingredient: vinegar. I've always thought that was the secret to the wonderful flavor of this crust. I've modified Grandma's pie crust recipe a bit—I use butter instead of Crisco—but it's still our go-to recipe for pie making.
These days, my youngest son is in charge of our holiday pies. Let me tell you, folks. If my teenager young adult son can tackle pie crust made from scratch, you can too!
No more Mrs. Smith's frozen pies for you. Grandma's pie crust recipe will make a believer out of you!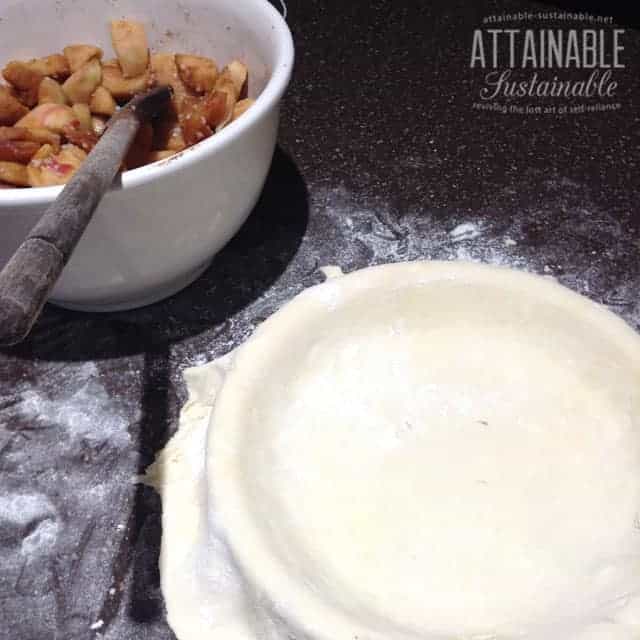 How to make pie crust from scratch
Certainly, it's easy to grab a ready-made pie out of the supermarket freezer. But a homemade pie crust offers so much more flavor, so much more heart. Plus, you'll skip wonky ingredients.
Learning how to make pie crust from scratch means you will always be able to make a dessert that wows people. Whether you're making apple pie, peach pie, blueberry pie, or something savory like a chicken pot pie, mastering this pie crust recipe is the foundation. 
When making homemade pie crust with butter, avoid over-working the dough. Blend the ingredients just until they come together. This isn't like bread dough that requires kneading.
You'll start by cutting the butter into the dry ingredients until it becomes a fine crumble. This evenly distributes the butter throughout the crust. If you have a food processor, you can do this step in it in order to save time. To be honest, I've made the entire recipe in a food processor once or twice and nothing bad happened. If you try it, just be sure to stop as soon as the ingredients come together; don't overprocess it. It's not the traditional way Grandma made it, but in a pinch (and we're all crunched for time, right?) you can certainly use this method.
Once the dough is done, you'll divide it in two. This pie dough recipe makes TWO crusts. That is, enough to make one pie with a top and bottom crust or two single-crust pies. If you only need one of these, you can freeze the other for another pie another time.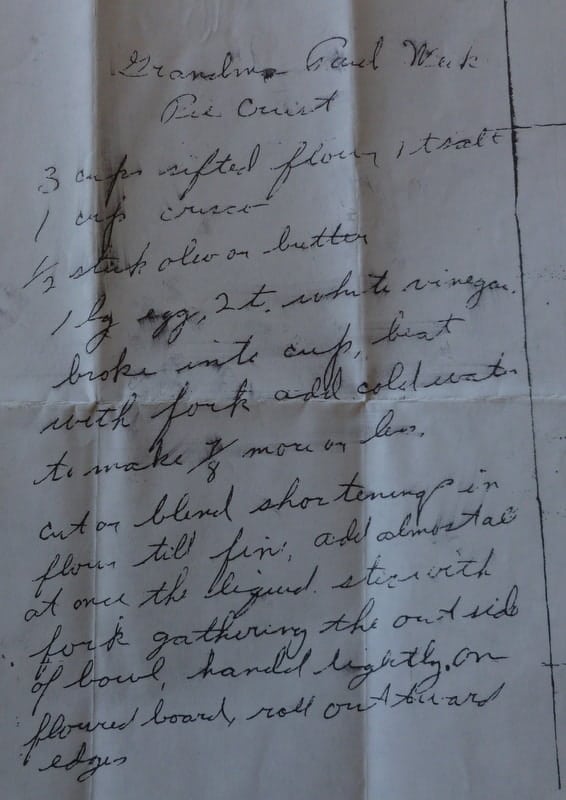 Recipes to try
★ Did you make this homemade pie crust recipe? Don't forget to give it a star rating below! ★
Grandma's Pie Crust Recipe
Make this homemade pie crust recipe from scratch, beginning with my Grandma's pie crust recipe!
Ingredients
3

cups

unbleached organic all-purpose flour

1

tsp.

sea salt

1 1/4

cups

butter

chilled

1

large

egg

2

tsp.

vinegar

(here's why I use real apple cider vinegar)

Water
Instructions
Make the dough
Measure flour and salt into large bowl. Using a

pastry blender

, cut butter into dry ingredients until you have a fine crumble. Crack egg into measuring cup; add vinegar and then enough water to make 7/8 of a cup, more or less. Use fork to whisk egg mixture together. Pour egg mixture into dry ingredients almost all at once. (I usually hold out about a quarter of a cup.) Mix with the fork, gently gathering the dough from the outside of the bowl. Add the rest of the liquid if necessary. Do not over mix. Alternatively, you can use a stand mixer - just be sure not to over mix.

As soon as the dough comes together, turn it out onto a floured surface. Use your hands to carefully press the dough together---you're not kneading here, just binding the ingredients together in a solid mass.
Roll the dough
Divide dough evenly into two, then roll out on a liberally floured surface. Fold the dough in half for easy lifting, then move into a pie pan. (I just use a simple glass pie pan like this.)

For a single crust pie like

pumpkin

or lemon merengue, tuck the dough edges under and then crimp all around. For a

filled pie

, add a generous amount of filling, and top with the second crust.

Roll both dough edges under at the rim of the pie pan, and crimp them together. Crimping is an art! Perfect crimping takes years of practice. (My pies are still not as beautiful as my mom's, but I've got her

apple pie recipe

down pat. You should try it.)
Recipe Notes
This homemade pie crust recipe makes a double crust -- enough for a top and bottom. If you're making a single crust pie such as a pumpkin pie, you'll be able to make two.
If you only need one of these, you can freeze the other for another pie another time. 
This post was originally published in September, 2013. It has been updated.