Making homemade pie crust from scratch is a labor of love, but it's not particularly difficult. My Grandma's no fail pie crust recipe results in a flaky and flavorful pie made with butter rather than Crisco. Here's how to make pie crust using the recipe I grew up with.
Psst! This old fashioned peach cobbler is another great recipe to try for dessert!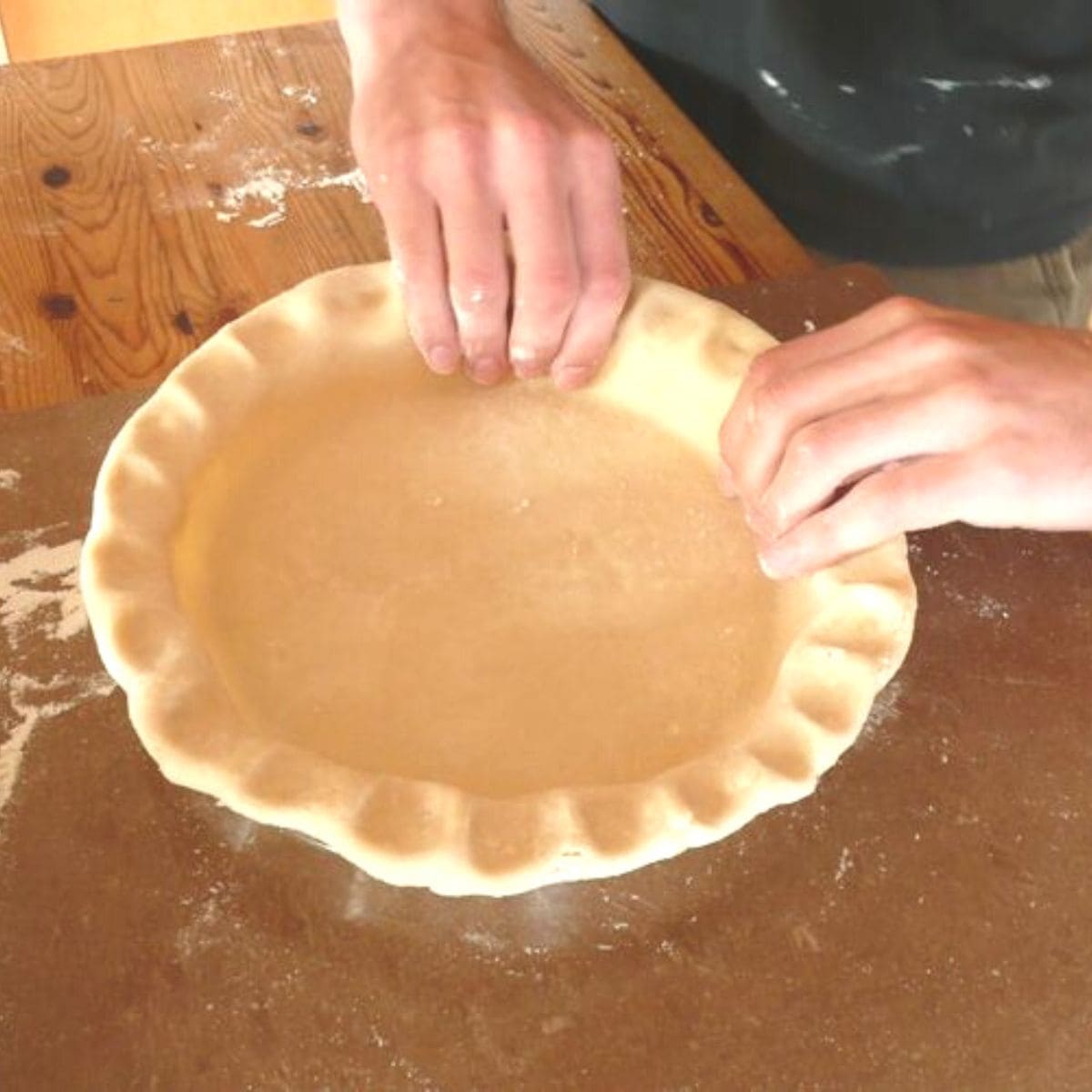 My friend Vera at Ancestors in Aprons shared a homemade pie crust recipe, the perfect recipe, she calls it. No way, I thought. I have the best flaky pie crust recipe, straight from my Grandma's recipe card file. When I read her recipe, though, I was surprised to see that hers—one passed down through the generations—is very similar to my recipe, which came from my grandma.
No Fail Pie Crust
Both of the "best pie crust recipe" contenders call for an unexpected ingredient: vinegar. I've always thought that was the secret to the wonderful flavor of this crust. I've modified Grandma's pie crust recipe a bit—I use butter instead of Crisco shortening—but it's still our go-to recipe for pie making.
These days, my youngest son is in charge of our holiday pies. Let me tell you, folks. If my teenage (now young adult!) son can tackle a pie crust made from scratch, you can too! (Those are his hands up there in that top photo, back when he was still a teen.)
No more Mrs. Smith's frozen pies for you. Grandma's no fail pie crust recipe will make a believer out of you!
5 Easy Steps to Transform Your Pantry!
Ready to switch from store bought to homemade? Let me help you make some changes! Grab my FREE five-part guide to getting started.
Making Pie Crust from Scratch
Certainly, it's easy to grab a ready-made pie out of the supermarket freezer. But a homemade pie crust offers so much more flavor, so much more heart. Plus, perfecting pie crust allows you to skip wonky ingredients that come with pre-packaged pie dough.
Learning how to make pie crust from scratch means you will always be able to make a dessert that wows people. Whether you're using apples, peaches, blueberries, or making something savory like a chicken pot pie, mastering this recipe is the foundation of baking a pie.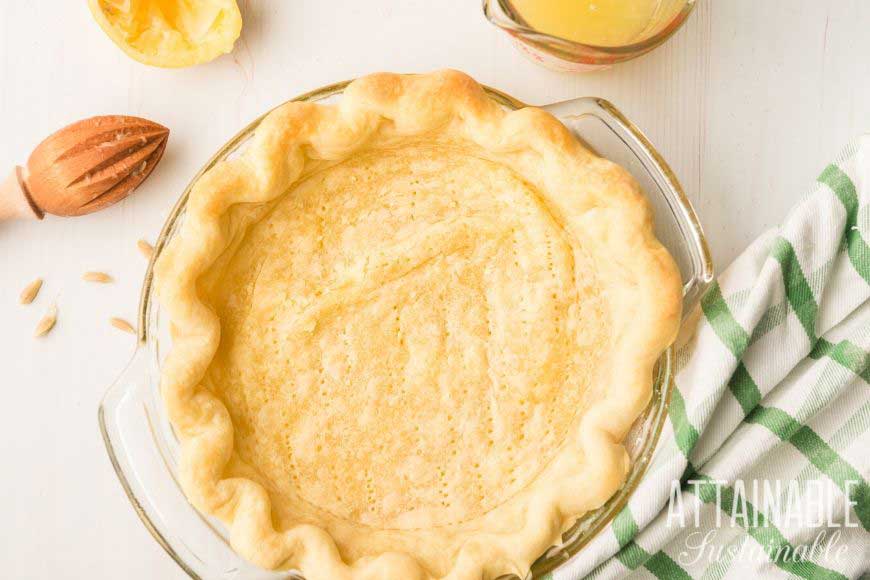 Ingredients
Butter — I've altered Grandma's recipe to use butter rather than shortening. I prefer to avoid the ingredients in the Crisco shortening she used. (Soybean oil is likely derived from GMO soy and the use of palm oil is an ecological nightmare.) I tend to keep only salted butter on hand, so that's what I use. Unsalted butter will work fine, too.
Flour — All-purpose flour is the only answer here. You could try to incorporate some whole wheat flour, but you'll get the best results with good old all-purpose. That said, I do choose unbleached all-purpose flour to avoid the bleaching agents that come with sparkling white flours.
Egg — Fresh eggs, store bought, use what you have readily available.
Vinegar — I use apple cider vinegar in this recipe. You could also use a basic white vinegar.
Making the Pie Crusts
You'll start by cutting the butter into the dry ingredients with a pastry cutter until it becomes a fine crumble. This evenly distributes the butter throughout the crust.
Once the butter is incorporated, you'll add the liquids, just until the ingredients come together in a shaggy ball.
When making homemade pie crust with butter, avoid over-working the dough. Blend the pie dough ingredients just until they come together. This isn't like bread dough that requires kneading.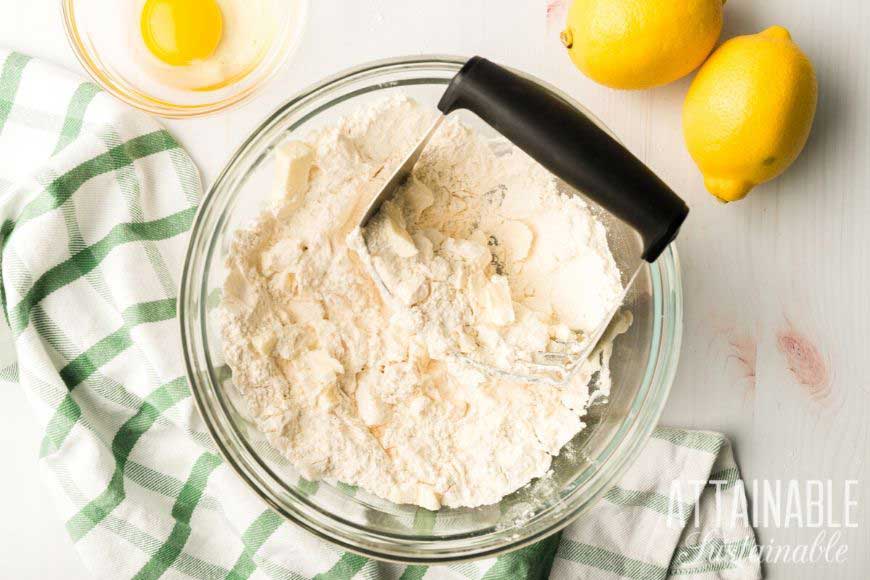 If you have a food processor, you can use it to cut in the butter to save time. To be honest, I've made the entire recipe in a food processor once or twice and nothing bad happened. If you try it, just be sure to stop as soon as the ingredients come together; don't over process it.
It's not the traditional way Grandma made it, but in a pinch (and we're all crunched for time, right?) you can certainly use this method.
Once the dough is done, you'll divide it in two. This recipe makes two pie crusts. That is, enough to make one pie with a top and bottom crust or two single-crust pies. If you only need one of these, you can freeze the other for another pie another time.
Chilling the dough for an hour or so can make it easier to roll, but it's not entirely necessary. You can also wrap the pie dough and refrigerate overnight if you're not ready to bake right away. (I wrap mine in a damp towel, as I don't keep plastic wrap on hand.) You'll need to let the pie dough sit at room temperature for a bit when you're ready to roll it out.
Rolling out the Dough
Divide the pie dough in two. Turn one half of the pie dough out onto a lightly floured surface. Sprinkle a little more flour on top of the dough. This prevents the dough from sticking to your hands or the rolling pin.
Use your hands to press the dough into a flat disc, 6-8″ across. Turn the dough over, dusting your work surface with flour again. Working from the center of the dough and outward, use a rolling pin to create a thin sheet of dough.
Hot tip: Cover your work surface with a flour sack towel sprinkled with flour, and roll the dough out on that. This works brilliantly to prevent the dough from sticking to the rolling surface.
Once rolled out, transfer the dough to a pie dish or pie plate. To do this more easily, gently fold the dough in half then lift it over the pie pan with the fold at the center of the pan. Unfold, and gently work the pie dough into the bottom of the pan.
If you're making a double-crusted pie, add your filling and top with the second crust. Ideally, your dough will hang over the side of the pie dish by an inch or two.
Trim any excess dough. Roll the overhanging crust under, so that it's sitting on the edge of the pan, in kind of a loose roll.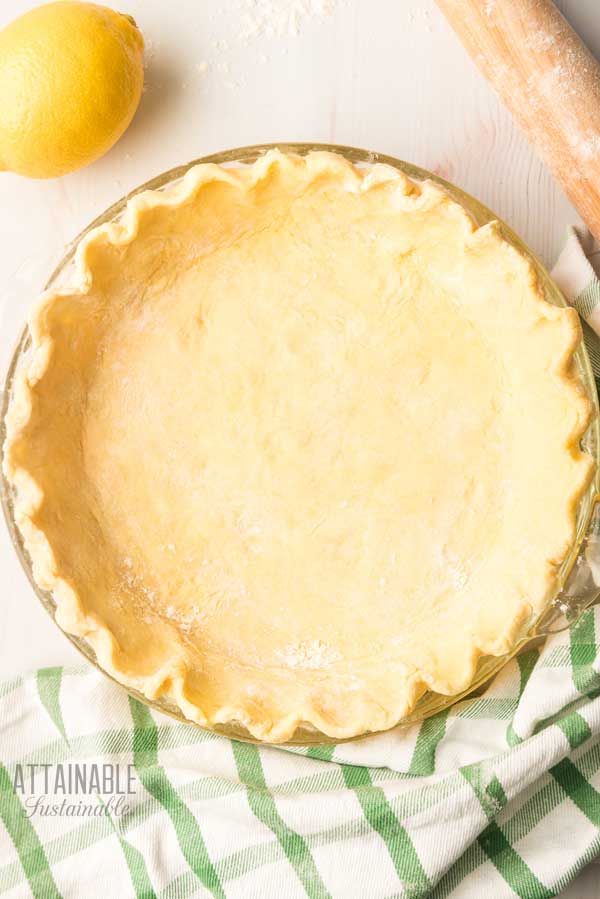 Crimping Pie Dough
Sometimes I feel like this is the step that prevents people from trying to make their own pie crust!
Certainly there are some highly skilled pie makers out there, but you don't need to match those fancy pies when you're just learning.
My mom does this crazy single handed crimp that I've — quite honestly — never mastered. For a basic crimp, a two-handed method is probably the easiest. To do this, hold two fingers against the outside edge of the pie pan in a "peace" sign and use the pointer finger of the opposite hand to push the dough into the peace sign.
Another easy way to crimp? With a fork. Just press the tines against the dough.
In reality the crimping a single-crust pie has less to do with making a tasty pie than making a pretty one.
The crimping on a double-crusted pie does help to hold in the bubbling filling as it cooks, so make sure that it's well sealed, even if you're still working on the beauty part!
Recipes to try with this homemade pie crust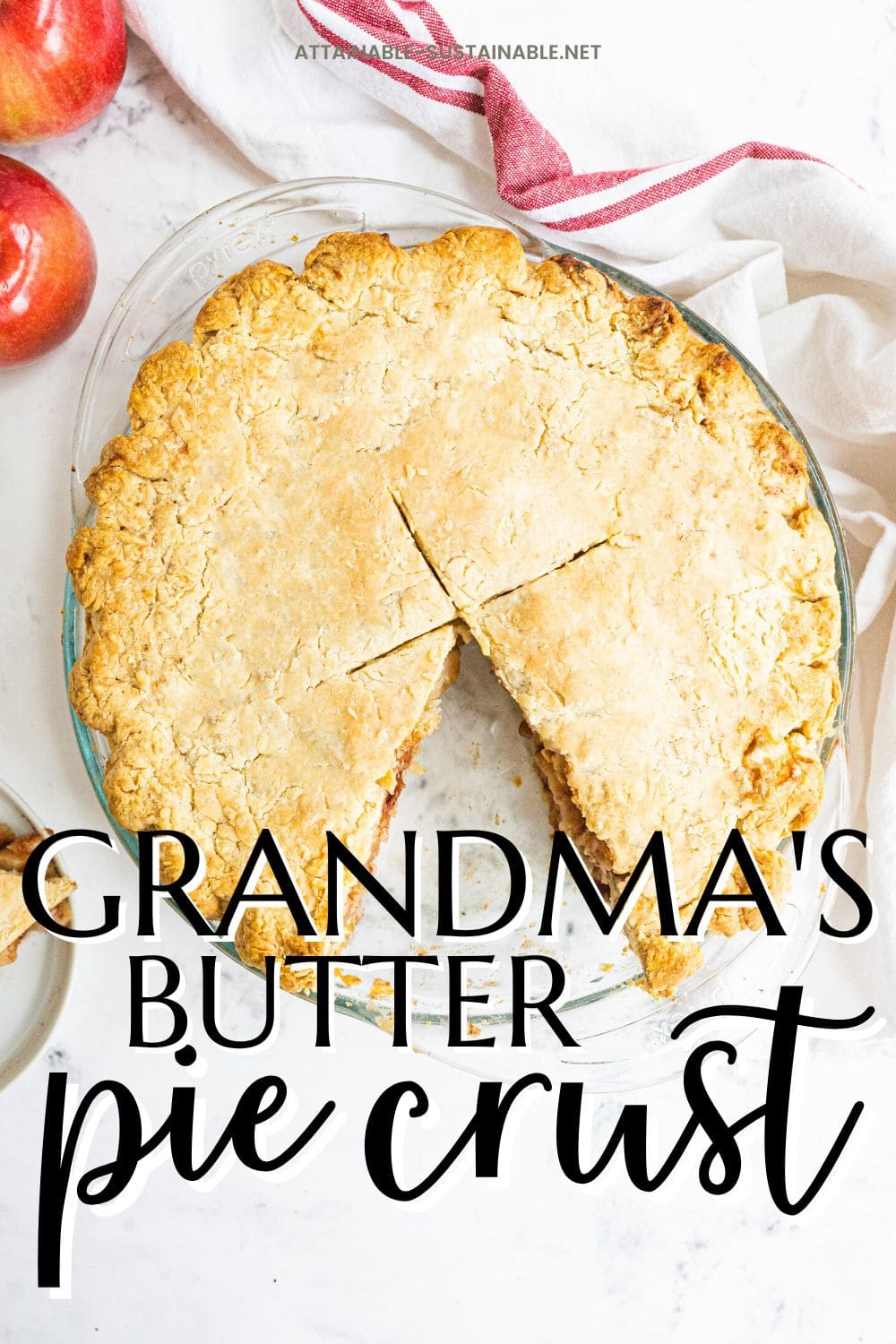 ★ Did you make this homemade crust recipe? Don't forget to give it a star rating below! ★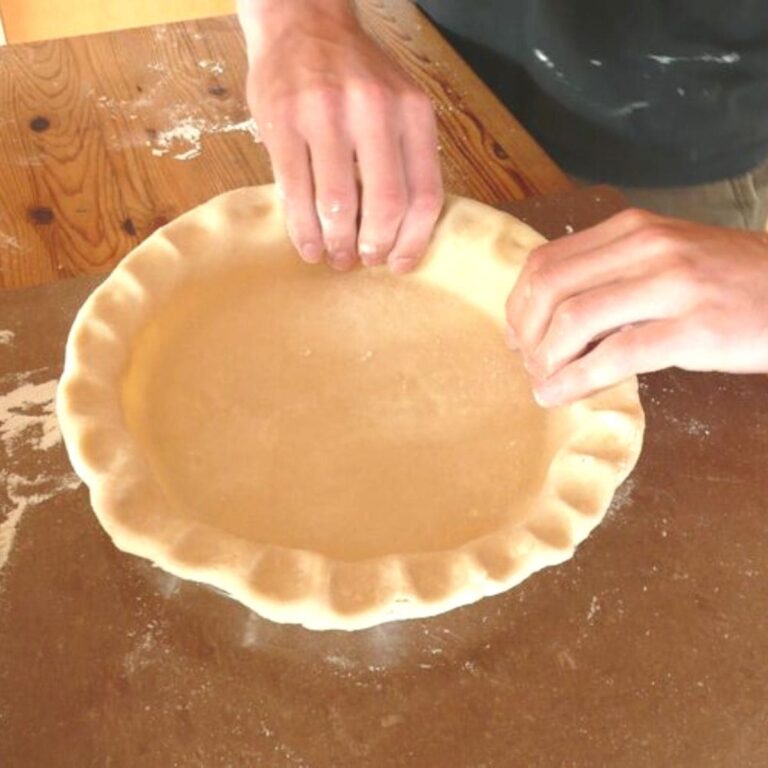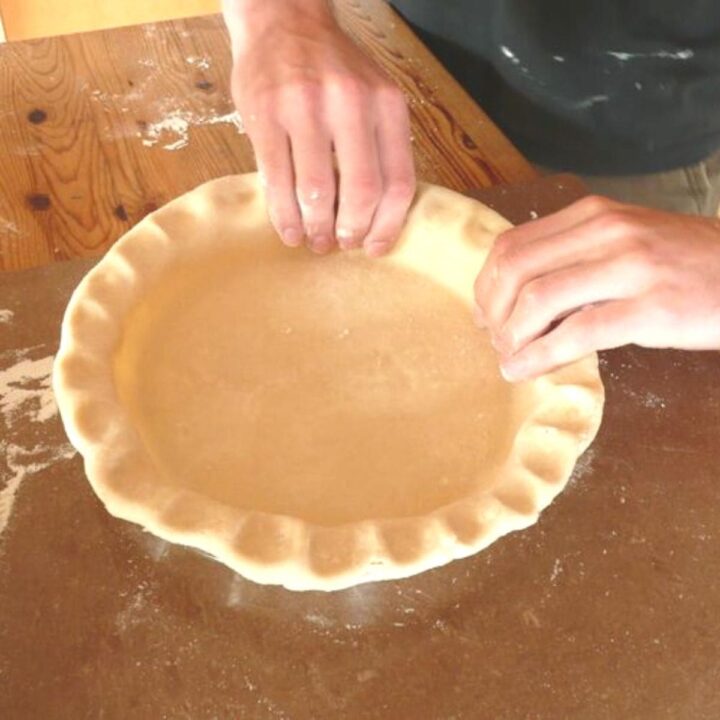 Grandma's Pie Crust Recipe
Total Time:
1 hour
20 minutes
This no fail pie crust recipe comes straight from Grandma's recipe box. It's a butter pie crust, flaky and full of flavor.
Ingredients
3 cups unbleached organic all-purpose flour, (plus extra for rolling)
1 1/4 cups butter, chilled
1 large egg
2 teaspoons apple cider vinegar
Water
Instructions
Make the dough
Measure flour and salt into large bowl. Using a pastry blender, cut butter into dry ingredients until you have a fine crumble.
Crack egg into measuring cup; add vinegar and then enough water to make 7/8 of a cup, more or less. Use fork to whisk egg mixture together. Pour egg mixture into dry ingredients almost all at once. (I usually hold out about a quarter of a cup.) Mix with the fork, gently gathering the dough from the outside of the bowl. Add the rest of the liquid if necessary. Do not over mix. Alternatively, you can use a stand mixer or food processor - just be sure not to over mix.
As soon as the dough comes together, turn it out onto a floured surface. Use your hands to carefully press the dough together---you're not kneading here, just binding the ingredients together in a solid ball.
Refrigerate dough for 1 hour. I wrap mine in a damp kitchen towel.
Roll the dough
Divide dough evenly into two, then roll out on a liberally floured surface. The rolled pie crust should be big enough to extend past the edges of the pie plate by an inch or two.
Fold the dough in half for easy lifting, then move into a pie pan. Carefully press the dough into the bottom of the pan.
For a single crust pie like pumpkin or lemon merengue, tuck the dough edges under and then crimp all around.
For a filled pie, add a generous amount of filling, and top with the second crust. Roll both dough edges under at the rim of the pie pan, and crimp them together.
Bake as directed in your favorite recipe.
Notes
Crimping is an art! Perfect crimping takes years of practice.
This homemade pie crust recipe makes a double crust -- enough for a top and bottom. If you're making a single crust pie such as a pumpkin pie or lemon meringue, you'll be able to make two.
If you only need one of these, you can freeze the other for another pie another time. 
Nutrition Information:
Yield:

10
Serving Size:

1 grams
Amount Per Serving:
Calories:

217
Total Fat:

14g
Saturated Fat:

9g
Unsaturated Fat:

0g
Cholesterol:

49mg
Sodium:

250mg
Carbohydrates:

17g
Protein:

2g
This post was originally published in September, 2013. It has been updated.