There is quite simply, nothing like a homemade apple pie recipe from scratch. Especially if it's made with Grandma's method. Try our family's favorite apple pie recipe (and see if my idea of the best apples for apple pie match yours)!
This homemade apple cobbler is pretty darned good, too.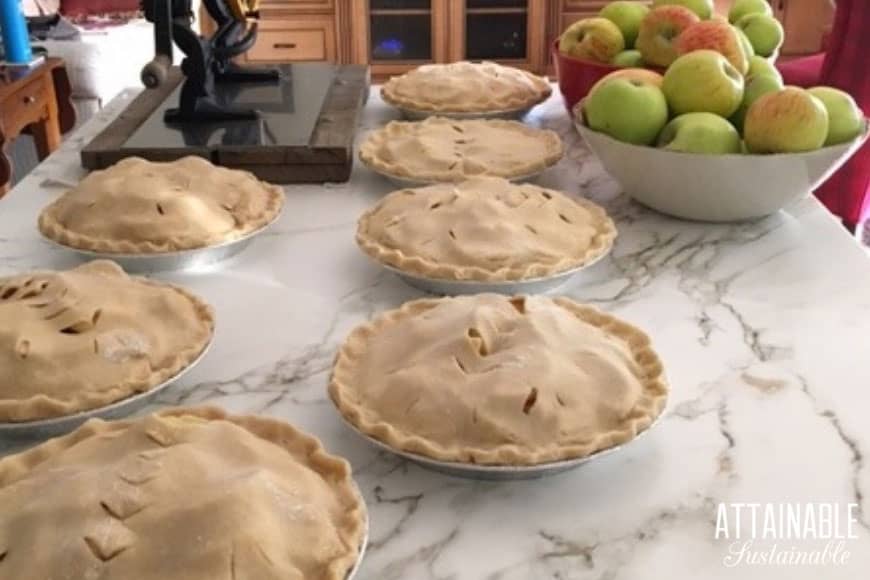 I grew up on an apple farm and the first apple pie of the season was reason for celebration. (Actually, it was usually on my dad's birthday, so the two kind of went hand in hand.) This apple pie recipe from scratch is how we kicked off apple season!
Related: Easy Pumpkin Pie for Holiday Dessert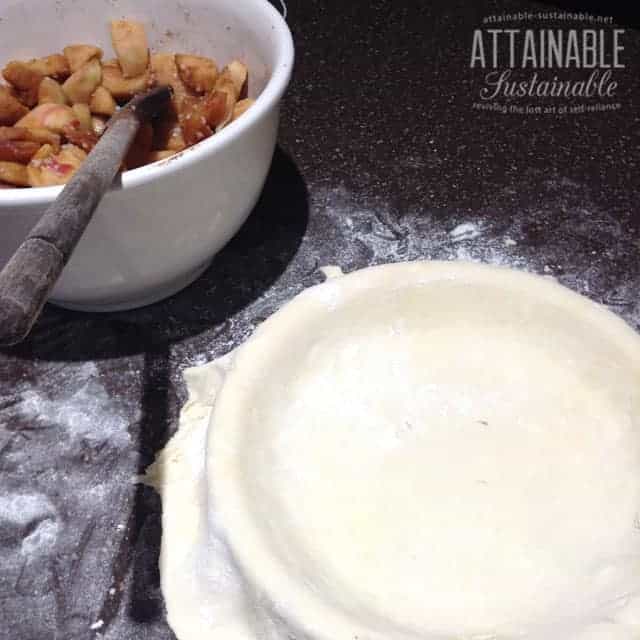 The best apples for apple pie
It's a little silly of me to try to tell you what the best apples for apple pie are, because there's a lot of personal preference involved. However, I assure you that my favorite apple for apple pie will become your favorite apple for apple pie — if you can find them.
5 Easy Steps to Transform Your Pantry!
Ready to switch from store bought to homemade? Let me help you make some changes! Grab my FREE five-part guide to getting started.
Of course, there's really no wrong apple for apple pie. Some will cook into a mushier filling than others, some will result in a sweeter pie. I prefer a less-sweet pie, so take that into consideration as I tell you what I think are the best apples for apple pie!
No matter what, though, don't let me dissuade you from trying your hand at homemade apple pie with whatever apples you have on hand! Any homemade apple pie is going to be better than a frozen pie, and a good harvest time treat!
Related: Apple Crisp Fresh from the Farm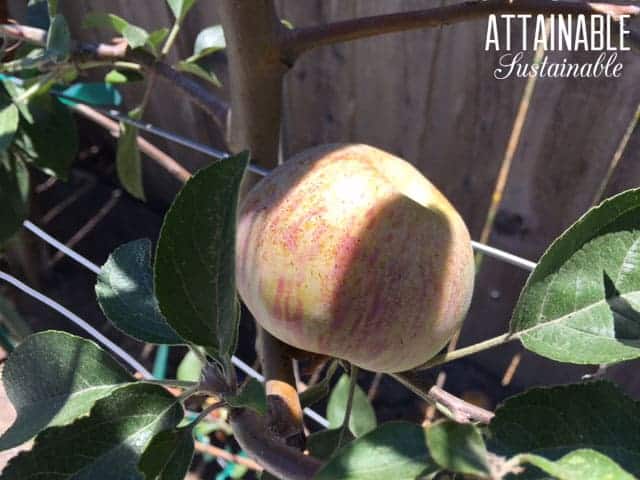 Gravenstein apple
These are by far the best apples for apple pie. Bar none. End of story. These are the apples I grew up with, the first apples to ripen every season, and they make the best pie ever. Their flavor is slightly spicy and a bit tangy. They are a tender apple with thin skin and cook up beautifully when they are ripe. A perfectly ripe Gravenstein has green skin with a slight yellow tinge and red stripes. The Gravenstein apple in the image above is at my mom's house.
(There is also a Red Gravenstein apple; they are sweeter than the standard variety and tend toward mushiness, though the flavor is good.)
Gravensteins are only in their prime for a few weeks, though. Overripe Gravensteins will become a bit mushy in a pie. Not to worry — Gravensteins are also great for making applesauce; if you find yourself with some very ripe Gravs, they make a wonderful sugar free applesauce.
Finding Gravenstein apples will be the most difficult trick. They don't ship well, so unless you know someone who has a tree or live in an area where farmers grow Gravensteins, you might be out of luck.
(Amazing story: When my family and I moved to a new home in a new area hours from where I grew up, there was an old apple tree on the property. The owners didn't know anything about it. Come harvest time, imagine my sheer delight to discover that it was a Gravenstein apple tree!)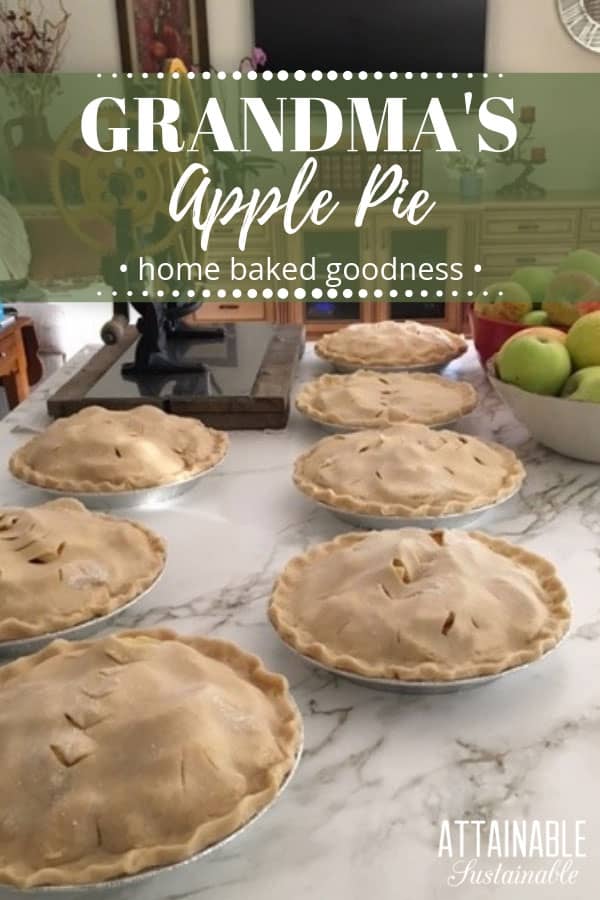 Related: A Dozen Must-Try Apple Recipes for Harvest Season
Jonathan apple
These are my second choice for pie making. Jonathan apples are sweet with a bit of tartness, and much firmer than Gravenstein apples. Jonathans are a red and green apple, less stripey than the Gravenstein, with a thick skin. A pie filling made with Jonathan apples will have a bit of an al dente bite to it.
Granny Smith apple
This is one that should be readily available, whether you live in apple country or not. Most grocery stores carry this variety, and honestly, since I no longer live where I can get local apples, this is my go-to for homemade apple pie. These apples are firm, with a little bit of a tang, and cook up nicely in a pie. Granny Smith is a good all-around baking apple.
Related: Pecan Applesauce Cake
Making Grandma's apple pie recipe from scratch
Now that you know the best apples for apple pie (ahem: Gravenstein), the next most important thing to know about making apple pie is that it's not hard. You can even make and preserve your own canned apple pie filling so you have your favorite apples available for making pie all year round.
My grandma's apple pie crust might be new to you, but it doesn't have to be fiddly. Be bold! Go forth and make pie! I like to serve grandma's apple pie warm with a scoop of vanilla ice cream. Or with a freshly brewed cup of coffee for breakfast in the morning.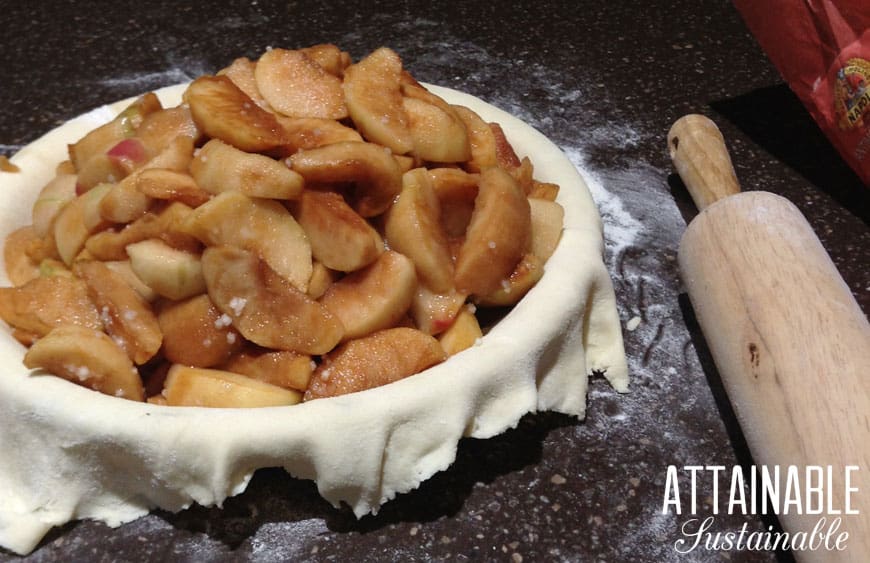 ★ Did you make this apple pie recipe from scratch? Don't forget to give it a star rating below! ★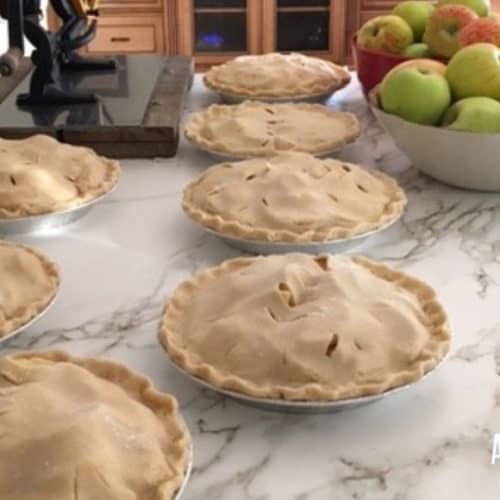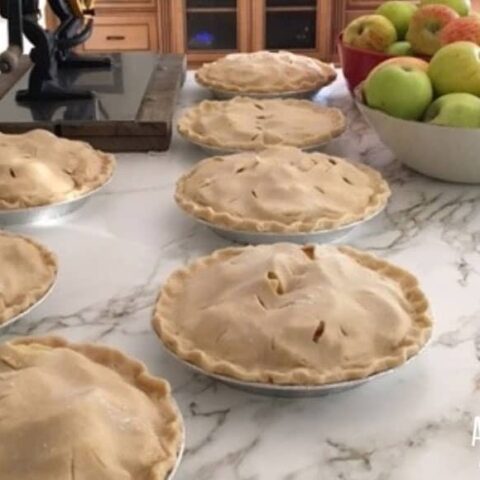 Grandma's Apple Pie Recipe from Scratch
Total Time:
1 hour
20 minutes
The most important thing to know about making apple pie is that it's not hard. My grandma's pie crust might be new to you, but it doesn't have to be fiddly. Be bold! Go forth and make this apple pie recipe from scratch!
Ingredients
1/4 cup unbleached organic all-purpose flour
1/3 - 1/2 cup granulated organic cane sugar
10-12 medium sized tart apples, (My favorite? Gravenstein apples!)
2 Tablespoons milk
Instructions
Measure dry ingredients into large bowl. Peel, core, and slice apples into the bowl. Toss apples and dry ingredients.
Divide pie crust dough in two portions, and then roll out on a liberally floured surface. Your crust should be about an inch bigger than the pie pan, all around. Fold the dough in half for easy lifting, then move into a pie pan. Poke the dough a couple of times with a fork to prevent the bottom crust from getting air bubbles. (I do this because my mom says I should, but I've not once seen a bottom crust do anything weird.)
Spoon the apple filling into the crust. The filling should be heaped three or four inches above the edge of the pie pan. The apples will cook down, so you want to be generous. If you end up with a few excess apple slices, consider them a snack. (I used to wait for this part of the pie baking process when I was a kid!)
Roll out second crust, fold in half for easy moving, and gently place it on top of the apple filling. Gather the edges of both crusts, and turn them under as you work your way around the pie, crimping the edges together. Use a knife to cut a couple of slashes in the top crust to allow steam to escape.
Place pie on a foil-lined cookie sheet to catch drips. Bake at 425 degrees for 15 minutes, then turn heat down to 350 degrees. Continue baking for another 45 minutes or until pie is nicely browned. Brush top of pie with milk (to give it a shine) and bake for five more minutes.
Notes
The best apples for apple pie are - in my opinion - Gravenstein apples. They're spicy and tart and make a lovely pie. This is very much a matter of opinion, though!
If you want to freeze your pie for later, assemble it in an aluminum pie tin, then wrap it in a double layer of foil. Do not thaw pie to bake; unwrap and put frozen pie in the oven, then follow the cooking instructions above. Freeze for no more than two months for best results. This is a great way to have fresh pie on hand during the busy holiday season!
Nutrition Information:
Yield:

8
Serving Size:

1 grams
Amount Per Serving:
Calories:

230
Total Fat:

6g
Saturated Fat:

1g
Unsaturated Fat:

0g
Sodium:

89mg
Carbohydrates:

44g
Fiber:

6g
Sugar:

23g
Protein:

2g
Originally published November 2016; this post has been updated.