Lemon fermented honey is an excellent way to nourish your health with complex probiotics and the powerful antioxidant vitamin C. Combine fragrant Meyer lemons and raw honey into a syrup-y concoction that makes delicious food and medicine. Use this basic lemon honey recipe for everything from soothing sore throats to making a delightful vinaigrette!
Contributed by Devon Young
I have always had a great fondness for the bright citrus-y notes of lemon. This ole girl prefers a nice glass of lemonade over a canned soda any day of the week. There is hardly a more refreshing flavor than lemon. But when I finally discovered Meyer lemons – all bets were off. A lemon-ier lemon, if there were such a thing.
The marvelous Meyer lemon
While most folks are familiar with the common grocery store lemon varieties Eureka or Lisbon (both Citrus limon), the Meyer lemon is actually a lemon and mandarin hybrid (Citrus x meyerii). The Meyer lemon is notably sweeter and less acidic than common lemons, while also sporting darker and more vibrant peel and flesh. The internal layer of pith can be relatively thin compared to other types of lemons, making it less bitter and easier to squeeze by hand.
Meyer lemons are generously fragrant and even just a handful of the sunny beauties can perfume a kitchen with their clean citrus and faintly floral aroma. Like their more common citrus siblings, the Meyer lemon is brimming with vitamin C, a powerful immune booster and cell protector that may help to reduce the intensity and severity of the common cold and flu.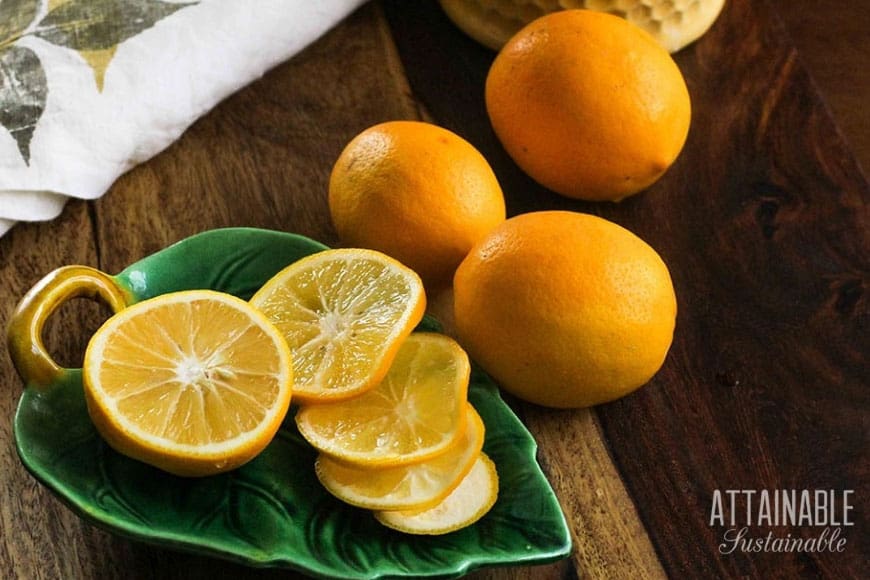 5 Easy Steps to Transform Your Pantry!
Ready to switch from store bought to homemade? Let me help you make some changes! Grab my FREE five-part guide to getting started.
Ingredients for lemon fermented honey
The lemon fermented honey is a real treat when prepared with raw, preferably local honey. I harvested just under three gallons of beautiful honey from our own hives this last year. Although extracting the honey was a sticky, messy task, the reward was doubly sweet knowing that the glistening jars of amber were filled with the goodness collected from the wildflowers, trees, and berries around our property.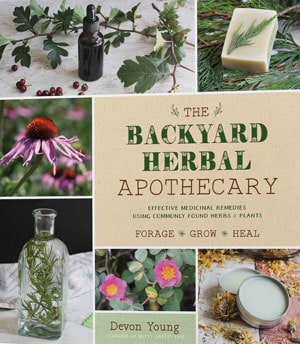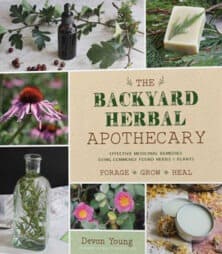 In The Backyard Herbal Apothecary, author Devon Young introduces readers to the medicinal plants lurking in plain sight.
Learn to identify, grow, and harvest 50 common medicinal herbs from your landscape. The herbal profiles detail the benefits of each herb, and you'll discover how best to use each type of plant material in recipes for DIY items like salves, syrups, tinctures, and infusions.
It is very important to use raw honey in this recipe. A host of beneficial bacteria and yeast lay dormant in raw honey due to its high osmotic pressure environment. As the honey loosens and thins in this due to the presence of the lemons, it starts to ferment, developing a beneficial microbial environment that is good for the gut and general health.
Meyer lemons are traditionally only available from December through May, making this citrus perfect for this lemon fermented honey recipe. Regular lemons can be used of course, but this recipe is at its best with the use of Meyer lemons.
Related: Preserve the Harvest with Salted Citrus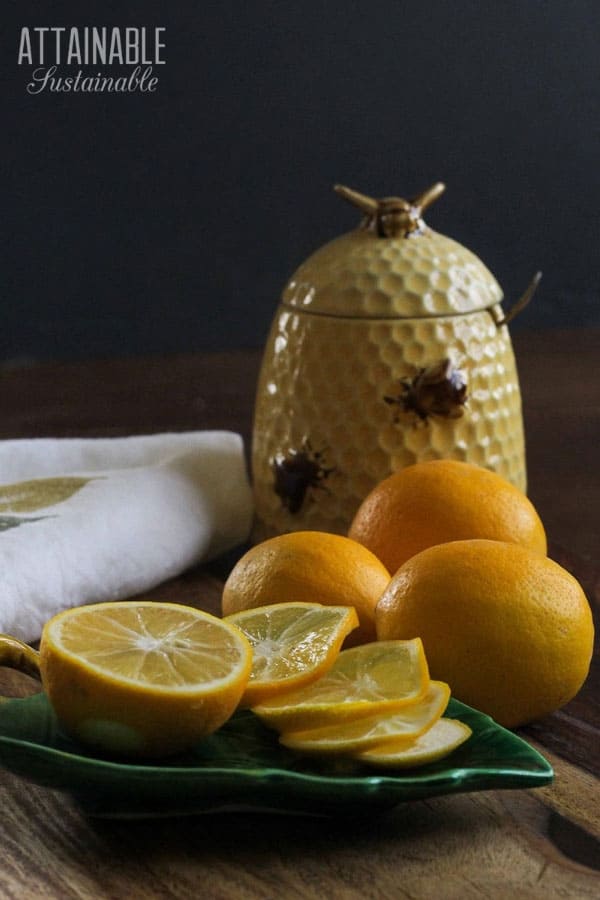 Using lemon fermented honey
Use this lemon fermented honey as a syrup to support the immune system and calm a cough and sore throat. A tablespoon of so of the lemon honey (complete with lemon slices) combined with a cup of water just off the boil makes for a delightful cup of tea. Add a splash of whiskey to the lemon honey tea and you have just fixed yourself a super hot toddy. But the use for this lemon honey recipe isn't limited to medicinal applications. Drizzle this honey over a these buttermilk biscuits or these scones. You can even whisk this up into a sweet and tangy vinaigrette.
Want to take the health benefits of lemon and honey up a few notches with an herbal ally? Check out the echinacea immunity syrup in my new book The Backyard Herbal Apothecary!
★ Did you make this lemon fermented honey? Don't forget to give it a star rating below! ★
Easy Lemon Fermented Honey
Fermentation time:
7 days
Total Time:
7 days
15 minutes
Lemon fermented honey is an excellent way to nourish your health with complex probiotics and the powerful antioxidant vitamin C.
Ingredients
3-4 Meyer lemons, sliced thinly with as many seeds removed as possible
1-1 ½ cups raw honey , to cover
Instructions
Pour a small amount of honey in the bottom of a clean jar.
Alternate layers of a few sliced lemons and more honey until the jar is filled. Use a spoon or a skewer to gently stir and remove air pockets.
Loosely place a lid on the jar, as this lemon honey recipe ferments best with some oxygen exposure.
Stir gently to coat the lemon slices with honey at least twice daily, for 5-10 days over which time the honey will thin and may start to bubble slightly.
This lemon fermented honey is finished when you like the flavor – these is no set end point. When you are happy with the flavor, store your lemon honey in the refrigerator. Discard if signs of mold appear.
Nutrition Information:
Yield:

32
Serving Size:

1 grams
Amount Per Serving:
Calories:

48
Unsaturated Fat:

0g
Carbohydrates:

13g
Sugar:

13g