If you spend any time outdoors at all–whether you're gardening or grilling–you're sure to find yourself with the occasional bug bite. But wait, Kris, you're thinking. Don't you have that great mosquito repellent recipe? Of course I do. Let's just say sometimes a girl can get a bit forgetful. And sometimes a girl needs a little natural bug bite relief.
Jan Berry, from The Nerdy Farm Wife, has a solution to those summertime bug bites! Her Lavender Bug Bite Sticks are just one of many recipes featured in her new book, 101 Easy Homemade Products for your Skin, Health, & Home.
This post may contain affiliate links; I'll earn a small commission if you choose to make a purchase.
And she's graciously allowed me to share her recipe with you.
What I love about this natural bug bite relief recipe is that it's totally forgiving. No sunflower oil? No problem. Substitute olive oil. Also: It works if you don't exactly follow directions. (See my notes below.)
This natural bug bite relief was very fast to make. Honestly, it took me longer to gather the materials than anything. (Isn't that always the way?)
Now I have plenty of beeswax pastilles for other DIY projects.
Lavender helps soothe the itchiness that comes from bug bites, and as an added bonus it can act as a bit of a bug repellent. I mean, who wants one bug bite right on top of another?
Bonus: Sunflower oil has been shown to be an effective healer of broken or damaged skin.
Natural Bug Bite Relief
Ingredients:
1/2 cup sunflower oil
1/4 cup dried lavender flowers
1 tablespoon tightly packed beeswax, grated or pastilles
A few drops of lavender essential oil
Directions:
Infuse the sunflower oil with lavender flowers. Jan outlines three different methods for doing so in her book.
Here is her traditional method, though in her book, she shares a couple of faster ways to infuse oil.
Fill a glass canning jar about one-fourth to one-half of the way with dried herbs or flowers. Next, fill the jar, almost to the top, with your chosen oil.

Cap the jar and tuck it away in a cool, dark cupboard for four to six weeks, shaking occasionally. A cool, dark area is suggested since too much exposure to heat and light may begin to degrade the quality of the herbs and oils over the extended length of the infusing time.
In a heat proof jar or container, combine 3 tablespoons of lavender infused oil with the beeswax.
Set the jar down into a saucepan containing 1 to 2 inches of water, forming a makeshift double boiler.
Place the pan over a medium-low burner until the was is melted. Stir in the lavender essential oil, then pour into lip balm tubes.
Depending on the weather and how you measured your beeswax, you may find that the consistency is too soft or two firm.
If that happens, just melt the ingredients again and add more beeswax (for a firmer product) or oil (for a softer one).
Dab on bee stings, bug bites, and other itchy spots as needed.
Related:
Making the bug bite sticks tins
I didn't want to go out and purchase the plastic lip balm tubes; I scrounged up some empty candy tins and used those instead.
So technically, they're not sticks in my household, but they'll work just the same.
I used a recycled tin can to heat the oil and beeswax.
Here's what I recommend: Use a pair of pliers to make a little pour spout. This is what my first attempt looked like. Without a spout, the oil and beeswax kind of had a mind of its own.
It was easy enough to just scrape it up and reheat, but it's a step you can avoid now that I've told you.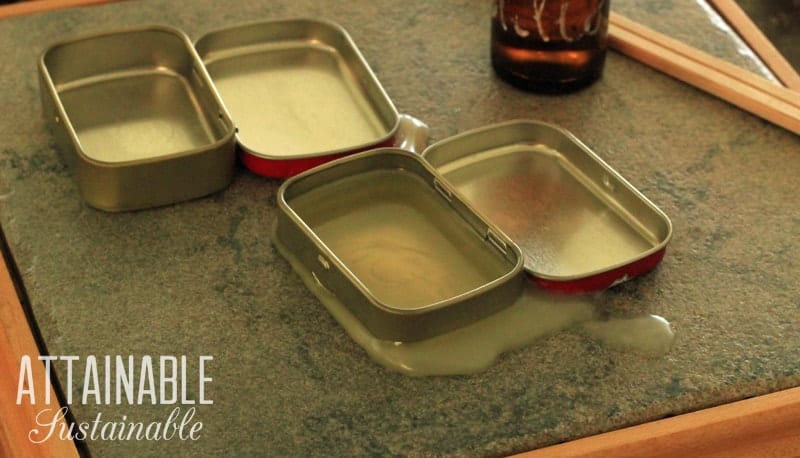 Here's what my crimped can looked like. Easy, peasy.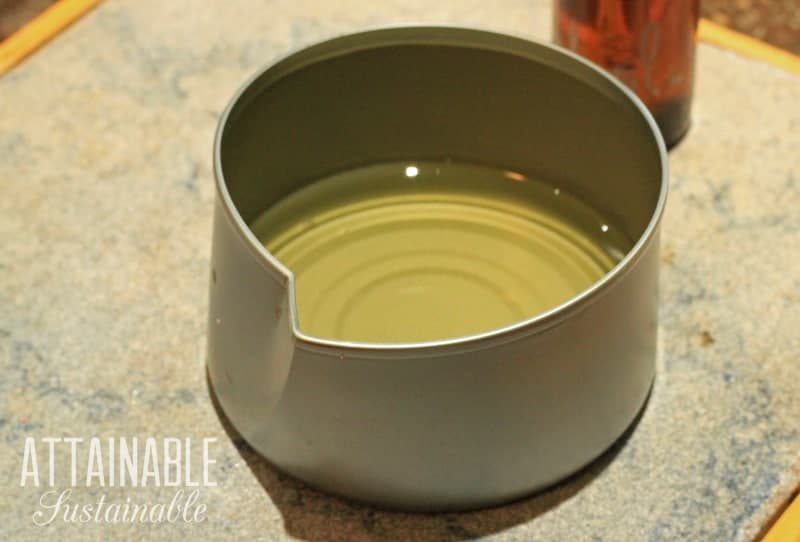 Note: I received a copy of 101 Easy Homemade Products for your Skin, Health, & Home for review purposes.