This pumpkin custard recipe has been a go-to dessert for us for years. It's a great (naturally) gluten free pumpkin dessert that is loved by everyone who tries it!
Be sure to try these easy pumpkin bars, too!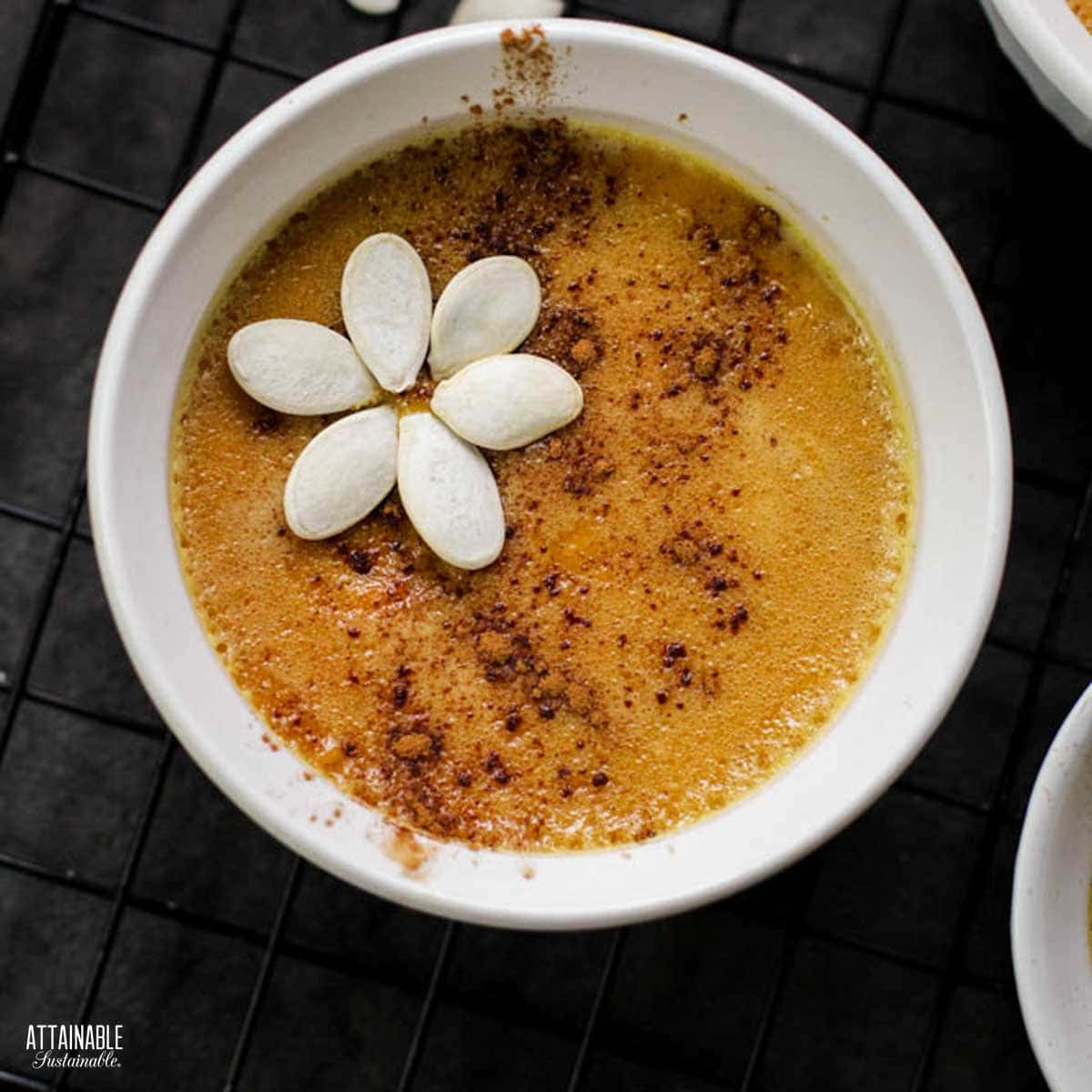 We have a long-standing tradition in our household that each one of us "brings" a dish to our holiday table. Yes, even the people who live here. They are asked to plan and prepare a dish of their choice.
My eldest makes his famous ginger spiced cranberry sauce every year. My youngest found his go-to recipe years ago in a FamilyFun magazine (it's no longer on their website). [Disclaimer: I wrote for FamilyFun for years.] It's one of our favorite desserts.
Gluten Free Pumpkin Custard
These pumpkin custard cups are naturally gluten free and oh, so good. Trust me — these are a great option for everyone, not just your gluten free folks! Some of us even prefer this over homemade pumpkin pie with a pie crust.
They're kind of like an individual crustless pumpkin pie, but if pumpkin pie filling was creamier.
5 Easy Steps to Transform Your Pantry!
Ready to switch from store bought to homemade? Let me help you make some changes! Grab my FREE five-part guide to getting started.
This is a great solution for people who are trying to skip grocery store packaged foods but aren't quite confident in their pie crust making skills yet!
Custard Ingredients
Pumpkin — I like to use homemade pumpkin puree, but if you don't have it, canned pumpkin is just fine. Just be sure to get plain pumpkin, not pumpkin pie mix.
Sugar — I opt for coconut sugar or organic granulated sugar in order to avoid genetically modified beet sugar. That's my personal little quirk, though — the original recipe simply calls for sugar. You could also use brown sugar, for a little bit of molasses flavor in the pumpkin custards.
Maple syrup — This is the sweetener that gives these custard cups its signature maple flavor.
Dairy — This pumpkin custard recipe calls for both milk and heavy cream. If you're dairy free, I'd substitute your favorite nut milk (for milk) and coconut milk (for heavy cream). We've made them this way successfully with almond milk, much to the delight of my dairy-free guy.
Eggs — This can — of course — be made with standard chicken eggs, but for an extra richness, try using duck eggs!
Spices — Vanilla, cinnamon, and nutmeg give this dessert the classic "pumpkin spice" flavor that we so love.
Making it
Start by mixing the sugar, egg yolks, vanilla, spices, and salt together in a large bowl or the bowl of your stand mixer.
Whisk the milk and heavy cream, pumpkin puree, and maple syrup together in a saucepan. Bring to a simmer.
Ladle the heated cream and pumpkin into the sugar and yolk mixture, stirring constantly. If you pour it all in at once the yolks will cook; you don't want that to happen.
Divide the custard evenly among six prepared baking cups and arrange the filled cups, evenly spaced, in a baking dish that has 3/4 inch of water in the bottom. Cooking the custards in this warm water bath helps insulate them from the direct heat of the oven and prevents cracking.
Bake and allow to cool.
Frequently Asked Questions
Can I make this recipe with butternut squash?
You sure can! Just cook the squash and process it into a puree just as you would make pumpkin puree, outlined here.
What does this baked pumpkin custard taste like?
It's similar to the filling of a pumpkin pie, but much creamier. It has the same pumpkin spice flavor that we all love, without the crust. It's naturally gluten free, and a great go-to for those with special diets.
Can this recipe can be made in a single dish?
I generally make individual pumpkin custards, but the answer is yes, I've done it. However, you'll need to adjust the time and really keep an eye on it. (Sadly, I didn't make notes about how long I cooked it this way.) Fill a baking dish with the custard mixture so that it's no more than two inches deep. Any deeper and you'll have trouble getting the center cooked before the outside is overdone.
★ Did you make this easy pumpkin custard recipe? Don't forget to give it a star rating below!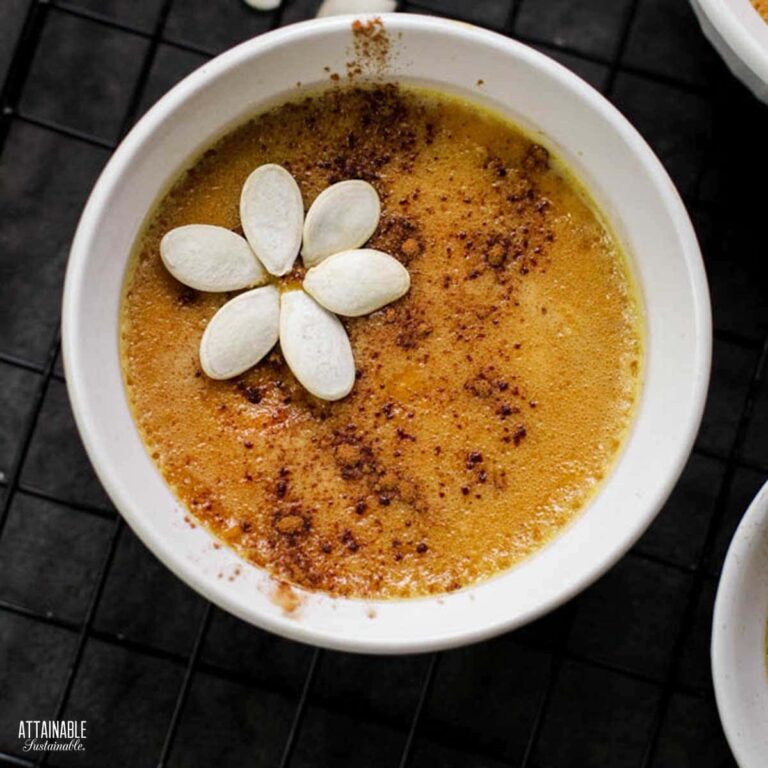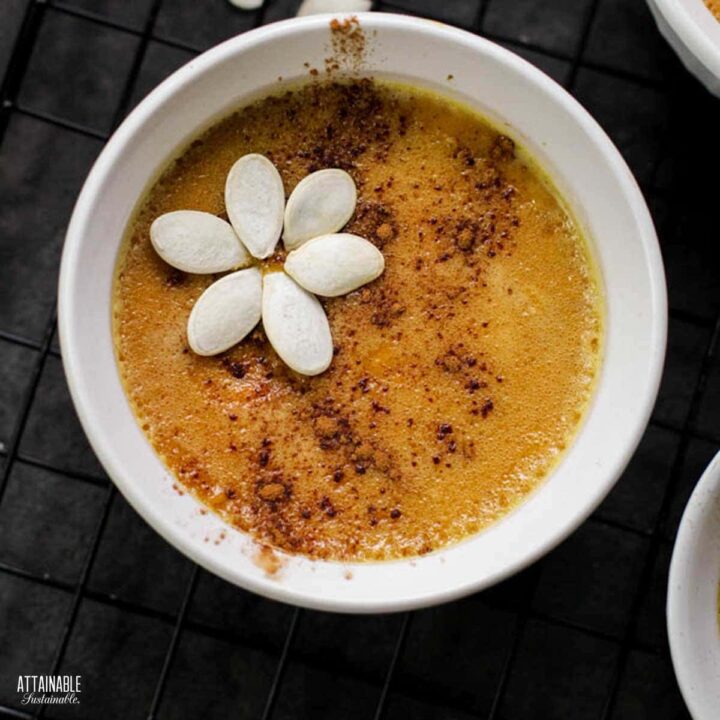 Baked Pumpkin Custard Recipe
These pumpkin custard cups are the perfect dessert for special occasions and holiday season. This gluten free pumpkin dessert is loved by everyone who tries it!
Ingredients
1/3 cup granulated sugar
6 large egg yolks
1 1/2 cup organic heavy cream
1/2 cup milk
1/2 cup pure maple syrup
Instructions
Preheat oven to 300º F.
Whisk sugar, egg yolks, vanilla, spices, and salt together in a large mixing bowl or the bowl of your stand mixer. Set aside.
In a medium-size saucepan, whisk together the milk and heavy cream, pumpkin purée, and maple syrup. Cook over medium-low heat, stirring occasionally until the mixture is hot but not boiling, about 7 minutes.
Ladle into sugar and yolk mixture, stirring constantly. (If you pour it all in at once the yolks will cook; you don't want that to happen.) Once egg mixture and hot mixture are roughly the same temperature you can add it a bit more quickly.
Pour 3/4 inch of hot water into a large, shallow casserole dish. Divide the custard evenly among six custard cups and arrange the filled cups, evenly spaced, in the baking dish.
Bake the custards, uncovered, on the center oven rack for about 45 to 50 minutes. The centers may jiggle a bit, but shouldn't be too fluid.
Transfer the custard cups to a wire rack to cool.
When the custards reach room temperature, cover and refrigerate for at least six hours.
Serve topped with whipped cream (or ice cream!) if you like.
Notes
Serve with freshly made whipped cream - or not!
I use organic cane sugar for this recipe, but any granulated sugar will work. I've also use coconut sugar successfully.
For dairy free folks, we've had good luck substituting thick canned coconut milk for the heavy cream and almond or oat milk for the milk. You could also use all coconut milk.
Nutrition Information:
Yield:

6
Serving Size:

1 individual dish
Amount Per Serving:
Calories:

452
Total Fat:

28g
Saturated Fat:

16g
Trans Fat:

1g
Unsaturated Fat:

10g
Cholesterol:

286mg
Sodium:

108mg
Carbohydrates:

43g
Fiber:

4g
Sugar:

35g
Protein:

10g
Originally published November 2015; this post has been updated.