This homemade ginger orange cranberry sauce recipe is a holiday favorite. The recipe calls for orange juice & ginger to make a sweet and zingy side dish.
This post was originally published in November 2015; it has been updated.
Even if you're a fan of the canned cranberry sauce that graces so many of our holiday tables, try serving this recipe alongside the jellied version. You might just like both!
Over the years, my son has tweaked this orange ginger cranberry sauce recipe to create a lower sugar version of a recipe passed along years ago by my friend Rene. It was stellar. He was pleased with himself. And so it became his signature holiday dish. We all love it.
The Handcrafted Pantry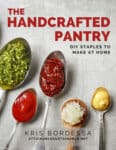 Ready to DIY your pantry with more wholesome ingredients? Check out my ebook, The Handcrafted Pantry! Filled with delicious recipes for some of your favorite condiments, snacks, and toppings, it's the guide you need to start skipping packaged products and embrace homemade.
5 Easy Steps to Transform Your Pantry!
Ready to switch from store bought to homemade? Let me help you make some changes! Grab my FREE five-part guide to getting started.
Homemade Cranberry Sauce
Cranberries are far from local for us — duly noted. But if given the choice between a canned, BPA-laden tradition, or one homemade from the heart, we'll take this one every time. This homemade cranberry sauce with orange juice and ginger graces our table at Thanksgiving and Christmas.
This is truly one of the easiest recipes you can make for your holiday table, and it can be made a few days ahead. It's a sanity saver, too!
Ingredients
Cranberries — I like to use fresh here, and you can also buy extra bags to freeze them for later!
Sugar — Use your favorite brand of granulated cane sugar. I prefer organic. Would brown sugar or maple syrup be an okay substitute? Certainly!
Orange Juice —While we can all agree that fresh orange juice tastes best, in the busyness of the holidays OJ concentrate is just fine.
Ginger — Choose fresh knobs of ginger and peel if desired, though it's not necessary. If you opt not to peel, just be sure you wash them well.
How to Make Cranberry Sauce
Add all ingredients to a medium saucepan on the stove.
Cook over medium heat, stirring occasionally. Listen for the pops!
Cool to room temperature.
Serve immediately or store in the refrigerator for several days. Garnish with orange zest for serving if you like.
FAQs
What texture is best for homemade cranberry sauce?
It seems that everyone has a strong opinion about the texture of their cranberry sauce. This recipe starts with fresh, whole cranberries. As they cook, the berries pop and break down, but chunks of berry remain in the sauce.
If the flavor of a ginger orange cranberry sauce sounds delicious (it is!) but you don't like the chunks, simply press the cooked sauce through a sieve or food mill. Or use an immersion blender to process into a finer texture.
How do I thicken my cranberry sauce?
Just keep simmering! Cranberries naturally contain a lot of pectin so the sauce should reduce and thicken on its own. No need for a cornstarch slurry here.
How do I store cranberry sauce?
Keep it in the fridge for up to two weeks. And yup, you can absolutely freeze the finished product for up to 3 months! Feel free to make it ahead so that's one last thing to do on the day you are hosting. Simply thaw and serve at room temperature.
Related: Christmas Dinner Ideas: Supermarket Products You Can Make at Home
★ Did you make this homemade cranberry sauce recipe? Don't forget to give it a star rating below! ★
Cranberry Sauce with Orange Juice and Ginger
This cranberry sauce with orange juice and ginger will rock your holiday table! It's easy to make with just four ingredients.
Ingredients
3 cups fresh cranberries, (1-12 ounce bags)
1 cup granulated organic cane sugar
1 cups orange juice
1-2 tablespoons finely grated ginger
Instructions
Measure all ingredients together into a medium sized saucepan.
Cook over medium heat for about 20 minutes, stirring occasionally. Use the back of a spoon to smash the berries a bit. If you prefer a finer texture, press through a sieve, use an immersion blender to process the cranberry sauce, or transfer it to a blender to make more of a puree.
Cool to room temperature.
Serve immediately or store in the refrigerator for several days.
Notes
You can make this homemade cranberry sauce recipe a few days before serving it. Allow it to cool before storing in the fridge. Serve chilled or at room temperature.
Nutrition Information:
Yield:

12
Serving Size:

1 grams
Amount Per Serving:
Calories:

157
Unsaturated Fat:

0g
Carbohydrates:

40g
Sugar:

40g