When it comes to holidays, gathering around a table to enjoy a meal with our loved ones is hard to beat. When you're planning the holiday meal, you might fall back on the easy boxed version — maybe it's what you grew up with. But many of our favorite dishes — the Christmas side dishes, the Thanksgiving turkey — are easy to make at home from scratch. Use these holiday dinner ideas to plan your homemade holiday meal. You can do this.
And while you're thinking about a homemade holiday meal, consider these ideas for giving experiences rather than gifts. Fun stuff!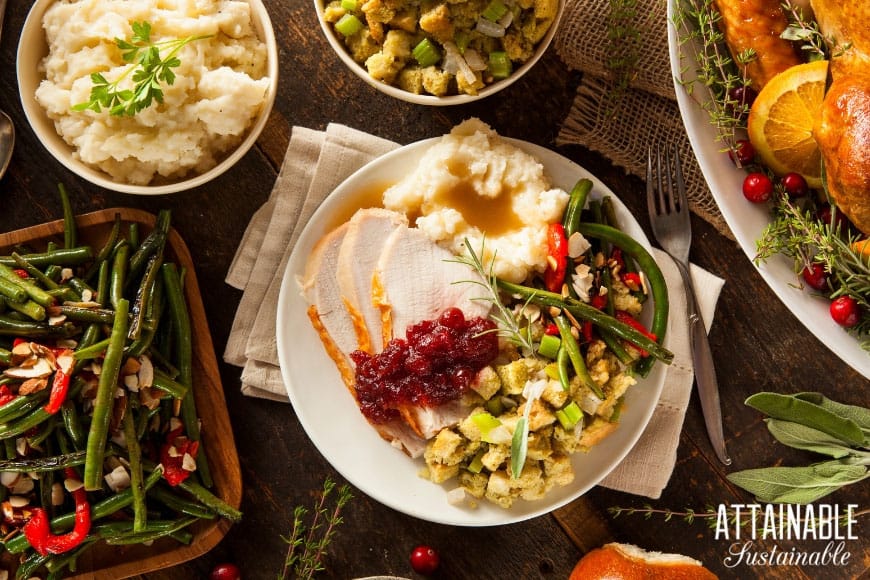 Homemade holiday dinner ideas
If you've gotten into the habit of trusting shortcuts to help you through making big holiday meals, I've got one word for you: Potluck. Our family affairs were always potluck, with the host making the main course and Christmas side dishes and Thanksgiving desserts provided by guests. It made the holiday feast easier on everyone.
But whether you're hosting a big meal for extended family or keeping it relatively simple, take a peek through the recipes included below for holiday dinner ideas that you can make from scratch. Whether you're planning Easter brunch, a Thanksgiving feast, or looking for Christmas dinner ideas: No box required.
I think you'll be surprised to find that it doesn't take that much more time or effort — plus, homemade just tastes better.

Homemade holiday dinner ideas: Roasted turkey
Raise your hand if you remember your mom getting up in the wee dark hours to put the turkey in to cook all. Day. Long. What was up with that? A nice big turkey might take three or four hours to cook, but certainly not all day. Yes, you need to allow a few hours for cooking, but once it's in the oven there's little required of you. Don't let a big bird or memories of tedious 1970s-style turkey prep scare you away — give it a try!
Take a Peek Inside My Book!
Get a free excerpt from my book, Attainable Sustainable: The Lost Art of Self-Reliant Living! You'll also get my free weekly newsletter, complete with recipes, gardening tips, and a little peek at what's going on around here — both the zany and the mundane.
Homemade holiday dinner ideas: Sweet potatoes
Holiday sweet potatoes — canned yams topped with marshmallows — ruined this root vegetable for me for years. They were just too sweet. I know some people love them that way, but not me. Good news: You can have the goodness of sweet potatoes fresh from the farmer with these amazing recipes.

Homemade holiday dinner ideas: Mashed or scalloped potatoes
Potatoes are a must have for holiday dinners, though every family seems to have a preferred way of preparing them. Whether you prefer scalloped or mashed, you can easily skip the box and go straight for homemade goodness. And making homemade mashed potatoes will save you a bundle, too — those pre-made boxes full of dried potato flakes aren't cheap!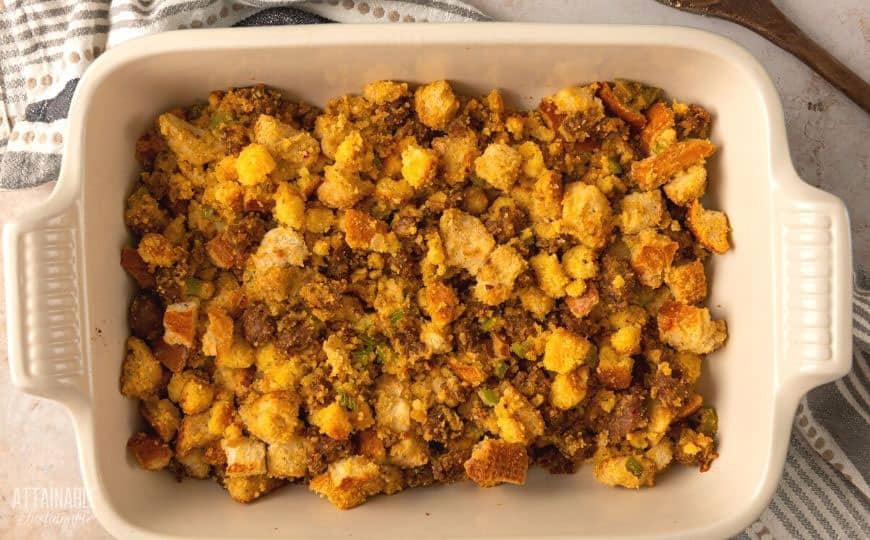 Homemade holiday dinner ideas: Stuffing
Call it stuffing or call it dressing; cook it in the bird or alongside. No matter, you'll be amazed at the difference between homemade and boxed.
Homemade holiday dinner ideas: Gravy
Truly, I don't know why gravy has such a reputation for being hard to make. It's not. Homemade gravy starts with broth (and some pan drippings for extra goodness) and can be thickened with a number of ingredients. All purpose flour is common, but cornstarch works, too.
Related: How to Host a Party With Less Waste
Homemade holiday dinner ideas: Dinner rolls and breads
Of all the homemade dishes on the holiday table, dinner rolls and bread are probably the most time consuming. They are also often the most appreciated by diners. There's nothing better than a hot dinner roll fresh out of the oven. In my book, they're completely worth the effort. And making them yourself allows you to control ingredients, especially for gluten free folks.
Homemade holiday dinner ideas: Cranberry sauce
We stuck with canned cranberry sauce for years — family tradition and all — until my eldest started making a wonderful orange spiced cranberry relish. Nothing wrong with creating new family traditions, right?
Homemade holiday dinner ideas: Drinks
Even in a household that considers water to be the best drink ever, during the holiday season we like to splurge a bit. Warm drinks, spiked drinks, juicy drinks – pick your poison and make it yourself. Who needs an "instant drink mix" on the holiday table?
Homemade holiday dinner ideas: Dessert
Is it any coincidence that there are more dessert recipes listed here than any of the others? I think not. Because, dessert! Pie! Cake! Tarts! Crisps! There's kind of no end to the wonderful homemade desserts that can replace the frozen version. And some are downright easy.
Originally published in December, 2014; this post has been updated.