If you've embraced home canning and have a pantry full of canned goods, you're probably wondering about canning storage. How do you keep all of that home canned goodness for the most optimum shelf life?
Need some easy canning recipes to get started with home preservation? Try these!
Prepare canning jars for long-term storage
What does this mean? There are some things to consider when putting your home canned goods into the pantry.
Clean canning jars before storage
First and foremost, when they come out of the canner and they've cooled, rinse the jars thoroughly. Sticky jars of jam in the pantry are no good.
The Handcrafted Pantry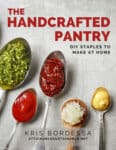 Ready to DIY your pantry with healthier ingredients? Check out my ebook, The Handcrafted Pantry! Filled with delicious recipes for some of your favorite condiments, snacks, and toppings, it's the guide you need to start skipping packaged products and embrace homemade.
Remove the rings
Though this may surprise you, you should store your sealed canning jars without the rings. This means that if there's a problem with the seal, it will be obvious right away. A loose lid means you should discard the contents immediately. If you keep the rings on, it's harder to discern if the seal has been compromised.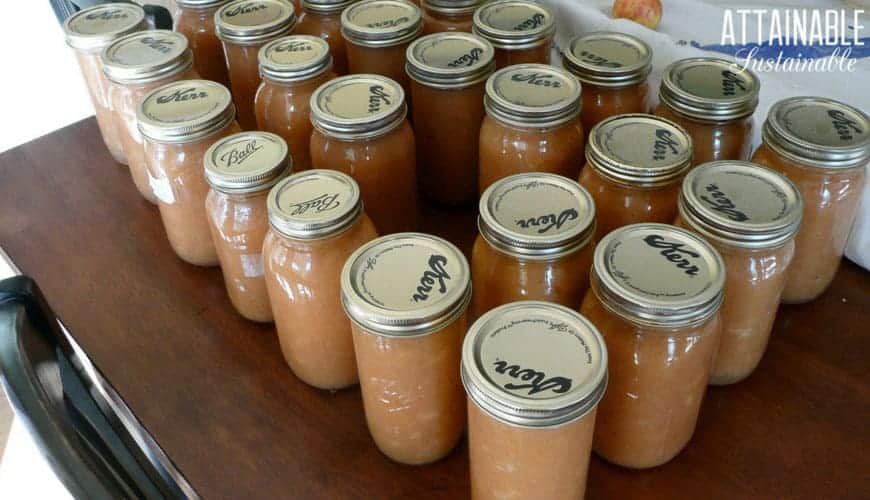 5 Easy Steps to Transform Your Pantry!
Ready to switch from store bought to homemade? Let me help you make some changes! Grab my FREE five-part guide to getting started.
Store jars upright.
This means that the contents won't touch the lid for an extended time. Some canned items — tomatoes, for instance — are corrosive.
Don't stack jars
Obviously, stacked jars are more likely to fall and break. But the weight of one jar on another can — again — deceive you into thinking a jar is sealed when it's not.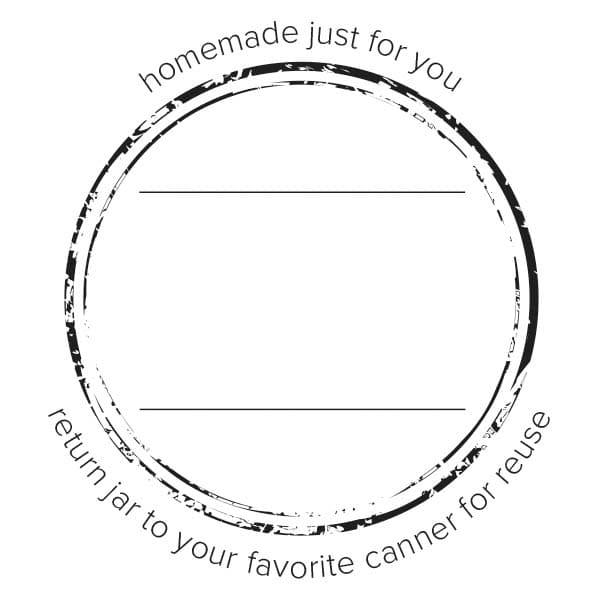 Planning on doing lots of canning this year? Grab a FREE download of these
cute printable canning labels
— complete with a gentle reminder to return the jar, in case you're giving some as gifts!
Choose a cool, dry place for canning storage
Why? Keeping jars cool will help retain the quality of the food you've preserved. Moisture in a canning storage space can cause the lids and rings to rust.

Keep track
Knowing what's in your pantry allows you to utilized what's in your pantry. I use this system to keep track of our home canned foods. Using this method with my canning storage helps me spread the various canned goods across the winter months, so we don't end up with too much — or too little — of an item before winter ends.
Related: Home Preservation: Canning Equipment and Getting Started

Earthquake food storage
This is an issue specifically for earthquake-prone regions: Safe canning storage when the ground shakes. My friend Toni asked the other day:
I am having a conundrum. Living in earthquake country as I do, I am nervous about having the bulk of my emergency supplies in glass jars. Earthquakes are not glass friendly. In the case of a large quake we are likely to lose power for some period of time. So counting on what's in the freezer is not a great option either. So here is my question. Given the situation, does one of those Food Saver vacuum sealing bag things make sense? I have a dehydrator that I am fond of, but I need a long term storage situation for those dry items.
When I read this, I immediately thought of the Doomsday Preppers episode I happened across that featured a group concerned about the possibility of an epic earthquake. Fine and good to prepare for an earthquake, I say.
Related: Easy Canning Recipes for the Novice Home Canner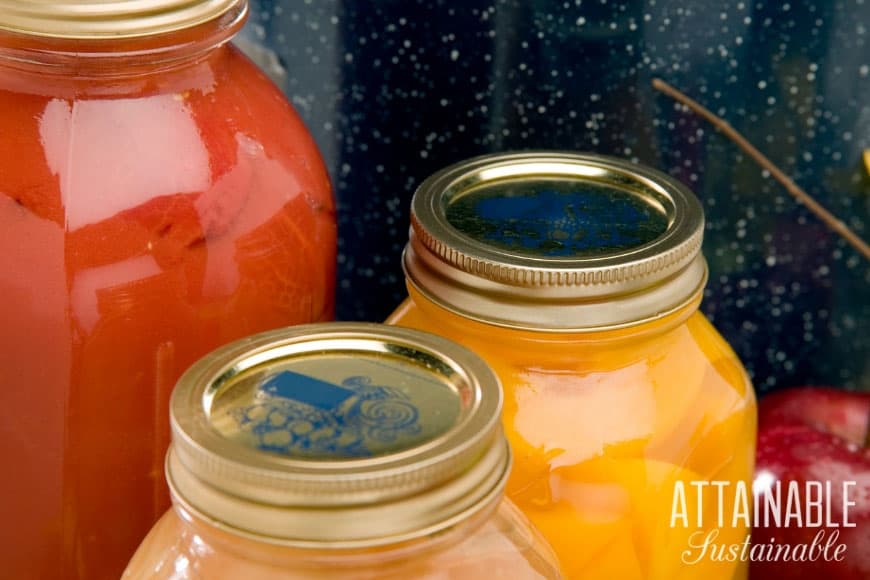 Related: 10+ Food Preservations to Consider
But folks, if you're going to have shipping containers full of food preserved in glass on shelf after shelf to survive an earthquake, open shelving with nothing holding those jars in place is probably not a good idea. Storage for canning jars full of your precious preserved foods needs to be more secure.
Toni is savvy enough to realize that things shake around – a lot – in an earthquake. But she's aware of the conundrum:
See. I've been wrestling with myself over this for awhile. I could even throw pill bottles in the [Food Saver] bags and suck out the air and not have to worry about them getting damp out in the garage. But its a PLASTIC BAG!! I think you can reuse the "bag" after you cut it open, it just gets smaller with each use. But its a PLASTIC BAG. It does say they are BPA FREE. But…..
If you've been here long, you know I'm working to reduce plastic in my life. I'm not obsessive about it, but as Toni says, it IS plastic. So what can we do about safely storing food for earthquake emergencies? I totally get the fascination with the Food Saver – I know lots of people who love theirs – and honestly, if there's an emergency that requires digging into emergency supplies, food stored in plastic will be the least of my concerns. Health implications be damned if I'm starving.
But buying a Food Saver means obtaining a brand new piece of equipment with lots of plastic parts. That new piece of equipment likely comes with packaging – possibly Styrofoam – and plastic bags for sealing food. That's a lot of plastic and I think it's unlikely that a cool tool like a Food Saver would be used just for earthquake supplies. I can see it quickly turning into "oh, I'll just use it to package these extra chicken legs!"
The plastic use in a household could actually increase.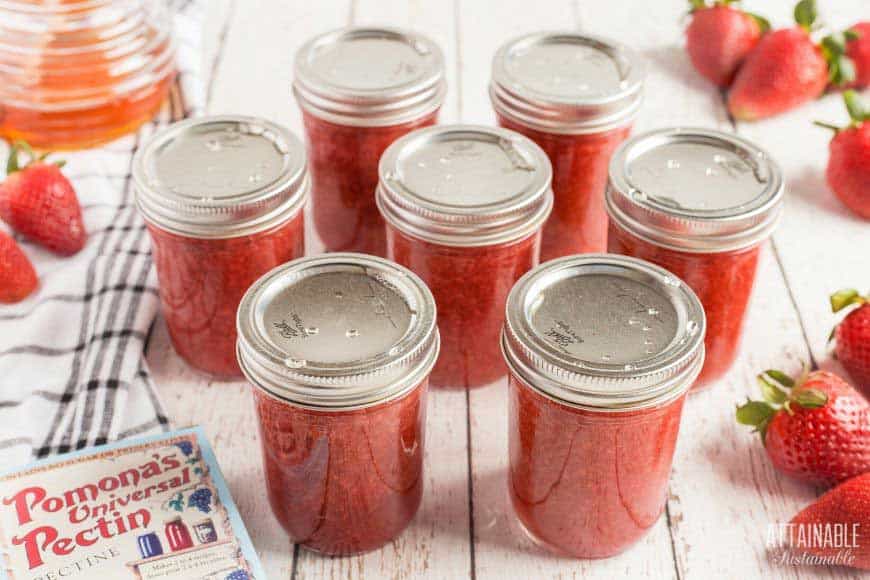 Storing glass in earthquake country
I think there are a fair number of alternatives that could work for someone who really wanted to avoid plastic.
Slip each glass canning jar into an orphaned sock before storage. This serves two purposes. It protects the glass from damage, and if there is breakage, the glass won't scatter. You'll be able to just pick up the jar inside the sock and dispose of it.
Store glass containers only on shelves that have doors that latch securely. Shelves closest to the floor are best for this.
If you're storing glass canning jars on open shelves, run a 1″ x 4″ board across the front of the shelves to prevent the jars from crashing to the floor in the event of a quake.
Instead of storing glass jars on shelves, reuse the boxes that those canning jars came in or pack them in boxes with a protective piece of cardboard between each jar. As long as they are down low and not situated below your bowling ball collection, the likelihood of breakage should be minimal, I would think. The space under a bed would be ideal for this.
I've spoken with several people who are recycling plastic drink bottles as emergency food storage. Thoroughly washed and dried, the bottles are filled with dry items like rice or beans and taped closed. The addition of an oxygen absorber helps to extend shelf life. This method does use plastic, but it's recycled plastic and doesn't involve a piece of equipment. Someone like Toni, who has dried fruit and such to store could probably use a similar plan, using wide mouthed bottles (Gatorade?) or even plastic peanut butter jars. Ask around – there are plenty of people who would be all too happy to save their containers for you.
Now, of course, all bets are off if we're talking about a really intense earthquake. But for moderate quakes, taking precautions like this may be what you need to feel good about food storage in glass.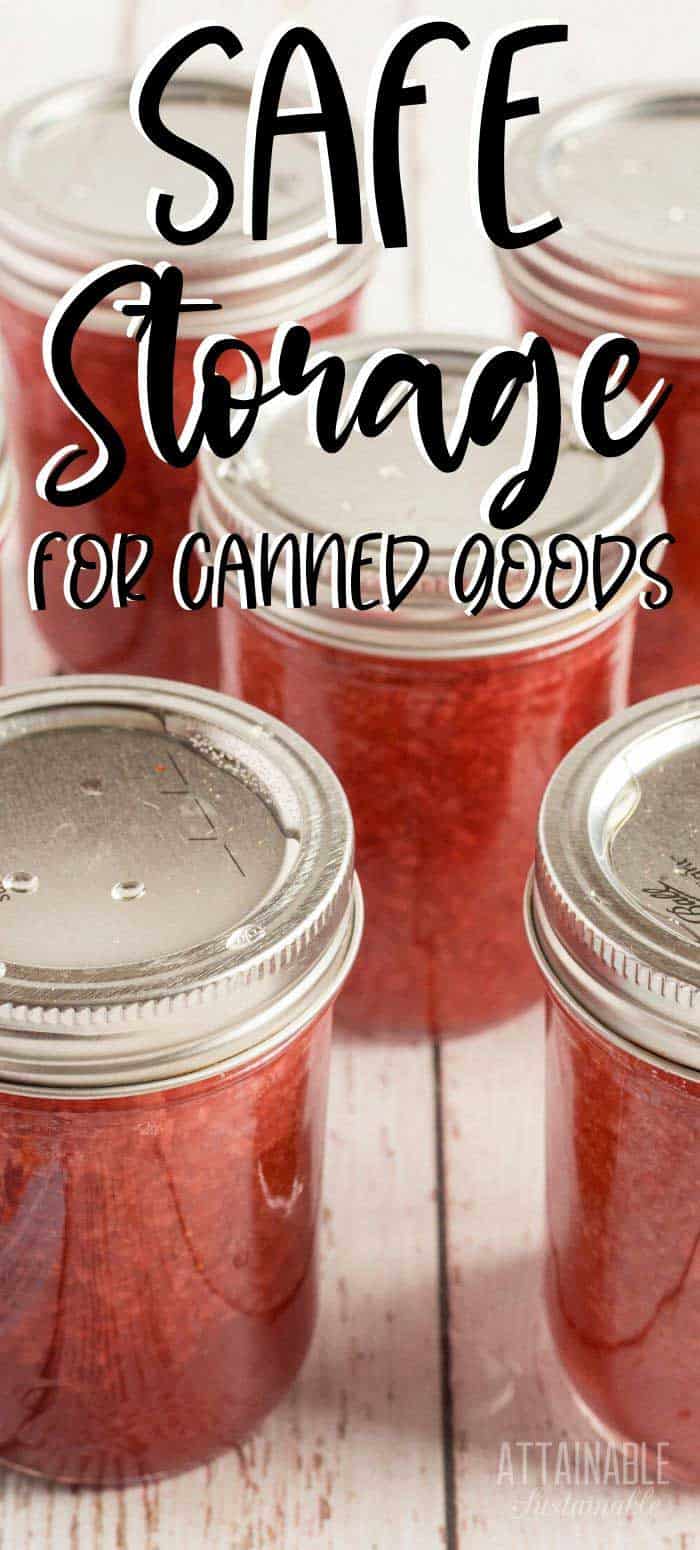 Originally published March 2012; this post has been updated.