For a fast and filling snack — or okay, sometimes a meal — granola bars just can't be beat. They're portable and tasty and can pack a healthy punch. I decided it was time to learn how to make granola bars back when my kids were in elementary school, and these are still a favorite today.
Click here to see my great big collection of healthy homemade granola bars.
Once upon a time, when my boys were young and in Little League, we did a lot of eating on the run. The slow cooker helped us manage meals, but people were hungry during those games and seemingly never-ending practices.
Granola bars were my go-to grab and go snacks. I chose what I thought were the healthiest bars, but not long into the season I realized that 1. we were creating a lot of trash and 2. we were spending a lot of cash.
Time to learn how to make granola bars myself! 
The good news is, it's not hard. It's a simple matter of combining ingredients, pressing them into a pan, and baking. The house will smell lovely, you will have snacks, and you'll save money.
5 Easy Steps to Transform Your Pantry!
Ready to switch from store bought to homemade? Let me help you make some changes! Grab my FREE five-part guide to getting started.
Related: Persimmon Homemade Granola is an Autumn Treat
---
The Handcrafted Pantry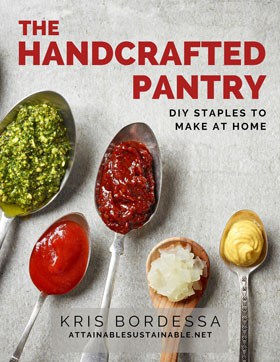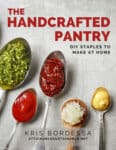 Ready to DIY your pantry with healthier ingredients? Check out my ebook, The Handcrafted Pantry! Filled with delicious recipes for some of your favorite condiments, snacks, and toppings, it's the guide you need to start skipping packaged products and embrace homemade.
---
How to make granola bars at home
These granola bars, adapted from this recipe over at Zoom (remember THAT?), became our standby snack on those busy days. Even now, my adult children will fall back on this recipe when they know they're going to be out and about all day long and in need of sustenance.
This granola bar recipe calls for oats as the base, combined with peanut butter and honey. You can customize these to suit your fancy, though, by adding various nuts, dried fruits, or chocolate chips.
★ Did you make these granola bars? Don't forget to give them a star rating below!
Homemade Granola Bar Recipe
Storebought bars are expensive and create excess waste. Make a large batch of your own for on-the-go snacking.
Ingredients
1/4 cup peanut butter
1/2 cup honey
2 large eggs, lightly beaten
1/2 cup whole wheat flour, (or oat flour for gluten free)
1/2 teaspoon baking powder
4 cups old-fashioned rolled oats
1 cup organic raisins, or cranberries
1 cup semisweet chocolate chips, (optional)
1 cup nuts, (optional)
Instructions
Pre-heat oven to 350 degrees.
Mix peanut butter, honey, vanilla, and eggs in a bowl. Stir in salt, flour, baking powder, and oats. Add raisins, chocolate chips, and nuts.
Spread mixture into a greased 9"x 13" pan (or onto a jelly roll pan if you like your bars thinner).
Place a piece of waxed paper or a silicone baking mat over the mixture, then press the mixture firmly down into the pan with your hands. Bake 15 minutes or until the top is golden brown. Cool, then slice into bars.
Notes
You can customize these to suit your fancy, though, by adding various nuts, dried fruits, or chocolate chips.
Nutrition Information:
Yield:

12
Serving Size:

1 grams
Amount Per Serving:
Calories:

389
Total Fat:

15g
Saturated Fat:

4g
Unsaturated Fat:

0g
Cholesterol:

33mg
Sodium:

93mg
Carbohydrates:

57g
Fiber:

5g
Sugar:

21g
Protein:

9g