This homemade pretzel recipe can be made a number of ways and the topping possibilities are endless! And homemade soft pretzels? They're gonna make you a very popular baker!
Serve these delicious soft pretzels with a generous helping of homemade mustard.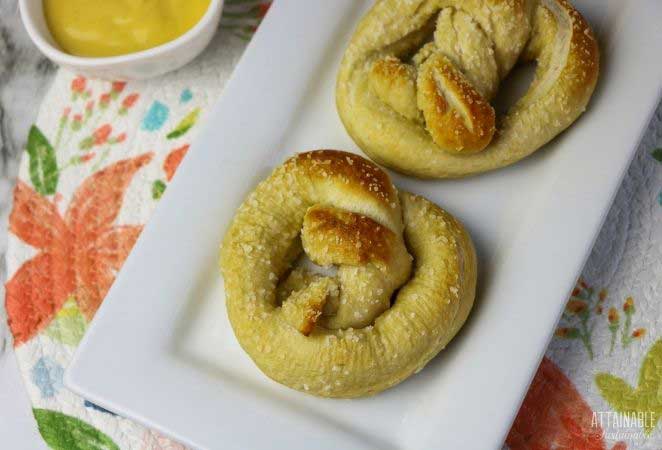 Making pretzels requires a bit more shaping than a simple loaf, but the result is a delicious snack that can be flavored with many different toppings.
---
The Handcrafted Pantry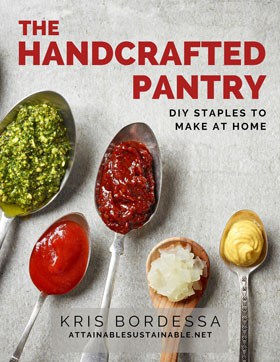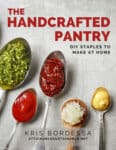 Ready to DIY your pantry with healthier ingredients? Check out my ebook, The Handcrafted Pantry! Filled with delicious recipes for some of your favorite condiments, snacks, and toppings, it's the guide you need to start skipping packaged products and embrace homemade.
---
How to make this homemade pretzel recipe
The ingredients for this recipe are simple: Flour, yeast, brown sugar, and water. How you mix the ingredients depends entirely on how your kitchen is set up.
If you have a bread machine, you can make the dough and let it rise right in the machine.
You can also use a stand mixer with a dough hook to knead the pretzel dough automatically.
5 Easy Steps to Transform Your Pantry!
Ready to switch from store bought to homemade? Let me help you make some changes! Grab my FREE five-part guide to getting started.
Or you can make it by hand, with a sturdy wooden spoon in a mixing bowl!
Once the dough is ready, you'll form it into pretzel shapes. Start by dividing dough into eight even pieces.
Roll each piece into a long strand. Bring the ends of one strand together and twist several times. Fold the twisted dough to set the ends on the curved portion of the pretzel shape.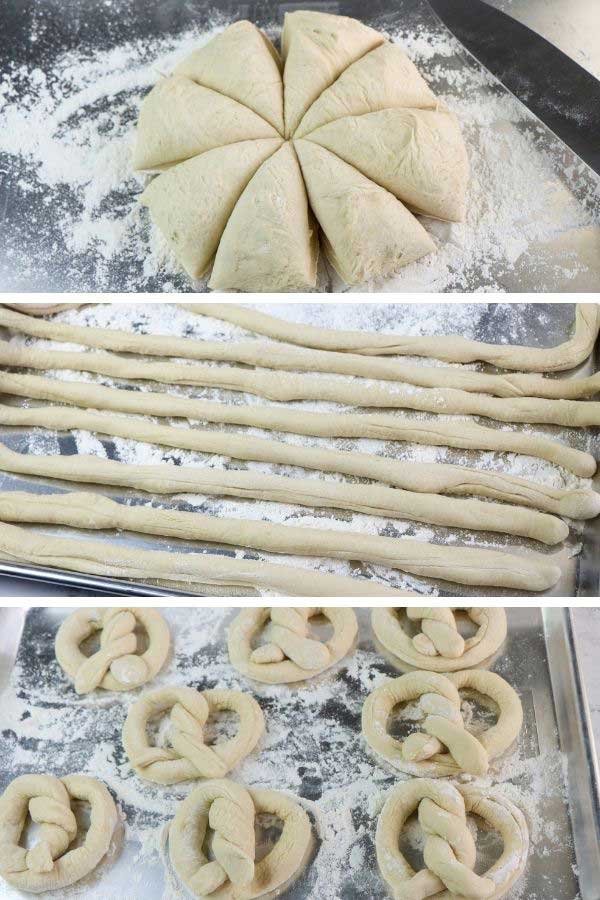 This recipe calls for boiling the formed pretzels before baking them. The boiling step can be considered optional if you're in a hurry. Boiling, though, will result in deliciously chewy pretzels.
Topping these homemade soft pretzels
Freshly baked pretzels are like a blank canvas! Top them with coarse salt or specialized pretzel salt, "everything" seasoning, sesame seeds, poppy seeds, or whatever strikes your fancy.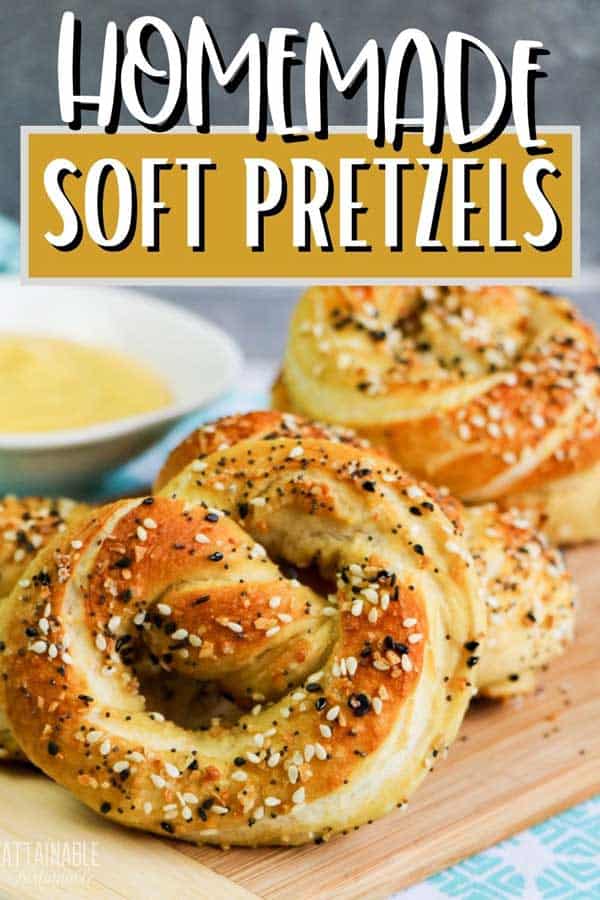 ★ Did you love this recipe? Be sure to give it a star rating below! ★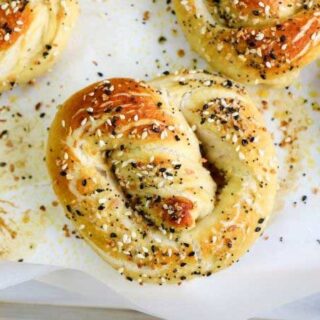 Homemade Soft Pretzel Recipe
Total Time:
1 hour
33 minutes
These soft pretzels are chewy and delicious. Tuck one into a lunch bag along with a little container of mustard for dipping and you'll be someone's favorite person!
Ingredients
1 cup water (100ºF)
3 tablespoons brown sugar
3 cups all purpose flour
1 ½ teaspoon bread machine yeast or active dry yeast
For boiling and baking
8 cups water
½ cup baking soda
Coarse kosher salt, everything seasoning, or topping of your choice
Instructions
In the Bread Machine:
Add the ingredients to the bread machine in the order listed or according to your manufacturer's instructions.
Prepare using the dough setting. During the first kneading cycle, check to see if the dough has enough water. If more water is needed, add 1 to 2 tablespoons of warm water.
When the dough cycle has completed, punch down the dough and flip out onto a lightly floured surface.
To Use a Stand Mixer
Combine 1 cup water and yeast. Allow to sit for a minute or two, then stir to dissolve the yeast. Add brown sugar and flour. Turn mixer on low and allow to knead for 6 to 8 minutes.
Transfer dough to an oiled bowl, cover loosely with a towel and allow to rise in a warm place for an hour.
To Knead by Hand
Combine 1 cup water and yeast. Allow to sit for a minute or two, then stir to dissolve the yeast. Add brown sugar and flour. Use a sturdy wooden spoon to stir into a shaggy dough.
Turn dough out onto a floured surface and knead for 6-8 minutes, until dough is soft and smooth.
Boiling and Baking the Soft Pretzels:
Divide the dough into 8 equal parts. Roll each piece of dough into long even strands, approximately 20 inches long. Twist into a pretzel shape.
Preheat the oven to 425 degrees. Prepare a large baking sheet with parchment paper or a silicone baking mat. Brush lightly with oil.
[Optional step - see notes] Bring 8 cups of water to a boil in a dutch oven or stock pot. Stir in the baking soda.
Gently drop the pretzels (no more than two at a time) into the boiling water. Boil for 10 to 15 seconds and then remove from the water using a slotted spatula. Place the pretzels on the prepared baking sheet and immediately sprinkle with salt.
Bake the pretzels in the oven for 8 to 12 minutes or until lightly browned.
Notes
Boiling the pretzels is an optional step, but it will result in a chewier pretzel.