If you depend on those tubes of cookie dough at the supermarket to make rolled sugar cookies, it's time you learned how to make sugar cookies from scratch! Spoiler: It's not hard. These homemade sugar cookies can be cut into any shape you like, embossed (or not), and dipped in chocolate (or not).
How to make sugar cookies from scratch
The ingredient list for making homemade sugar cookies is basic. Measuring and mixing doesn't take much time at all. Rolling the dough and cutting out shapes takes a bit of time, but it's always been a social event around here. Admittedly, we only make them for holidays and special occasions, but since we can all gather around and talk while we make them, I consider it to be bonding time, too.
What I like about these is that the embossed rolling pin does the work of making them pretty. Even a simple shape like a circle looks fancy. (And you don't run the risk of losing a camel's leg or a gingerbread person's arm!)
Creaming the butter and sugar together assures that there are no butter lumps in the dough. This can be done with a stand mixer or a hand mixer, or even by hand. When making the dough by hand, I like to use a pastry blender. Once blended, you'll add the eggs and vanilla, then mix in the dry ingredients.
You'll need to allow time for this dough to chill. Give it a minimum of an hour in the fridge, but if you're trying to get ahead of a long to-do list, you can make this cookie dough a couple days ahead of time.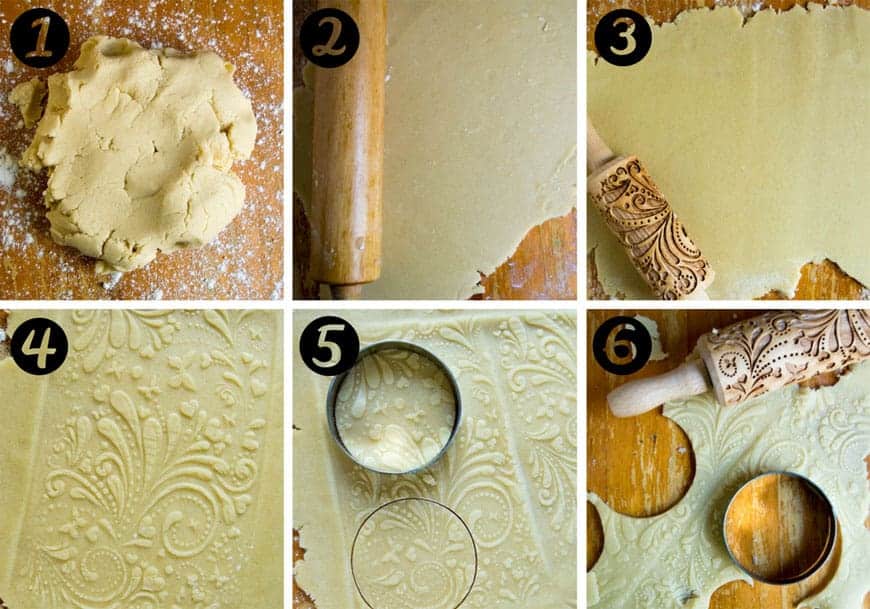 5 Easy Steps to Transform Your Pantry!
Ready to switch from store bought to homemade? Let me help you make some changes! Grab my FREE five-part guide to getting started.
Related: Persimmon Cookie Recipe: A Sweet Treat Straight from the Tree
Homemade sugar cookies your way
You can use a round cookie cutter (or a highball glass) to make circles, or choose a fun shape to celebrate a special person. A baker might love this stand mixer cookie cutter and your chicken-loving friend will appreciate this one. Have fun with it — making rolled sugar cookies is such a fun family activity!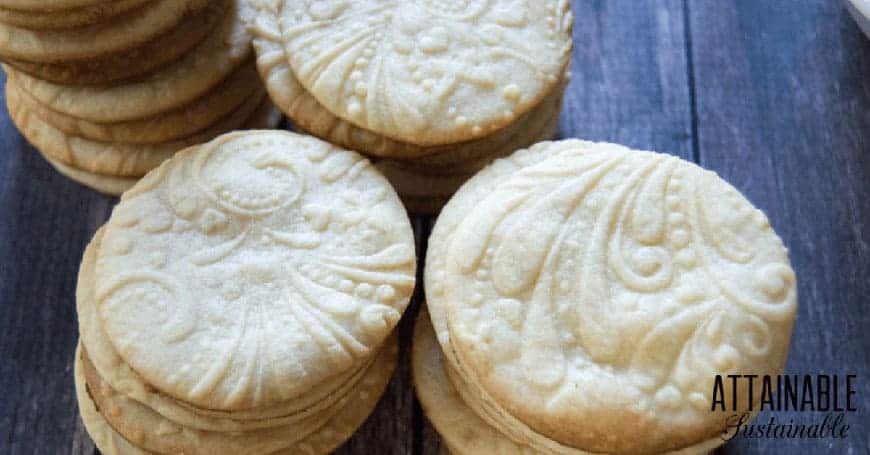 Related: Chocolate Cut Out Cookies
Working with rolled sugar cookie dough
You can re-roll the dough that remains after cutting cookie shapes, but the more you work the dough, the less tender the cookies will be. Be sure to liberally flour the rolling surface to prevent sticking.
Chocolate dipped homemade sugar cookies
These cookies are pretty as-is, but to really indulge, you can give one edge of cookies a dip in chocolate. You can also use this sugar cookie dough recipe to make this peach cookie dough tart.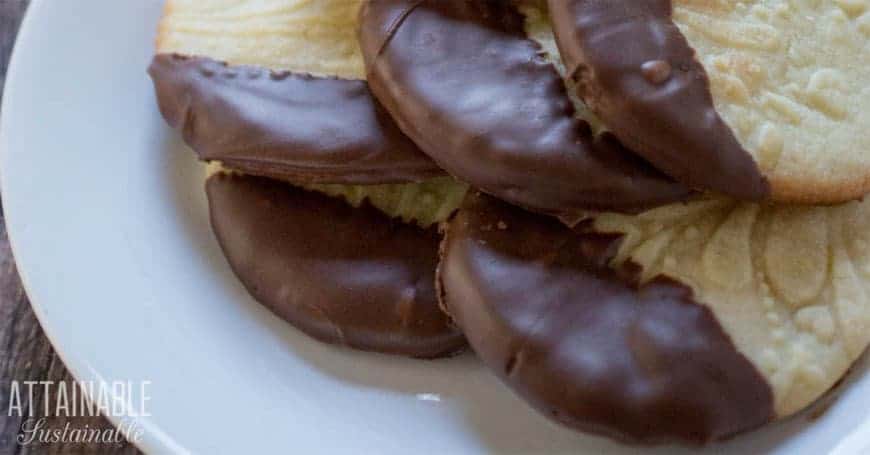 ★ Did you make these homemade sugar cookies? Don't forget to give it a star rating below! ★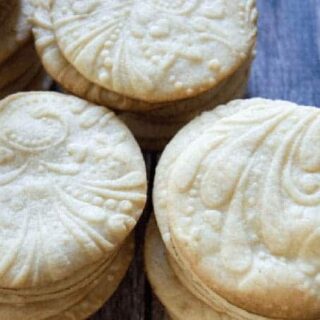 Chocolate-Dipped Embossed Sugar Cookies
Prep Time:
1 hour
30 minutes
Total Time:
1 hour
40 minutes
What I like about these homemade sugar cookies is that the embossed rolling pin does the work of making them pretty.
Ingredients
1 cup butter
1 cup granulated organic cane sugar
1 large egg
2.75 cups unbleached organic all-purpose flour
2 teaspoons baking powder
Instructions
Cream butter and sugar together in the bowl of your stand mixer, or in a large bowl Beat in egg and vanilla.
Combine flour and baking powder. Blend dry ingredients into wet ingredients in several batches. Be sure to mix thoroughly before adding more dry ingredients.
Refrigerate dough for an hour or so.
Divide dough the dough in half. Roll dough out to 1/8-inch thickness on a floured surface. Use a patterned rolling pin to emboss the dough.
Use a round cookie cutter or a highball glass to cut into simple circles, or use your favorite cookie cutter shapes.
Place cut out cookies on an ungreased baking sheet. I like to line mine with one of these. Cool slightly then remove to wire rack. Cool completely before attempting to dip in chocolate.
Pre heat oven to 400F degrees. Bake for six to ten minutes or until cookies are light brown around the edges.
To make chocolate dipped sugar cookies
Melt one bag of chocolate chips in a double boiler stirring constantly. Chocolate can burn over high heat; a double boiler prevents this from happening. If you don't have a double boiler, you can set a small saucepan into a larger saucepan partly filled with water.
(Be sure that you don't get any water in the chocolate.)
Once the chocolate is melted, dip one edge of each cookie and set cookies onto a wire rack.
Nutrition Information:
Yield:

30
Serving Size:

1 grams
Amount Per Serving:
Calories:

124
Total Fat:

6g
Saturated Fat:

3g
Unsaturated Fat:

0g
Cholesterol:

21mg
Sodium:

56mg
Carbohydrates:

15g
Sugar:

6g
Protein:

1g