Learning some simple cooking basics and kitchen skills makes it easier to embrace cooking at home. While it might not be innate for you, dive in and learn these cooking skills to get started with wholesome home-cooked meals that will save you money, too!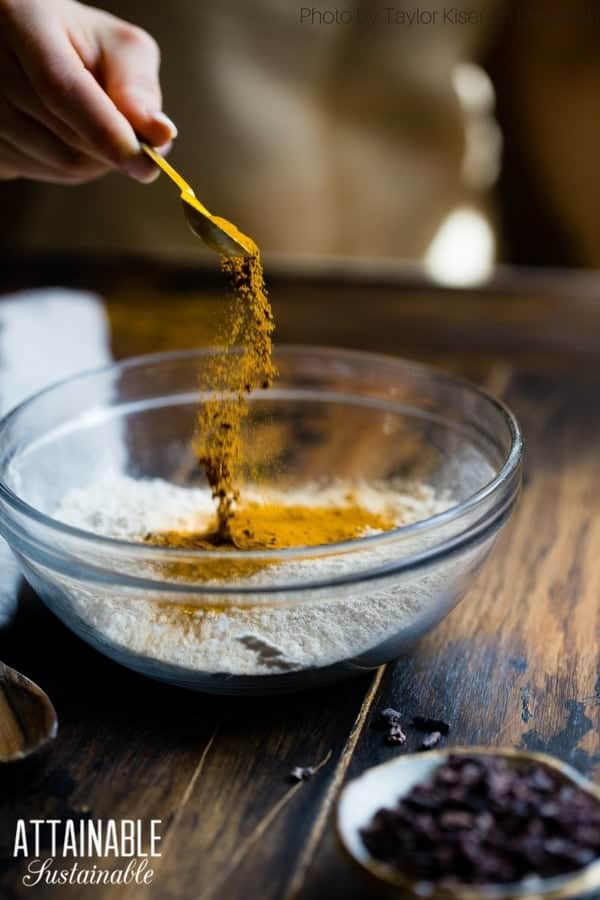 As someone who cooks from scratch pretty much daily, the idea of not knowing how to cook is completely foreign to me.
Turns out, there are plenty of people out there who just never learned the cooking basics I did.
Cooking basics left behind
Generations of packaged foods and the demise of Home Ec classes in schools has really left a generation behind.
We're sending young people out into the world without some of the most basic kitchen skills.
With an eye toward guiding novice chefs to a certain level of comfort in the kitchen, I'm sharing some simple cooking basics that will empower the uninitiated to move beyond boiling water and ramen noodles.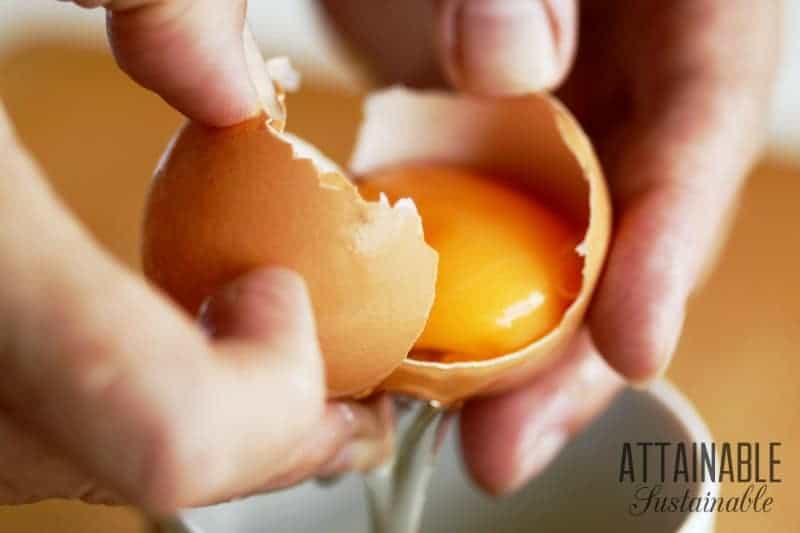 Cooking skills to learn: How to separate an egg
Sometimes a recipe calls for an egg white. Or just the yolk. There are special tools for making this task easy, but really, you don't need one.
Crack an egg on the counter. Gently open the egg over a bowl, allowing the yolk  to settle into one half of the shell.
Carefully slide the yolk back and forth between the eggshells a couple of times. The white will fall into the bowl, leaving behind the yolk.
Be sure to save the eggshells for your garden.
Cooking skills to learn: How to peel garlic
If you've ever battled the thin skins of garlic and the garlic won, here's a shortcut for you.
Pull a clove of garlic from the bulb and set it on a cutting board.
Hold the flat side of a broad knife on top of the garlic with one hand and give it a good whack with the other fist. The skin will pop right off.
Cooking skills to learn: How to revive wilted produce
Whoops! Forgot about the fresh carrots, lettuce, celery and now it's all limp?
Salvage them by submerging them in ice water for 15-20 minutes. Drain revived produce on a towel and you're back in business.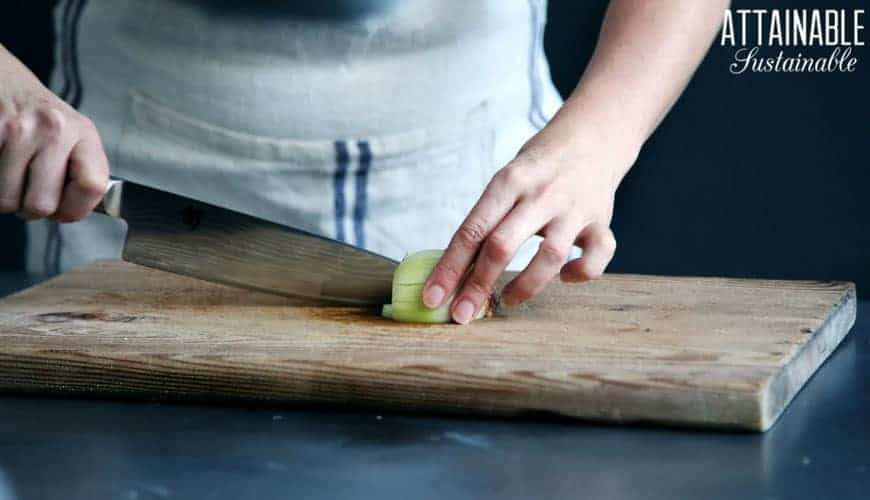 Cooking skills to learn: How to cut round fruits and vegetables.
It's hard to cut produce that has a curved bottom and wiggles all over the place.
To make it less likely that you'll cut a finger open while trying to slice curvy produce like potatoes, use a sharp knife to cut a thin slice from the length of the potato.
Set the flat edge on your cutting board, and voila! no more wiggles.
Cooking skills to learn: How to make a simple vinaigrette
Probably the easiest homemade salad dressing you can make, a vinaigrette can be as simple or complex as you'd like.
For a basic vinaigrette, you need only remember a ratio of 3:1, oil to vinegar. Say, 3 tablespoons oil to 1 tablespoon vinegar.
Add a pinch of salt and pepper and whisk with a fork. Or shake in a jar. Change it up with flavored oils or different types of vinegar.

Cooking skills to learn: How to roast veggies
Roasted vegetables have a flavor like no other. Better? They're easy to make.
Cut vegetables into similarly sized pieces, place on a sheet pan, toss with olive oil to coat, and sprinkle with salt and pepper.
Bake at 400 degrees for about 40 minutes or until tender and lightly browned.
We like roasting sweet potatoes, Brussels sprouts, cauliflower, and onion. Here's a more detailed recipe for roasting carrots.
Cooking skills to learn: How to roast a chicken
There are exactly five billion recipes for cooking chicken on the internet (I counted). And they're great! In the end, one of the easiest ways to prepare chicken is to roast it.
Heat your oven to 450 degrees.
Check the inside of your chicken (both ends) for the little bag of innards they sometimes come with. Save for making broth.
Sprinkle the whole chicken with a teaspoon each of salt and pepper.
Place chicken in a roasting pan and seal with tin foil.
Bake for 45 minutes.
Remove foil; bake for another 15 minutes to brown the bird.
Done!

Cooking skills to learn: How to make broth
Broth is the basis for making soup. By the mug, it's a healthy stand alone snack. And it's simple to make.
Remove as much meat as possible from the roasted chicken you just made.
Place the chicken carcass in a slow cooker or stock pot. Add some vegetables: Carrots, an onion, some garlic, or celery are all good options.
Fill pot with water. Cook on low heat for 24-48 hours. Need more detailed instructions? Go here.
Homemade broth is the basis for homemade soups and stews, like this DIY Cream of Mushroom Soup or Sausage Lentil Soup.
Kitchen skills for fearless cooking!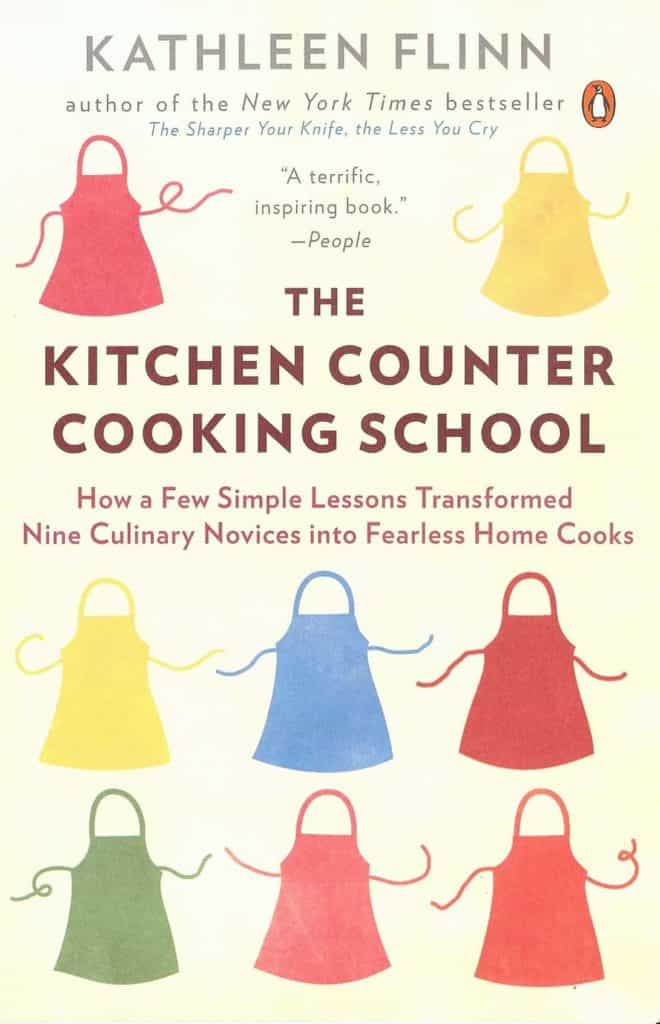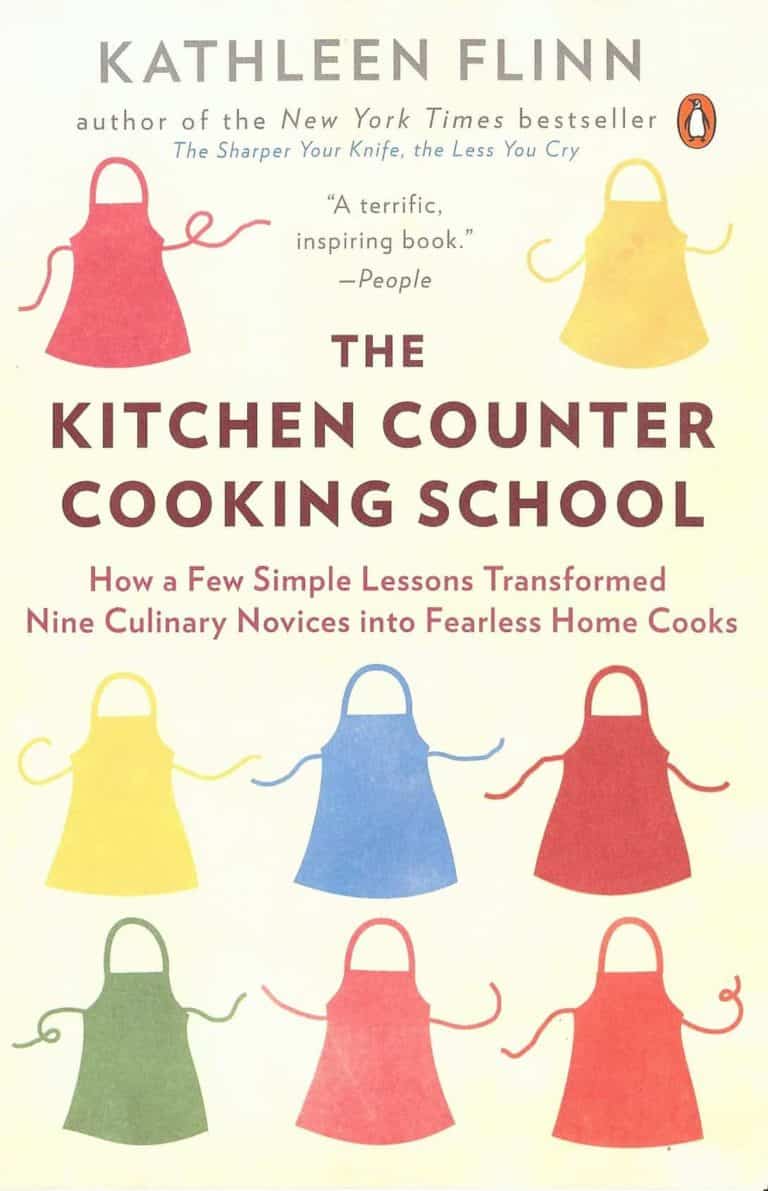 The Kitchen Counter Cooking School by Kathleen Flinn was not the book I expected it to be. And yet, when I sat down and started reading I was hooked.
Possibly because the author starts out by admitting that she stalked one woman in the grocery store. You know the one: cart full of Lunchables, boxed pasta mixes, jars of gravy, frozen waffles. I have stalked a similar woman out of sheer curiosity.
What I didn't do, though, is what the author did. Kathleen Flinn managed to strike up a conversation with this woman and ultimately discovered that she shopped the way she did because she didn't know how to cook.
Zero kitchen skills.
A graduate of Le Cordon Bleu, the author definitely knows how to cook – and cook well.
Her encounter with the lady in the supermarket inspired her to share cooking basics with others who simply couldn't find their way around a kitchen.
With her unpretentious manner, the author convinced nine volunteers to take part in what she called her "project."
Kitchen counter cooking skills
The lessons – from knife skills to cuts of meat to spices and seasonings – are chronicled in a narrative format that introduces readers to the volunteers and their shortcomings in the kitchen and follows them as they learn to master cooking basics so they could make food for themselves and their families.
Each chapter concludes with a recipe or two, and there are bonus recipes included in the back of the book.
Unlike a lot of other narrative non-fiction books I've picked up, this one held my interest from beginning to end. I even found myself taking mental notes about improvements I could make in my own kitchen.
This book would be a great gift for a new bride or for a young person heading out into the world, but it's an enjoyable read even for folks who are comfortable with a skillet and grill.