Rethink your usual Christmas gift wrapping methods to green up your holiday giving. Think about it: Gift wrap is a product that is manufactured solely to be thrown away. No matter what gifts we choose for our family and friends, eco friendly gift wrapping ideas and creative packaging creates less waste.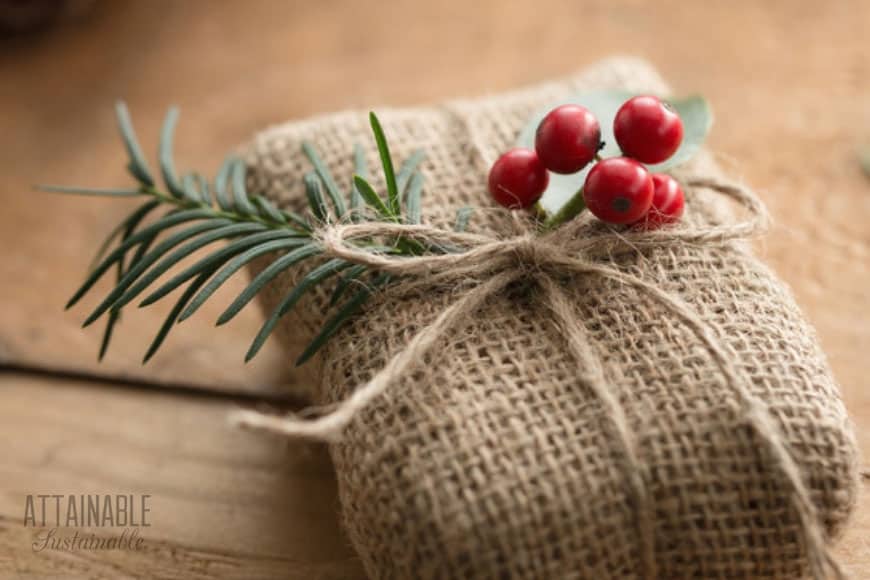 This time of year, consumerism tends to run a little rampant. For many families the holidays are often fraught with tension over how to afford a special holiday celebration complete with the requisite presents and baubles and feasts. Those of us who strive for less waste and a simpler lifestyle have the added dimension of trying to tone it down and green it up without seeming Scrooge-like.
We all still want to give gifts, but it's not a bad thing to want to make the holidays more meaningful. It can be a tough balancing act.
Christmas gift wrapping ideas: Less wasteful options that are pretty
It's been years since I've bought gift wrap. Instead, I've implemented some different Christmas gift wrapping ideas.
My family uses a variety of reusable or upcycled methods for wrapping presents. We save pretty paper, old maps, newspaper, and nice-looking boxes for wrapping. I have a collection of cloth bags that we use from year to year, and some gifts go out in upcycled containers and jars. It's not ever a magazine-perfect holiday scene at my house, but it's festive nonetheless.
And it goes without saying that these gift wrapping ideas can be adopted for any celebration that requires a prettily wrapped gift! 
Take a Peek Inside My Book!
Get a free excerpt from my book, Attainable Sustainable: The Lost Art of Self-Reliant Living! You'll also get my free weekly newsletter, complete with recipes, gardening tips, and a little peek at what's going on around here — both the zany and the mundane.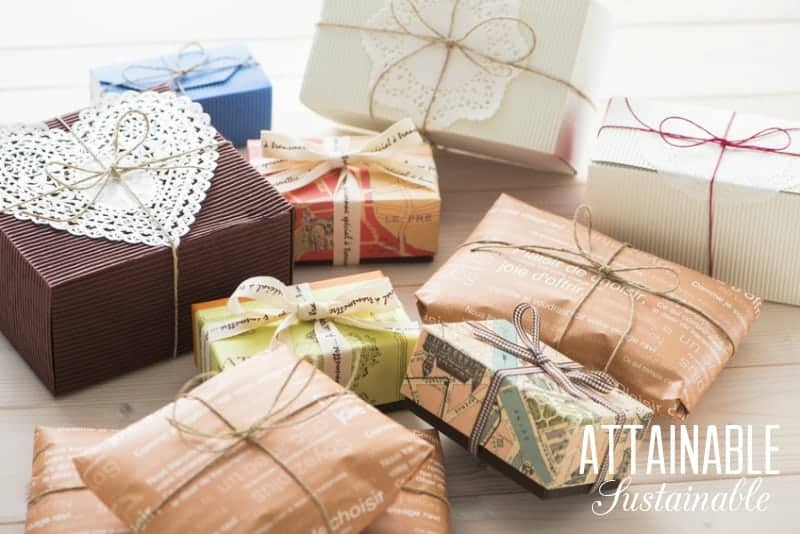 Choose more eco-friendly gift wrapping ideas
Let's face it. There's just something fun about ripping the paper off a package during the holiday festivities. If you want to stick with wrapping, there are some options that are better than others.
Upcycle your paper.
Throughout the year we all receive packages and shipments. Sometimes those packages come with really interesting options. One year I ordered school supplies and they came padded with a long piece of mylar potato chip packaging. I assume they were utilizing a waste product, which I think is great. It also meant that we had a source for shiny silver gift wrap for years.
Use the funnies.
The Sunday comics are always a good bet for gift wrapping with newspaper, but I like the classified section, too.
Make your own gift wrap.
Cut a brown paper bag flat and decorate the blank side with markers. Or try your hand at potato stamping:
To do it, cut a potato in half and carve a design on the flat side. Wet a rag and set it flat on a small plate. Use a thick rag or fold it over several times. Squeeze some acrylic paint onto the rag and spread it out.
Essentially your making a giant stamp pad. Press the potato design into the paint and then onto some test paper.
Practice until you're happy with the stamp and then start stamping your homemade gift wrap.
Skip the plastic bows
They're easy, sure, but the ribbon is plastic. Instead, use jute twine or lace to tie up packages or learn to make a bow using whatever ribbon or fabric you want.
Christmas gift wrapping ideas: reusable gift wrapping
Some gift "wraps" can be used from year to year. Those shiny store-bought gift bags are probably the most familiar example.
Other options include making drawstring gift bags (use these instructions and make some with fun fabric) or opt for gift boxes with lift-off lids that can be used year after year. If you use gift boxes, it's a good idea to look for nesting boxes for ease of storage.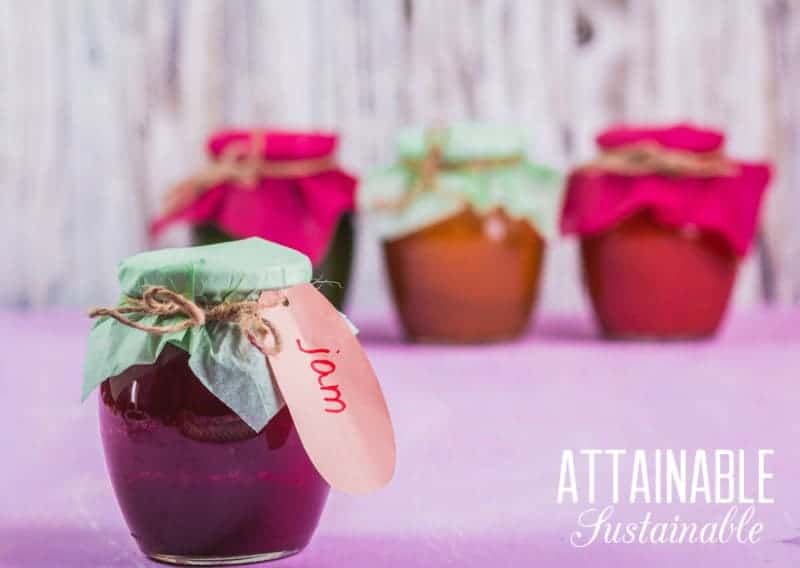 Related: Giving Experiences Instead of Gifts
Functional gift wrapping ideas
Baskets.
Choose natural baskets woven from willow, wicker, or reeds that can be put into service after the holidays are over. Or for something different, use one of these pretty rope baskets.
Pillow cases.
When my kids were little, I made them a special pillowcase each year for Christmas. It's a simple sewing project that only takes half an hour or so to make.
To make one, start by choosing a fun fabric. (If you don't have a well-stocked fabric store nearby, check out Spoonflower.) For a standard pillow, cut a piece of fabric 40″ x 28″. Fold the fabric in half to bring the two 28″ sides together, right sides facing each other. Using a straight stitch, sew one short side and the long side. Iron a half-inch hem around the opening, folding the raw edge under twice.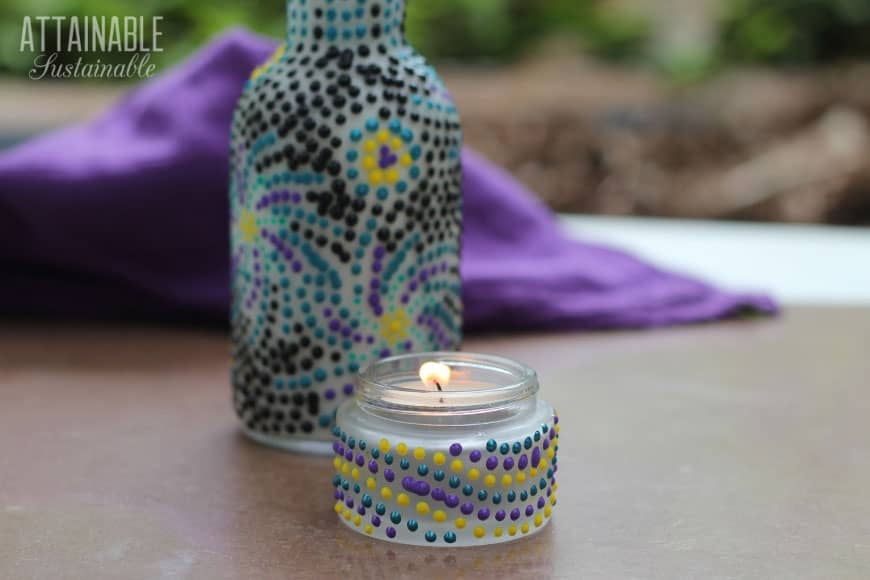 Related: Eco Friendly Gift Ideas for the Holidays
Glass jars.
I am of the opinion that a household can't have enough glass storage jars. They are immensely useful and pretty to tuck under a tree. You can upcycle glass jars to create these colorful containers that can be reused for storage or as DIY candle holders.
The easiest way to turn a jar into a pretty package? Cut a piece of fabric – square or circle – 2″-3″ larger than the jar lid and tie it in place with jute twine or a ribbon.
Scarves.
Instead of paper, choose a beautiful scarf for wrapping your gifts. Alternatively, pick up a yard of fabric and use that to wrap presents for the crafters you love.
Petition Santa Claus to go green
Santa Claus has always delivered packages to our house without wrapping paper. I was surprised to find out that he brings wrapped presents to other households.
Hey Santa. Ain't nobody got time for that. Take a hint from me: You'll deliver packages even more quickly and with less waste when you opt not to wrap! Take note of these Christmas gift wrapping ideas to cut back a bit.
Unplug the Christmas machine
If you haven't read it, check out Unplug the Christmas Machine: Putting Love and Joy Back into the Season. It's worth a read. But what if you're looking for ideas on making the upcoming holidays greener and you don't have the book on hand? Check out some of the advice below from my readers and some of my blogging friends.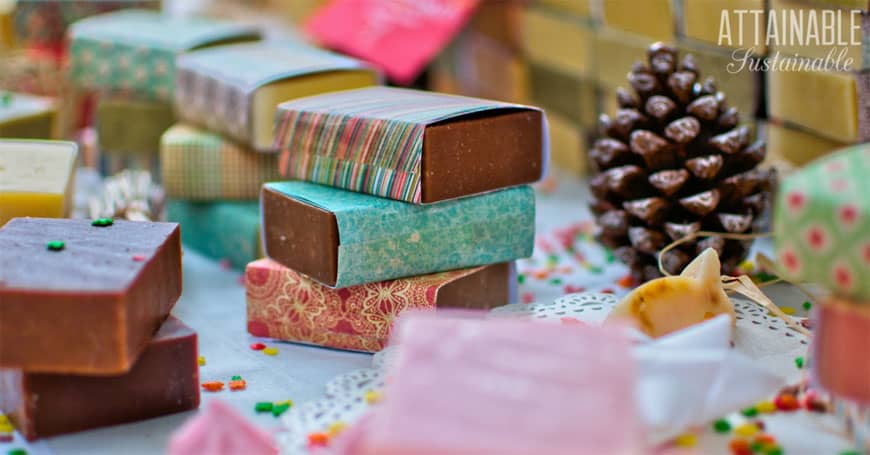 Related: Gift for Kids that Won't Break the Bank or Undermine Your Values
Eco friendly gift wrapping ideas and "less is more" gifts
My husband comes from a family that valued high-dollar gifts above all. He still isn't entirely thrilled with homemade or second-hand presents, but he's trying. My boys on the other hand? They think it's great fun to try to find just the right gently-used gift.
Take a look at how some of my blogging friends embrace greener gift giving:
Chris from Joybilee Farm:
We use cloth bags or reusable gift boxes for wrapping. Last year we wrapped my son's and his wife's gifts in Costco freezer bags. They are cheap and reusable, and he'll have them to take to the store with him throughout the year.
Connie from Urban Overalls:
We make practical gifts for friends and family: bar soap, lip balm, beeswax candles, knit items, and honey from our bees.

As far as packaging… we reuse gift bags and have several that have passed back and forth for nearly 8 years. We also have boxes that are wrapped in fabric (with lids that lift off) and those have been used for the past decade. We also give experiences such as: concerts, workshops, classes, etc…

With close friends, we gift food… one friend just wants homemade croutons, while others like canned sauces/jams. With our canning friends…. the jars are returned, often refilled with goodies from our kitchen.

Related: Upcycled Gifts for Greener Giving
Related: Christmas Party Games: Our Family's Favorite
Tessa from Homestead Lady:
The kids make homemade presents, and we limit gifts by doing a family name drawing. Instead of everyone getting a gift from everyone else, gifts are given only to the person whose name you draw.

My family uses gift bags or materials we have on hand to wrap gifts. We also ask grandparents for items that specifically don't have plastic or other large packaging on them. We celebrate Advent, St. Nicholas Day, St. Lucia's Day; an Advent fairy leaves small, useful gifts each day of December.
Kathie from Homespun Seasonal Living:
We actively ask folks to not exchange gifts. As much as I like to do care packages, I try to save that for other times of the year. People are generally relieved when we say, "Let's not exchange gifts this year."
Teri from Homestead Honey:
We often give experiences for gifts, rather than things. We will make up hand drawn gift certificates for gifts such as "one homemade meal" "one hike in the woods" "a trip to see a musical," etc.
Janet at Timber Creek Farm:
Most of our family, young and old don't want or need much so we have cut back big time. No one wants to spend money just for the sake of buying something. We draw names and try to make that gift special and thoughtful. For our kids I would prefer to give them a gift of a fun experience rather than a thing they don't need. I prefer to give consumable gifts, food, picnic baskets of goodies, a quilt or afghan for the family room. One of my favorite gifts for a neighbor with children is an outdoor s'more's party. If I have to buy something at the mall, I would rather not buy anything.
Angi from Schneiderpeeps:
I go to the newspaper office and purchase end rolls for $3 each. These are about 4 feet long and about 12″-18″ in diameter and there is a LOT of paper on them. We wrap some of our gifts in this paper and my kids decorate the paper. We're all about eco friendly gift packaging!
Isis at Family Food Garden:
We've been giving handmade gifts for family members the past few years (even if they don't appreciate it!) and over the years they love it. This year they're even doing secret santa with re-purposed or handmade only gifts (which for hubby's conventional family is saying something!).

Our tradition has been handmade gifts to the kids and each other for Winter Solstice then some store bought items for Christmas. We try to support local businesses, the only plastic toys we buy are Lego, but man oh man do the grandparents buy them electronic plastic crap no matter how many times we ask them not to!
Tell us about your Christmas gift wrapping ideas for generating less waste — what works for your family??