Tomato and onion salad is a remarkably simple recipe that looks absolutely stunning on a serving platter. To make delicious use of your garden tomato abundance, whip up this fancy-looking salad to serve as a side, appetizer, or anything in between.
Be sure to set aside a few unripe tomatoes to make this easy fried green tomato recipe!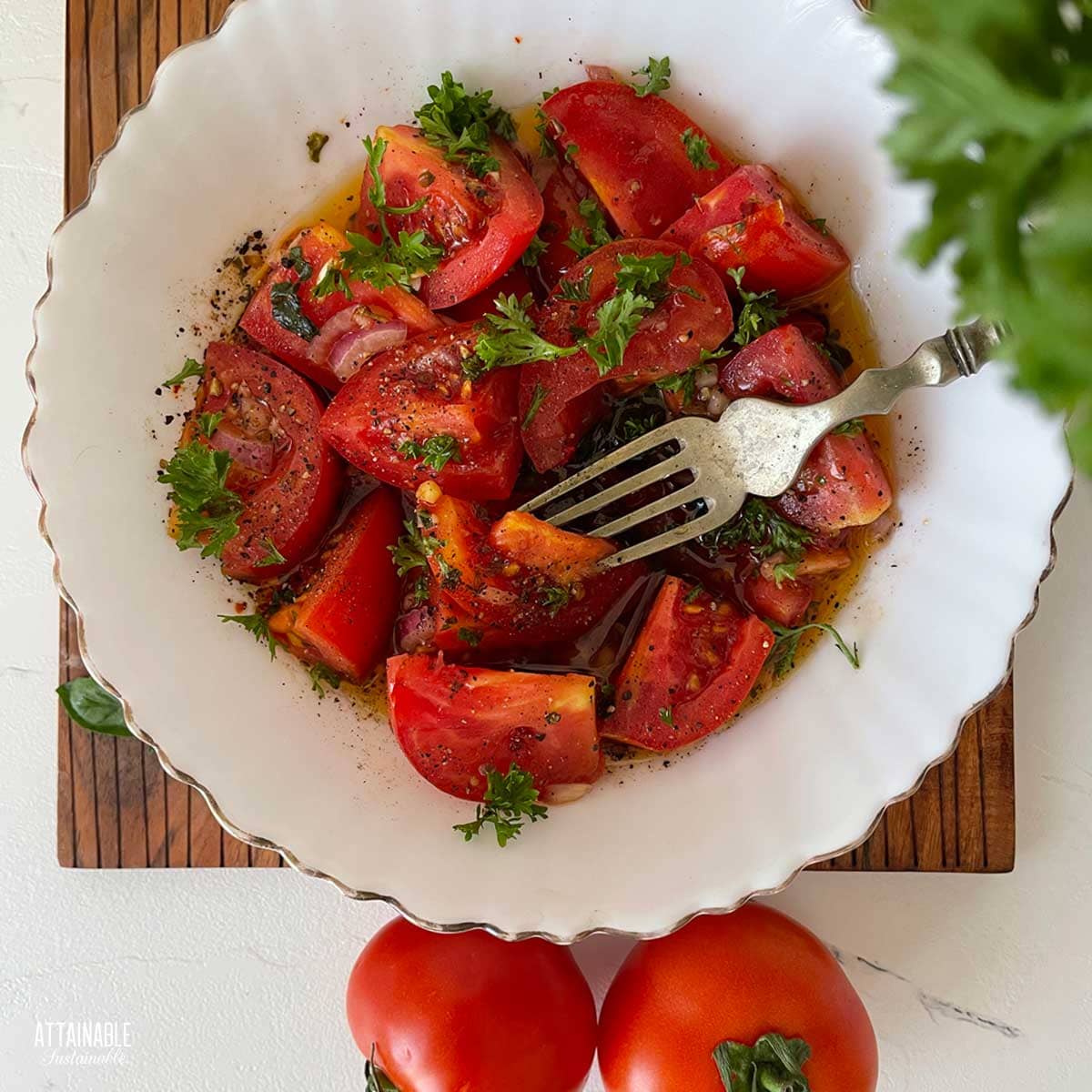 This fresh and easy tomato and onion salad is marinated with a quick homemade dressing with fresh herbs giving it a delicious summer flavor. I like to serve this at any cookout or barbeque, alongside burgers or chicken.
If you need a fresh appetizer to share, this salad fits the bill for that too! Use up your tomatoes that all seem to be ripe at once. Beefsteak, Roma, or any combination of varieties all make for a tasty salad.
The Handcrafted Pantry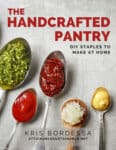 Ready to DIY your pantry with healthier ingredients? Check out my ebook, The Handcrafted Pantry! Filled with delicious recipes for some of your favorite condiments, snacks, and toppings, it's the guide you need to start skipping packaged products and embrace homemade.
Tomato Onion Salad Recipe
This recipe is so simple and quick to whip up, you'll be making it in your regular rotation as long as your tomatoes are producing!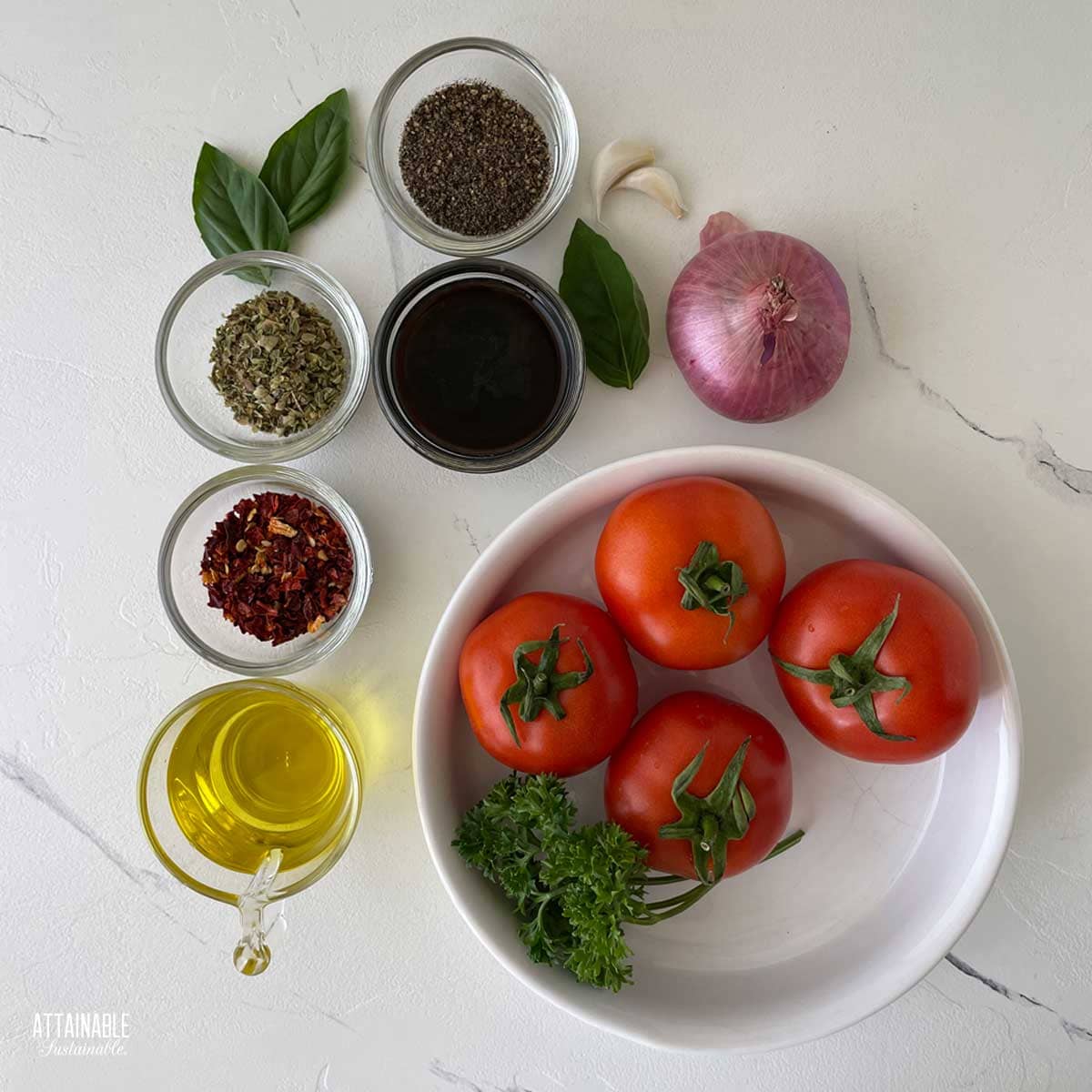 5 Easy Steps to Transform Your Pantry!
Ready to switch from store bought to homemade? Let me help you make some changes! Grab my FREE five-part guide to getting started.
Ingredients
Tomatoes — You can use any variety of tomatoes for this salad, but juicy slicing tomatoes with lots of flavor will make this recipe shine.
Olive oil — Use a good quality extra virgin olive oil. The recipe doesn't call for much, but the flavor of the oil will shine through.
Balsamic vinegar — Traditional balsamic vinegar hails from the town of Modena in Italy. The process of making it is complex but nets a mild and sweet flavor.
Garlic — Finely chopped garlic adds that spicy zing we all love so much.
Oregano — This flavorful herb is enjoyed fresh or dried because of its pungent and powerful peppery flavor. I recommend dried oregano in this recipe, but if you prefer fresh just increase the amount to taste.
Parsley — Fresh parsley is more than decorative, it adds a delicious flavor pairing to the tomatoes in this recipe.
Basil — Here's where you're going to want to use your garden fresh basil. Chop it into small pieces.
Onion — You can use any kind of bulb onion you have on hand — white, yellow, or red onion.
Chili flakes — Without making it crazy hot, chili flakes add just enough heat to make our mouths happy in this tomato and onion salad.
Making the Salad
First, either slice the tomatoes or cut them into bite-sized wedges, depending on the type of tomato you're using.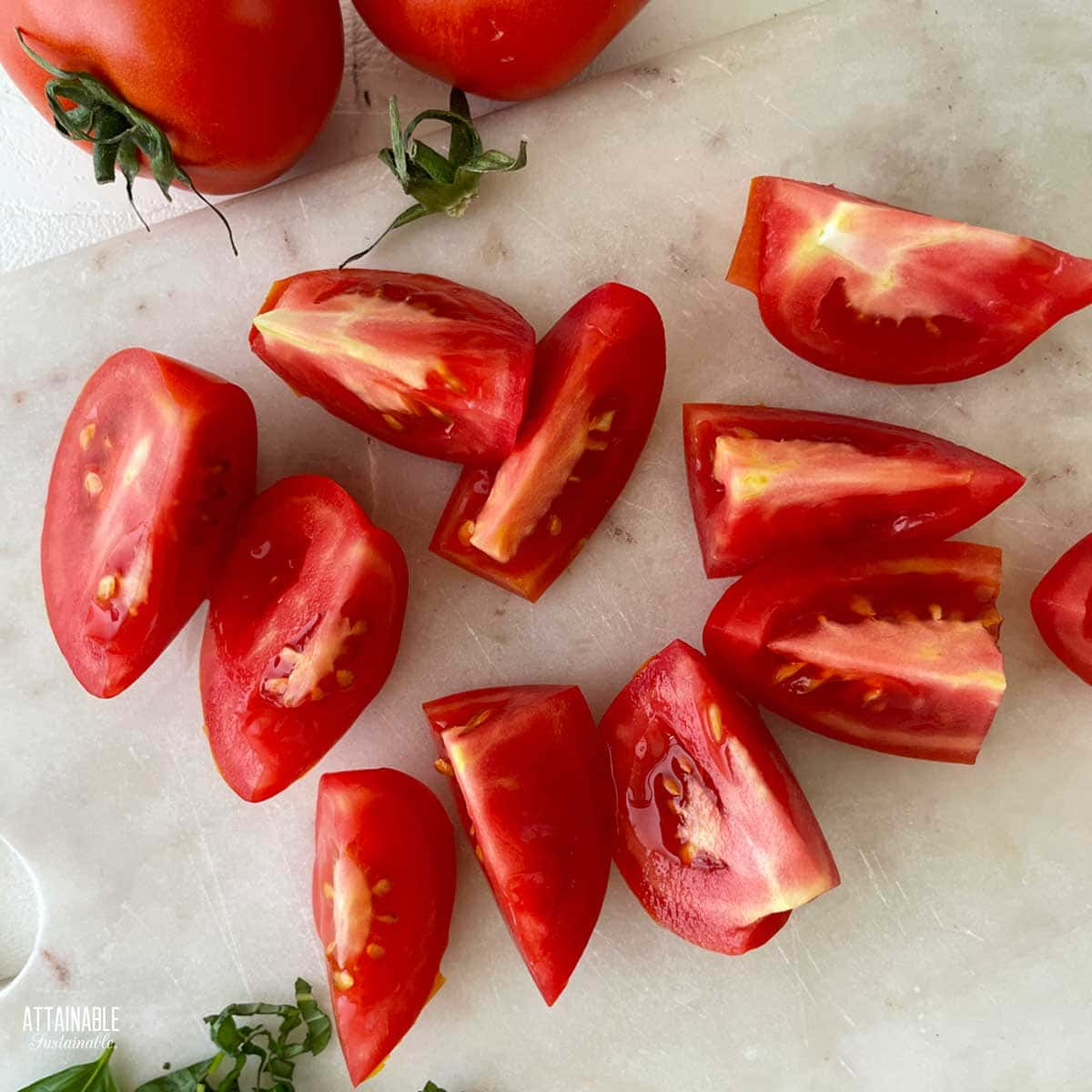 Arrange the tomatoes on a serving platter and sprinkle the chopped onions on top.
Next, make the marinade. Whisk together the olive oil, balsamic vinegar, oregano, chili flakes, chopped basil, parsley, garlic, and salt.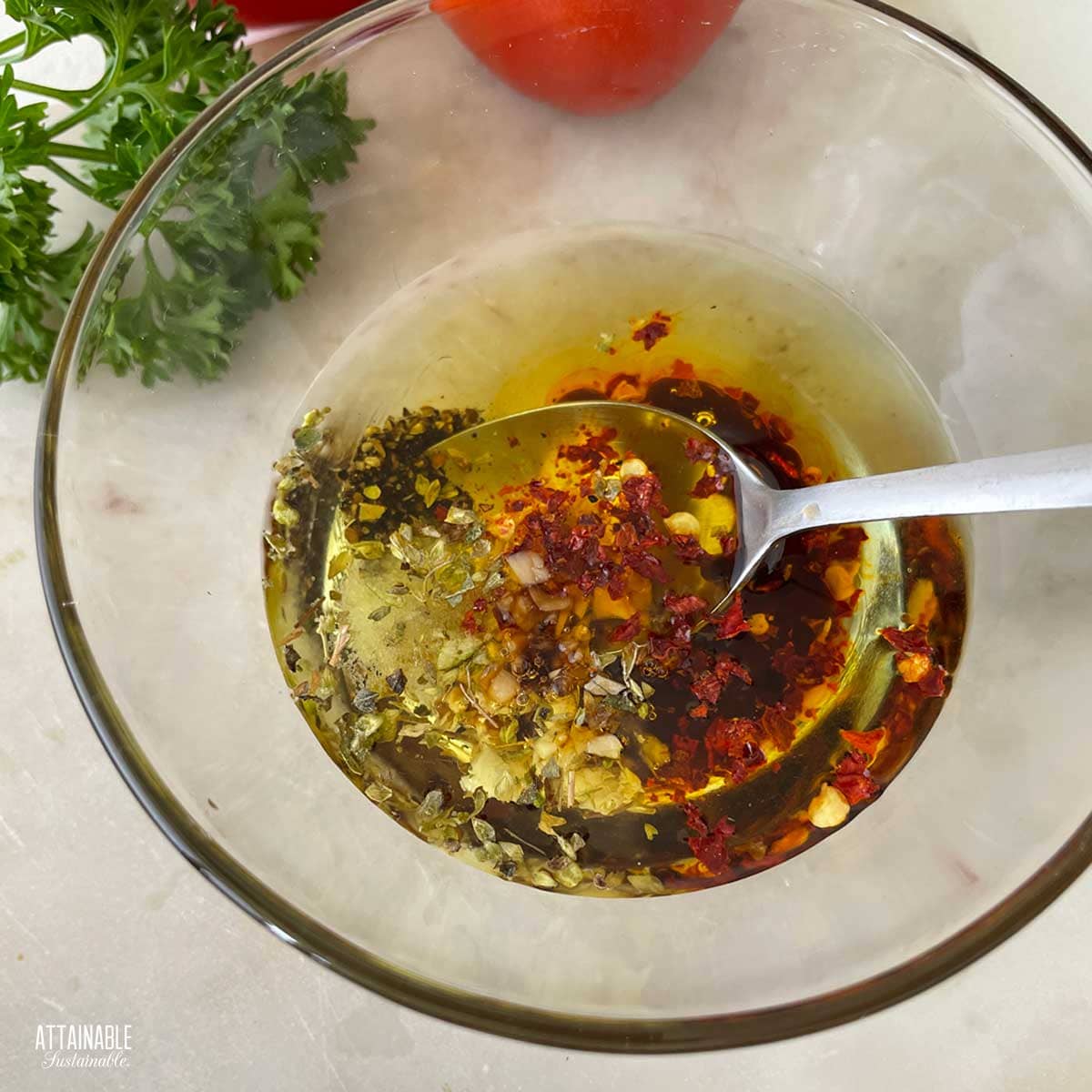 Pour the marinade over the tomatoes and onions evenly and let it sit for at least an hour for the tomatoes to absorb it. If you want to marinate the vegetables overnight, keep them in the refrigerator.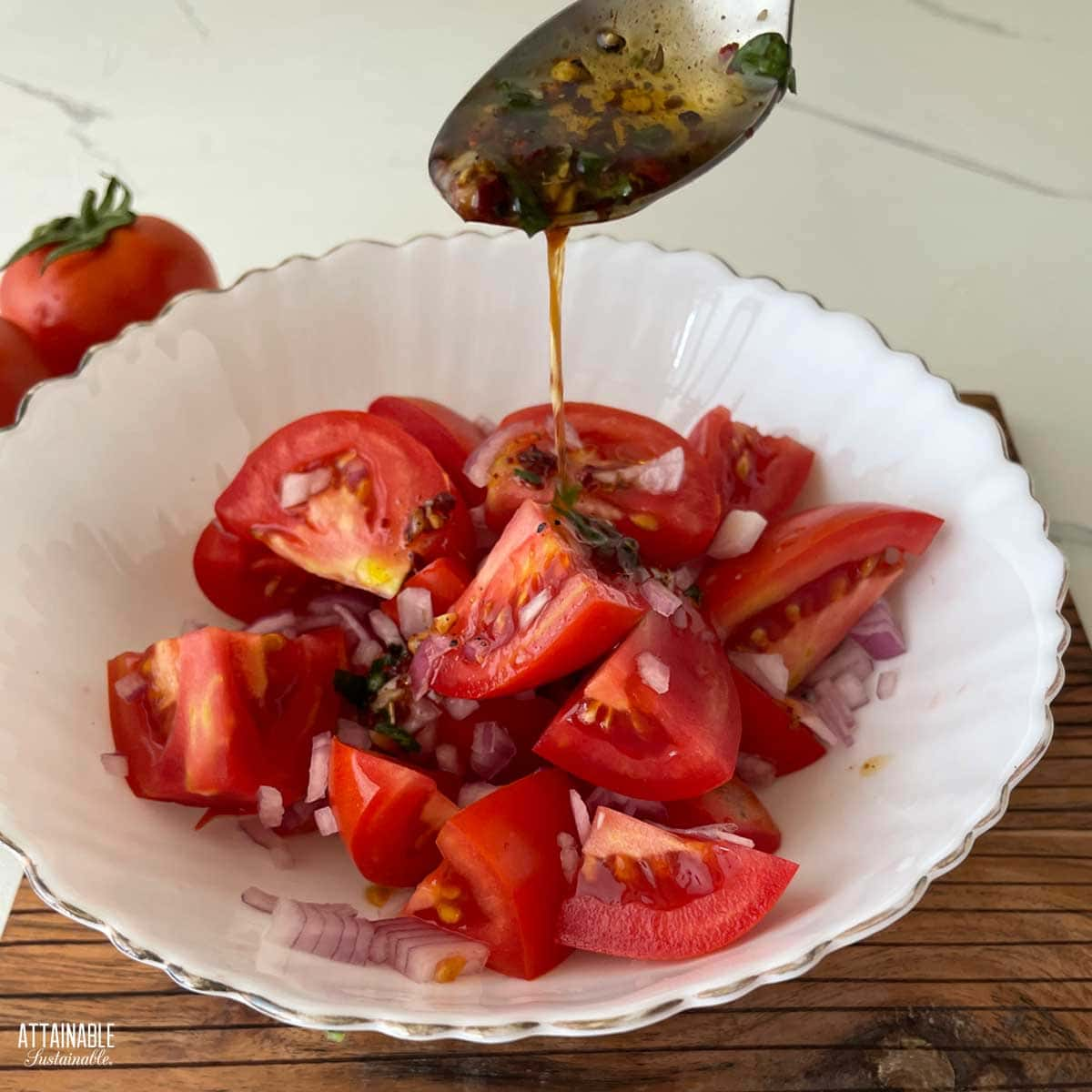 Once it is ready, top it with freshly ground salt and pepper, and enjoy the fresh summer flavor!
Measurements for Easy Salad Making
The measurements of the vegetables and fresh herbs in this recipe don't need to be exact. You can always add more or less based on what you have available, love, or don't like so much. It's up to you!
This fresh salad is so simple and easy to make your own. Trust me on the balsamic though, and don't go without it!
How to Store Tomato and Onion Salad
Store leftover tomato salad in an airtight container in the refrigerator. Depending on how ripe the tomatoes are, they will last 2-3 days.
Really ripe tomatoes can get soggy fairly quickly. If you use tomatoes just before their super juicy turning point, try to eat them up on the first day.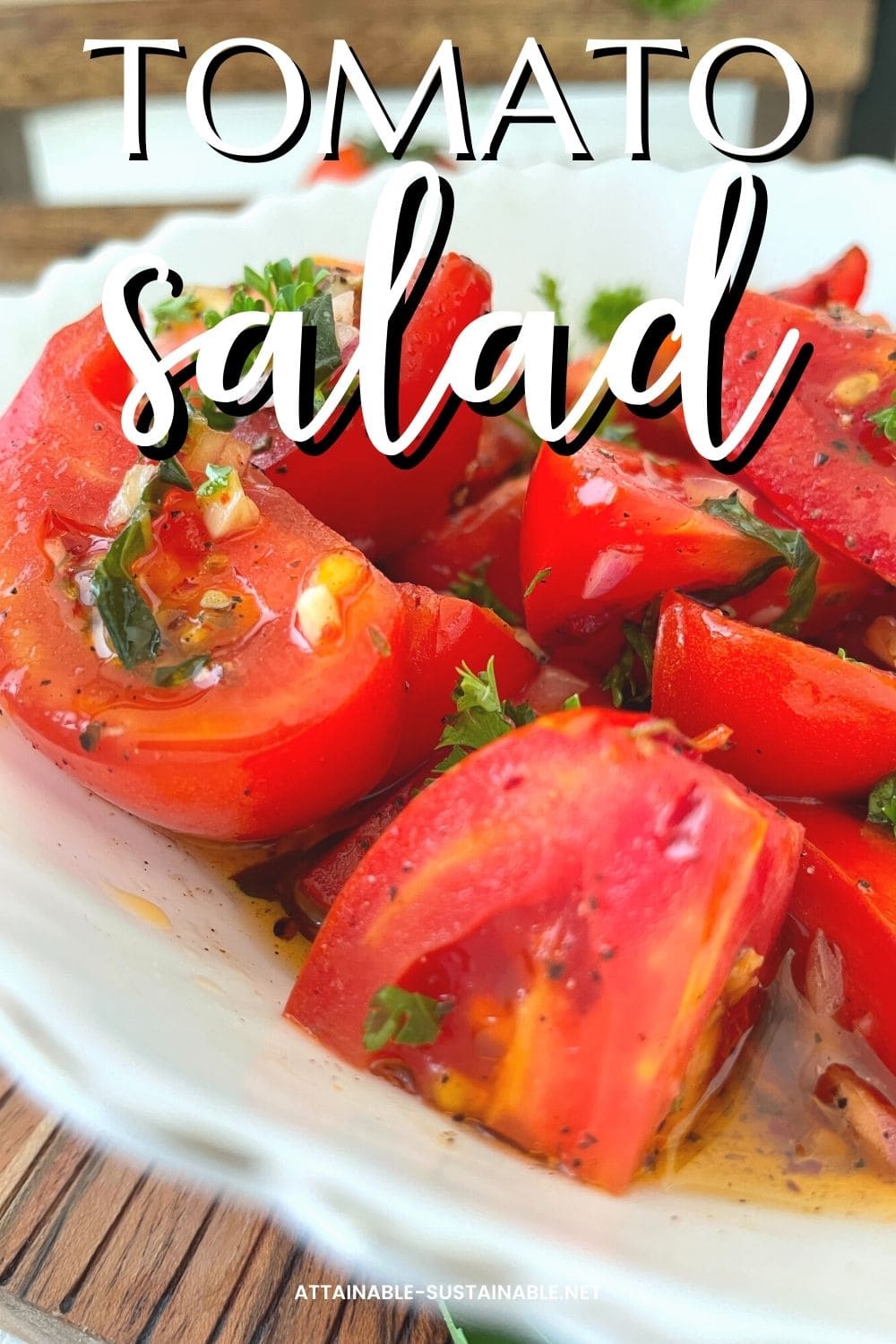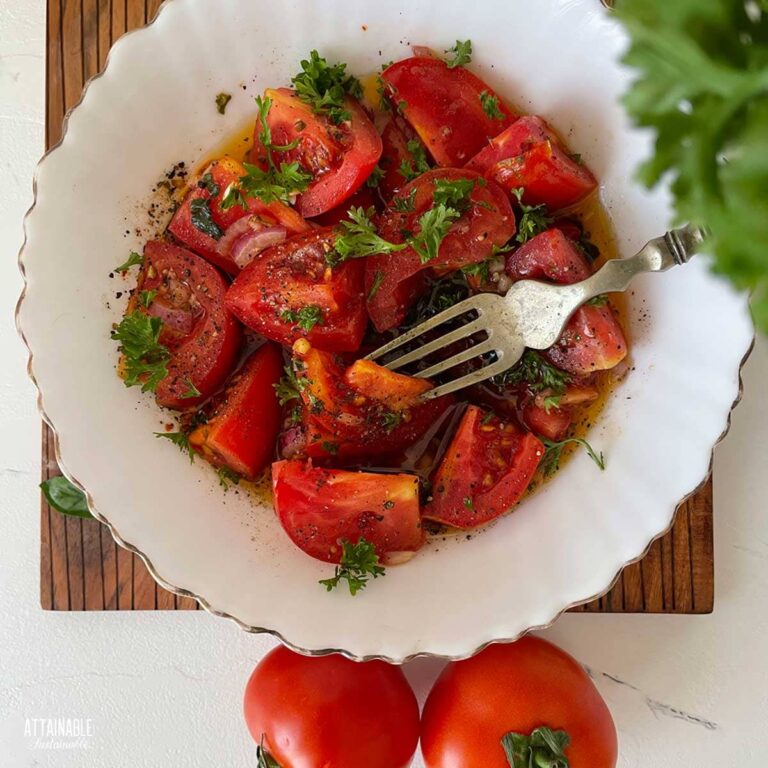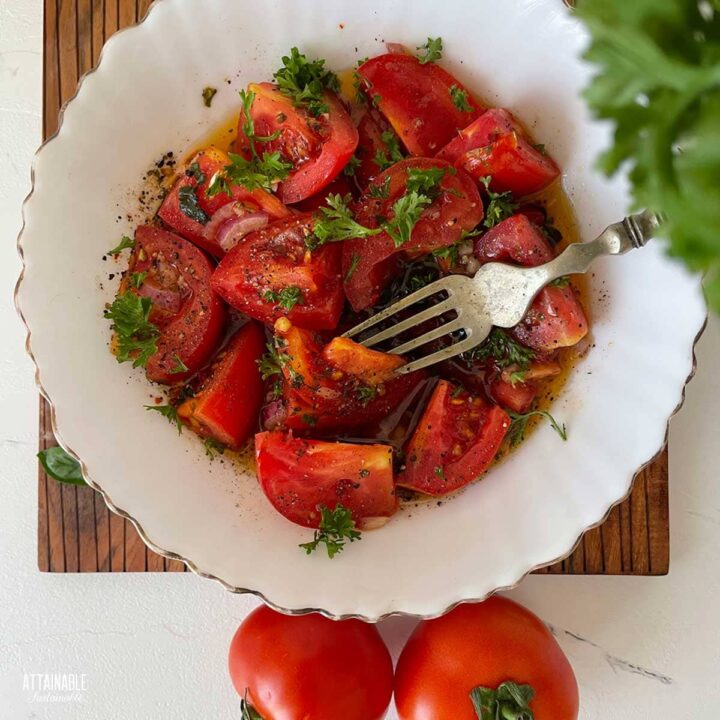 Tomato and Onion Salad
Tomato and onion salad is a remarkably simple recipe that looks stunning on a serving platter and makes use of your ripe garden tomatoes. 
Ingredients
3 large tomatoes
3 tablespoon extra virgin olive oil
1 tablespoon balsamic vinegar
3 cloves garlic finely chopped
1 teaspoon dried oregano
A handful of finely chopped parsley
4 large leaves fresh basil - finely chopped
2 tablespoons onion chopped
½ tsp chili flakes
Salt and black pepper to taste
Instructions
Cut tomatoes into bite-sized pieces or slices that are ¼ inches thick. Arrange the tomatoes on a serving platter and add the chopped onions.
Whisk together the olive oil, vinegar, oregano, chili flakes, chopped basil, parsley, garlic, and salt, and make the dressing.
Pour the marinade evenly over the tomatoes. Let it sit for at least an hour so that the tomatoes can absorb the marinade.
Garnish with fresh ground pepper when ready to serve.
Notes
If you don't have balsamic vinegar on hand red wine vinegar or seasoned rice vinegar will work, though the dressing won't be quite the same.
To make this a main dish salad for two, add some fresh mozzarella balls to the salad!