Some jam and jelly flavors are readily available everywhere you shop. Others? They're kind of like an underground movement; if you know someone who knows someone, you're stoked. This easy plum jam recipe falls into the latter category and people will be glad to know you!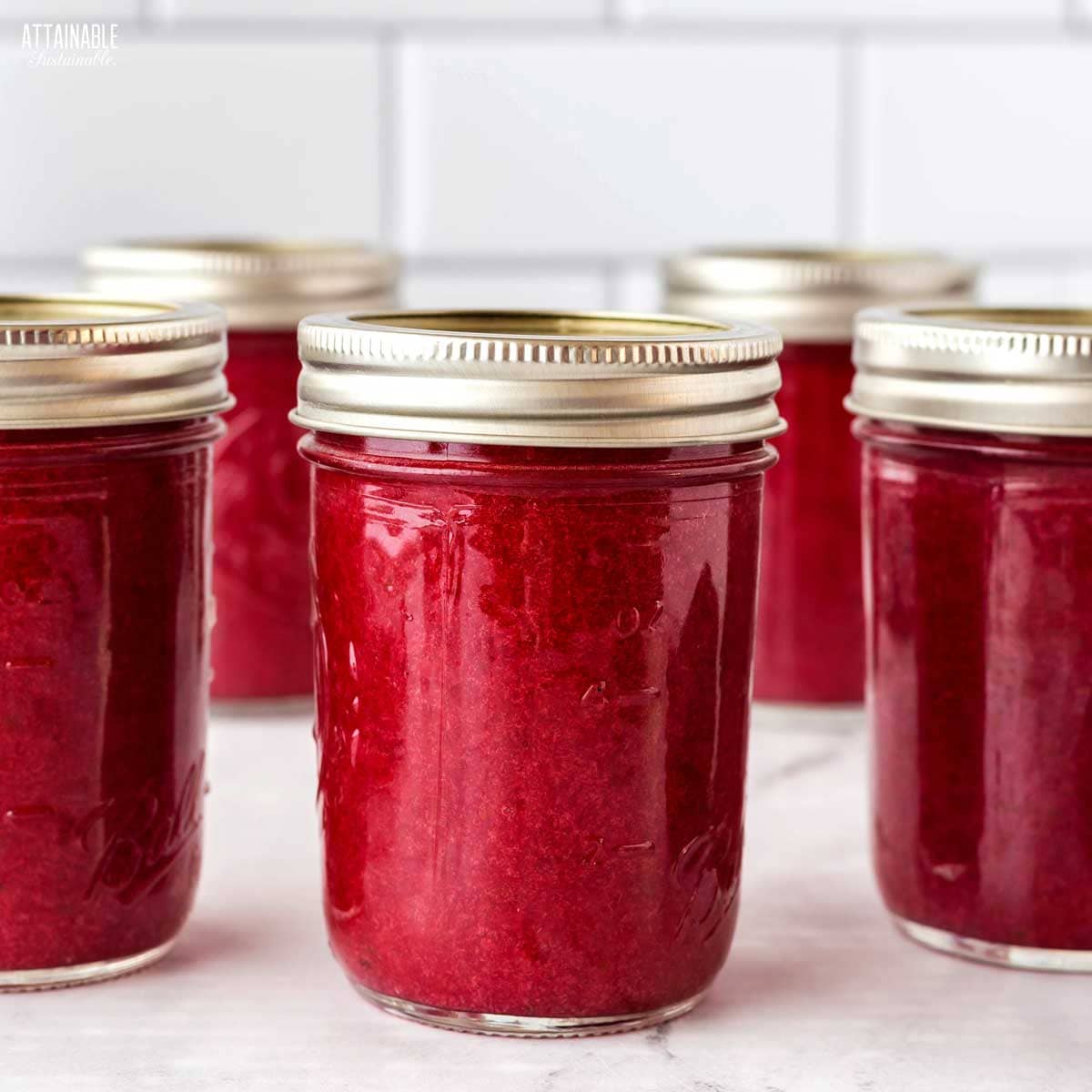 Is there a plum tree in your backyard? Then you are probably trying to figure out how to make use of that delicious crop! This plum jam requires just a handful of ingredients and results in a delicious fruit spread.
Old-Fashioned Plum Jam
The flavor of this homemade jam is unrivaled by others. You might be able to find a similarly delicious fruit spread at a farmers market, made by the grower, but why not try your hand at making some right in your own kitchen? This recipe requires substantially less sugar than most jam recipes, meaning you can feel good about serving it to your family for breakfast!
Ingredients
Fresh plums — Choose sweet ripe plums when they are in season, which is roughly May – November. Some common plum varieties are Santa Rosa, Satsuma, or a yellow variety called Shiro plums.
Sugar — Use your favorite brand of granulated cane sugar. I prefer organic.
Lemon juice: USDA preserving recipes all call for using bottled lemon juice. This assures that the acidity level in recipes is safe for canning.
Pectin – This recipe is made using Pomona's Universal Pectin. This is the only pectin I use anymore as it allows me to use much less sweetener, creating a lower sugar jam. The standard pectin brands use an obscene amount of sugar in my opinion, often requiring equal amounts of sugar and fruit!
Preparing the Plums
There are a number of ways to "mash" the plums. The easiest by far is to remove the plum pit and pulse the plum halves in a food processor.
You can also cook the plum halves until softened, then mash with a potato masher. Alternatively, run the cooked plum halves through a food mill. This will help eliminate bigger chunks of skin and pulp.
Cooking the Jam
Start by measuring out the plum pulp. Heat the pulp in a large saucepan along with the lemon juice and calcium water.
5 Easy Steps to Transform Your Pantry!
Ready to switch from store bought to homemade? Let me help you make some changes! Grab my FREE five-part guide to getting started.
Combine the pectin with the sugar, making sure it's thoroughly combined.
When the plum mixture is boiling, add the sweetener to the mix, stirring for a minute or two to assure that the pectin is well distributed. Using an immersion blender for this can help to further break down the plums and mix the pectin in well, but it's not entirely necessary. A whisk works, too!
Making Freezer Jam
At this point, you've made homemade plum jam! You can use it immediately, refrigerate it for up to a month, or freeze it for up to six months. Freezer jam is an easy way to have homemade jam on hand without going through the process of canning it.
Cool jam slightly, then fill straight-sided jars or freezer containers to within 2″ of the top. Screw on lids and cool to room temperature before freezing. (More on safely freezing in glass jars here.)
Thaw jam in the refrigerator and use as you'd like to spread on toast, add to ice cream, or use in baked goods.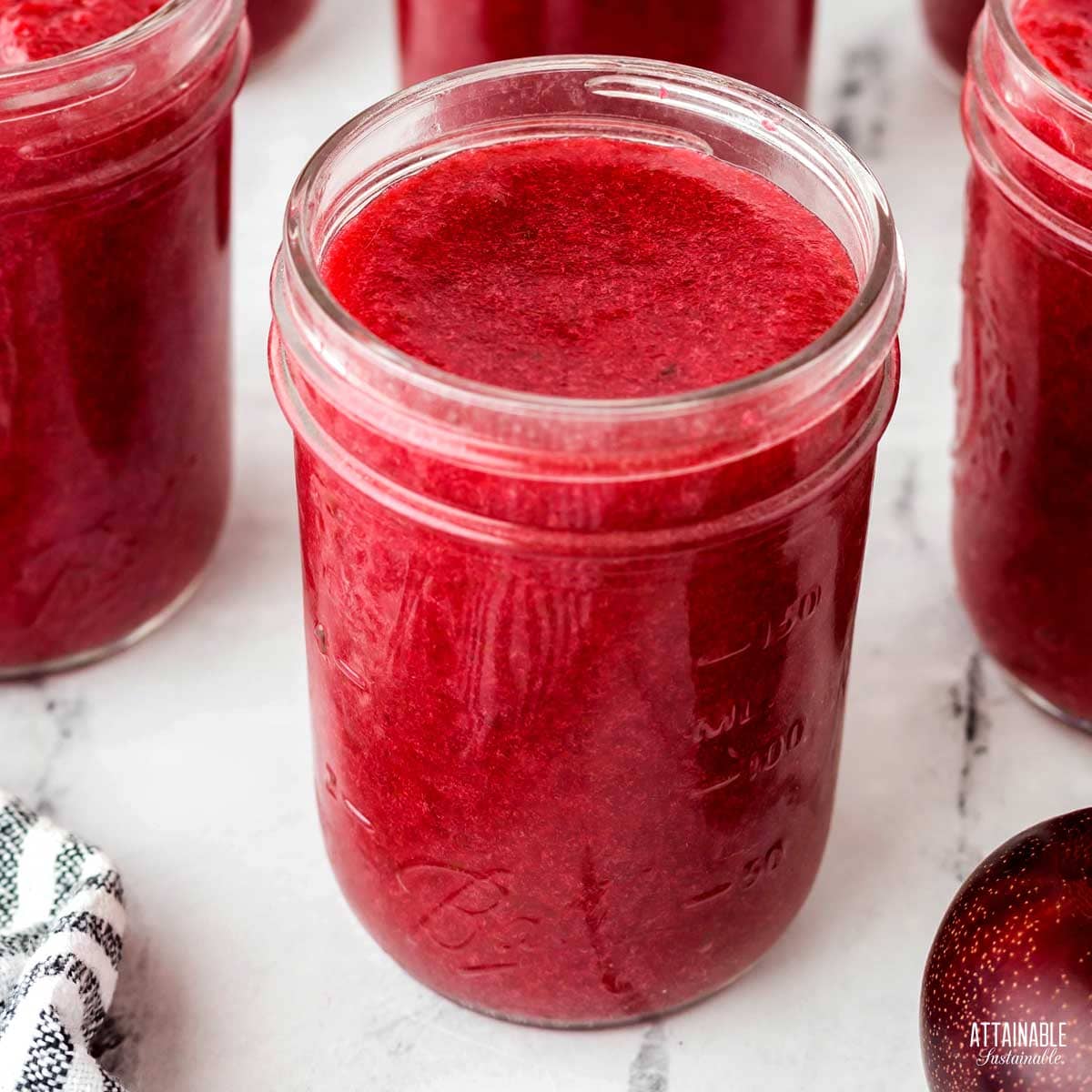 Canning Jam
This recipe measured at a pH of about 4.0, putting it well into the "safe" zone for water bath canning.
You'll need special canning jars, lids, and rings (if this is your first time canning, read more about canning equipment here) to make this easy plum jam shelf-stable, but the process isn't difficult.
Once the jars are filled, you'll process them in a water bath. What this means is you'll put the filled and sealed jars of jam into boiling water and heat them for ten minutes. This assures that the jars will seal well. Jars should be covered by two inches of water.
Hot tip: Boil some extra water in a saucepan or electric kettle as you're working. If you need to top off the water in the canner, you won't cool down the water too much.
Remove the jars to a towel-covered countertop and allow to cool fully. As they cool, you'll hear the little "tink" sound of the jars sealing. Store any unsealed jars in the fridge and use those first. (This is unusual, but it does happen once in awhile.)
🍅 Safety First!
Canning is an excellent way to preserve food for the pantry, but there are some important safety considerations to keep in mind. The recipes on this site have been made following safe canning procedures by a certified Master Food Preserver.
Know the difference between water bath canning and pressure canning. Low acid items must be pressure canned for safety.
Altering ingredients may change the recipe's pH, posing a safety issue. I highly recommend investing in pH paper to test your products for acidity level when canning. Note: For safe water bath canning, the Hawaii Master Food Preservers suggest a pH of 4.2 or lower in the tropics. In other regions, the recommended pH is 4.6 or lower.
Use the proper jars and lids. Never reuse lids, with the exception of the Tattler or Harvest Right hard plastic lids that are intended for such a purpose.
For more on canning equipment, please go here.
Storing Plum Jam
Remove the ring from each sealed jar, rinse to remove any jam residue, and store at room temperature (without the ring) in the pantry.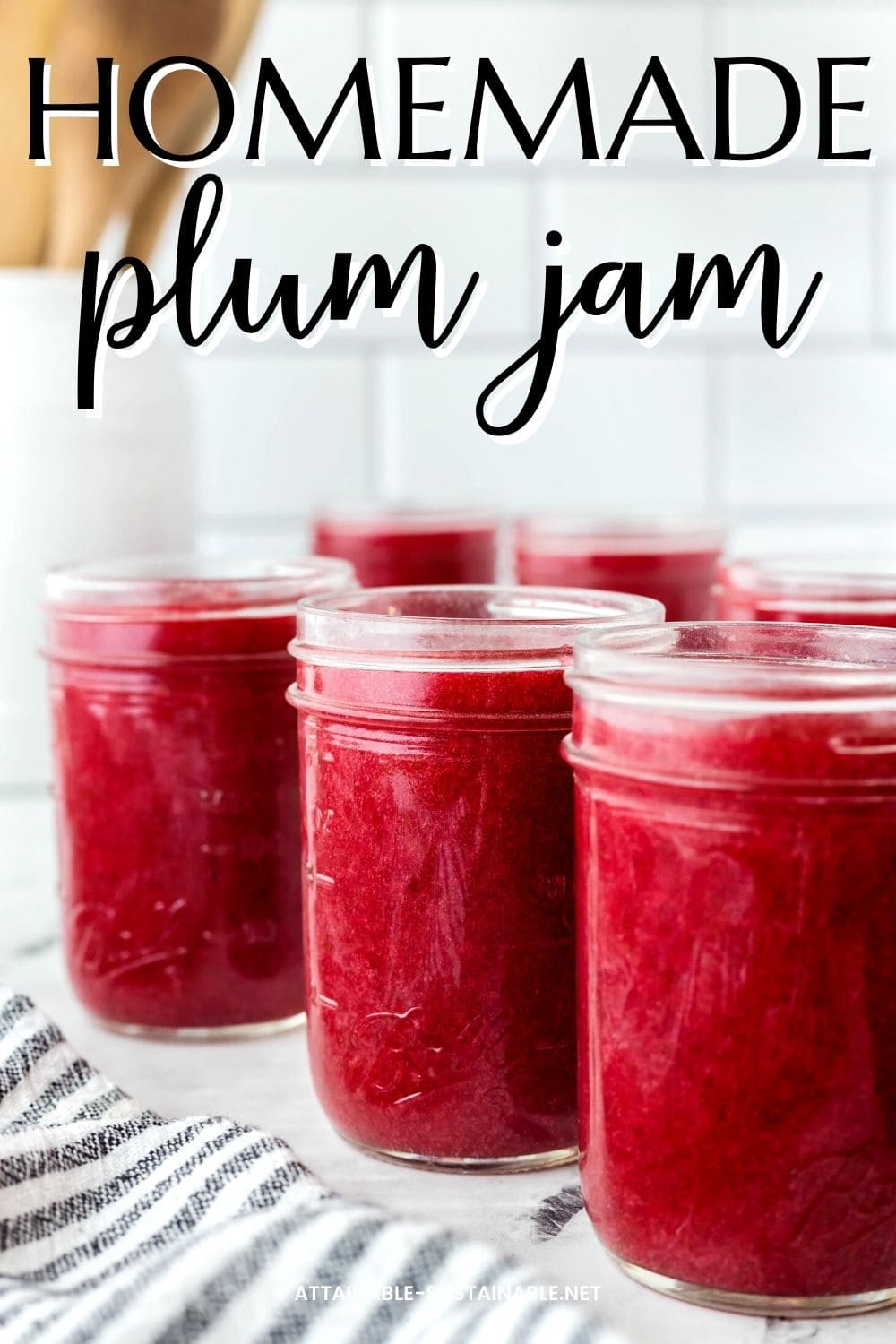 ★ Did you love this recipe? Be sure to give it a star rating below! ★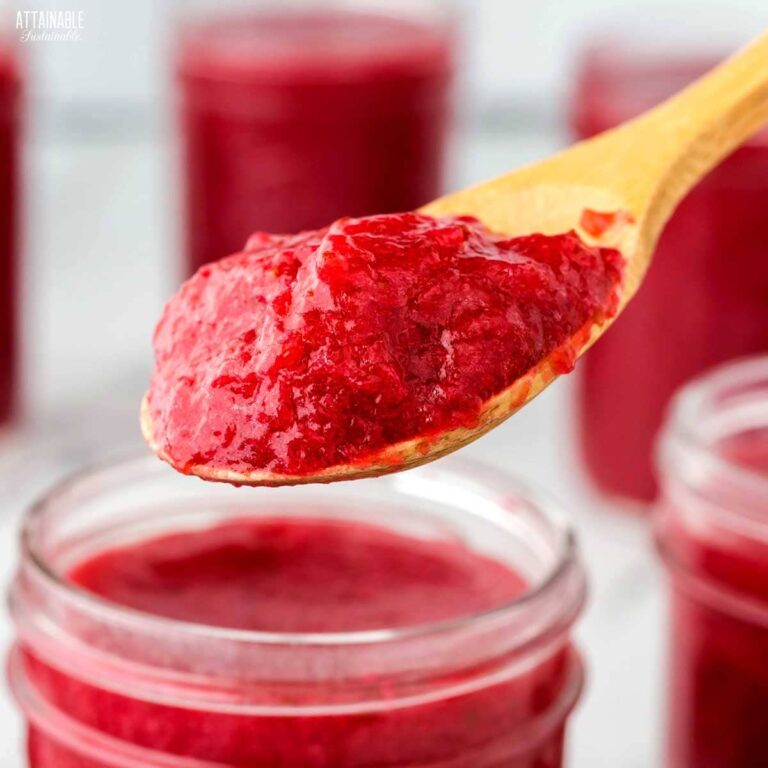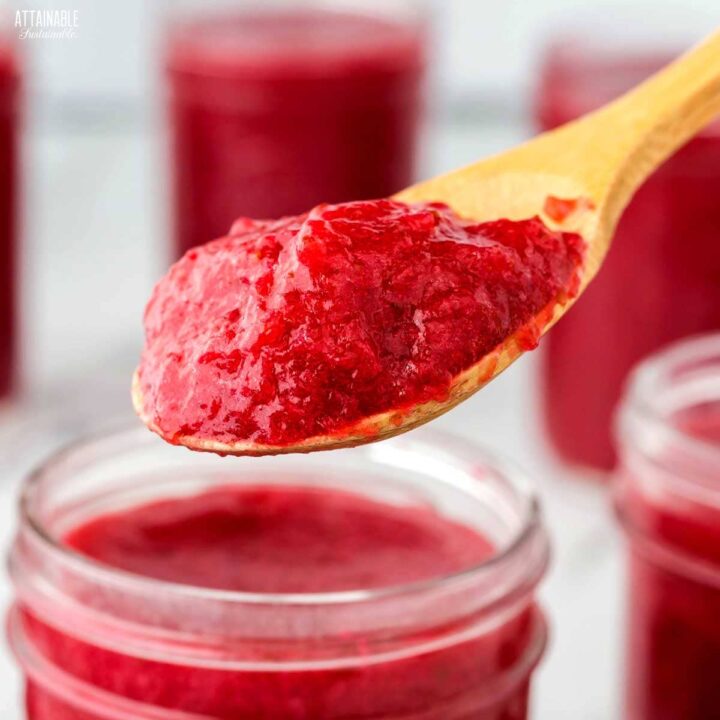 Easy Plum Jam
Processing Time:
10 minutes
The old-fashioned flavor of plum jam is one that is hard to find in stores. Making your own is EASY and a great way to preserve the harvest!
Ingredients
8 cups mashed plums (about 5 pounds)
8 teaspoons calcium water (from the Pomona's Pectin package)
1/2 cup lemon juice (bottled)
2 cups sugar
6 teaspoons pectin (from the Pomona's Pectin package)
Instructions
Prep ahead:
Prepare calcium water from Pomona pectin. Put 1/2 tsp calcium powder (the small package) and 1/2 cup water in a small jar with a lid. Shake well before using.
Fill a canning pot with water, set the lid in place, and heat on high heat until just boiling while you're cooking the jam.
Make the jam:
Measure mashed plums into a large pot along with 8 teaspoons of the prepared calcium water.
In a separate bowl, combine the sugar with 6 teaspoons pectin powder (the large envelope) until thoroughly combined.
Bring plums to a full boil. Add sweetener, stirring vigorously for a couple of minutes to dissolve the pectin. Once returned to a full boil, remove from heat.
Canning plum jam:
Ladle hot plum jam into half-pint jars to within a quarter inch of the rim. A canning funnel makes this easy.
Wipe jar rims to remove any jam that may have spilled. A clean rim is essential to a good seal.
Set jar lids in place. Screw bands on finger tight.
Use a jar lifter to gently submerge jars into hot water in canning pot. Water should cover the top of the jars by an inch. The water will cool somewhat in reaction to the addition of the jars. Return the water to a low boil and then set the timer.
Process in a boiling water bath for 10 minutes. Add a minute to the boiling time for every 1,000' above sea level.
Check seals. Lids should be solid and pulled down tight. (if they flex and pop, the jar didn't seal; put unsealed jars in the refrigerator and use those first).
Remove rings and wash outsides of jars. Store in a cool, dry place.
Notes
There are a number of ways to "mash" the plums. The easiest by far is to remove the plum pit and pulse the plum halves in a food processor. 
You can also cook the plum halves until softened, then mash with a potato masher. Alternatively, run the cooked plum halves through a food mill. This will help eliminate bigger chunks of skin and pulp.
This recipe can be made using quarter-, half-, or pint jars.
As made, this recipe tests at about 3.5 pH.
Nutrition Information:
Yield:

160
Serving Size:

1 tablespoon
Amount Per Serving:
Calories:

14
Total Fat:

0g
Saturated Fat:

0g
Trans Fat:

0g
Unsaturated Fat:

0g
Cholesterol:

0mg
Sodium:

0mg
Carbohydrates:

4g
Fiber:

0g
Sugar:

3g
Protein:

0g