If you love pickles with a crunch, this fermented garlic dill pickle recipe is for you! They're easy to make and perfect for pairing with your favorite sandwich.
Be sure to try making pickled jalapeños if you like a little heat with your pickles!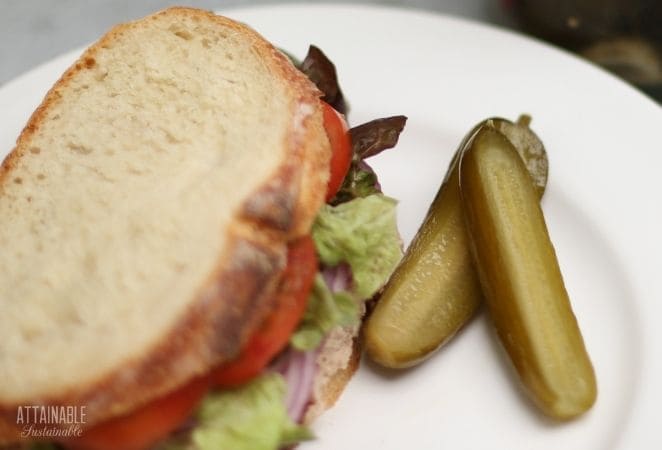 While fresh cucumbers are in season, it's never a bad idea to make a batch of pickles! [More on growing your own cucumbers here.]
---
The Handcrafted Pantry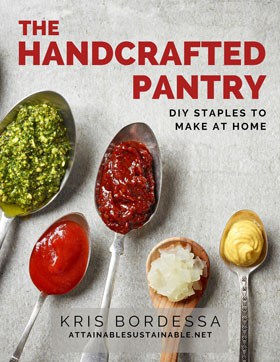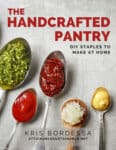 Ready to DIY your pantry with healthier ingredients? Check out my ebook, The Handcrafted Pantry! Filled with delicious recipes for some of your favorite condiments, snacks, and toppings, it's the guide you need to start skipping packaged products and embrace homemade.
---
Crunchy garlic dill pickle recipe
I can remember, eons ago, my mom making a HUGE batch of dill pickles. She made the standard vinegar pickles and canned them in a water bath to preserve them. We were all so excited to eat those pickles.
But when we cracked open the first jar, the pickles inside were mushy. Nobody wanted to eat them. It was such a disappointment, and one that many a home canner has dealt with. Making crunchy pickles can be a challenge when preserving. My solution is to ferment my dills instead of canning them.
Since they're not heated at all, they retain their crispness. And the fermentation process results in a tangy, garlicky dill pickle that will make your mouth happy! Your gut, too, since these are a probiotic pickle.
5 Easy Steps to Transform Your Pantry!
Ready to switch from store bought to homemade? Let me help you make some changes! Grab my FREE five-part guide to getting started.
Fermenting pickles
The process of fermenting entails making a salt brine and pouring it over fresh cucumbers.
This jar is left at room temperature for a couple of weeks to slowly ferment into a delicious dill pickle. What you'll notice happening over the course of days is that the clear brine will become cloudy. This is normal!
On about the third day, you'll start to see cloudiness and bubbling. This is the formation of gasses. By the end of the week, the bubbling will have stopped, as no more gas is forming. Leave the pickles on the counter for another week or so to cure in the brine.
The pickles will begin to look a bit translucent in the center.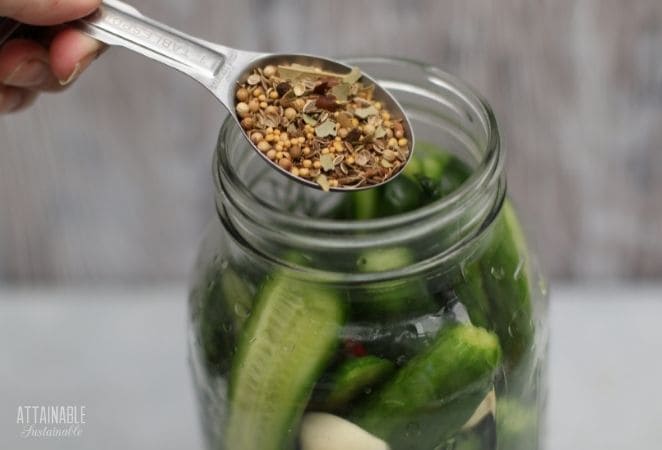 Preparing the pickles
I opted to cut my cukes into halves. You can cut them in slices if you prefer or ferment them whole. If you opt to leave them whole, you'll probably need a second jar to fit them all in.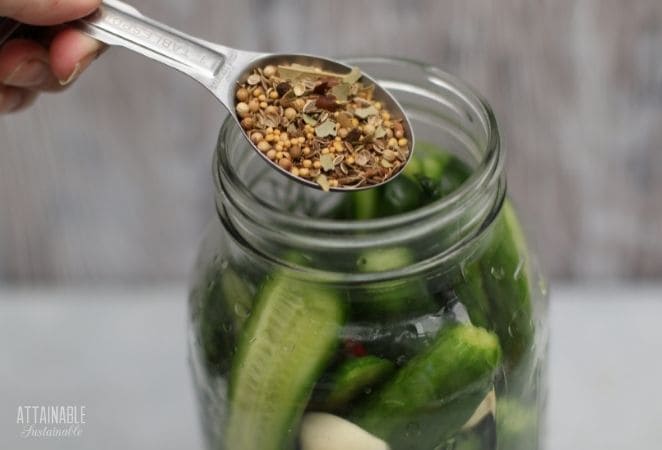 Troubleshooting
If you notice any sort of scum forming on top of the brine, don't panic. Just check the jar regularly and skim as needed.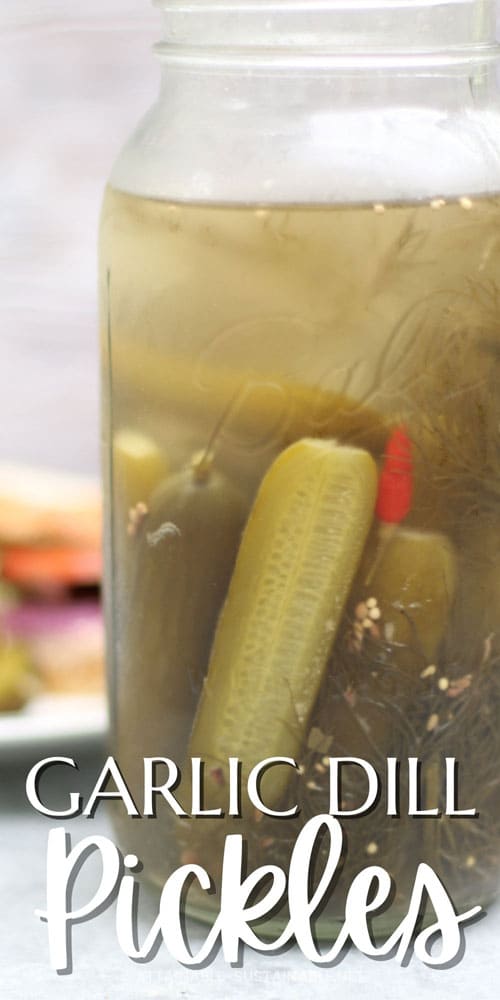 ★ Did you love this recipe? Be sure to give it a star rating below! ★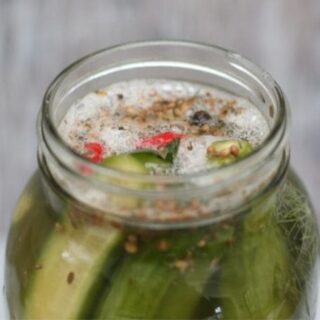 Fermented Deli-Style Garlic Dill Pickle Recipe
Total Time:
14 days
30 minutes
Ingredients
20 4-5" pickling cucumbers
5 heads of fresh dill heads or sprigs (or 2 tablespoons dill seed)
4 cloves garlic
2-4 dried peppers (optional)
1 tablespoon mixed pickling spices
4 tablespoons sea salt (or canning salt)
4 cups water, filtered
Instructions
Wash cucumbers and remove the stem with a thin slice at the end. Cut in halves.
Put half of the dill, 2 cloves of garlic, and half of the hot peppers into the bottom of a half gallon jar.
Begin packing cucumbers into the jar, pressing them tightly. When the jar is about halfway full, add the remaining dill, garlic, and peppers. Continue filling jar to within an inch and a half of the rim.
Add pickling spices.
Pour brine over cucumbers until all are submerged. Use a fermentation weight to hold the cucumbers under the brine.
Cover with a lid or rubber band a piece of cotton cloth on the top. Set jar on the countertop at room temperature. (Temps over 80ºF can result in soft pickles.)
Check the pickles daily for the first week, loosening the jar lid to allow gasses to disperse, then every couple of days. Remove any visible scum as needed.
After fully fermented, tighten on a lid and store your garlic dill pickles in the refrigerator or a cool cellar.
Nutrition Information:
Yield:

20
Serving Size:

1
Amount Per Serving:
Calories:

10
Total Fat:

0g
Saturated Fat:

0g
Trans Fat:

0g
Unsaturated Fat:

0g
Cholesterol:

0mg
Sodium:

1272mg
Carbohydrates:

2g
Fiber:

0g
Sugar:

1g
Protein:

0g
Adapted from
So Easy to Preserve
.
More pickle recipes to try: