These green bean pickles are a great way to preserve a summer harvest for the winter pantry. They're crisp and delicious, and with an easy boiling water bath process, they're shelf stable.
Not ready to start canning quite yet? Try these refrigerator dilly beans.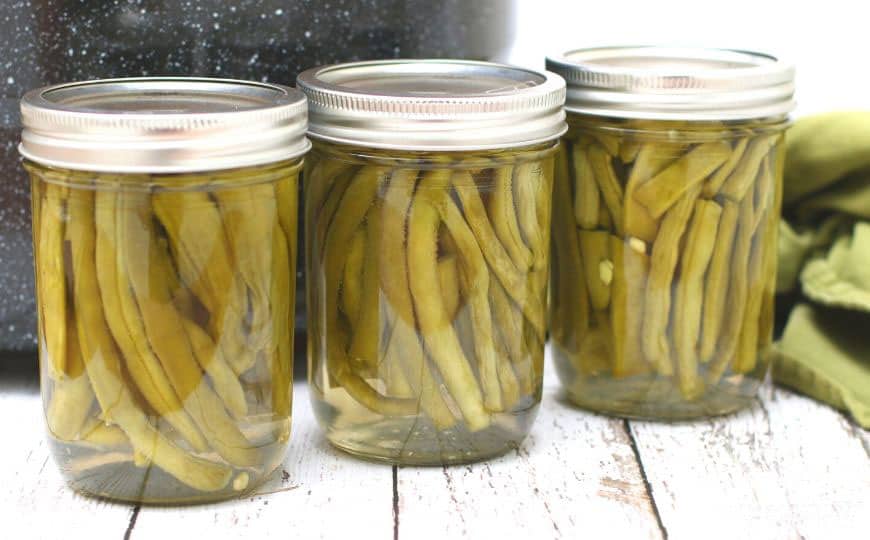 Serve these pickled green beans as a snack, use them to stir a bloody Mary, or add them to your favorite three bean salad.
---
The Handcrafted Pantry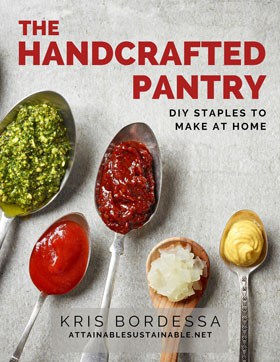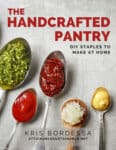 Ready to DIY your pantry with healthier ingredients? Check out my ebook, The Handcrafted Pantry! Filled with delicious recipes for some of your favorite condiments, snacks, and toppings, it's the guide you need to start skipping packaged products and embrace homemade.
---
Making Pickled Green Beans
The basic recipe for pickling brine — vinegar, water, salt — can be used to make either dill beans or spicy green bean pickles. Choose the spice combination you like!
Ingredients
Green Beans — Preserve all of the summer garden bounty easily when you make pickles. These are fun to eat straight out of the jar.
Vinegar — Use white vinegar or apple cider vinegar, either one is fine. Be mindful of this little tidbit when buying apple cider vinegar.
5 Easy Steps to Transform Your Pantry!
Ready to switch from store bought to homemade? Let me help you make some changes! Grab my FREE five-part guide to getting started.
Pickling Salt — This is a fine grain salt without any additives (no anti caking agents) that will easily and fully dissolve into the water.
Garlic — Please only use fresh cloves here! It will give you the best flavor for pickled green beans.
How to Make Green Bean Pickles
Prepare the beans by washing and trimming them to fit into pint size canning jars, then pack them in snugly. The more tightly they're packed into the jar, the less the beans will tend to float once they're processed.
Filling the Jars
If you're new to pickling and filling jars, worry not. It's easy. Just tilt the jar as you fill it, to keep the beans pointing in mostly the same direction. This allows you to get more in the jar than just putting them in all catty-wampus.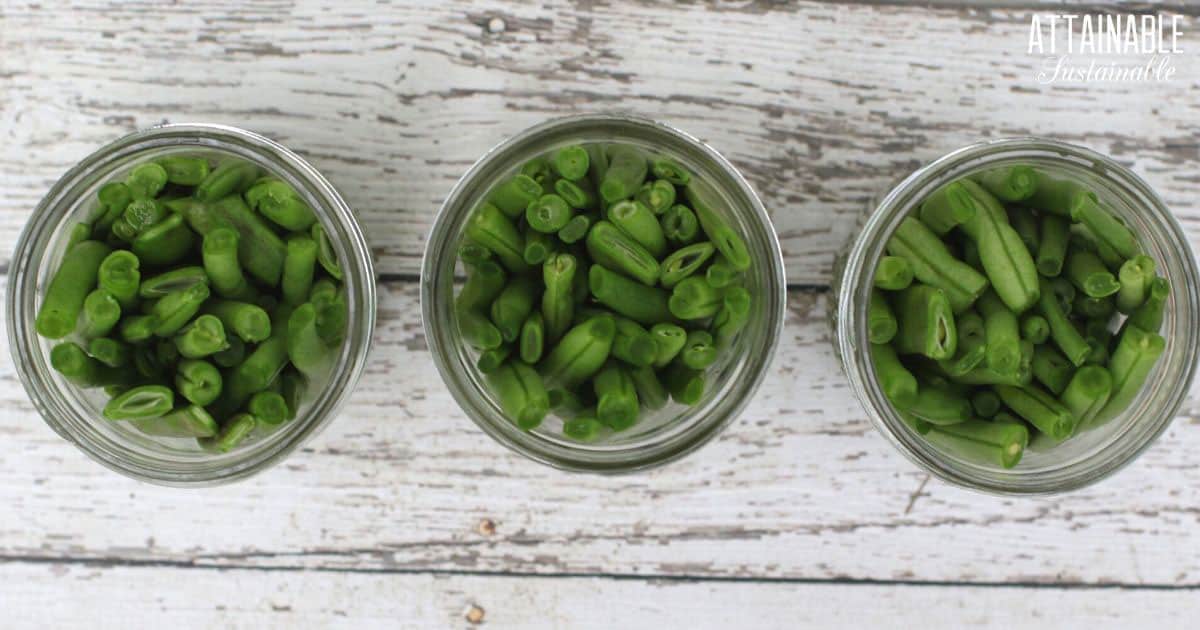 This is considered a "raw pack" method, meaning that you won't cook the beans before packing them into the jar. The bright green raw beans will darken after being processed. This is normal.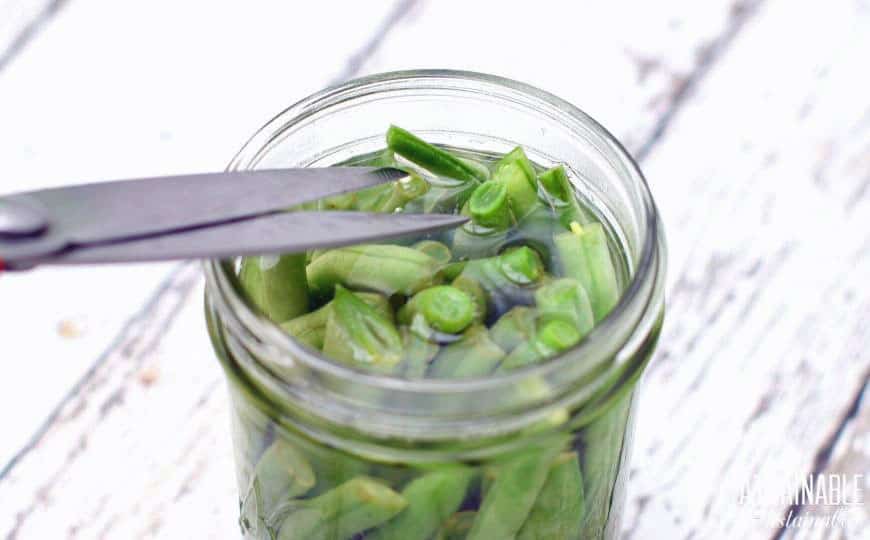 After heating the brine, pour it over the green beans in the jar. If there are some beans sticking up too high, I've found the easiest way to deal with this is to snip them off with kitchen shears.
🍅 Safety First!
Canning is an excellent way to preserve food for the pantry, but there are some important safety considerations to keep in mind. The recipes on this site have been made following safe canning procedures by a certified Master Food Preserver.
Know the difference between water bath canning and pressure canning. Low acid items must be pressure canned for safety.
Altering ingredients may change the recipe's pH, posing a safety issue. I highly recommend investing in pH paper to test your products for acidity level when canning. Note: The Hawaii Master Food Preservers suggest a pH of 4.2 or lower in the tropics. In other regions, the recommended pH is 4.6 or lower.
Use the proper jars and lids. Never reuse lids, with the exception of the Tattler or Harvest Right hard plastic lids that are intended for such a purpose.
For more on canning equipment, please go here.
Water bath canning
Green beans are a low-acid food. The addition of vinegar creates an acidic environment making this recipe safe to process in a water bath canner. If you wish to can green beans (not pickled) you MUST use a pressure canner to create a safe product. This recipe has been adapted from one on the National Center for Home Food Preservation's website.
[adthrive-in-post-video-player video-id="cyCANXVM" upload-date="2020-07-23T20:12:53.000Z" name="Introduction to the Canning Jar System" description="From glass canning jars to lids and rings, here's what you need to know to start preserving food at home." player-type="default" override-embed="default"]
When the processing time has elapsed, remove the jars from the water and set on a sturdy surface to cool. You may hear each jar seal with a "tink!" Once cooled, check the lid by gently pressing in the center. It should feel solid. If it flexes, it did not seal. Place any unsealed jars in the refrigerator and use those first.
FAQs
How long can I keep pickled green beans?
Stored in a cool, dark place, the unopened jars should last about a year. Make sure to label and date everything you can and use the "first in, first out" principle.
Do I need to use pickling salt?
You can substitute Kosher salt if this is something you keep on hand and don't want to seek out pickling or canning salt. Just make sure it doesn't contain any anti caking agents.
Using Pickled Green Beans
Use these as a side dish on their own, in a Bloody Mary, or making a bean salad. Their flavor is so delightful I bet you'll enjoy eating them straight out of the jar!
You can also cook and can dried beans so that you have all you need for a bean salad, completely from scratch. And if you aren't up for learning how to can just yet, refrigerator pickles are a great option.
Storing Green Bean Pickles
Like all of your canning bounty, keep them in a cool room out of direct sunlight for the best longevity.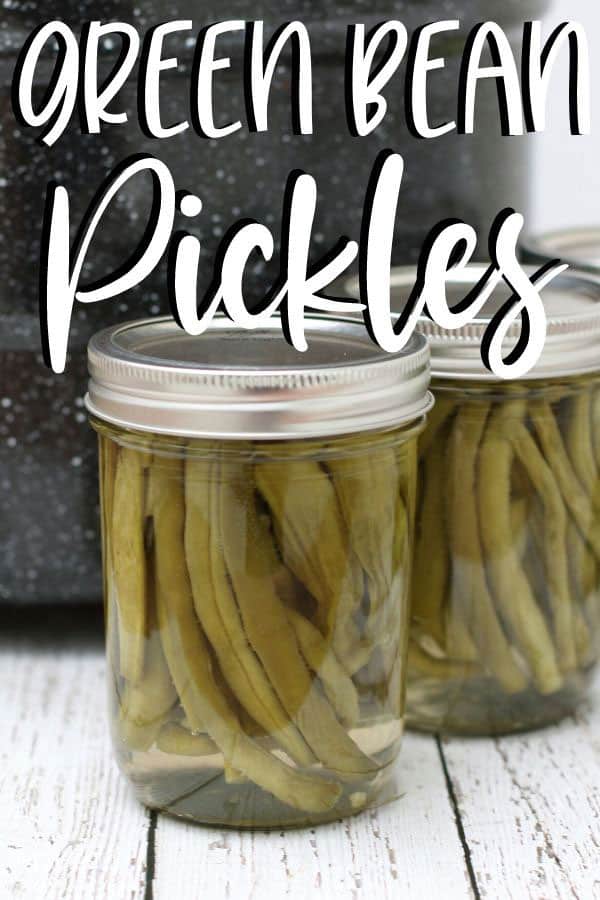 ★ Did you make these pickled green beans? Don't forget to rate the recipe! ★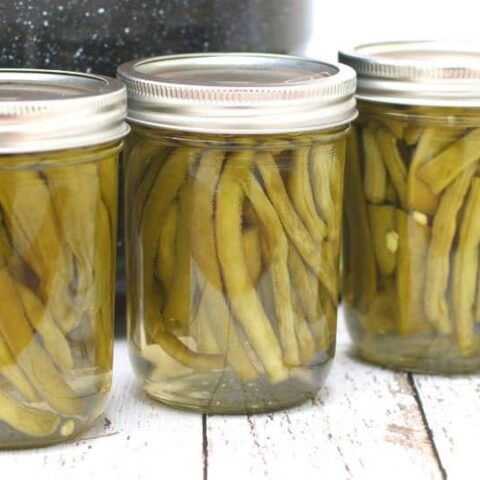 Easy Pickled Green Beans for Canning
Crisp and delicious, these pickled green beans are easy to make for the pantry! Serve them as a snack, use them to stir a bloody Mary, or add them to your favorite three bean salad.
Ingredients
2 lbs fresh tender green or yellow beans (5 to 6 inches long)
1/4 cup canning or pickling salt
2 cups vinegar (5 percent - I used apple cider vinegar)
2 cups water
4 cloves garlic
For dilly beans:
1/2 teaspoon red pepper flakes
8 heads fresh dill or (4 teaspoons dill seed)
For spicy pickled green beans:
3 teaspoons mustard seeds
2 teaspoons black peppercorns
4 teaspoons chile pepper flakes
4 allspice berries
2 teaspoons dill seed
Instructions
Wash and trim ends from green beans. Cut beans into 4" lengths.
Put one garlic clove into each of four pint jars. Divide spices between the 4 jars.
Pack beans upright into jars, leaving 1/2" headspace.
Combine vinegar, water, and salt in a saucepan, bringing the liquid to a boil.
Pour hot liquid over beans.
Run a butter knife around the inside of the jar to release any air bubbles. Add more liquid to the jar if necessary to maintain 1/2" headspace.
Wipe the jar rims and set a flat lid in place. Screw a canning ring on, firmly tight.
Use a jar lifter to transfer filled jars into a boiling water bath canner.
Process for 10 minutes. (15 minutes if you are situated above 6,000' in elevation.
Remove jars to a flat surface and allow to cool.
Notes
A full sized water bath canner takes about 30 minutes or so to heat up, so get it started before you start to make this recipe.
Nutrition Information:
Yield:

16
Serving Size:

1/4 cup
Amount Per Serving:
Calories:

202
Total Fat:

10g
Saturated Fat:

2g
Trans Fat:

0g
Unsaturated Fat:

7g
Cholesterol:

26mg
Sodium:

493mg
Carbohydrates:

16g
Fiber:

2g
Sugar:

1g
Protein:

12g