Yacon's edible tubers are sweet and crunchy, giving it the nickname "ground apple." Yacon root is crunchy and a little bit sweet and great as a snack or on a salad. The best part, though? It's easy to grow and takes very little care.
Try this recipe to make a cooked yacon sauce that resembles applesauce!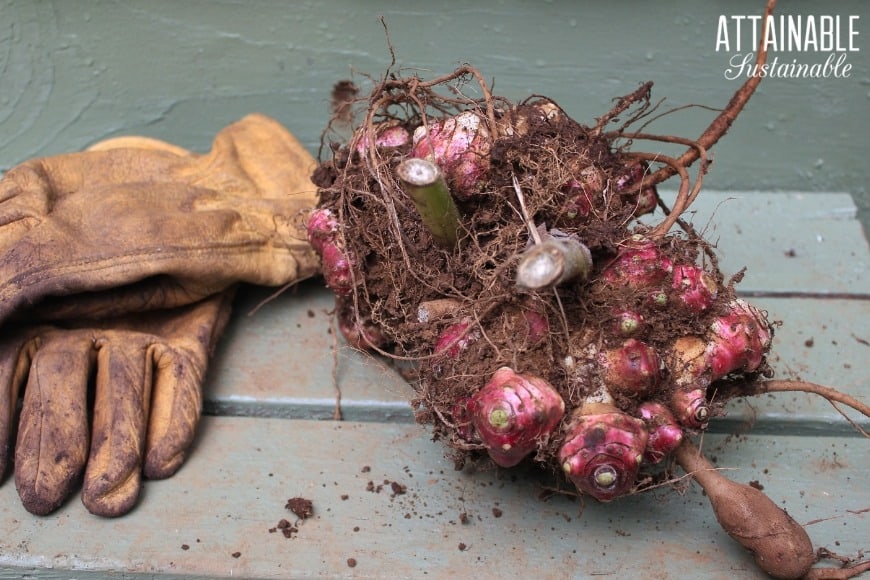 Years ago my friend, Angela, brought a bag of freshly harvested yacon root along with a box full of tubers to plant. Yacon is fairly new to my family, but we love it. It's crunchy and a little bit sweet (it gets sweeter the longer it's stored) and great as a snack or on a salad. It's a little bit like a cross between jicama and an apple.
Now we grow yacon root yearly. It's an easy crop — plant it and forget it — that takes 6-7 months to mature.

---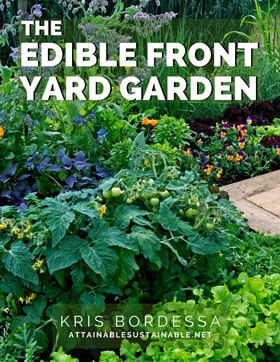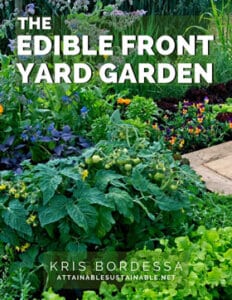 The Edible Front Yard Garden
Does your homeowners association prevent you from growing food in the front yard? What if they never even KNEW? My ebook, The Edible Front Yard Garden will show you how!
---
Growing yacon root
Yacon (Smallanthus sonchifolius) is native to South America, where it's eaten like a fruit. Can you grow it where you live? Mother Earth News says if you can grow dahlias where you live, you can grow yacon. Plants will reach 5′-6′ high.
And trusty 'ole Wikipedia says this, which makes yacon root a good choice for diabetics and weight loss:
Grow Some Greens!
Ready to grow fresh greens, no matter WHERE you live? Sign up for my
FREE quick-start guide and start growing some of your own food!
The tubers contain fructooligosaccharide, an indigestible polysaccharide made up of fructose. Fructooligosaccharides taste sweet, but pass through the human digestive tract unmetabolised, hence have very little caloric value.

Moreover, fructooligosaccharides have a prebiotic effect, meaning they are used by beneficial bacteria that enhance colon health and aid digestion.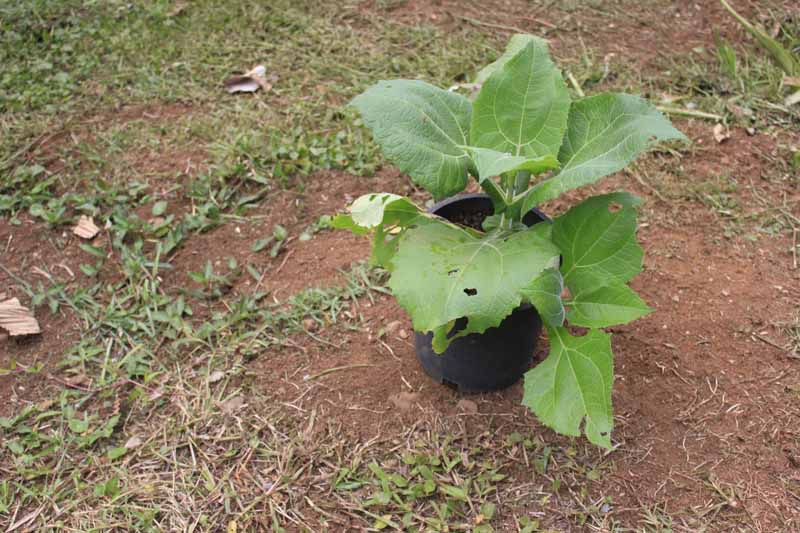 My first attempt at planting yacon in the ground left us wondering if would ever sprout. Turns out, I planted it a bit deeper than I should have. It still sprouted and grew into five-foot-tall plants, but it took longer than expected.
Planting yacon root
To plant the yacon rhizomes, dig a hole about 12″ in diameter and just as deep. Return about 6″ of soil to the hole (this gives the rhizomes softer soil to grow in). Set a rhizome or two in the hole and cover. Mark the location of the hole so you don't forget where you planted it!
Soft green leaves should appear in a month or so, and continue to grow taller for months. When the plants flower, it's time to harvest. Dig up each plant carefully — place your shovel a foot or so away from the main stalk to avoid to avoid slicing into the tubers, which can extend beyond the stem by 12″ or more.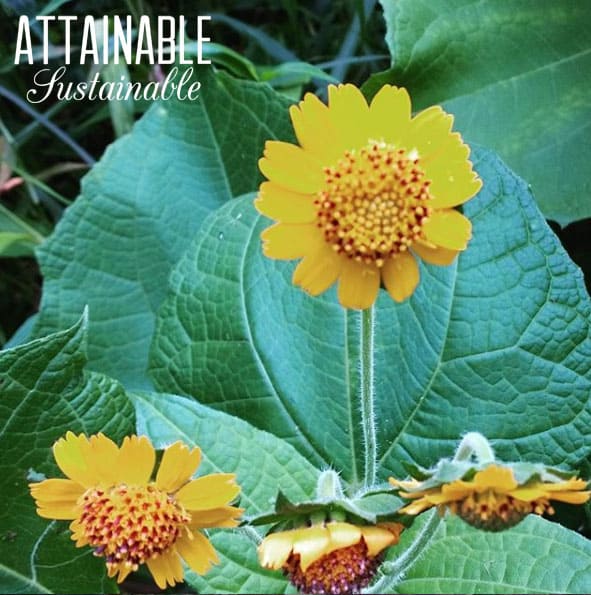 Harvesting yacon root
The base of the yacon plant has both rhizomes and tubers. The rhizomes are a creamy white that turn pink when exposed to sunlight. These are edible, but are generally only used for propagation. The tubers resemble a potato somewhat, with a smooth, thin light brown skin. The white flesh of the yacon root is somewhat translucent.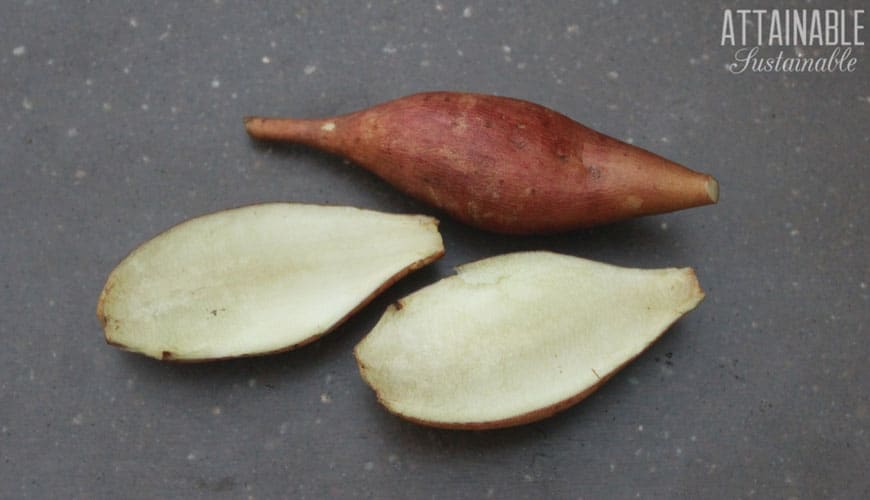 Separate the small rhizomes from the larger brown tubers. Set the rhizomes aside for replanting, and clean the tubers. Store yacon tubers in a brown paper bag in a cool place. The fruit gets sweeter if it has a chance to sit for a month or two.
I've found that oftentimes a new yacon plant will sprout right were an old one was, even if I didn't intentionally plant it there, thanks to a rhizome or two I missed during harvest.
Using yacon root
Besides eating it fresh, yacon is good in smoothies and I make a mock applesauce with it as well. The one drawback of yacon is that it oxidizes very quickly, turning kind of an ugly grey. Which means it's not great on a pretty fruit platter.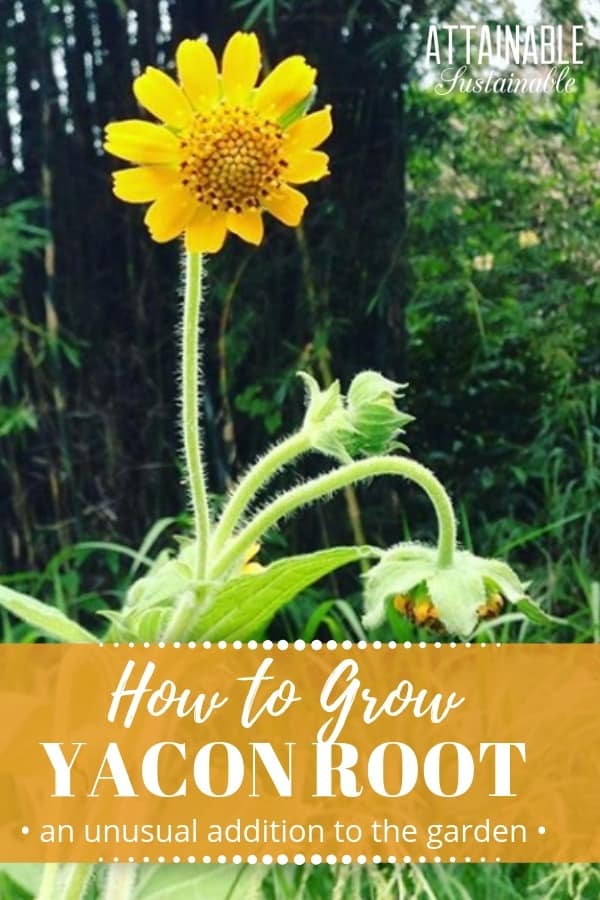 Originally published in April 2015; this post has been updated.