Making ricotta cheese at home is easy to do anytime, but it's especially frugal when you can salvage milk that's nearing its 'use by' date. It will take about an hour, start to finish, to make a batch.
Got milk? Be sure to try making homemade yogurt, too!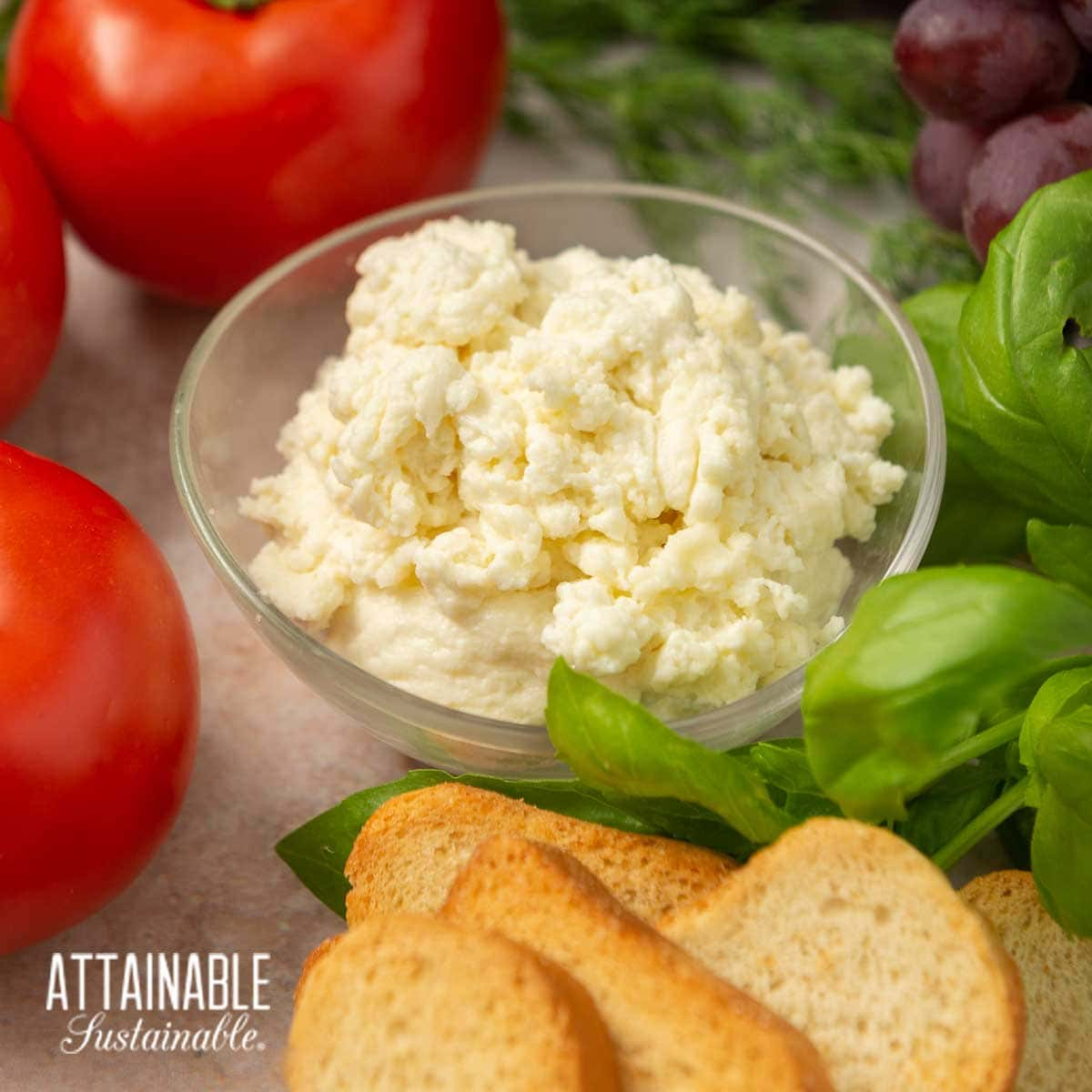 Normally we go through the milk we have on hand with no problem, but occasionally it starts to sour before we can use it. This week I found myself with milk just starting to turn and I didn't want it to go to waste.
How to make ricotta cheese
This is one of those recipes that's incredibly simple once we get beyond the idea of buying it at the store. But making it at home allows us to cut out the plastic container that comes with store bought ricotta. This easy ricotta cheese recipe costs less than store bought, too. (I don't know about where you live, but it's crazy expensive here!) And making it at home can — as in this case — help you salvage milk that might be on its way out. That's a lot of winning!
First, though, let's talk about yield. This recipe calls for a half gallon of milk. You will not end up with a half gallon of cheese! In the process of making this recipe, the fat in the milk will be transformed into the curds that become cheese. The rest will become whey.
You will have more whey than cheese. Expect to get anywhere from one to two cups of cheese from this recipe. This will depend on the fat and casein content in the milk itself.
5 Easy Steps to Transform Your Pantry!
Ready to switch from store bought to homemade? Let me help you make some changes! Grab my FREE five-part guide to getting started.
The Handcrafted Pantry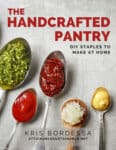 Ready to DIY your pantry with more wholesome ingredients? Check out my ebook, The Handcrafted Pantry! Filled with delicious recipes for some of your favorite condiments, snacks, and toppings, it's the guide you need to start skipping packaged products and embrace homemade.
Ingredients
Milk — You'll need to use whole milk for this ricotta cheese recipe — it's the fat in the milk that transform into the curds that make cheese. Choose milk that has not been ultra-pasteurized if possible. Better yet, use raw milk.
Acid — The addition of acid is what curdles the milk, transforming the fats into solids. You can use either lemon juice or vinegar. (I opt for apple cider vinegar.)
Salt — Use your favorite table salt or sea salt.
Process
Basically, you'll heat the milk with the salt until it simmers. Adding lemon juice to the heated milk will cause it to curdle. (It's actually kind of fascinating!) Allow the curdled milk to sit untouched for ten minutes or so, then strain it through cheesecloth. The thickened curds will remain while the whey strains out.
It took me about half an hour to get to the straining point, but much of this was just spent waiting for the milk to warm. I think the biggest hurdle for most people would be that they don't have cheesecloth on hand. I happened to have some, but I really think this could work in a fine sieve, too.
Honestly, I'm surprised that I've made it this far in life without knowing that making ricotta cheese at home is so easy. The texture of homemade ricotta can be firm or loose, depending on how long you allow it to drain.
To make a looser, creamier batch, just adjust the drain time, allowing some of the moisture in the cheese to remain. For a firm ricotta cheese allow to drain longer and squeeze the ball of cheese before removing from the cheesecloth.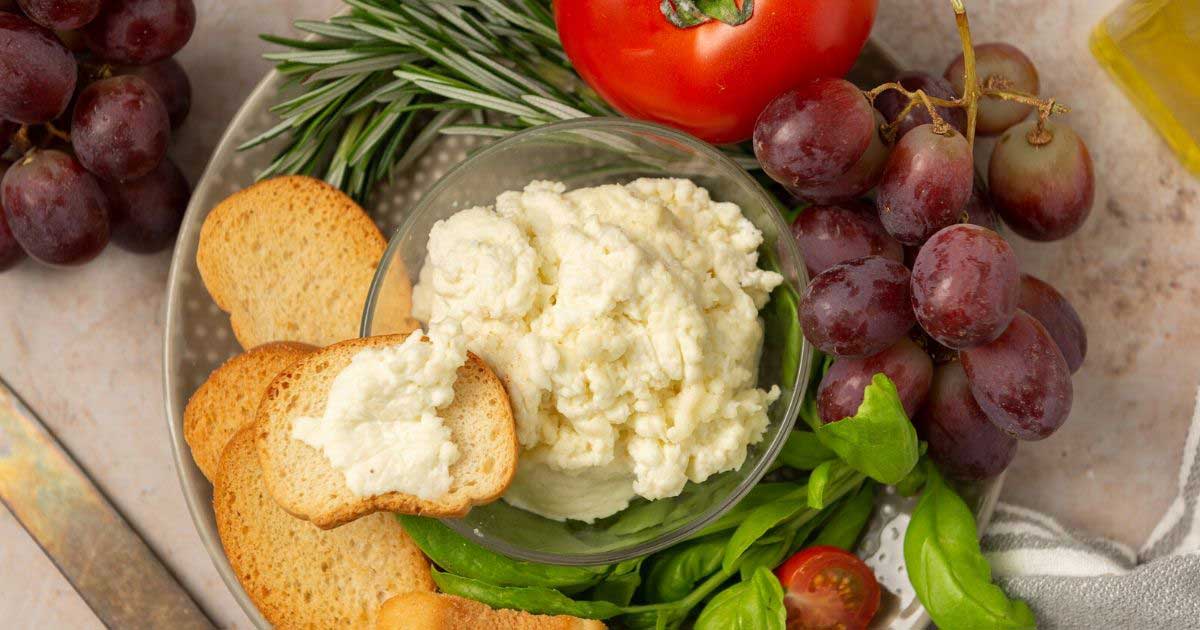 And now, about that leftover whey
You can use the leftover whey — liquid that remains after straining — in place of the liquid in just about any recipe that calls for milk (think: muffins, pancakes, bread).
I used mine to make several batches of foccacia bread, and still have a bit more in the refrigerator. I've also heard of it being used to replace water for cooking rice and in place of milk in an au gratin potato recipe. You can also use it to jump-start a batch of homemade sauerkraut.
Can you freeze ricotta cheese?
Yes, but. You absolutely can freeze ricotta cheese. This is a great way to keep it, whether you make your own or find a killer sale on your favorite brand. But. The texture of the ricotta cheese will be slightly altered by freezing.
If you're using the ricotta in a lasagna recipe or as an ingredient, you likely won't even notice. If you were to eat it plain, you might.
30+ DIY Condiments to Make at Home
This homemade ricotta cheese is just one great pantry staple you can make yourself! Why not try your hand at making more?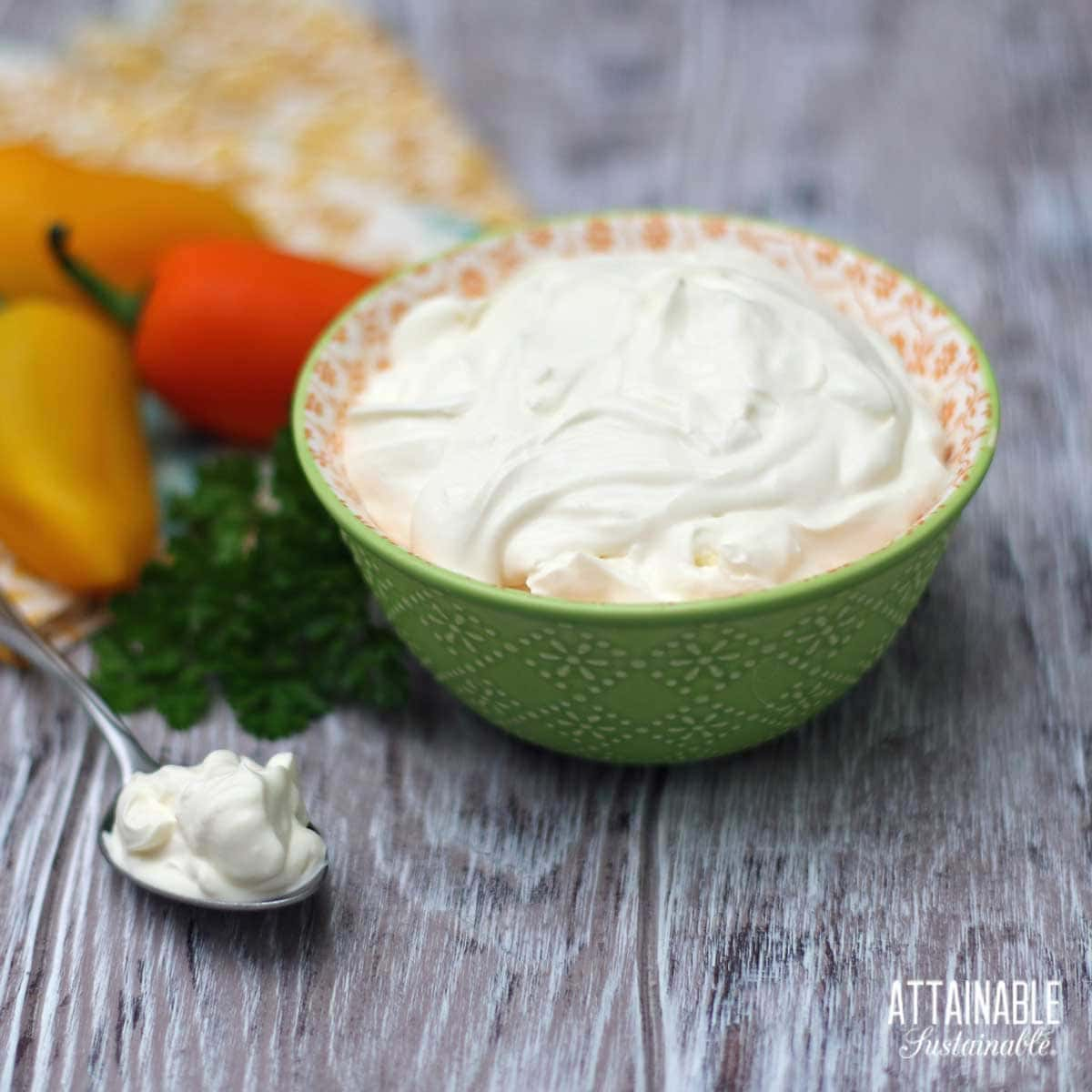 Making sour cream at home requires just two ingredients — and a little bit of patience. It's great to make in a pinch to avoid a trip to the store, and DIYing can really cut down on the number of plastic tubs you bring home. Get the recipe here.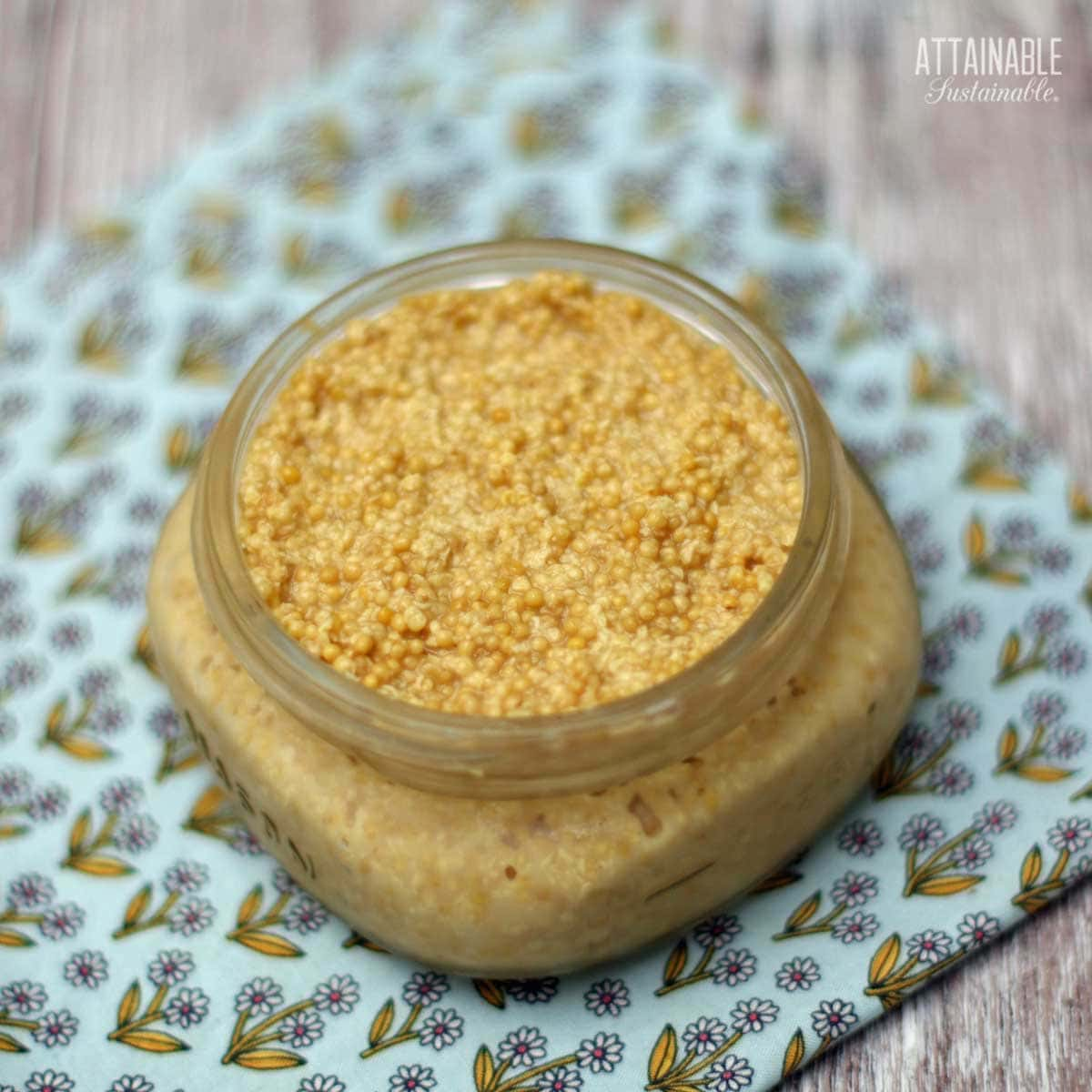 You might be surprised to discover just how easy it is to make mustard at home! Another two ingredient recipe, this one has many variations to suit your taste buds. Get the recipe here.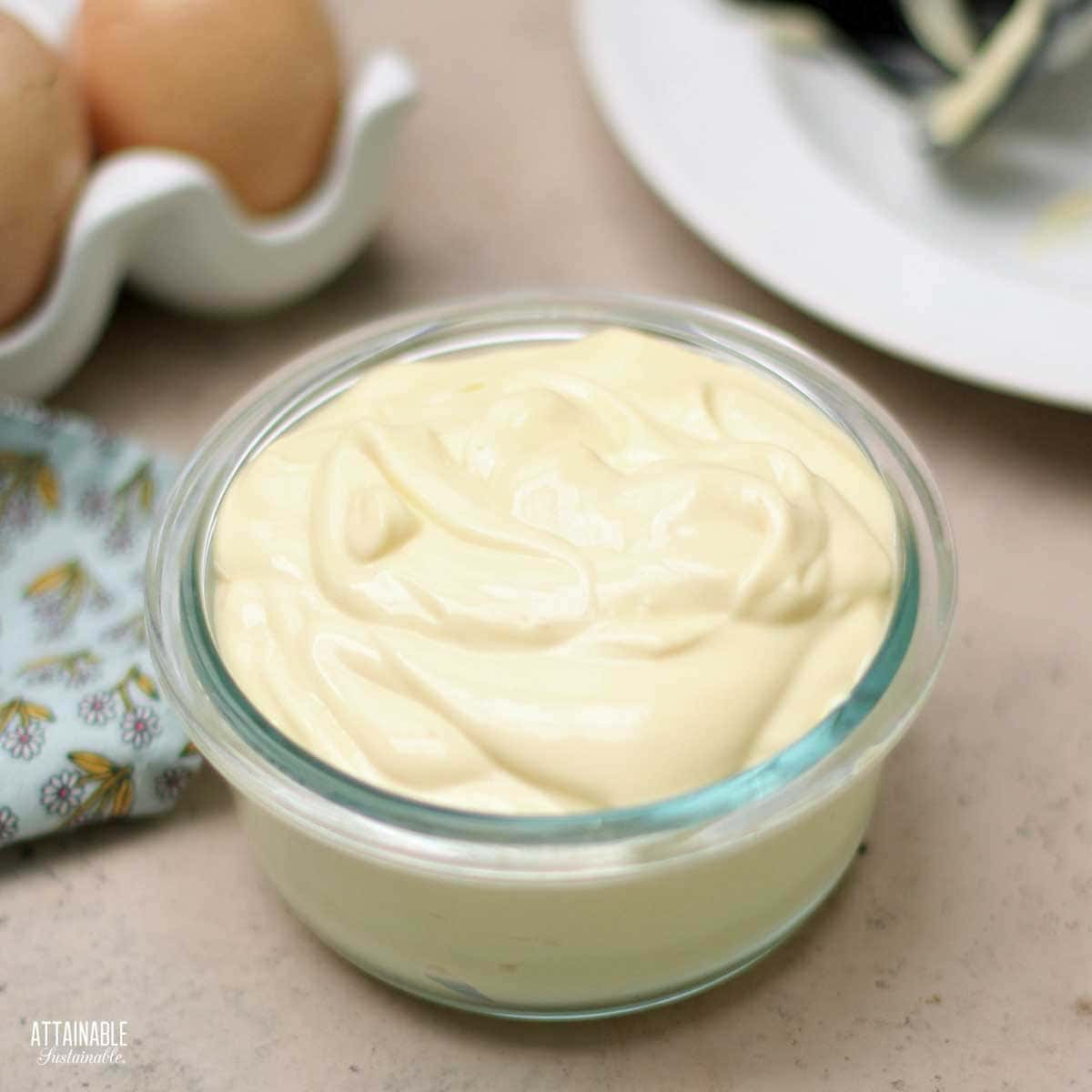 Whip up a batch of homemade mayonnaise with pantry ingredients! This recipe results in a flavor similar to our favorite jarred mayo and can be ready in just a minute. Get the recipe here.
See the entire collection of homemade condiment recipes you can make at home here!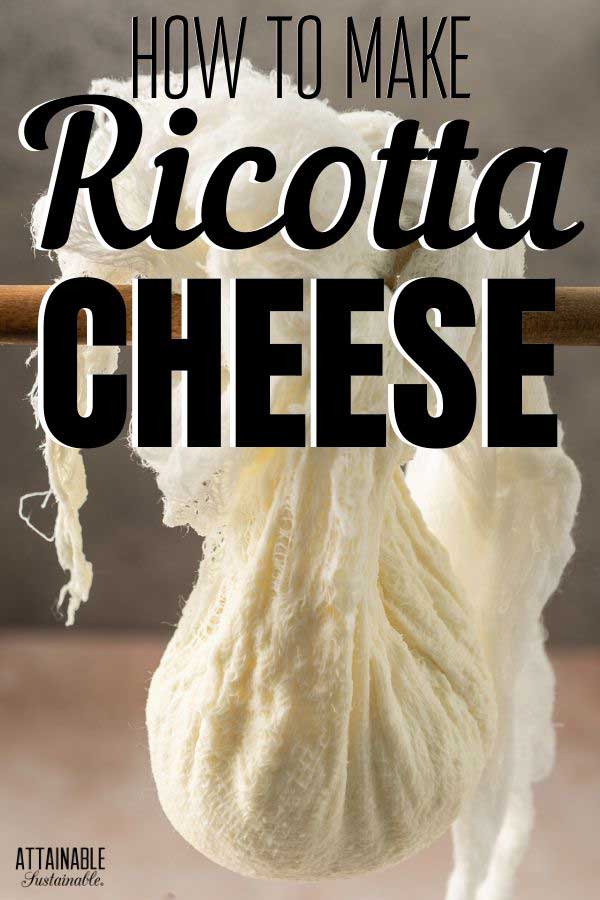 ★ Did you make this ricotta cheese recipe? Don't forget to give it a star rating below!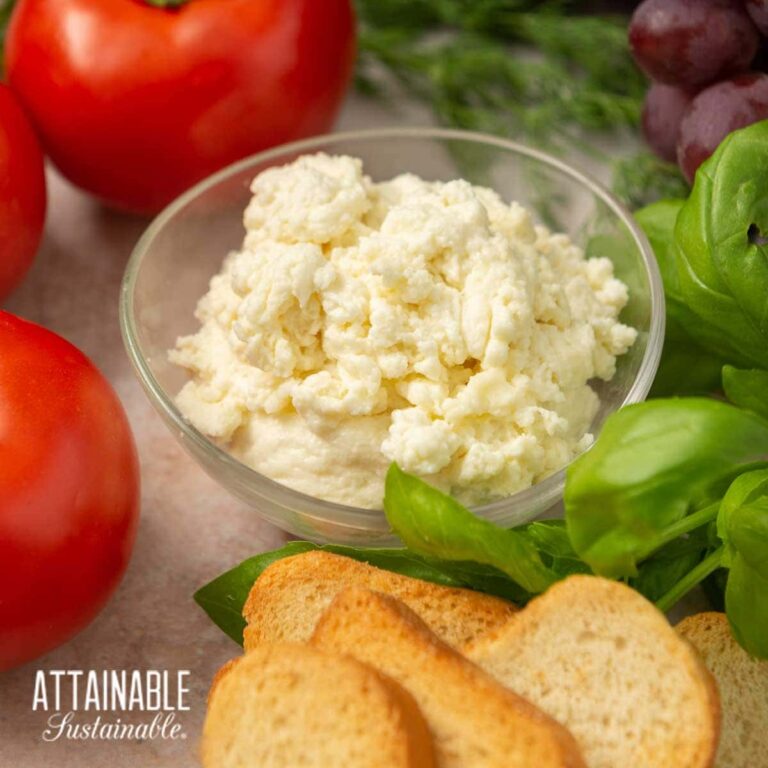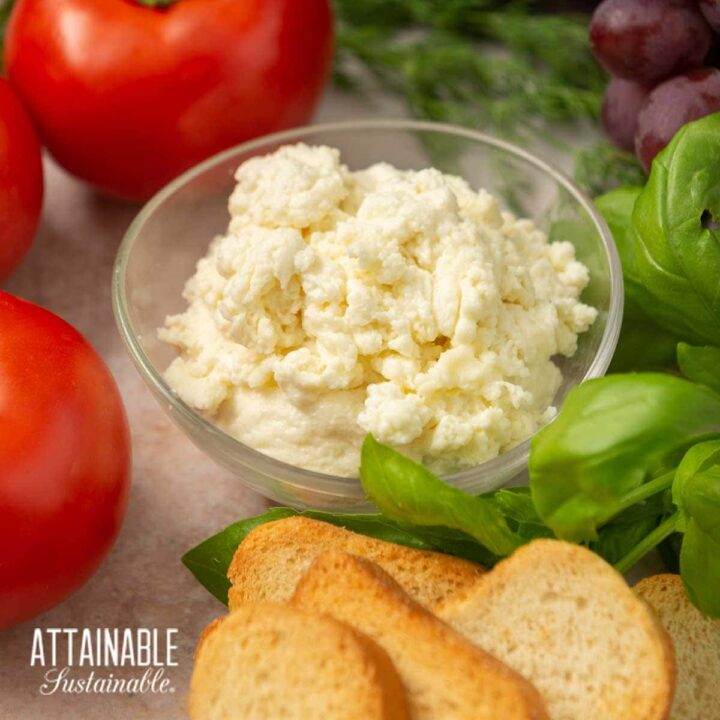 Homemade Ricotta Cheese
Total Time:
1 hour
5 minutes
Making ricotta cheese at home is easy to do anytime, but it's especially frugal when you can salvage milk that's getting ready to go off!
Ingredients
1/2 gallon whole milk, (I used raw milk but whole pasteurized milk will be fine)
2 tablespoons lemon juice (or apple cider vinegar)
Instructions
Mix milk and salt in a pot. Cook over medium high heat, stirring every few minutes, until the milk reaches 185 degrees. (If you don't have a candy thermometer, bring the milk to a simmer but do not let it boil.)
Stir in the lemon juice or apple cider vinegar, turn the heat down to medium, and let sit for one minute. As soon as you stir in the lemon juice, you may see the milk start to curdle and separate into curds and whey.
Gently stir again and turn off the heat. Let sit without stirring (it's hard not to keep checking it!) for ten minutes.
While the pot sits, line a colander with several layers of cheesecloth. Place the colander in a bowl to catch the whey.
Pour the contents of the pot into the colander. Pull opposite corners of the cheesecloth together and tie a knot. Repeat with the other corners, then hang this little bag-o-cheese on the handle of a wooden spoon suspended over the dirty pot to catch any drips. Allow to drain for a couple of hours, then transfer your homemade ricotta cheese to a glass container and refrigerate.
Notes
I used raw milk but whole pasteurized milk will be fine. Just try to find milk that hasn't been *ultra-pasteurized.
Alternatively, you can use a jelly bag to drain the cheese.
Nutrition Information:
Yield:

6
Serving Size:

1 grams
Amount Per Serving:
Calories:

290
Total Fat:

15g
Saturated Fat:

9g
Unsaturated Fat:

0g
Cholesterol:

47mg
Sodium:

522mg
Carbohydrates:

23g
Sugar:

24g
Protein:

15g
Originally published in March 2011; this post has been updated.