A vegetable garden requires a certain amount of work, there's no getting around that. Watering vegetables is one chore that you'll need to tackle during hot summer months. It may sound pretty straightforward, but for the best results, here's how to water — and how not to water — your veggies.
Be sure to take a peek at these tips for drought tolerant gardening, too!
---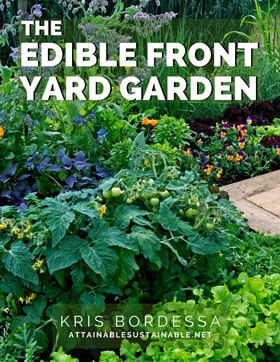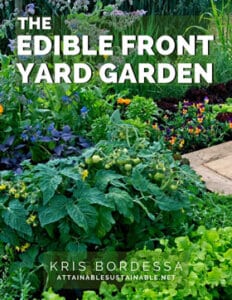 The Edible Front Yard Garden
Does your homeowners association prevent you from growing food in the front yard? What if they never even KNEW? My ebook, The Edible Front Yard Garden will show you how!
---
Watering vegetables
If I'm honest, I find watering my vegetable garden to be meditative. But it's not all about me.
Properly watering your vegetable garden provides the moisture a plant needs in order to thrive. Using smart watering techniques can help eliminate disease in the garden, too.
Too much water can cause roots to rot; not enough can cause the plant to wilt and become unhealthy. And then of course, each type of plant requires a different amount of water.
How often to water vegetables
There's no cut and dried answer to this. How often to water your garden depends on a lot of different factors:
Grow Some Greens!
Ready to grow fresh greens, no matter WHERE you live? Sign up for my
FREE quick-start guide and start growing some of your own food!
What type of soil do you have? Does it retain water well or dry out quickly?
What's the weather been like?
What type of plant are you watering?
Really, the best way to make sure your plants have the water they need is to use your hands to feel the soil. If you can poke a finger into the soil and it feels somewhat moist — like a wrung out sponge — there's really no need to water. Drier than that, and it will benefit from a good soaking.
Remember that mulching around your plants can really help retain moisture, so you don't have to water as often.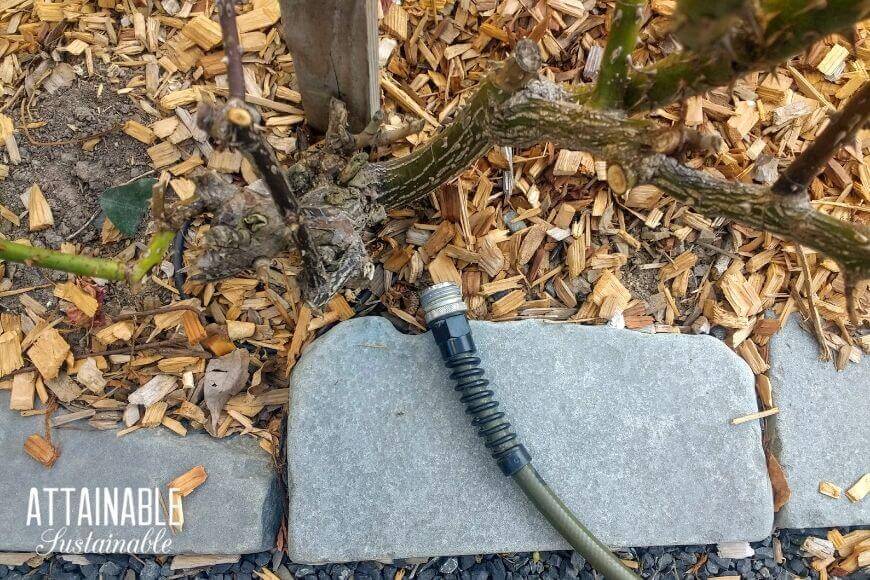 Water the roots
The roots of plants take up water to nourish the entire plant. By concentrating on directing that life-giving liquid to the root zone below plants, you'll give your vegetable crops just what they need, where they need it. So, how do you do this?
Hand watering:
Instead of sprinkling water over the entire garden bed, place the hose end and the base of individual plants. This works well on larger veggies like tomatoes, peppers, or okra as well as the perennials in your garden.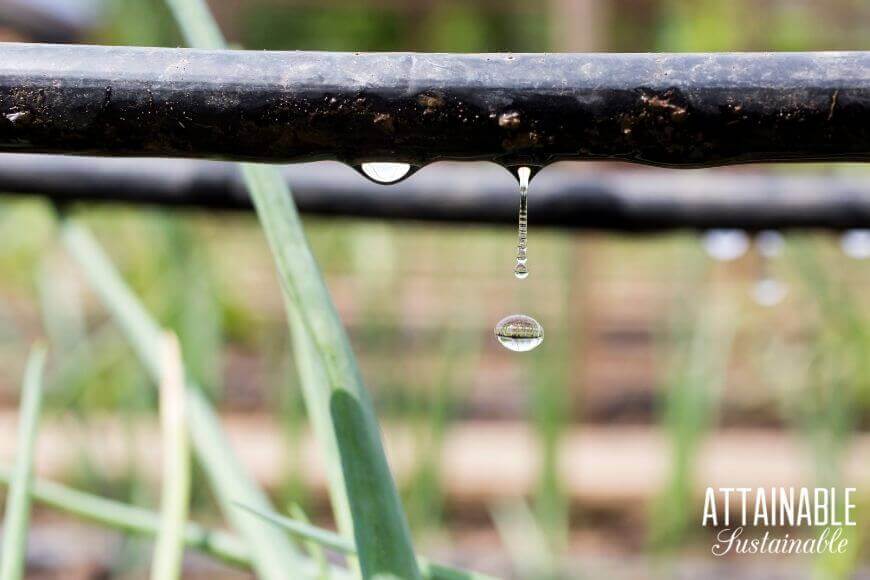 Soaker hose:
These porous hoses attach to a regular water spigot. The opposite end of the hose is capped. The hose material itself is porous, and once the water is turned on, it will fill the hose (since it's capped off) and then slowly seep out. This is a slow watering technique.
I recommend using soaker hoses in conjunction with a water timer. You can get battery-operated timers that screw onto a hose bib. This allows you to set the soaker hose to run for an hour or so, soaking the root zone of plants. The timer will then shut itself off, saving water and preventing overwatering.
If you don't install a timer like this, I suggest setting your kitchen timer to remind you that the water is running. This will eliminate the need to jump out of bed in the middle of the night to run and turn off the water when you realize that you forgot to do it earlier. #askmehowIknow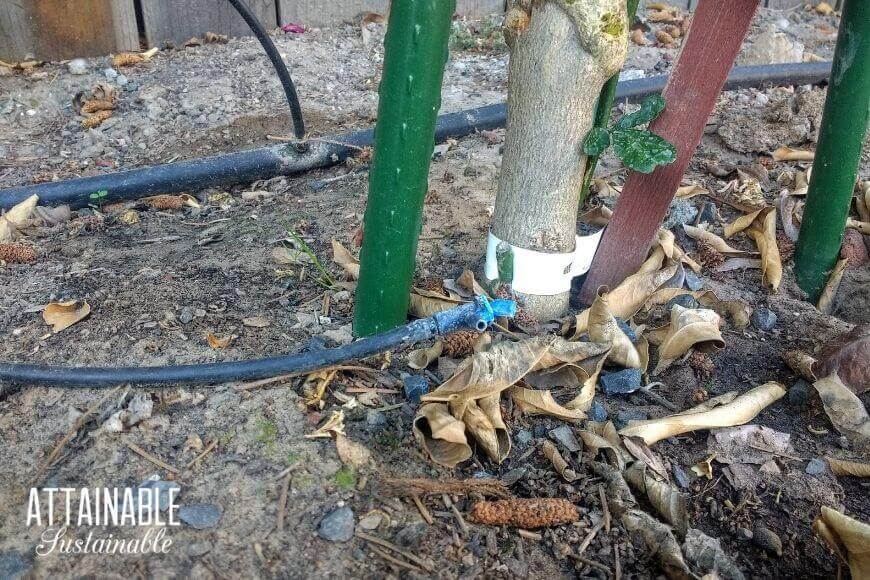 Drip irrigation:
A system like this is best used for perennial vegetables. Because each emitter is installed as a specific location, it's not great for vegetable gardens where you'll be changing the arrangement of the plantings every season — or a couple of times each season.
A drip irrigation system requires special equipment including black poly piping and emitters that vary in how much water they put out. This is measured in gallons per minute, or gpm. For example, if you use an emitter that provides one gallon of water per minute and you want each plant to get five gallons of water, you'd run it for five minutes.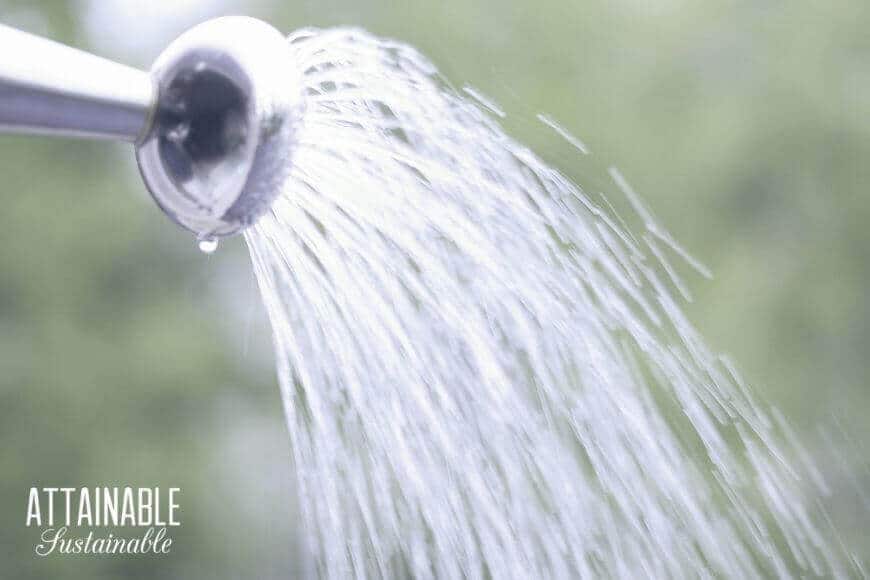 Avoid sprinkling mature plants
You'll want to sprinkle the garden when you've planted seeds, of course. Once plants are established, shift to root watering to help prevent the spread of diseases.
Powdery mildew in particular thrives when the leaves of plants are moist. Overhead watering can set up the conditions in which it thrives. Powdery mildew spores overwinter in the soil. Overhead sprinkling that results in water spattering back up on plants after hitting the ground can transfer spores to the plants.
The best time to water the garden
Watering in the heat of the day causes water to evaporate quickly. Of course, if you forgot to water your vegetables and they're getting wilty, you'll want to give them a drink. But your efforts will be better spent if you can water in the cooler part of the day.
This also prevents the vegetable plants from sitting overnight with damp leaves, if they've gotten wet despite your best efforts.
I like to water vegetables early in the morning so they can start the day fully hydrated. The next best option is watering in the evening; again, just be sure to avoid getting the leaves wet.
Water deeply
A plant's roots extend into the soil quite deeply. If you only water enough to saturate the top couple of inches of soil, the deeper roots are missing out. By using a soaker hose to slowly apply water to the area, that moisture slowly seeps deep into the soil.
Another way to deep water is to dig a hole alongside a plant and insert a length of pvc or a one-gallon nursery pot in the ground. The necessary moisture is delivered closer to the plant's roots with this method. This works particularly well with tomatoes that like a deep drink.
An olla is a deep watering method to consider. (You can learn how to make one of those in my book!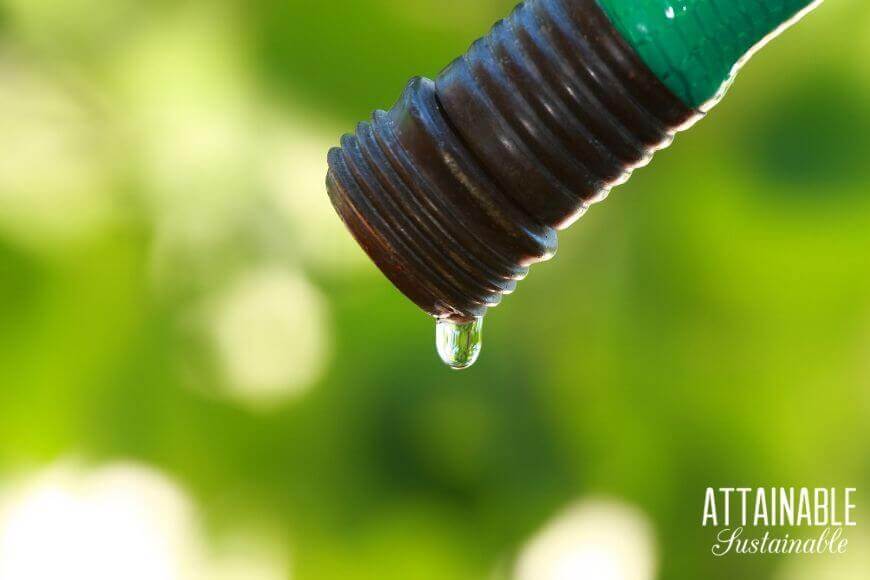 Watering vegetables? Give them some lovin'!
When you water plants in the garden, it's an opportunity to fertilize as well. Not every time, of course, but I like to use a diluted fish emulsion fertilizer to water my plants every two to three weeks. I mix about a tablespoon of fish emulsion into a gallon of water and deliver it directly to the roots of my veggies.