Love blueberry pie? Be sure to tuck a few jars of this blueberry pie filling into the pantry to enjoy when fresh blueberries are hard to come by!
While it's blueberry season, this blueberry jam is another must-try!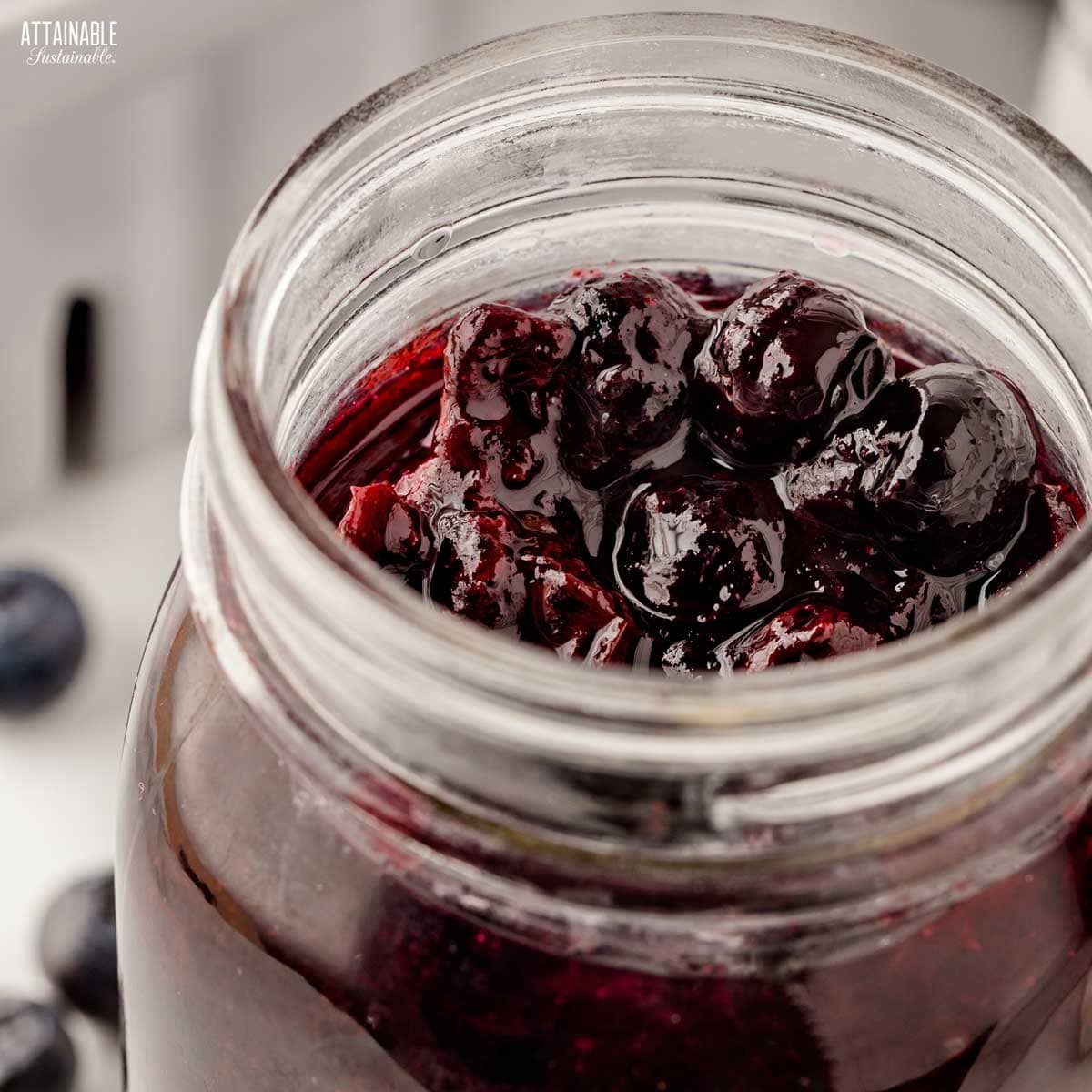 Homemade Blueberry Pie Filling
This combination of fresh blueberries, lemon, and warming spices outshines any store-bought pie. Canning fruit pie fillings for the pantry makes it easy for you to whip up a fruity dessert in a hurry.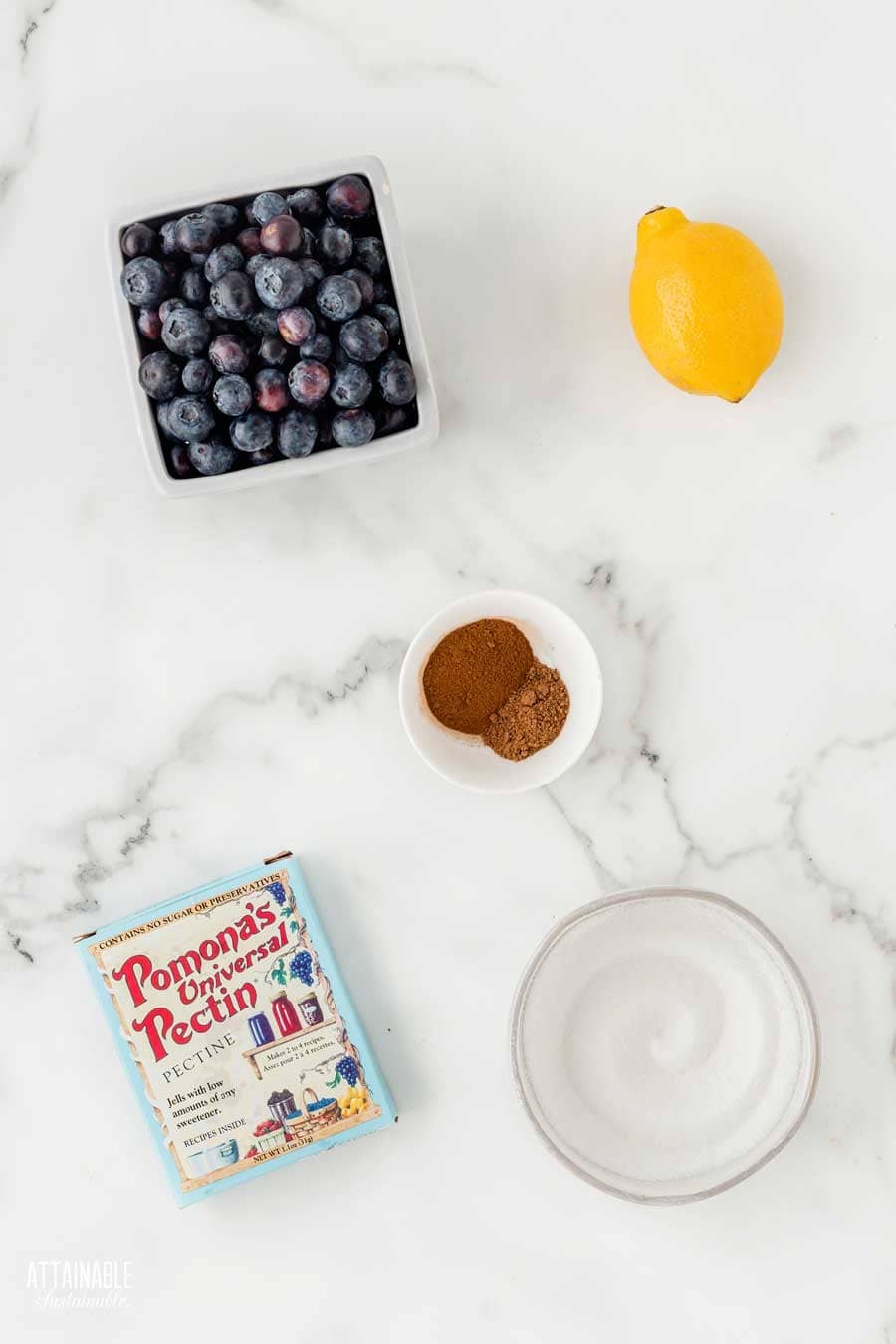 Ingredients
Blueberries – Fresh blueberries are the star of this recipe! No fresh berries? You can certainly use frozen blueberries, though the frozen berries won't hold their shape as well as fresh.
Sugar – Your favorite sugar brand will work great.
5 Easy Steps to Transform Your Pantry!
Ready to switch from store bought to homemade? Let me help you make some changes! Grab my FREE five-part guide to getting started.
Lemon juice – Use bottled lemon juice to assure that the resulting pH for this recipe falls within safe canning guidelines.
Lemon zest – Adding the zest of lemons gives the pie filling a brightness that you'll taste in each bite. Go here to learn how to zest a lemon.
Spices – Cinnamon and nutmeg round out the flavors of this filling, offering a richness and warmth that comes with these two baking spices.
Pectin – This recipe is made using Pomona's Universal Pectin. Many canning recipes for pie fillings call for clear jel, a product that helps thicken the fruit. I prefer to use Pomona's Universal Pectin for this, as it allows me to use substantially less sugar. This product uses a low methoxyl method and calls for using two different ingredients, which are included in the box: pectin (the large packet) and calcium powder (the small packet). The dry pectin is mixed with the sweetener before being added to the fruit. The calcium water is added directly to the fruit.
Note: tapioca starch or cornstarch, often used for thickening pie fillings, are not approved for use in safe canning recipes. Adding starches to canning recipes interferes with the transfer of heat to the center of the jar during processing.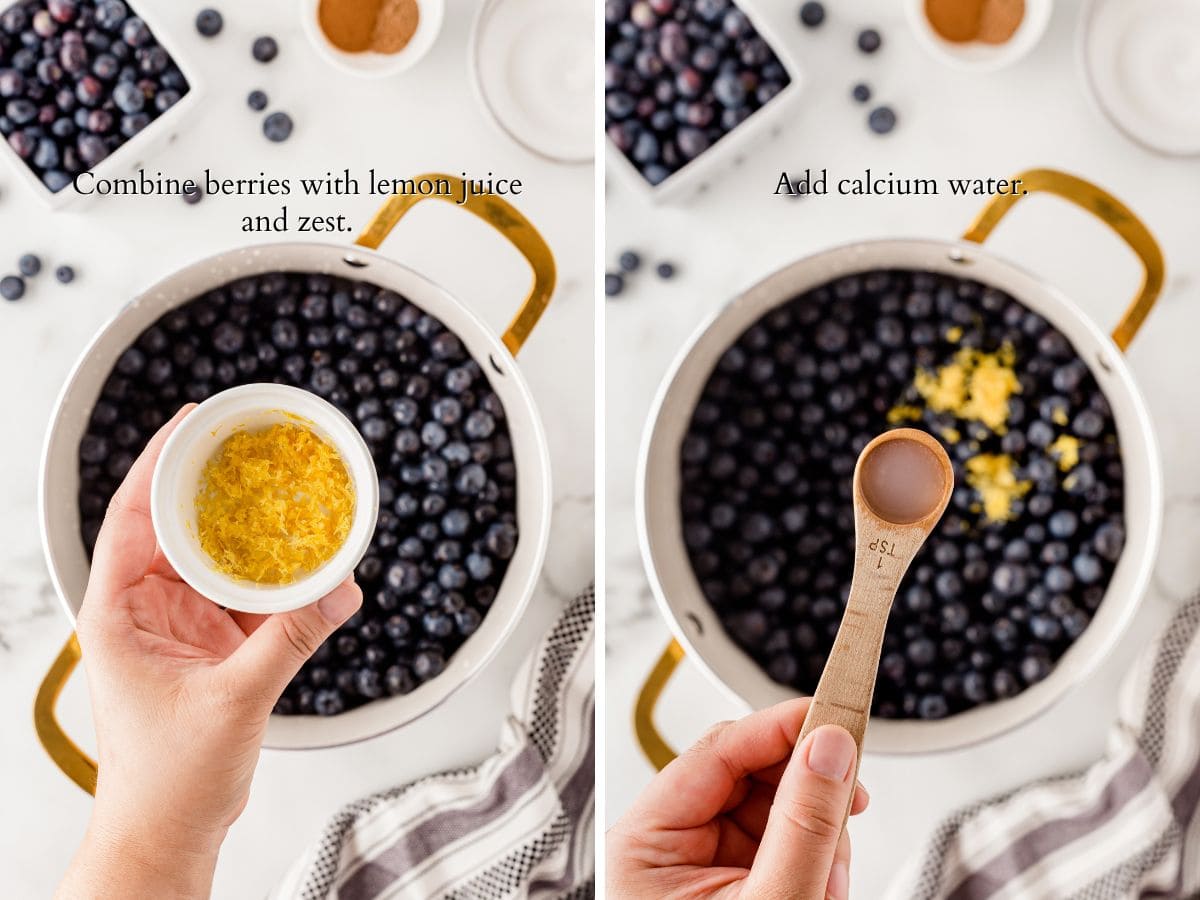 Making this Homemade Filling
Combine the fresh blueberries, lemon and lemon zest, and calcium water into a large pot. Bring to a boil.
While that's cooking, combine the sugar and pectin thoroughly. Mix well; this helps to prevent lumps.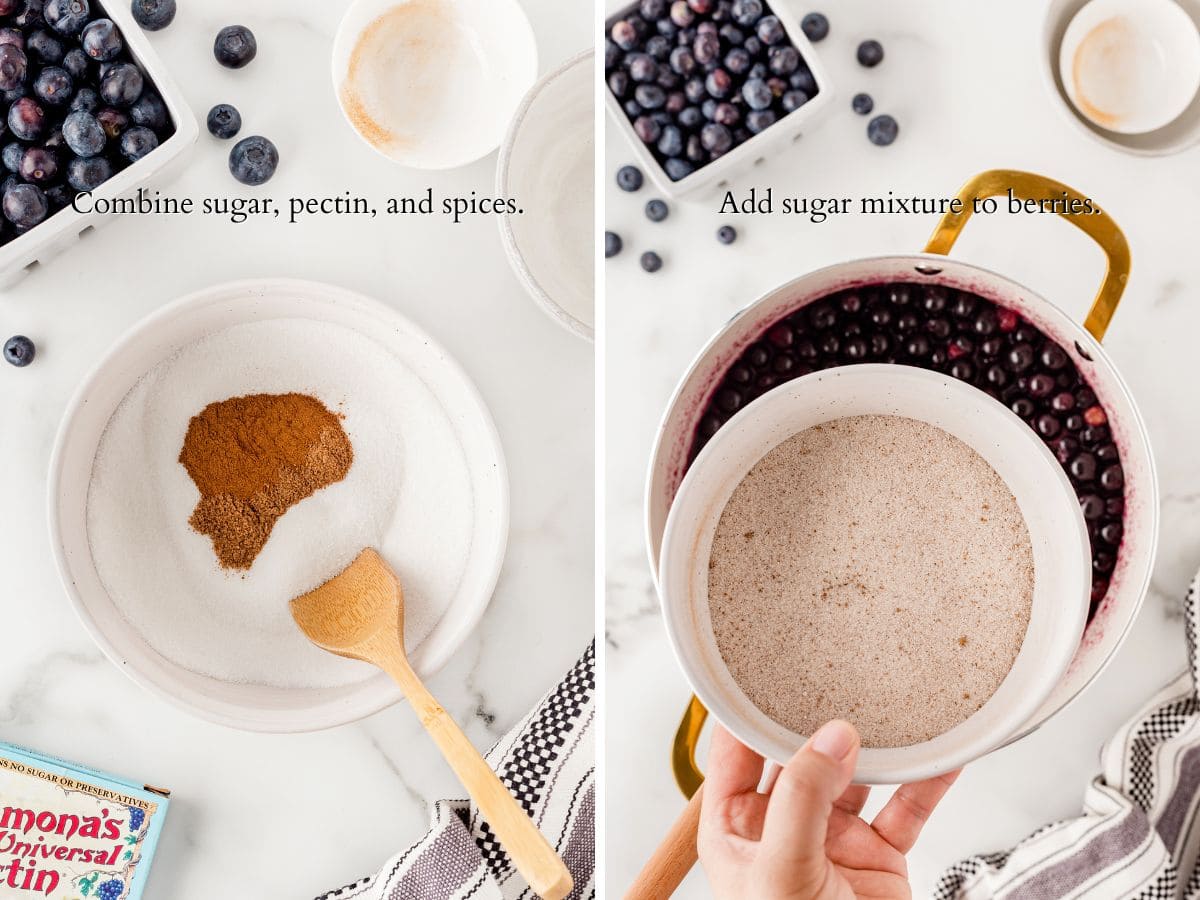 When the blueberry mixture boils, add the sugar mixture. Stir for a minute or two to completely dissolve the pectin. Remove from heat when the mixture returns to a boil and proceed with canning instructions.
Alternatively, you can use the pie filling immediately to bake dessert, or refrigerate for several days.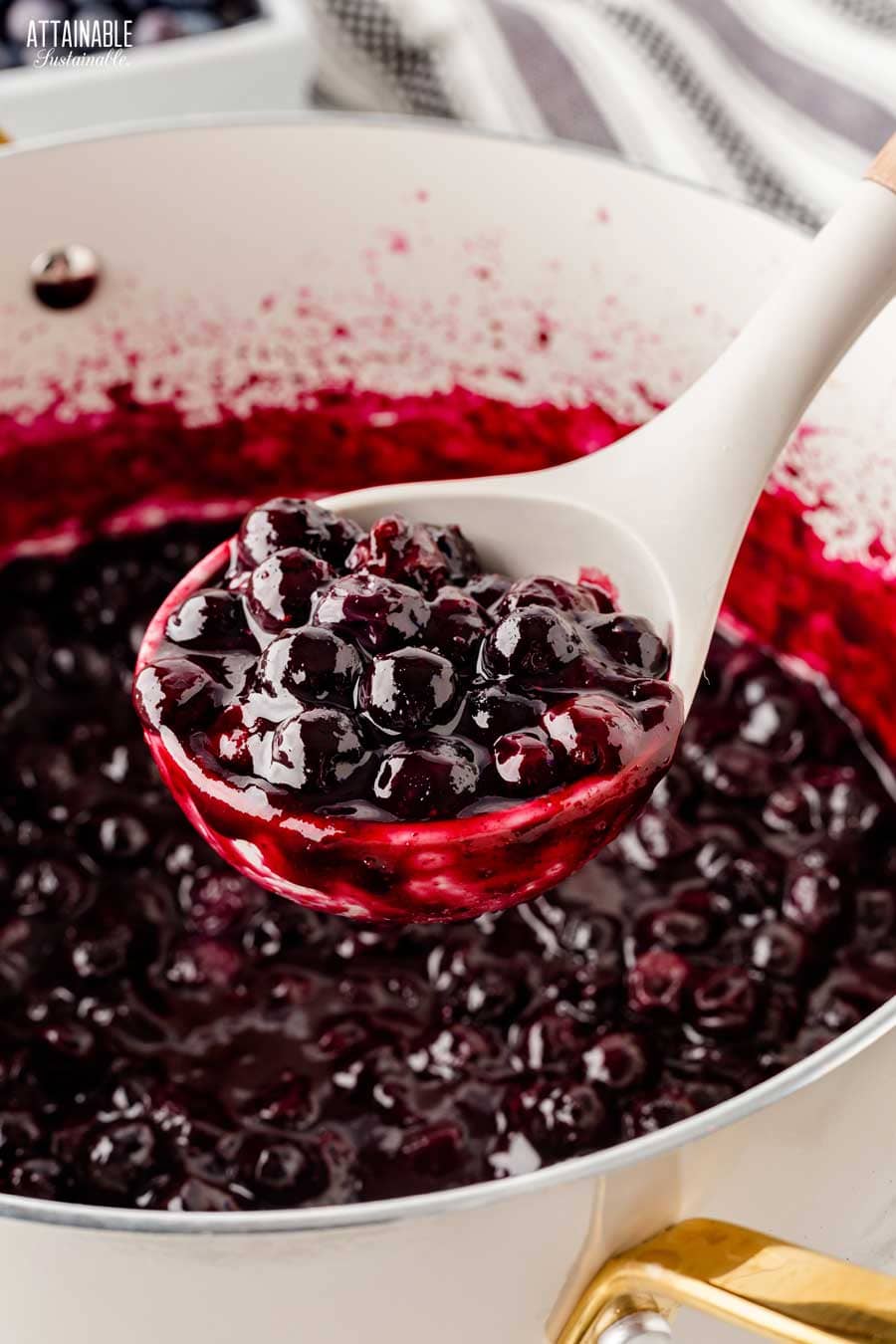 Canned Blueberry Pie Filling
You'll need special canning jars, lids, and rings (read more about canning equipment here) to make this homemade fruit filling shelf-stable, but the water bath canning process isn't difficult.
Use pint jars for this recipe; there has been no testing by the USDA or NCHFP to determine safety of making canned filling in quart jars.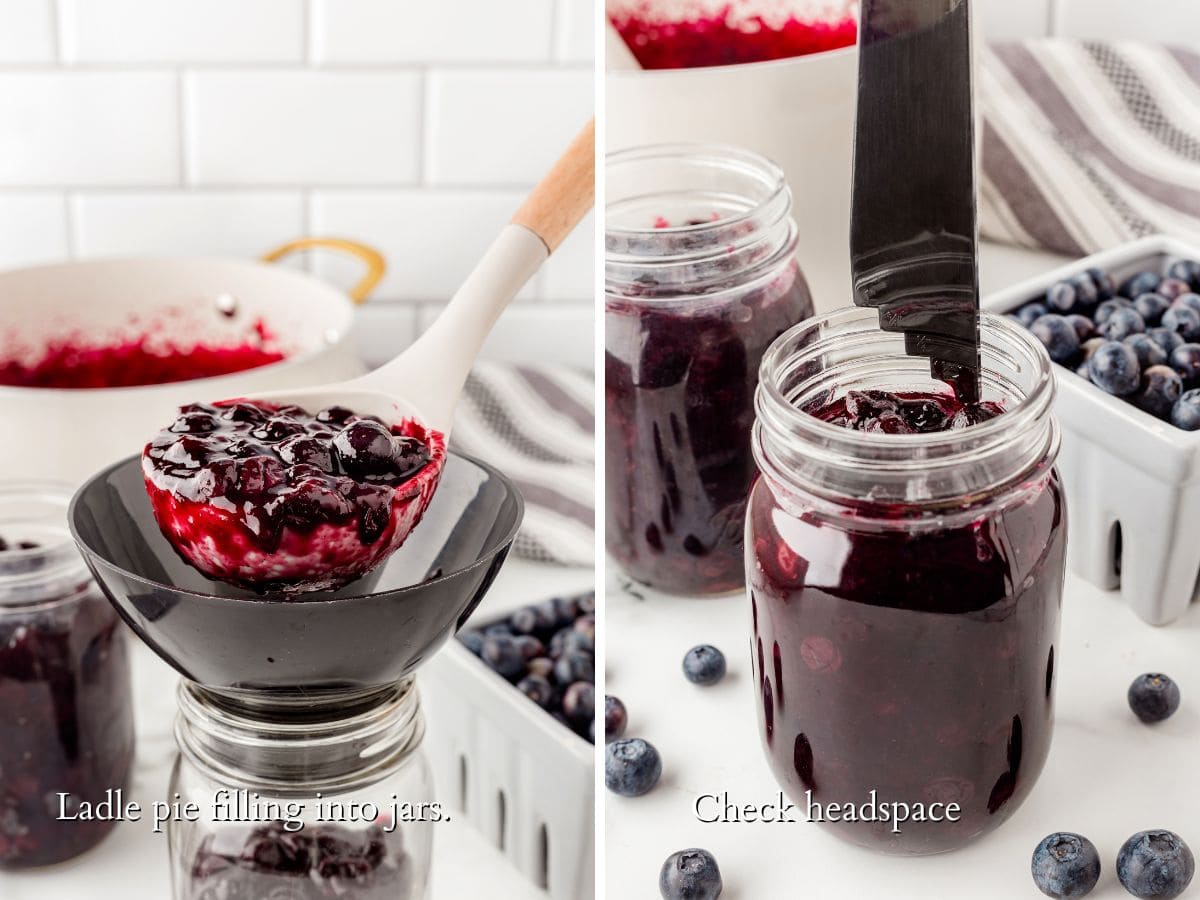 Once the jars are filled, you'll process them in a water bath. What this means is you'll put the filled and sealed jars of filling into boiling water and heat them for ten minutes. This assures that the jars will seal well.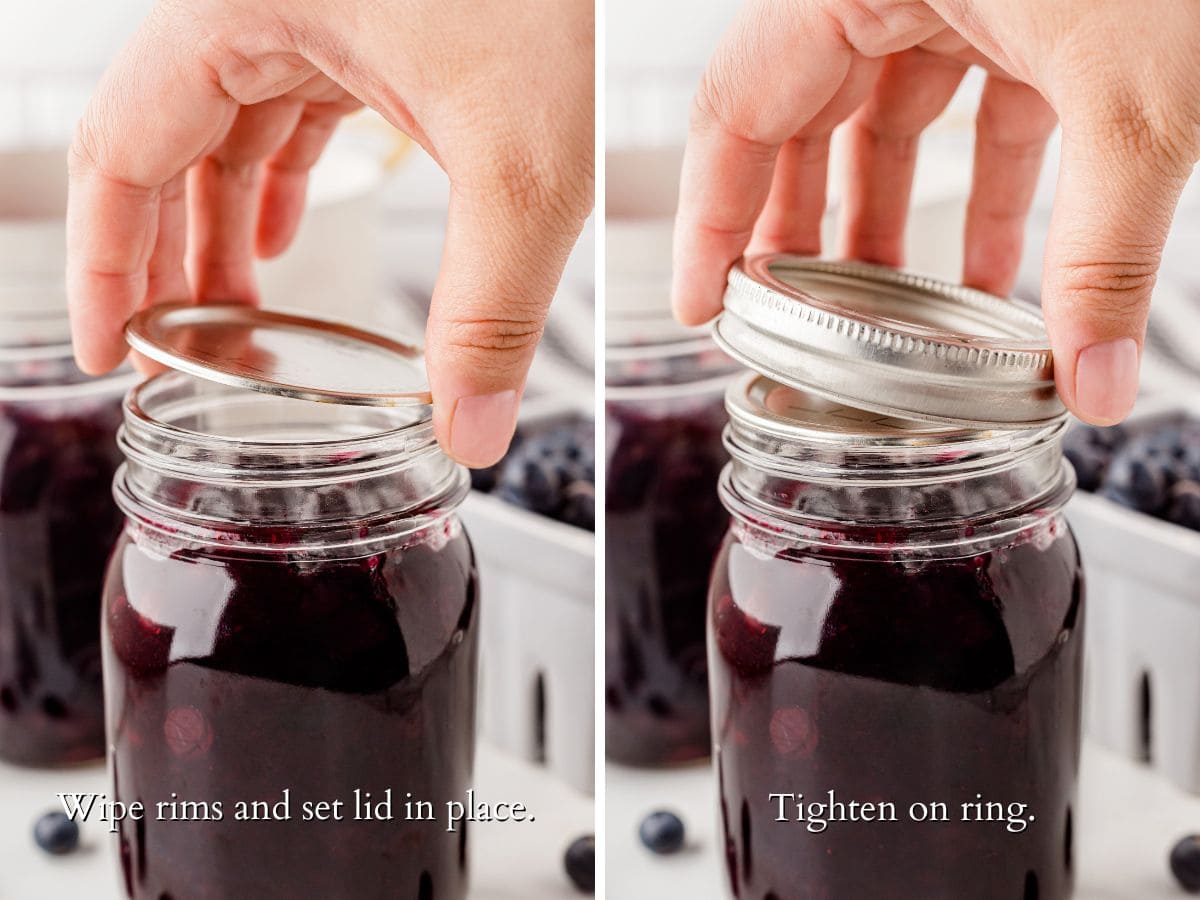 You might be able to use a large pot, rather than a special water bath canner.
Hot tip: Boil some extra water in a saucepan or electric kettle as you're working. If you need to top off the water in the canner, you won't cool down the water too much.
Place hot jars on a countertop lined with a kitchen towel and allow to cool fully. As they cool, you'll hear the little "tink" sound of the jars sealing. Store any unsealed jars in the fridge and use those first. (This is unusual, but it does happen once in awhile.)
Remove the ring from each sealed jar, rinse to remove any sticky residue, and store (without the ring) in a cool, dry place, such as the pantry.
Here's a more detailed look at home canning jam and jelly.
🍅 Safety First!
Canning is an excellent way to preserve food for the pantry, but there are some important safety considerations to keep in mind. The recipes on this site have been made following safe canning procedures by a certified Master Food Preserver.
Know the difference between water bath canning and pressure canning. Low acid items must be pressure canned for safety.
Altering ingredients may change the recipe's pH, posing a safety issue. I highly recommend investing in pH paper to test your products for acidity level when canning. Note: For safe water bath canning, the Hawaii Master Food Preservers suggest a pH of 4.2 or lower in the tropics. In other regions, the recommended pH is 4.6 or lower.
Use the proper jars and lids. Never reuse lids, with the exception of the Tattler or Harvest Right hard plastic lids that are intended for such a purpose.
For more on canning equipment, please go here.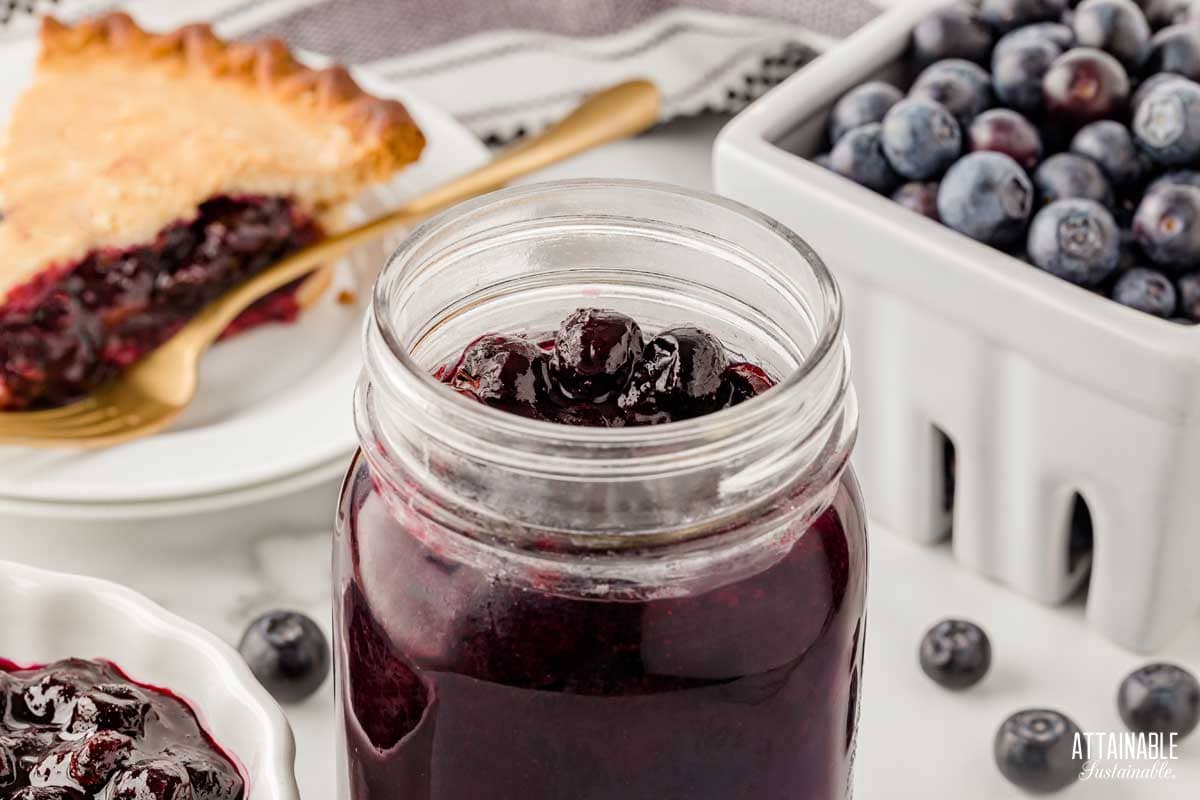 Using this Blueberry Filling
Of course, the obvious way to use this is to bake yourself a pie! Beyond that, though, there are plenty of others ways to use it.
Use it to make a blueberry crisp.
Stir it into yogurt.
Spoon it over brie cheese and serve with crackers for a sweet and savory appetizer.
Add a dollop to this blueberry baked oatmeal for extra flavor.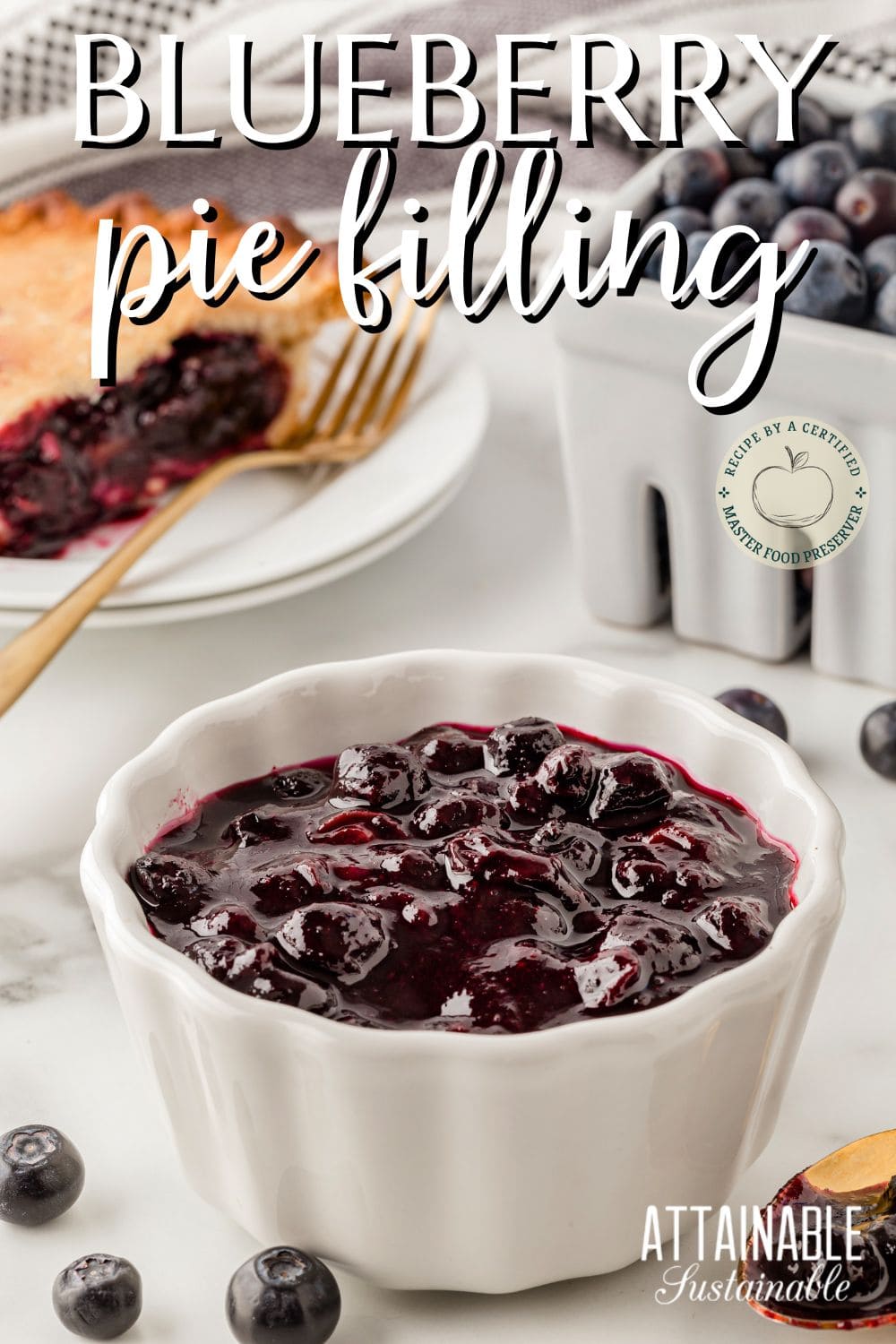 FAQs
Do I need to use sterilized jars?
According to the National Center for Home Food Preservation, canning jars only need to be sterilized if they are processed for fewer than 10 minutes. Because this recipe calls for a process time of 15 minutes, you do not need to sterilize the jars – the canning process is sufficient. DO start by washing jars in hot soapy water, though!
What's the shelf life of this pie filling?
For best quality, this homemade pie filling should be used within a year or so, though as long as the seal remains intact, the product inside the jar should be good.
Can I use frozen blueberries?
You absolutely can. Just know that the frozen berries will not retain their shape as well as fresh berries.
★ Did you love this recipe? Be sure to give it a star rating below! ★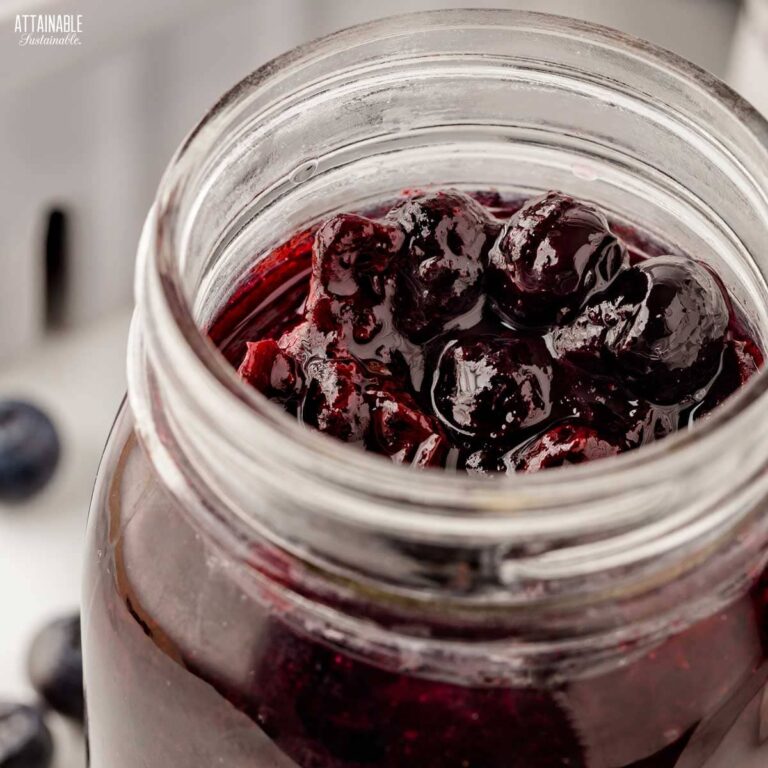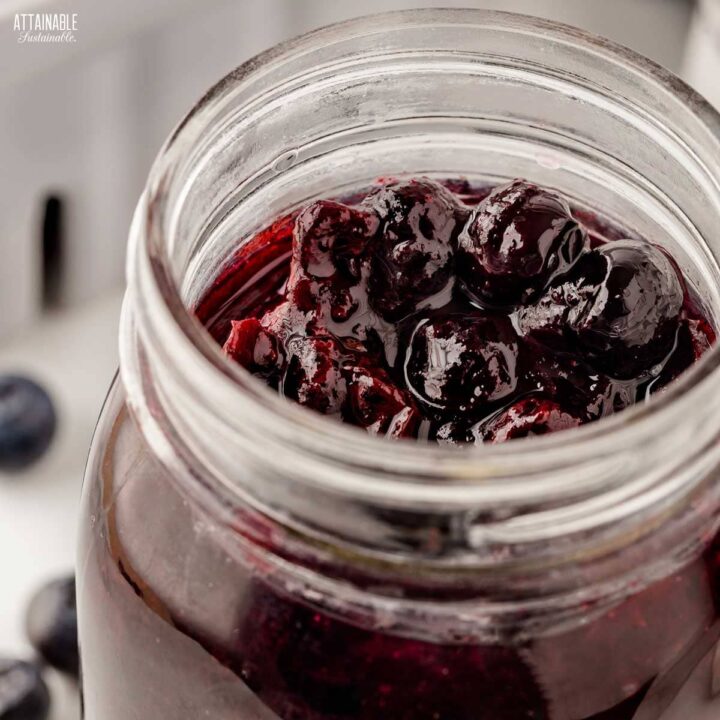 Blueberry Pie Filling Recipe for Canning
Processing Time:
15 minutes
This easy recipe is a fun way to save the summertime flavor of juicy blueberries. Use it for pie, scoop some onto yogurt, or spoon some over brie cheese for an easy but elegant appetizer.
Ingredients
16 cups fresh blueberries
1/2 cup lemon juice
4 teaspoons lemon rind
4 teaspoons calcium water
1 1/2 cups sugar
2 teaspoons Pomona's pectin powder
2 teaspoons cinnamon
1 teaspoon nutmeg
Instructions
PREPARE FOR CANNING
Prepare the calcium water: Combine ½ teaspoon calcium powder (from the small packet in the box of Pomona's pectin) with ½ cup water in a small jar. Screw on a lit and shake until well-combined. You'll have more than you need for this recipe. Store the excess in the refrigerator for use in making additional jam or jelly recipes.
Wash the jars you'll use, making sure each is clean and free of nicks in the rim, which could impede sealing.
Wash the lids and rings in hot soapy water. (If you're using non-Ball brand lids, prepare as suggested by manufacturer.)
Place empty jars in a canning pot or large stock pot with enough water to cover by an inch or two, cover pot, and set on high heat. It can take awhile for the water to heat, so get it started before you begin making the recipe.
MAKE THE BLUEBERRY PIE FILLING
Measure the blueberries, lemon juice, lemon rind, and calcium water into a large saucepan; bring to a boil over medium-high heat.
Meanwhile, combine sugar with the pectin until it's thoroughly combined. Stir in cinnamon and nutmeg.
When the berry mixture comes to a boil, stir in the pectin and sweetener, stirring for 1 to 2 minutes to dissolve the pectin while bringing the fruit mixture back to a boil. Remove from heat when the pie filling boils.
CANNING THE PIE FILLING
Remove empty jars from canner, draining water back into pot.
Ladle hot fruit mixture into pint sized mason jars, leaving 1 inch headspace. A canning funnel makes this easy.
Use a non-metallic knife or chopstick to help settle the filling and remove any air bubbles. Re-check headspace and add more if necessary to maintain the 1" headspace.
Wipe rim of each jar to remove any filling that may have spilled. A clean rim is essential to a good seal.
Place lids centered on the jar rim. Screw bands on finger tight.
Use a jar grabber to gently submerge jars into boiling water canner. Water should cover the top of the jars by an inch. The water will cool somewhat in reaction to the addition of the jars. Return the water to a simmer and then set the timer.
Process for 15 minutes 0-1,000 feet altitude; add an additional minute for every additional 1,000 feet in elevation.
Remove jars from water using the jar lifter and transfer to a solid, towel-covered surface. Listen for the popping sound of the lids sealing (a canner's favorite sound!). Allow to cool for 24 hours.
Check seals. Lids should be solid and pulled down tight. (if they flex and pop, the jar didn't seal; put unsealed jars in the refrigerator and use those first).
Remove rings and wash outsides of jars. Store in a cool dark place.
Notes
Unlike many canned fruit recipes, this pie filling calls for a full inch of headspace.
Use pint jars;  there has been no testing by the USDA or NCHFP to determine safety of making canned filling in quart jars. 
This recipe tests at about 3.5 pH, making it safe for water bath canning.
Boiling lids or heating above 180°F as once recommended can damage the sealing compound.
To make a pie:
Divide pie crust dough in two portions, and then roll out on a liberally floured surface. Your crust should be about an inch bigger than the pie pan, all around. Fold the dough in half for easy lifting, then move into an 8" pie pan. Pierce the dough a couple of times with a fork to prevent the bottom crust from getting air bubbles.
Pour two jars of filling into the crust.
Roll out second crust, fold in half for easy moving, and gently place it on top of the filling. Gather the edges of both crusts, and turn them under as you work your way around the pie, crimping the edges together. Use a knife to cut a couple of slashes in the top crust to allow steam to escape.
Place pie on a foil-lined cookie sheet to catch drips. Bake at 425 degrees for 15 minutes, then turn heat down to 350 degrees. Continue baking for another 45 minutes or until pie is golden brown.
OPTIONAL: Brush top of pie with milk or an egg wash (to give it a shine) and bake for five more minutes.
Serve hot blueberry pie with a scoop of vanilla ice cream.
Nutrition content based on just the pie filling, not a slice of pie.
Nutrition Information:
Yield:

8
Serving Size:

1/2 cup
Amount Per Serving:
Calories:

322
Total Fat:

1g
Saturated Fat:

0g
Trans Fat:

0g
Unsaturated Fat:

1g
Cholesterol:

0mg
Sodium:

9mg
Carbohydrates:

83g
Fiber:

8g
Sugar:

67g
Protein:

2g