Real strawberry jello doesn't come out of a box. It starts with fresh fruit and real ingredients. Packaged in reusable containers, this homemade jello is a great addition to school lunches or after school snacks.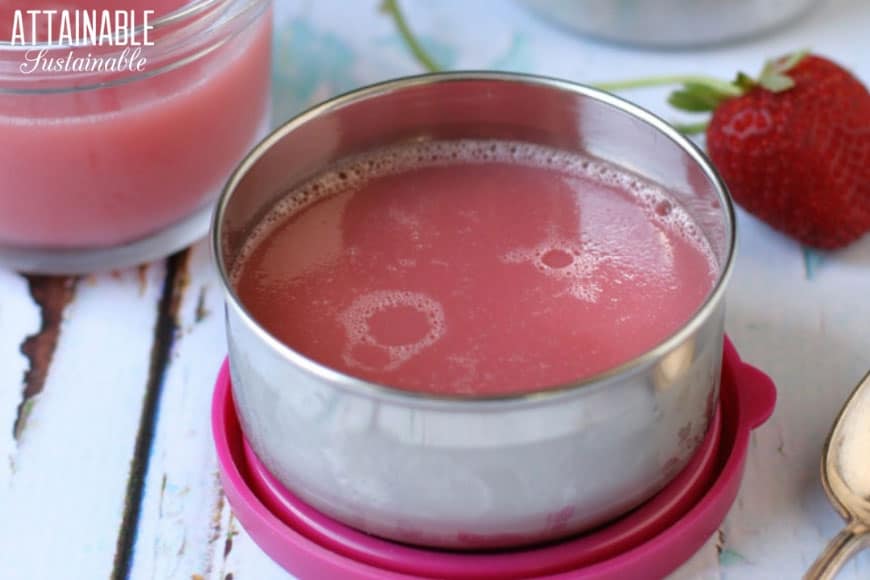 This is a sponsored post. Mighty Nest provided Loriel with a collection of lunch containers to work with as she created this post. 
The convenience of single-use plastic containers is simply not worth the long-lasting damage to our world; from more waste in the landfills and more greenhouse gasses emitted, to those nasty BPA chemicals hiding within the packaging. Plus, have you ever taken a look at the ingredients in packaged jello?
Most of the ingredients are things you can't pronounce or can't find in your pantry. It's also important to mention that the sugar in processed jello is most likely made from GMO sugar beets. There's lots of artificial going on in the list.
Related: 10 Kinds of Berries to Grow in your Backyard
5 Easy Steps to Transform Your Pantry!
Ready to switch from store bought to homemade? Let me help you make some changes! Grab my FREE five-part guide to getting started.
Related: Healthy Lunchbox Ideas with Less Waste for Back to School
---
The Handcrafted Pantry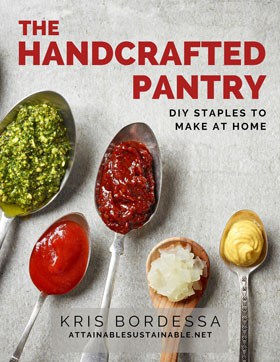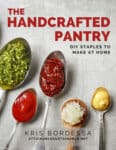 Ready to DIY your pantry with healthier ingredients? Check out my ebook, The Handcrafted Pantry! Filled with delicious recipes for some of your favorite condiments, snacks, and toppings, it's the guide you need to start skipping packaged products and embrace homemade.
---
Homemade jello with real fruit
The good news is we can still enjoy the modern day things we love to eat, like strawberry jello cups, without adding any more waste to this world.
Homemade jello is incredibly easy to make and has ingredients you can feel great about. Plus, with a little "outside the box" thinking, you can still enjoy the convenience of taking it with you–without using plastic.
Think of it as sort of a DIY jello cup!
The kind of container depends on your preference (stainless steel or glass) and who will be taking these jello cups in their lunch (adults or kids). I found these leak-proof 5-oz stainless steel containers from MightyNest work great for kids' lunches. If you're uneasy about using stainless steel, I have tried these leak-proof glass containers.
The best part is you don't have to limit them to this homemade jello; they are great for packing trail mixes, leftovers, half an avocado or fruit, or anything else you can fit in there.
If you're feeling creative, you can use these neat silicone molds and make jello cubes that are extra fun for little fingers and store them in these.
It's strawberry season in my area, so I wanted to make use of my bounty and make strawberry jello, but please note that you can also sub in fruit juice like this to make your jello cups.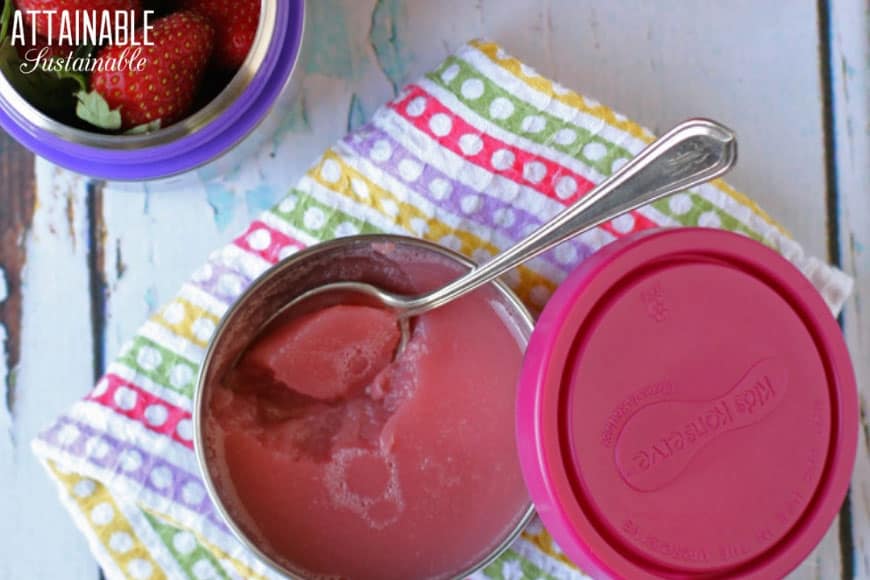 ★ Did you make this homemade jello recipe? Don't forget to give it a star rating below! ★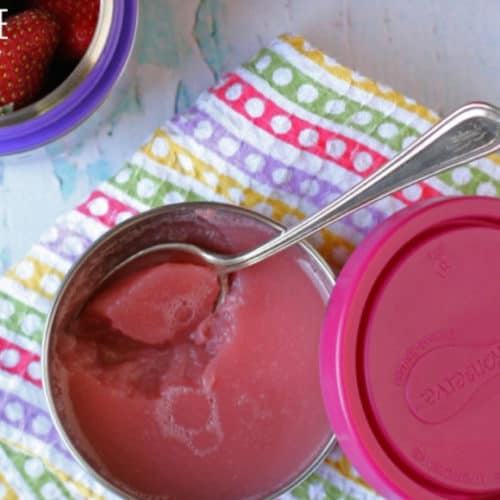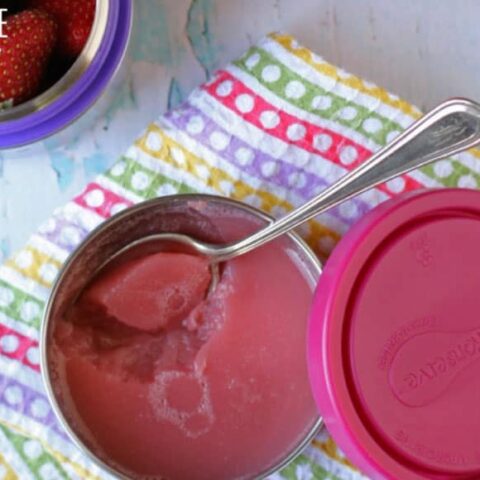 Homemade Jello from Fresh Strawberries
Homemade jello is incredibly easy to make, has ingredients you can feel great about, and with a little "outside the box" thinking, you can still enjoy the convenience of taking it with you--without using plastic.
Ingredients
1 cup organic strawberries, hulled
3 tablespoon granulated organic cane sugar, or honey or coconut sugar
1 teaspoon lemon juice
1 tablespoon grassfed gelatin
1 cup water
Instructions
In a high powered blender, puree 1 cup of hulled strawberries, sweetener, and a squeeze of lemon juice.
Pour into a mixing bowl and sprinkle gelatin on top of it. Bring water to a boil and then pour over the bowl of pureed strawberries and gelatin. Whisk until there are no clumps and the gelatin is completely dissolved.
Pour into your desired containers and set in the refrigerator to chill (2-4 hours). Your homemade jello cups are ready to tuck into your lunch on the go!
Notes
This homemade jello will keep in the fridge for up to a week.
Nutrition Information:
Yield:

4
Serving Size:

1 grams
Amount Per Serving:
Calories:

15
Unsaturated Fat:

0g
Sodium:

3mg
Carbohydrates:

3g
Sugar:

2g