This easy fig jam recipe starts with fresh figs and is sweetened with honey and maple syrup. This fig spread will make your tastebuds so happy.
Have you ever thought about trying to grow a fig tree in a pot? They're pretty and productive.
Figs are grown for their seedy fruit. Even if you've never had a fresh fig, it's likely that you've tasted a Fig Newton cookie! Dried figs are the basis for the figgy pudding recipe made famous by that Christmas song that gets stuck in your head, too.
Fig Jam Recipe
Free of refined sugar, this fig spread allows the flavor of the figs to shine. It's super easy to make in a slow cooker. Just set and forget! Now that's my kind of recipe.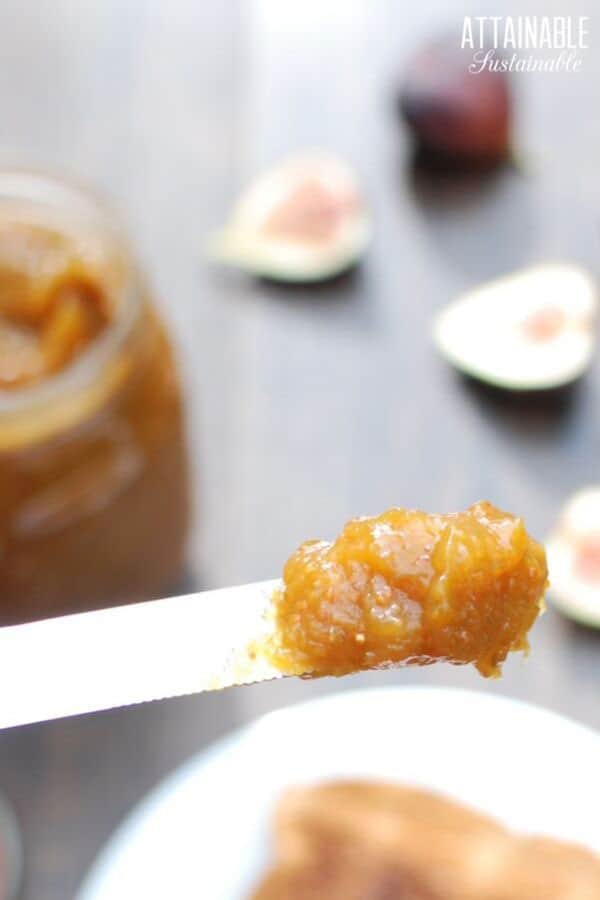 Ingredients
Fresh figs — The variety you use doesn't matter, though the flavor will vary slightly between different types of figs. So will the color of the resulting jam.
5 Easy Steps to Transform Your Pantry!
Ready to switch from store bought to homemade? Let me help you make some changes! Grab my FREE five-part guide to getting started.
Sweeteners — This spread calls for both honey and maple syrup for sweetening and flavoring the jam.
Lemon juice — Add fresh or bottled lemon juice to provide a bit of tang.
Ginger — Adding a piece of fresh ginger to this fig recipe gives a nice spice to the jam. If you don't have fresh ginger, you could use dried ginger. Use about a teaspoon.
Making this recipe
This is one of those "I can't believe it's so easy" recipes. And making it in the slow cooker means you don't need to do much more than stir it occasionally. No watching a pot full of jam as it cooks down.
This jam recipe does not call for using pectin. In fact, while I call it jam, it's more like a fruit butter, cooked down to a thick spread.
Start by washing the figs and use a knife to cut off the stem end. Put the figs along with the remaining ingredients in a slow cooker and cook on low for a couple of hours.
Once the figs are soft, use a potato masher or immersion blender to mash the mixture. Check the texture. If you'd like it a bit thicker, continue cooking with the lid off, stirring until it reaches the desired consistency.
Can this recipe be canned?
The pH for this recipe tested at 4.0, which makes it safe for water bath canning.
Note that I did not can this recipe myself; I opted to just tuck it into the refrigerator. Refrigerated, the jam will last several weeks. To keep it longer, you can freeze it.
I'm including instructions for canning this recipe if you'd like to do that, though. This step by step guide to canning jam and jelly will probably be useful.
This recipe makes a small batch of fig jam, about two pints. If you're refrigerating it, this jam can be stored in upcycled glass jars. If you opt to can it, you'll need to use canning jars and lids.
🍅 Safety First!
Canning is an excellent way to preserve food for the pantry, but there are some important safety considerations to keep in mind. The recipes on this site have been made following safe canning procedures by a certified Master Food Preserver.
Know the difference between water bath canning and pressure canning. Low acid items must be pressure canned for safety.
Altering ingredients may change the recipe's pH, posing a safety issue. I highly recommend investing in pH paper to test your products for acidity level when canning. Note: The Hawaii Master Food Preservers suggest a pH of 4.2 or lower in the tropics. In other regions, the recommended pH is 4.6 or lower.
Use the proper jars and lids. Never reuse lids, with the exception of the Tattler or Harvest Right hard plastic lids that are intended for such a purpose.
For more on canning equipment, please go here.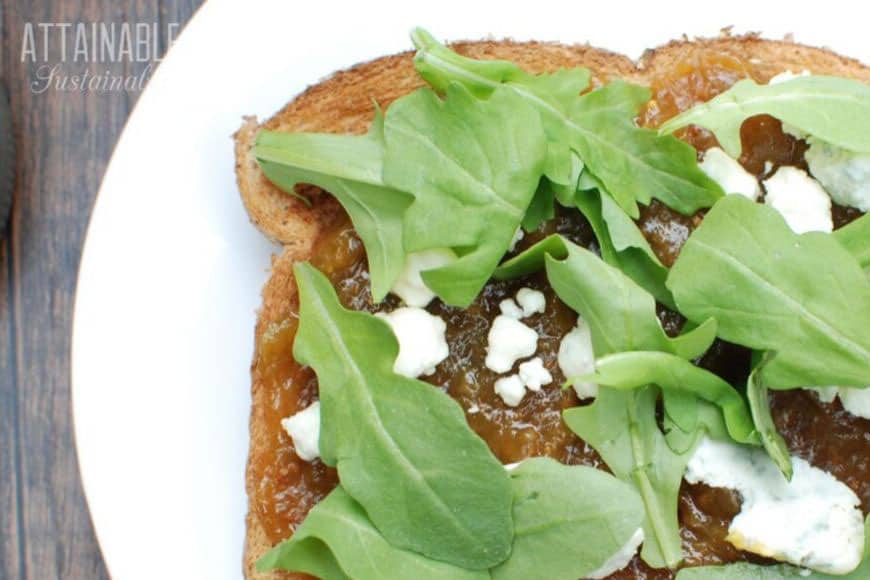 Using this fig jam
I recommend you keep some in your freezer, especially during the holiday season. Last minute guests? Spread about a half cup of fig jam over a round of brie cheese and bake it in the oven until it's warm and melty. Serve with slices of fresh apple or crackers.
Spread on toast for a sweet addition to breakfast.
Add fig jam, arugula, and blue cheese to toasted bread for a flavorful lunch.
Use it to top waffles.
Make a banana & fig jam bread.
Spread onto a muffin.
Make a breakfast sandwich with fig jam, sautéed pears, an over easy egg, spinach, and cheddar cheese.
Spread it on this fig prosciutto pizza
(Be sure to try these easy roasted figs with goat cheese while this sweet fruit is plentiful, too!)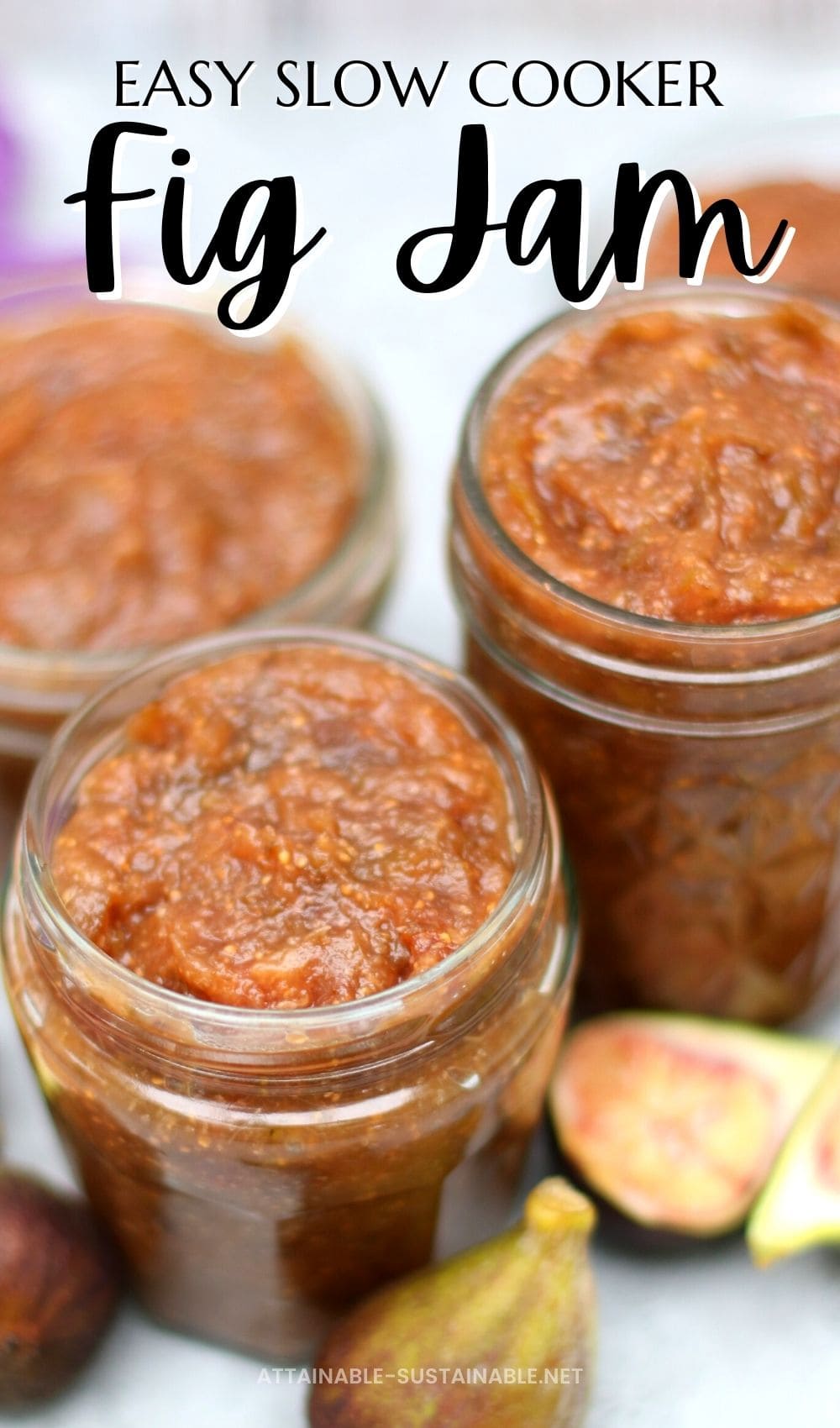 ★ Did you make this fig jam recipe? Don't forget to give it a star rating below! ★
Try this Easy Honey Maple Fig Jam Recipe
Total Time:
3 hours
10 minutes
Free of refined sugar, this fig jam is easy to make in a slow cooker.
Ingredients
2 pounds fresh figs (about 50)
4 tablespoons lemon juice
3 strips of lemon peel
1/2 cup water
1/2 cup honey
1/4 cup maple syrup
1" piece of fresh ginger (or 1 teaspoon dried)
Instructions
Wash and trim stem ends from figs.
Place all the ingredients in a slow cooker and cook for 2-3 hours on low.
Remove ginger and mash with a potato masher or puree with an immersion blender (depending on desired texture).
If mixture is too thin at this point, turn crockpot to high and prop lid halfway off so steam can escape. Continue to cook for another 1-2 hours until it reaches the desired consistency, stirring occasionally.
Once jam reaches desired texture, store it in a mason jar in the fridge for a couple of weeks, freeze it (mind your headspace), or use the instructions below to can it for the pantry.
PREP FOR CANNING
Fill a canning pot with water, set the lid in place, and heat on high heat until boiling. It can take awhile for the water to come to a boil, so get it started before you begin making the jam.
Gather the canning jars you'll use, making sure each is clean and free of nicks in the rim, which could impede sealing.
Bring a small pot of water to a simmer and turn off the heat. Drop the rings and lids into the water and leave them there until you're ready to screw them onto the filled jars.

CANNING THE JAM
Ladle hot jam into quarter-pint, half-pint, or pint sized jars, leaving 1/4" head space. A canning funnel makes this easy.
Wipe jar rims to remove any jam that may have spilled. A clean rim is essential to a good seal.
Set jar lids in place. Screw bands on finger tight.
Use a jar lifter to gently submerge jars into hot water in the canning pot. Water should cover the top of the jars by an inch. The water will cool somewhat in reaction to the addition of the jars. Return the water to a simmer and then set the timer.
Process for 10 minutes 0-1,000 feet altitude; add an additional minute for every additional 1,000 feet in elevation.
Remove jars from water using the jar lifter and transfer to a solid, towel-covered surface. Allow to cool for 24 hours.
Check seals. Lids should be solid and pulled down tight. (if they flex and pop, the jar didn't seal; put unsealed jars in the refrigerator and use those first).
Remove rings and wash outsides of jars. Store in a cool, dry place.
Notes
The potato masher will leave a chunkier jam while the immersion blender will create a smoother jam.
Yield: 2 pint
Recipe as made tests at a pH of 4.0, making it safe for water bath canning.
Nutrition Information:
Yield:

32
Serving Size:

2 tablespoons
Amount Per Serving:
Calories:

85
Total Fat:

1g
Saturated Fat:

1g
Unsaturated Fat:

0g
Sodium:

2mg
Carbohydrates:

22g
Fiber:

2g
Sugar:

20g
Protein:

1g
Originally published September 2019; this post has been updated.