It's easy to transform ground pork into a tasty homemade breakfast sausage with this recipe and just a few herbs and spices. Make up a batch of this mild sausage and keep it in the freezer.
This recipe works well in my mushroom and sausage risotto recipe.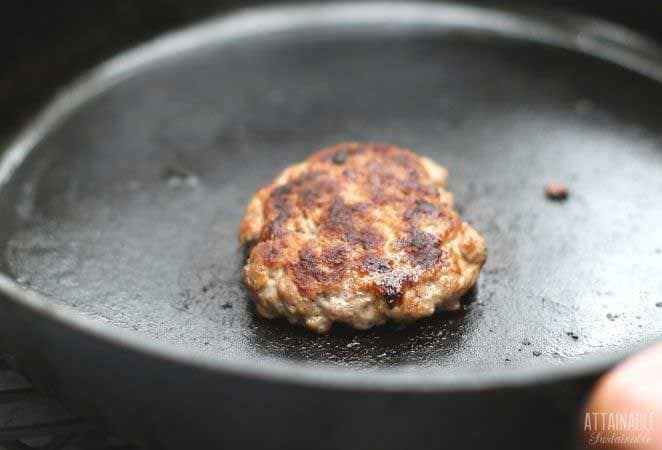 Store bought sausage is fine and all, but making your own allows you to really fine-tune the spices to your liking. This homemade breakfast sausage recipe is one of our favorites. It has a mild flavor with just a bit of spice.
You can use ready-made ground pork or grind your own.
---
The Handcrafted Pantry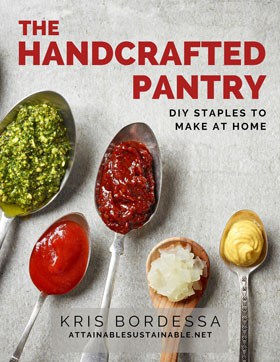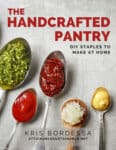 Ready to DIY your pantry with healthier ingredients? Check out my ebook, The Handcrafted Pantry! Filled with delicious recipes for some of your favorite condiments, snacks, and toppings, it's the guide you need to start skipping packaged products and embrace homemade.
---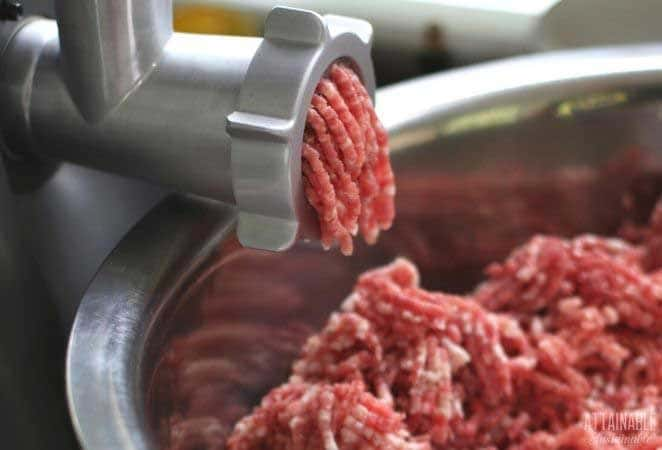 5 Easy Steps to Transform Your Pantry!
Ready to switch from store bought to homemade? Let me help you make some changes! Grab my FREE five-part guide to getting started.
Making homemade breakfast sausage
If you're starting with pork butt or meat from a freshly butchered hog, you'll need to grind the pork using a meat grinder. That can be a bit messy, but it's worth it especially if you have farm raised pork to start with. If you're starting with ground pork, it's really just a matter of combining the ground meat with the breakfast sausage spices.
In the past, we used a Chef's Choice meat grinding attachment that mounted to my KitchenAid stand mixer. We've recently upgraded to a dedicated meat grinder from Lem. The Lem grinder is much faster and better at chopping the meat, though if you only make sausage occasionally, it's probably a bigger investment than you need to make. You could also use a hand crank grinder.
It's easiest (but not entirely necessary) to use slightly frozen meat. The grinder seems to have an easier time with it that way.
Use the "pusher" to feed pork chunks into the feed tube, adding more as it moves through the grinder.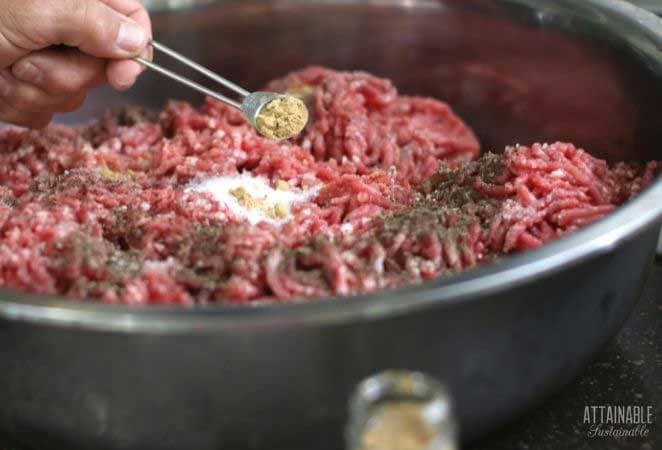 Seasoning the sausage
Turning the ground pork (whether you've made it yourself or you're starting with store bought ground pork into homemade breakfast sausage is just a matter of combining ingredients. Use a large bowl and mix the ingredients together with your hands until very well blended.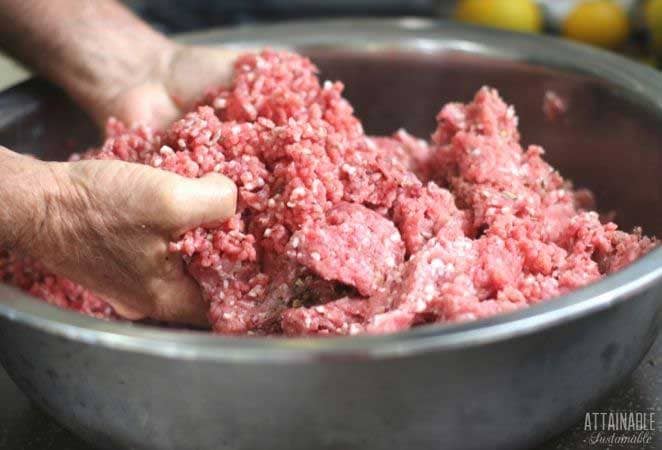 Once you've mixed the ingredients together, cook up a little sample patty to make sure that the flavors are right for your taste buds. If you feel like it needs a little more of one thing or the other (taste buds are so personal), add a bit and then try another sample patty.
Freezing
We preserve this homemade breakfast sausage by freezing it in (roughly) one-pound packages. We usually use freezer paper to package ours, but it's not always easy to find. Another alternative is to wrap the sausage in waxed paper and then a layer of aluminum foil.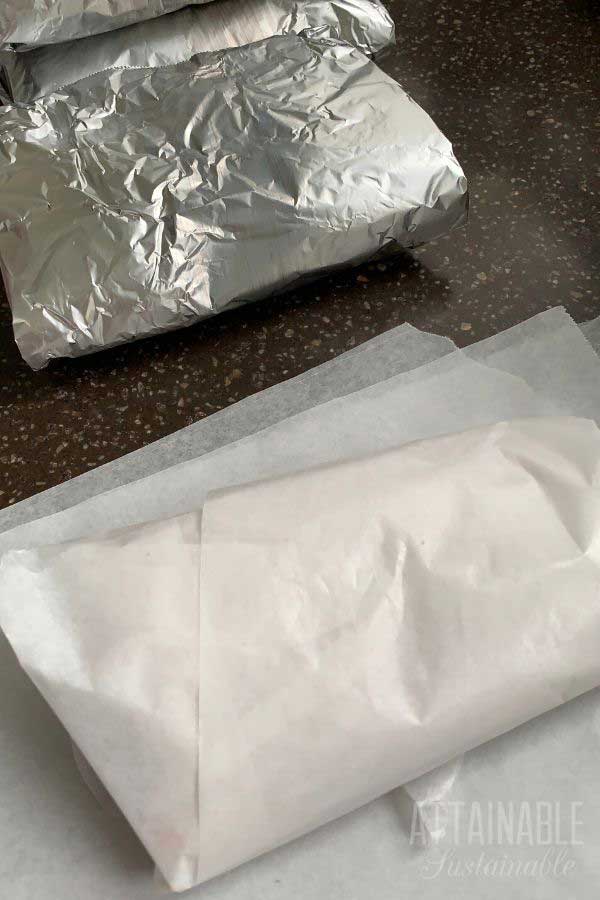 There are a number of less wasteful options that will work for freezing your homemade sausage at this post about freezing without plastic, too.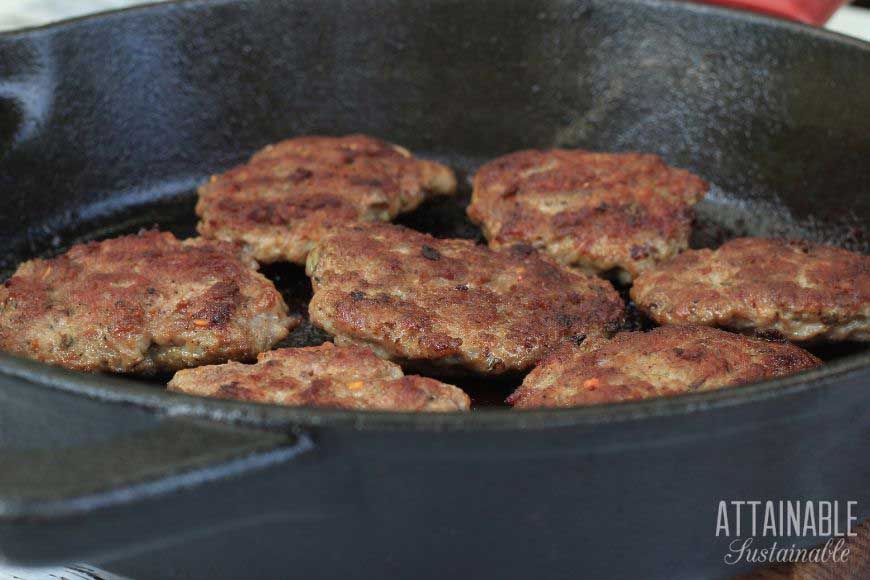 How to cook breakfast sausage
To cook breakfast sausage patties to serve alongside pancakes, eggs, or in homemade breakfast sandwiches, use your hands to form the sausage into golf ball sized rounds. Flatten meat into a patty and set into a frying pan. (We like to use our cast iron skillet.)
Cook patties on medium-high for about 5 minutes or until nicely browned on one side. Use a spatula to flip the patties and cook for another 5 minutes or so. Check for doneness by cutting a patty in half; if it's no longer pink inside, it's done.
To use this homemade breakfast sausage as a crumble — say, to stir into an egg scramble or frittata — put desired amount in a skillet over medium heat. Use the back of a wooden spoon to break the meat apart as it browns. Cook sausage, continuing to stir and break up the sausage until no pink remains.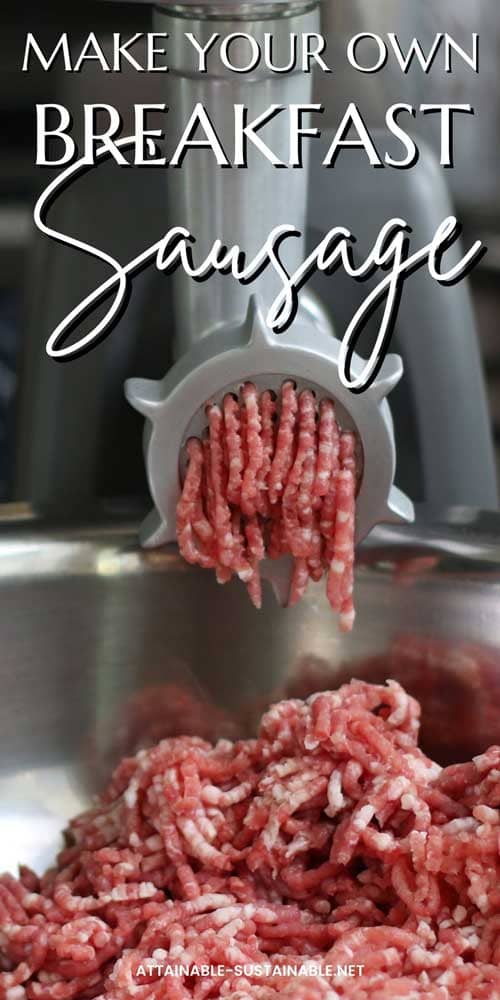 ★ Did you make this homemade breakfast sausage? Don't forget to give it a star rating below! ★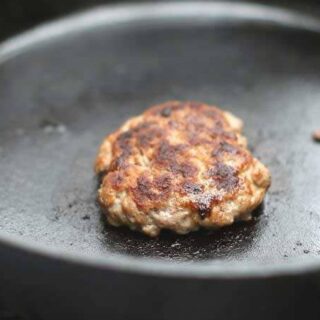 Homemade Breakfast Sausage Recipe
Transform ground pork into a flavorful sausage that your family will love to have on the breakfast table.
Ingredients
5 pounds ground pork (buy it in bulk or grind your own)
1-1/2 teaspoons black pepper
1 tablespoon sage, ground
1 teaspoon ginger, ground
1-1/2 teaspoons thyme, ground
1/2 to 1 cup of ice water
1/2 cup sweet marsala wine, (optional)
Instructions
Measure all ingredients into a large bowl. Mix with your hands until ingredients are well blended.
Optional: Sample the sausage. Of course, the flavors won't have saturated the pork, but by frying up a little mini patty, you'll be able to check the seasoning to make sure you're happy with the flavor.
Package breakfast sausage into desired size; store in the freezer for up to 6 months.
Notes
Times reflected above do not include the grinding of the pork. If you intend to grind your own pork, allot another 1/2 hour or so.
Nutrition Information:
Yield:

40
Serving Size:

1 grams
Amount Per Serving:
Calories:

154
Total Fat:

12g
Saturated Fat:

4g
Unsaturated Fat:

0g
Cholesterol:

41mg
Sodium:

149mg
Carbohydrates:

1g
Fiber:

1g
Sugar:

1g
Protein:

10g
Originally published in April 2020; this post has been updated.