If you've only tasted applesauce from the jars available at the grocery store, you're in for a treat. Instant Pot applesauce is incredibly easy to make and full of the rich flavor of fresh apples.
Originally published October 2018; this post has been updated.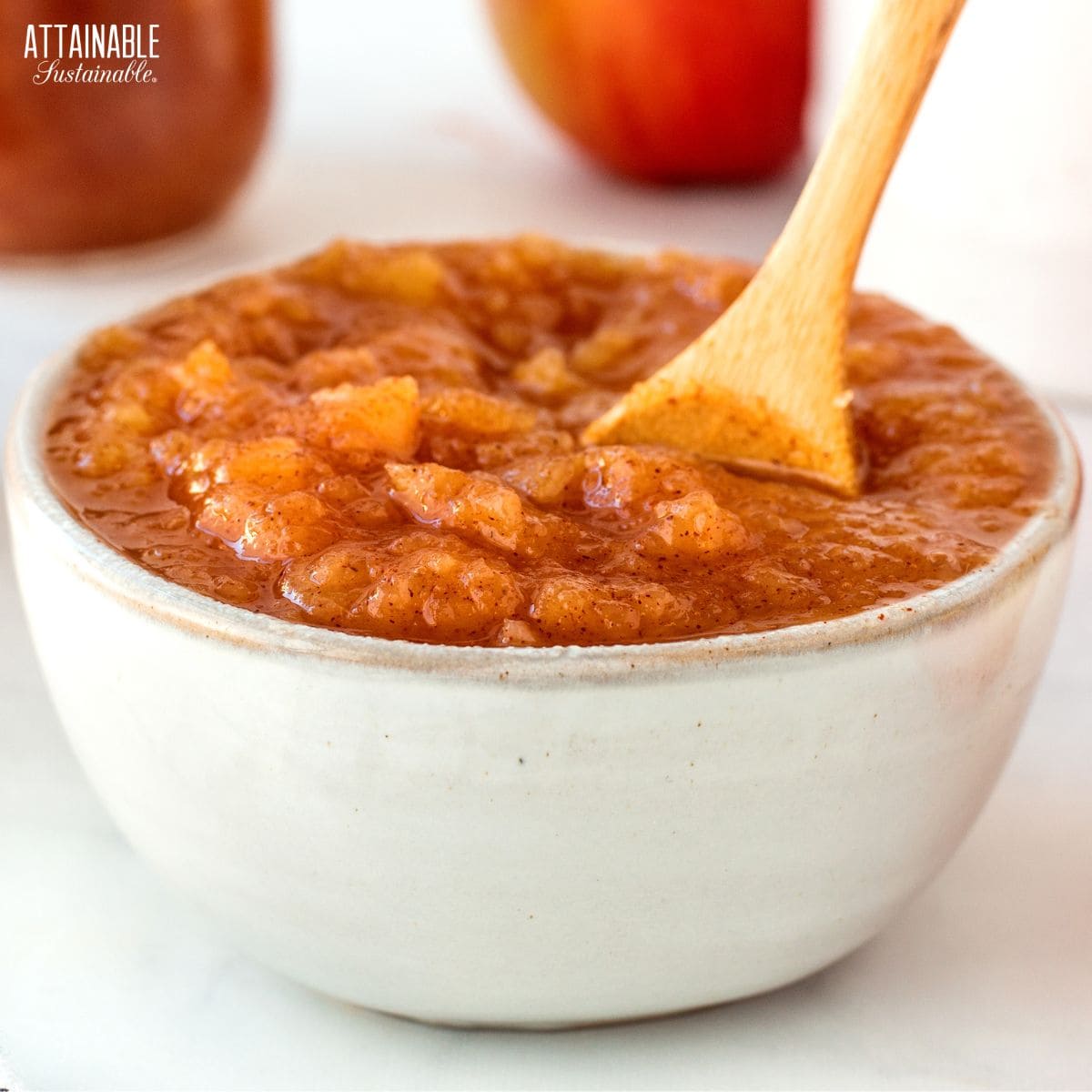 I grew up in an apple farming family, so late summer meant that warm applesauce made a regular appearance on our dinner table.
An electric pressure cooker would have made it so much faster for my mom to prepare this easy side dish! With just a few ingredients, this Instant Pot applesauce comes together in less than half an hour, start to finish.
Instant Pot Applesauce
This is a small batch recipe, enough to serve alongside your favorite family meal or to top homemade pancakes on the weekend.
If you want to make a larger batch and your Instant Pot will accommodate it, you can absolutely double the recipe.
5 Easy Steps to Transform Your Pantry!
Ready to switch from store bought to homemade? Let me help you make some changes! Grab my FREE five-part guide to getting started.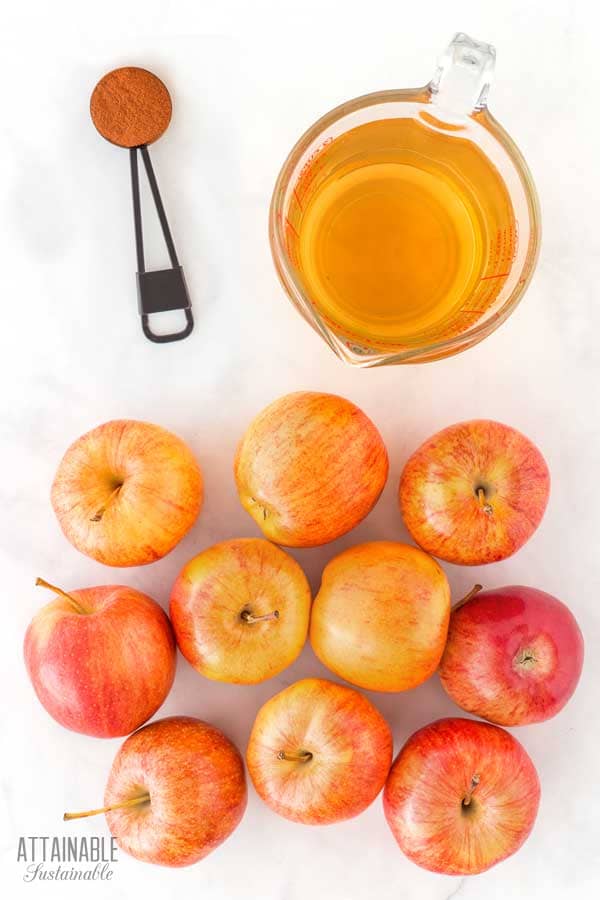 Ingredients
Apples — Choose fresh medium or large sized apples. You can use any variety of apple for making applesauce, but as I've stated elsewhere, the best apple — bar none — is the Gravenstein. (Okay, that's just my opinion, but dang, they're good!) The sweeter the apples, the sweeter the applesauce. I like to use really ripe apples for making applesauce, which eliminates the need to add sweetener.
Liquid — Adding an inch or two of liquid to the cooking pot is necessary to prevent the apples from scorching. I like to use apple juice if it's available, but plain water will work, too.
Spices — I love lots of cinnamon, but you do you. The cinnamon is purely for flavor and can be adjusted to make your mouth happy. You could also add a bit of nutmeg if you like.
Sweetener — I prefer canning applesauce without sugar; I find that the apples have plenty of sweetness, and sugar is not necessary for canning safety. If you have a sweet tooth, though, or you're using less-than-sweet fresh apples, you can certainly add granulated sugar, brown sugar, maple syrup, or honey to get the flavor just right. Add your favorite sweetener a little bit at a time, sampling as you go.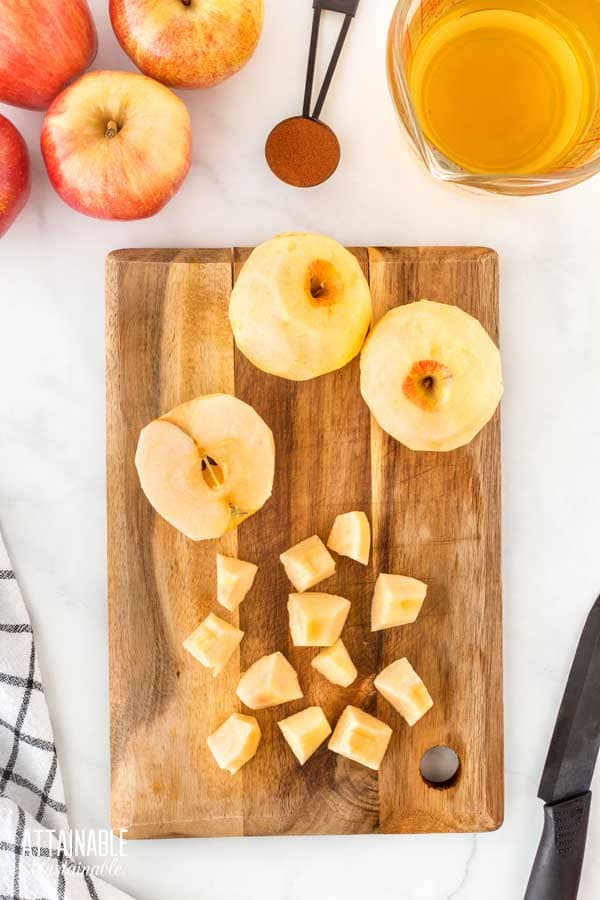 Making Applesauce in the Instant Pot
Making applesauce is — in a nutshell — just a matter of cooking apples until they're soft enough to smash. An electric pressure cooker hastens the cooking time and eliminates the need to stir the applesauce as it cooks.
Start by peeling and coring the apples. Cut into coarse chunks.
Transfer prepared apples into the Instant Pot liner and add remaining ingredients. Stir to coat apples.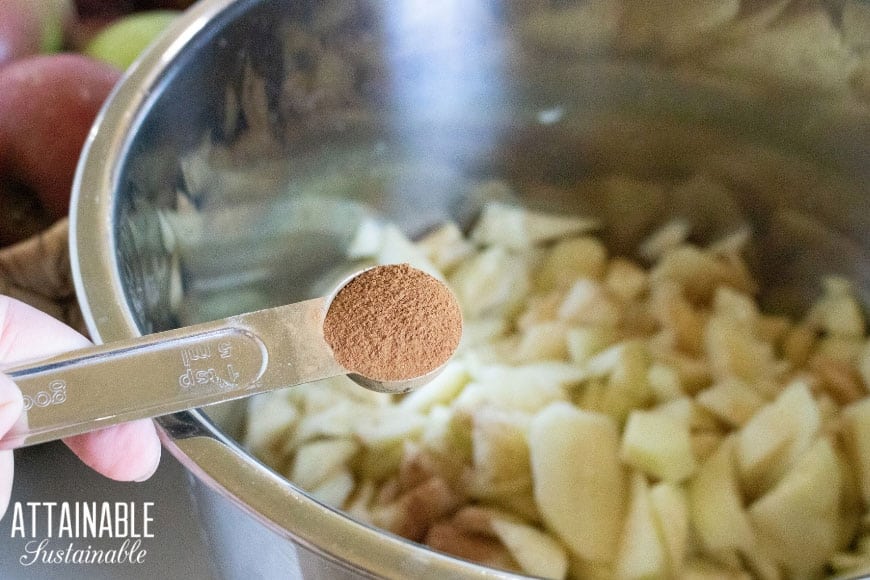 Once the applesauce is cooked, smash the apples with a potato masher or the back of a wooden spoon. This method results in a somewhat chunky applesauce, which personally, I love. For a finer applesauce, you can run it through a food mill or use an immersion blender to smooth it out.
Serving the Applesauce
A bowl full of warm applesauce might just be my perfect snack, but it's good for so much more.
Serve it with pork chops (why is that a thing?)
Use it in baked goods
Top pancakes or waffles
Stir some into a bowl full of oatmeal
Divvy into single serve containers for packing into lunches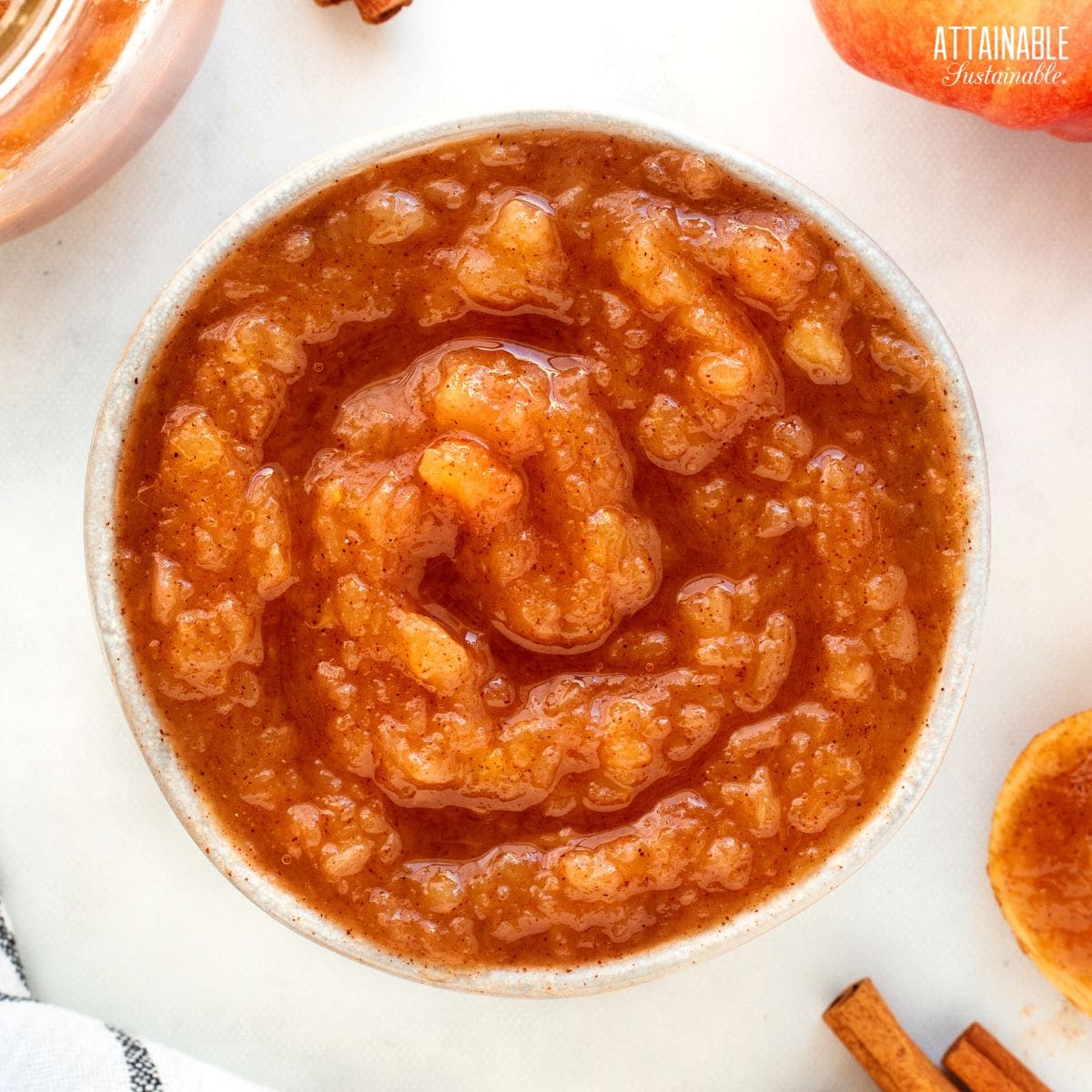 Storage
Leftovers can be store in the refrigerator in an airtight container for up to a week.
If you're interested in preserving applesauce for the long term, you can make this Instant Pot applesauce recipe and follow these directions for processing it using a water bath method.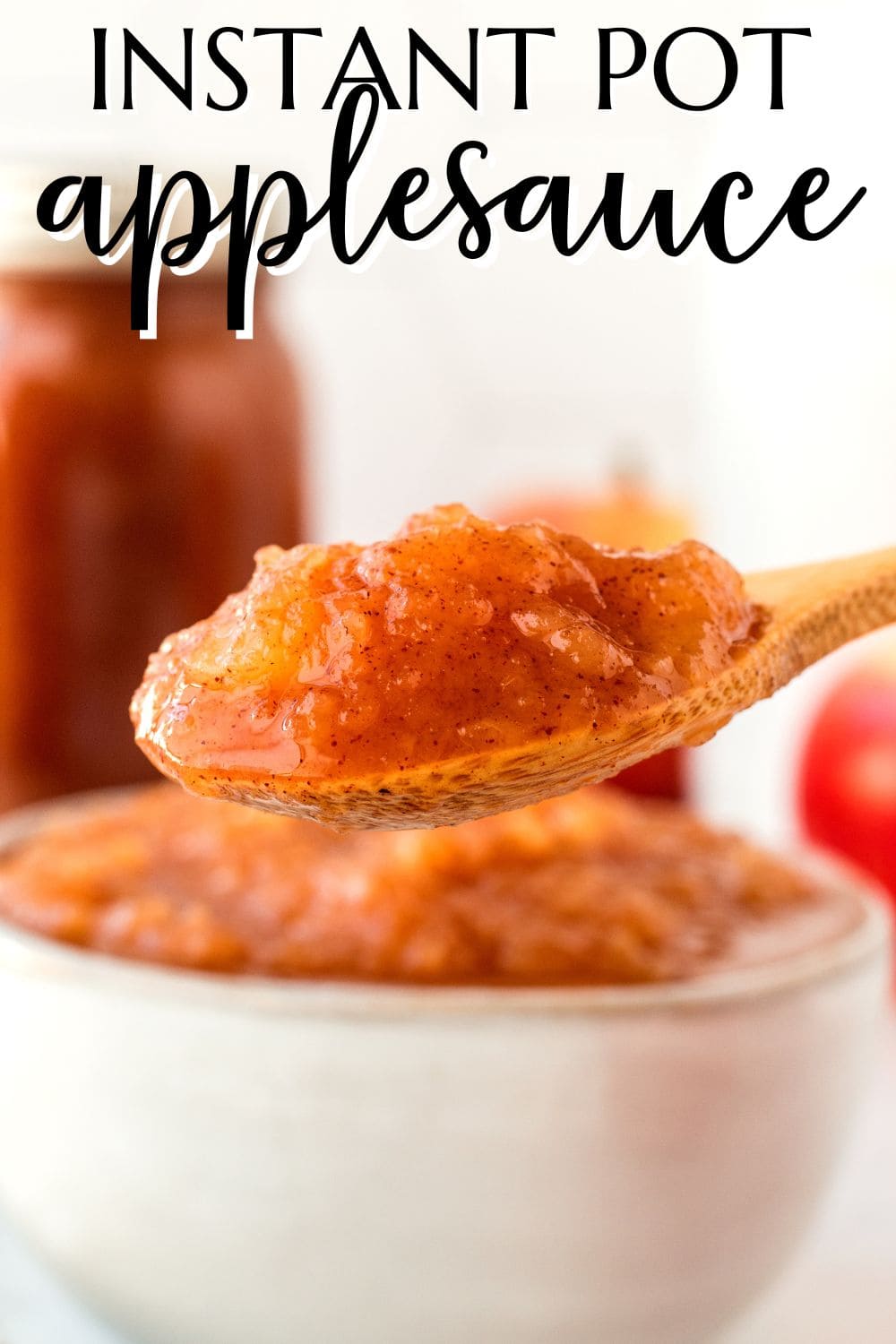 ★ Did you make this Instant Pot applesauce? Don't forget to give it a star rating below! ★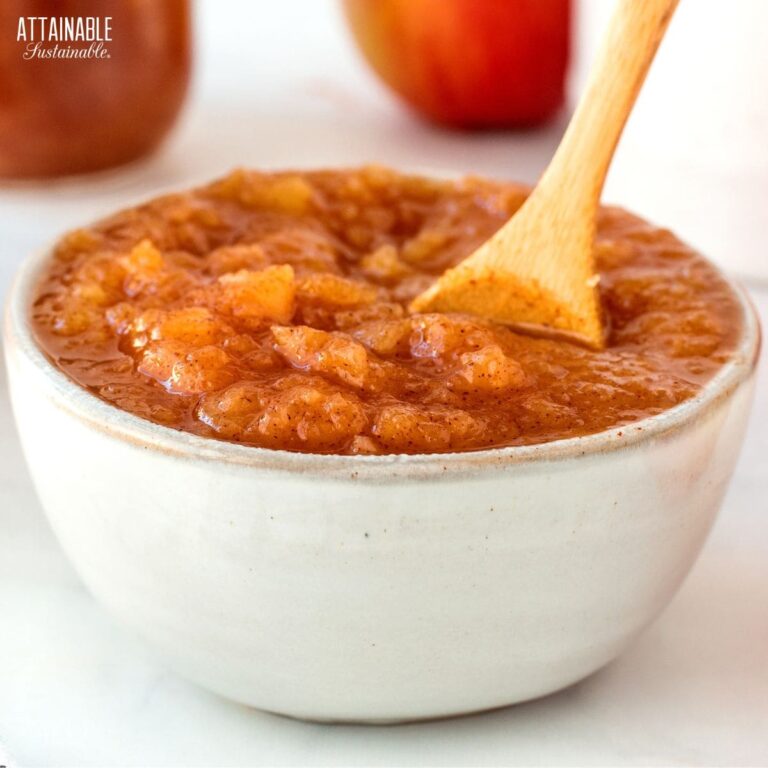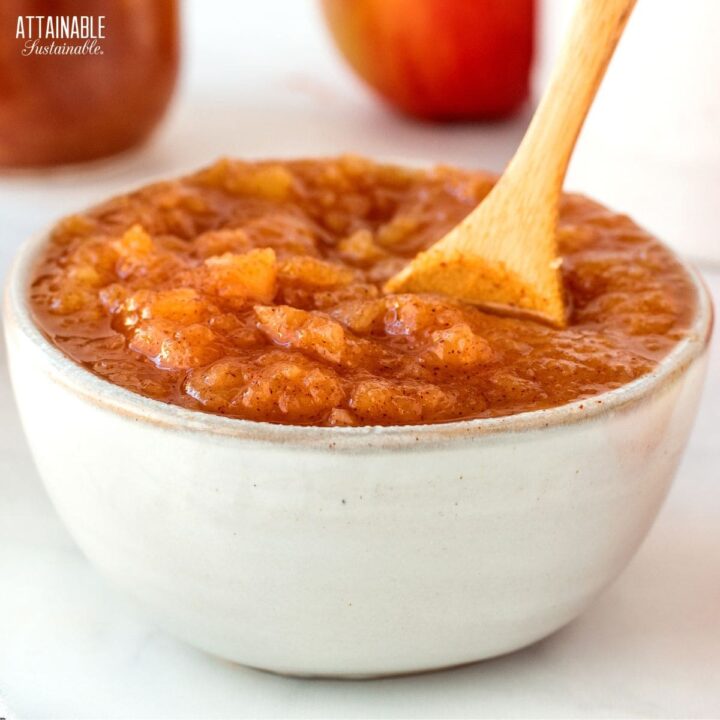 Instant Pot Applesauce
This delicious homemade applesauce is ready in a flash with an Instant Pot!
Ingredients
12 apples
1-1/2 cups apple juice
2 teaspoons cinnamon
½ cup sugar, optional (I usually make mine without)
Instructions
Peel and roughly chop apples.
Combine all ingredients in inner pot of the Instant Pot.
Close lid and turn pressure valve to sealed. Cook on manual high pressure for eight minutes.
Let pressure release naturally then carefully remove the lid.
Use a potato masher or the back of a spoon to mash the cooked apples into applesauce. You can leave it as chunky as you like.
Serve warm or refrigerate and serve cold.
Notes
Use a food mill or an immersion blender to process the applesauce into a finer texture if you like.
If you prefer a plain applesauce, simply skip the cinnamon. And feel free to add more if you like a really strong cinnamon flavor. If you like a little bit of tang to your applesauce, squeeze a little fresh lemon juice on top for a little pop of flavor.
Nutrition Information:
Yield:

6
Serving Size:

1 grams
Amount Per Serving:
Calories:

211
Unsaturated Fat:

0g
Sodium:

4mg
Carbohydrates:

55g
Fiber:

6g
Sugar:

45g